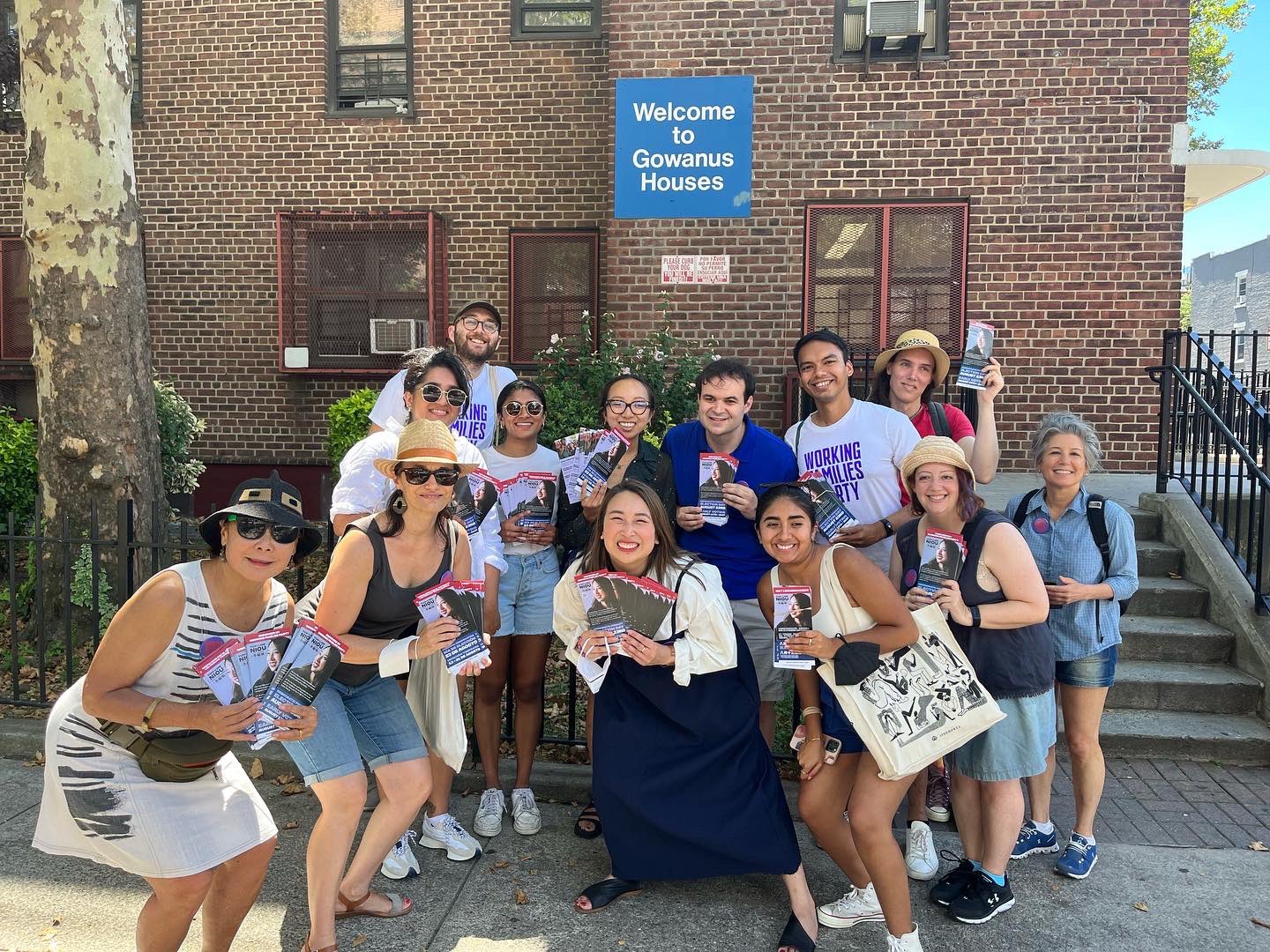 Yuh-Line Niou with WFP volunteers campaigning in BK (photo: @bkswjennie)
---
The New York Working Families Party is no stranger to big fights and it is facing one of its most intense campaign battles in this month's Democratic primary in the new 10th Congressional District of New York. With six prominent candidates and more than a dozen Democrats on the ballot, the Working Families Party's influence and organizing power is being put to the test as it hopes to propel its endorsee, Assemblymember Yuh-Line Niou, to victory.
The WFP experienced several defeats and few victories in the June Democratic primaries this year, as many of its major candidates lost their races. But the August primary is another opportunity for the party to prove itself and that its candidates are the best choices to represent the interests of New Yorkers, especially those who are disadvantaged, in clear contrast with more moderate Democrats.
"We're an insurgent third party in a country grounded in a two-party system, and so we are proud of the uphill battles we take," said Sochie Nnaemeka, director of the New York Working Families Party, in a phone interview.
Though the WFP is a separate political party, it mostly utilizes its influence in Democratic primaries, endorsing progressive candidates and broadly seeking to push Democrats to the left. In general elections, the party almost always backs the Democratic nominee. It generally acts more as a political advocacy organization and consultancy than a political party, offering its candidates assistance with fundraising, strategy, organizing, canvassing, advertising, and more.
While the New York Working Families Party is backing several other candidates in the August primaries for State Senate and U.S. House of Representatives, its support of Niou in the open 10th Congressional District is perhaps its most high-stakes race.
The new district 10 covers Lower Manhattan south of about 18th Street and parts of western Brooklyn including Downtown, Gowanus, Park Slope, Sunset Park, Red Hook, and Borough Park.
Heightening the stakes, and potentially providing Niou and the WFP with an advantage, is the fact that the Brooklyn part of the new district is the Working Families Party's home base, where it was created 24 years ago by a coalition of labor unions, elected officials, and members of the now-defunct Association of Community Organizations for Reform Now (ACORN). Over the years, it grew from a minor third party in New York to a national progressive presence with chapters in 13 other states.
Here in New York, the WFP has successfully backed many candidates for elected office, several from within what is now the 10th Congressional District, and even those who haven't won have performed particularly well in the Brooklyn half of the district. Prominent examples include Bill de Blasio when he won races for City Council, public advocate, and mayor; Letitia James when she became a City Council member (first elected only on the WFP ballot line) then public advocate; Jumaane Williams when he ran for lieutenant governor, then public advocate; and Cynthia Nixon when she ran for governor.
The WFP was a driving force behind Niou's election to the State Assembly in 2016, and it is now putting its resources behind her in the open race for the newly-drawn 10th Congressional District, among the most hotly contested primaries this year. The district's voting age population is about 49.7% white, 22% Asian, and 18.4% Hispanic, according to the CUNY Mapping Service's Redistricting & You project. Niou's path to victory appears to hinge on forming a coalition among Asian voters throughout her Lower Manhattan Assembly district and Sunset Park, home to the city's two Chinatowns, and white progressives across Brownstone Brooklyn.
Though there is a very crowded field in the race, several metrics show six leading candidates. They include Niou, who represents parts of Lower Manhattan; former federal prosecutor Dan Goldman; Manhattan City Council Member Carlina Rivera; U.S. Rep. Mondaire Jones, who represents the Hudson Valley but recently moved to Brooklyn to run this race; Brooklyn Assemblymember Jo Ann Simon; and former U.S. Rep. Elizabeth Holtzman of Brooklyn. The winner of the primary is all but assured to win in the November general election given the district's immense Democratic tilt.
"If the WFP were able to pull Yuh-Line Niou across the finish line to victory…bragging rights would follow," said Bruce Gyory, a Democratic strategist and senior advisor at the law firm Manatt, Phelps & Phillips, LLP. "On the other hand, I don't know that it's fair to say if she doesn't win, that it was a complete failure…I just think this is one of the most difficult primaries to handicap."
"I do believe that after the fact that they lost many races during the other primary in June, they really have to showcase their strength," said Lupé Todd-Medina, a political consultant, in a phone interview. "And I think that's what they're attempting to do in New York 10. I don't know how successful they will be."
Niou, Rivera, and Goldman have consistently polled at the front of the pack. A WFP-commissioned poll released July 18 found Niou and Rivera tied for first place with 16% of likely voters, while Goldman came in behind both at 10%, while 40% were undecided. A more recent PIX11/Emerson College poll released August 15 had Goldman in the lead with 22% and Niou in second place with 17%, followed by Rivera and Jones tied with 13%; 17% of voters were undecided. (Some have questioned the validity of the poll, which was conducted in English and Mandarin but not in Spanish, likely to Rivera's disadvantage.)
The PIX/Emerson poll was conducted last week, however, just before the New York Times editorial board gave its coveted endorsement to Goldman, a more moderate Democrat than several of his top competitors who led the first impeachment trial of former President Donald Trump as lead counsel for the House judiciary committee. Goldman, an heir to the Levi Strauss fortune, has also pumped nearly $4 million of his own money into the race, allowing him to significantly outspend almost all of his opponents and inviting criticism that he is effectively trying to buy himself the seat.
Niou and her supporters, including the Working Families Party, have attempted to cast her as the most progressive, furthest left candidate in the race. But, several other candidates, particularly Jones, Rivera, and Simon, also make the case for themselves as staunch progressives with major accomplishments in line with the new district's many liberal voters, while Goldman and Holtzman also call themselves progressive and offer substantive reasons why.
The competition is clearly fierce for liberal votes in wealthier parts of Manhattan and Brooklyn and for more progressive votes in Brownstone Brooklyn. This could make the influence of the WFP greater, but with a crowded field of accomplished progressives it is unclear how much sway the WFP or even the Times editorial board will have. Nevertheless, the race will in some ways be seen as a referendum on the power of both.
Niou's campaign did not respond to a request for comment about the role of the Working Families Party and the stakes of Niou's candidacy for the WFP, which has had to fight for its political life in New York in recent years. That war was largely against former Governor Andrew Cuomo, who resigned in disgrace last year. Niou was an outspoken Cuomo critic.
In a statement when she received the WFP's endorsement, Niou said, "Alongside WFP, I have fought to protect our community from the constant attacks of a far-right Republican Party, and stood up to the complacency of corporate Democrats who fail to recognize the crisis our country faces. Together, we will build a more just and fair democracy that works for all of us."
For the WFP, Niou represents the type of "progressive champion" who has worked with the party to pursue shared goals, pushing for major investments in "social infrastructure" and a fairer economy, labor protections, and more. The WFP sees the election to Congress of candidates like Niou as key to fulfilling the many promises Democrats have made at the national level.
"We think it's important nationally to ensure we're sending not Democrats in name only, but those with a clear vision, the urgency to deliver big to Congress," said Nnaemeka, when asked about how important the race was for the WFP and the possibility off having to bear another loss this year.
As Nnaemeka noted, voters in District 10 regularly vote on the WFP line in higher numbers than voters in other parts of the city in general elections, and those same voters are likely to turn out in the primary for the party's candidate. The WFP line is "a line that's meant to signal that we don't just want to vote for Democrats, we want to vote for a Democrat who stands for big investments in the public good, who stands for a real response to the climate crisis, who stands for real racial equity," said Nnaemeka.
In an analysis of the 2020 presidential election for Gothamist, John Mollenkopf, director of CUNY's Center for Urban Research, found that out of all of New York's congressional districts, voters in the new district cast the highest share of votes for Joe Biden on the WFP line, 13.5%, compared to the citywide average of 7.2%.
The WFP is bringing its expertise and machinery to bear to aid Niou, advising the campaign on strategy and messaging, conducting outreach to voters through on-the-ground canvassing, phone banking, and text messaging. Such efforts may be especially helpful in what is expected to be a relatively low turnout election.
Nnaemeka pointed out that the party's previously endorsed candidates this year, such as gubernatorial candidate Jumaane Williams and lieutenant governor candidate Ana Maria Archila performed well in the neighborhoods that make up the new 10th Congressional District. However, both lost their June primary races, as did many state Assembly candidates around the city that the WFP had backed, raising the stakes for a victory in District 10, in the WFP's backyard. Those Assembly races were often narrower fields with only one clear progressive candidate in each, unlike the 10th district. Incumbency often prevailed in June, which again gives little indication to how the 10th district primary may unfold. Niou, Simon, and Rivera all currently represent portions of the new 10th district.
"The WFP has one of its biggest densities in Brooklyn," said Camille Rivera, partner at New Deal Strategies, a progressive consulting firm. "They bring a lot of ground game, they have relationships with community organizations, they bring a lot of excitement to races."
"This is where they started. This is where they helped elect some of the most progressive candidates and elected officials in the city, state, country when they started," she added.
The WFP has notched several major wins in recent years. Williams first won a special election in 2019 to become the public advocate with the WFP's endorsement, which he had again last year, and others won tough 2021 races with the party's backing, including Comptroller Brad Lander and Brooklyn Borough President Antonio Reynoso. In the District 10 race, Williams has backed Niou and Reynoso has backed Rivera, while Lander has not made an endorsement. U.S. Rep. Nydia Velazquez, a WFP standard bearer, and 1199 SEIU, a former close labor ally of the party, have also gone with Rivera.
Other WFP allies are in Niou's corner, including several community groups, elected officials, and activists, including Nixon, who performed very well in much of what is now NY-10 in her 2018 challenge to then-Governor Cuomo, just as Williams performed well there that year against then-Lieutenant Governor Hochul. In the 2021 mayoral race, WFP-backed Maya Wiley lost more ground than what may have been expected in what is now NY-10 to Kathryn Garcia, who had the backing of the Times editorial board.
The WFP could either end up celebrating a major victory or licking its wounds after the election. As Gyory noted, District 10 isn't the only race where it's involved. It has endorsed Rep. Jerry Nadler in the high-profile and high-stakes NY-12 primary where he's facing Rep. Carolyn Maloney and attorney Suraj Patel, and State Senator Alessandra Biaggi in the 17th District against U.S. Rep. Sean Patrick Maloney, and is involved in many competitive state Senate races as well. "If they lose in the 17th to Maloney, and they don't do as well in some of the challenge races in the state Senate primaries, it's gonna be a rough night for them," Gyory said. "There's a lot on the table."
"Anytime you are backing candidates in New York City, it will end up somewhat being a national race," said Todd-Medina. "So it is incumbent upon them to really showcase what they can do…This is now an open seat. So this is where they really need to put muscle behind their candidate of choice."
Experts agree that the District 10 race, and the WFP's effects on it, are impossible to predict, with an unprecedented August primary and in a district where many residents, particularly wealthier ones, tend to leave the city to holiday during summer. With turnout expected to be abysmal, as is already evident from low early voting tallies, success for the campaigns could come down to organizing, get out the vote (GOTV) efforts, and last-minute messaging — not to mention absentee ballot programs.
The WFP's backing "gives you a ground game," said Chris Coffey, CEO of Tusk Strategies, which will be particularly important in a low turnout election. "The Working Families Party is one of the apparatuses that have endorsed that can affect some amount of turnout" in the areas of the 10th Congressional District.
"This is gonna be a classic case," Gyory said. "Can Yuh-Line, powered by the WFP, put together a winning field operation versus Goldman, who is trying to do it through direct mail and TV ads, counting on the endorsement of The Times? And then you have Rivera, who has an ethnic constituency and has been doing bridge-building."
Note - This article has been updated to note that Goldman has put nearly $4 million of his personal wealth into his campaign, not $2 million.