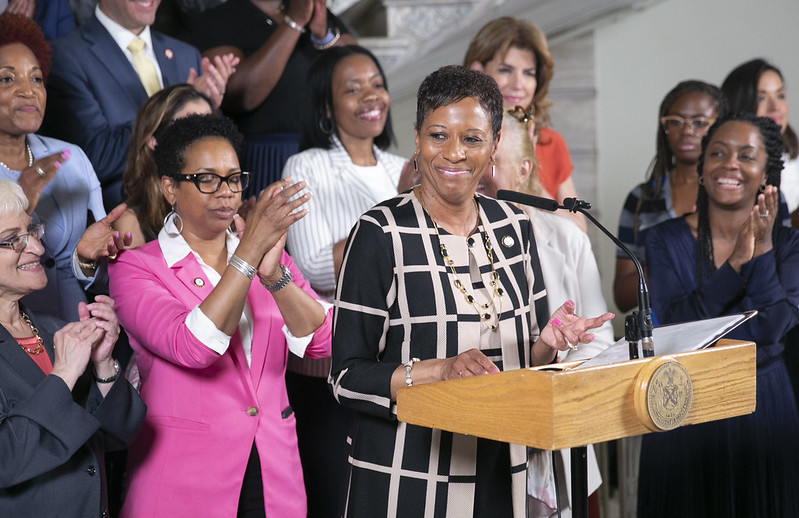 City Council Speaker Adrienne Adams (photo: John McCarten/NYC Council Media Unit)
---
Adrienne Adams, a Queens Democrat and the first Black Speaker of the New York City Council, gives herself a "B+" grade on her tenure so far. In an interview with Gotham Gazette, Adams said that when she took over, she found herself "in uncharted waters, where no other speaker has begun their career," having to deal with the continuing effects of the COVID-19 pandemic, ushering along the city's recovery, and negotiating a complicated budget with a new mayor intent on reigning in city spending.
For the past seven-plus months, Adams has led the first female-majority class of the Council and offered a different type of leadership than her predecessors. She has followed a decidedly small-d democratic agenda within the Council and kept a low-key political profile, limiting her own personal agenda in favor of one built on consensus from the 50 other Council members she leads.
She has also tried to balance the need for collegiality and confrontation with Mayor Eric Adams, a longtime friend and ally who she endorsed in last year's contentious Democratic primary for mayor but who nonetheless sought to install a different ally as the Council speaker this past winter.
"Our relationship continues to be very thoughtful. We continue to work together," the speaker said of the mayor in the interview.
The mayor has reciprocated the sentiment. At a July 7 event, kicking off the launch of the Summer Youth Employment Program that the two sides of City Hall worked together to more robustly fund, the mayor celebrated that covid was trending downwards in the city. "If you don't have the right partnerships like we've developed with Speaker Adams – we like to say the Adams and Adams law firm are making these right decisions – it's difficult to navigate this ship through these turbulent waters," he said.
But the speaker and mayor (no relation) have found themselves at odds at times, especially over the last two months since the new city budget was adopted and touted by the two together. After successfully negotiating the city budget, and celebrating their early agreement on its details, the two sides have been at loggerheads over the mayor's cuts to many specific city schools through the Department of Education. That battle is playing out in the courts, private negotiations, and public events. It has become arguably the defining challenge of Speaker Adams' first year in leadership, in part because it has led many Council members to apologize for their votes for the city budget and many members of the public to question the Council's judgment. For some critics, it's also evidence that the Council hasn't bared its teeth in performing its oversight role over the administration.
[Read: Who is Adrienne Adams, Next New York City Council Speaker?]
Adrienne Adams Takes the Helm
Adrienne Adams, who has since 2017 represented City Council District 28, including neighborhoods of Jamaica, Rochdale Village, Richmond Hill, and South Ozone Park, is only the second of six City Council speakers from outside Manhattan, breaking a streak of four. The modern position was only created after a major 1990s shake-up of city government based on a case that went to the Supreme Court and a City Charter revision.
Adams was the unexpected choice for speaker, emerging as the last-minute consensus candidate backed by several other Council members who were seeking the top spot as well as prominent labor unions like 32BJ and DC37 and Democratic county party leaders. The coalition undercut efforts by Mayor Adams and some of his allies to install their preferred choice for speaker, fellow Queens Council Member Francisco Moya.
"Our historic and diverse women-in-majority Council brings a very unique perspective," Adams said in the interview with Gotham Gazette. "And as speaker, I'm focused on leveraging the strength of our members to advance solutions for New Yorkers."
After a slow start, the Council has been busy under Adams. This month, it passed a package of bills to improve maternal health and combat racial disparities in maternal mortality. In July, the Council passed the New York City Abortion Rights Act, a major package of legislation to protect reproductive rights and expand access to abortion care. The Council passed a package of fire safety bills in May, prompted by the January Twin Parks tragedy in the Bronx.
And the Council has addressed a slew of other issues this year through legislation including parks and playground quality, salary transparency, climate action, and more. There was also, of course, the first budget under the new mayor and new Council with its new speaker, which took up a great deal of focus from January to mid-June, and includes $101 billion in expense funding for many programs and services the Council is proud of.
For Adams, taking over as speaker has come with tumultuous challenges. The covid pandemic continues to threaten the health and safety of New Yorkers as well as the city economy. And though the economic recovery is well underway, a full return to record-low pre-pandemic unemployment and crime are not guaranteed.
Speaker Adams is overseeing major turnover at the Council, with more than three dozen members newly-seated this year, while seeking to work in concert with a new mayor with his own agenda. And she has a particularly short initial period to make her mark as the city will hold another election for all of the City Council next year, because of the decennial redistricting process that is underway — a contentious process in itself that Adams must monitor and seek to shape.
"I didn't have the luxury to come in with a grand vision and plan because everything — everything — was prioritized because of this pandemic," she said in the interview, insisting that her immediate focus was on the city's recovery from covid.
Though the speaker isn't a citywide elected official, the position is effectively the second-highest in the city with a citywide purview. The speaker can set the legislative agenda for the city, provide hefty oversight of the mayoral administration, and broadly impact New Yorkers through negotiating legislation, the budget, and more.
It's a prominent springboard to seek higher office, though not with success – none of the previous speakers have gone on to win another elected office despite serious efforts. But Adams also does not appear interested in what she will do next or focused on politics at all. Her attention seems solely focused on leading the Council. It's what sets her apart, her colleagues say.
"I'm focused on the fundamentals of strengthening the Council as an institution and delivering results for all New Yorkers, whether that requires me to be the focus or not," Speaker Adams told Gotham Gazette. "I'm not really concerned about being the center of attention."
A Legislative and Budgetary Agenda
In setting her legislative agenda, Speaker Adams says she is committed to equity in all its forms, whether it's in health care access or educational attainment or employment opportunities or infrastructure.
She has had a particular focus on issues of reproductive and maternal health and child care, as a mother and grandmother leading a Council with 30 other women out of 51 members in total. And, after having previously chaired the Committee on Public Safety, she has sought to redefine the Council's approach to safety in communities amid heightened concerns about the pandemic era rise in violent crime in the city.
The first few months of the speaker's term were largely preoccupied by the city budget process, as Mayor Adams proposed his first spending plan in office and sought to institute broad cuts across almost all city agencies. Speaker Adams and her budget negotiating team spent months pushing back against any attempts at "austerity" that they worried would only worsen the city's ongoing crises.
The mayor, on the other hand, argued that city agencies had become bloated and inefficient, and that he was simply interested in trimming the fat so that the city didn't overspend, under-deliver, and set itself up for failure. Ultimately few cuts were made given the Council's push and the city's overflowing coffers thanks to immense federal aid and strong tax revenues, but a major crisis emerged around school funding that has put a massive wedge between the speaker and the mayor.
In a March 30 speech before the Association for a Better New York, a prominent civic group, Speaker Adams first laid out her priorities: more affordable housing, better access to healthcare, effective and accessible mental health solutions for New Yorkers affected by the pandemic, better transportation access, particularly transit deserts, and affordable childcare. "These pressing needs are among our priorities as we seek to ensure a thriving city," she said. "All New Yorkers, no matter where you live, work, or learn, deserve to be healthy and safe, and the investments we make determine our success in reaching these goals."
But her speech was mostly focused on jobs and the economy – investing in youth employment, workforce development, expanded career and technical training, small businesses and entrepreneurship – salient to the audience she was addressing. She also proposed a new $23 million CUNY Reconnect Initiative, to help about 700,000 New Yorkers return to the college system to complete their degrees. (A $4.4 million pilot program was eventually funded in the 2023 budget).
"Expanding economic opportunities for all New Yorkers, particularly those who have historically lacked equal access to them, is the fundamental solution to our many challenges," Adams said in the speech. "It is time for a New York City economy that prioritizes true equity for all New Yorkers."
She promised to work with Council members to champion their interests in ongoing budget negotiations. "The diverse perspectives of our members are key as we focus on the city's recovery from the pandemic, responding to the intersecting crises facing our communities," she said.
In May, in her first State of the City speech at York College in Queens, Adams delved into a more detailed legislative agenda, and said that the budget would have to be the "first down payment" on a better future for the city. She released specific proposals on affordable housing, improving physical and mental health care, tackling violence through community safety programs, investing in food security and access to parks, and expanding employment opportunity programs.
Adams did not, however, advance a signature proposal or issue but instead made a well-rounded push for more and better services with a focus on equity.
Adams did make a prominent push for more funding for programs like the Summer Youth Employment Program, the Fair Fares discounted Metrocards program, the Streets Master Plan, sanitation initiatives, and more, which the mayor agreed to fund in the budget. She also funded a new "Speaker's initiative," giving Council members $100,000 each to fund community safety and victim services programs. But other demands from the speaker and Council on greater investments in affordable housing and parks went unheeded.
Internally, Adams said that she has worked to strengthen the Council by hiring and promoting existing staff, elevating Council members who have tangible personal and professional experience to committee chair positions, equitably distributing resources to members' offices, and expanding the body's oversight authority over city agencies. The last goal she achieved through the budget, by adding units of appropriation to agencies, including the NYPD, that more clearly showed the Council how the administration is using budgeted funds.
If there's one thing the speaker said she wasn't fully prepared for, it's balancing her commitment to her district while handling a citywide portfolio.
"There are always ways to make things better," she said when asked about her performance in the job thus far. "For me that would be the balance between my district and my work at City Hall, and balancing those two worlds and trying to find a happy medium," she said. "My time has been in very high demand and it's something to get used to. I've got a schedule that I've never seen before in my entire life. So it really is time management and workspace management that I believe that I have to work on."
Adams and Adams (no relation)
For Adams, her time in office has been "fruitful and unpredictable," she said. She has a cordial relationship with the mayor – both attended the same high school and have spoken fondly of being allies. But she's also stood firm against him on several occasions.
When the mayor released his subway safety plan in February, she praised him for dedicating resources to mental health services but questioned the rationale of flooding the subways with more police officers. In March, when the mayor decided to exempt professional athletes and performers from a covid vaccine mandate for private employers, she pushed back against the "wrong message" it sent as municipal employees were losing their jobs at the same time for refusing vaccination.
The speaker's sharpest rebuke of the mayor came in April, when several officials from the Adams administration failed to appear at an oversight hearing on the devastating Twin Parks fire of January that left 17 people dead, many of them children. The absence of the officials "leads me to presume that your administration does not treat this important topic with the full seriousness deserved," Speaker Adams wrote in a public letter to the mayor at the time.
She has since spoken out on other occasions as well. Earlier this month, when the mayor sought to blame a spiraling homeless shelter crisis on an influx of migrants, she criticized his deflection of responsibility. "We remain a sanctuary city and asylum seekers are welcome here," she said in a statement. "While there may be a rise in asylum seekers in New York City, this does not mean they are to blame for issues that have historically plagued our system."
The schools budget fiasco has also prompted harsh words from the speaker, who claims that the Department of Education has decided to make school cuts when it didn't have to, and that the budget she and the Council agreed to funded the DOE robustly enough to ensure limited funding reductions to schools, even though the mayor had made clear for months his intention to cut some funding based on student enrollment drops.
"Mayor Adams and Chancellor Banks are risking the health of our school system and students, and they must resolve this issue immediately," she said in an August 5 statement. "The Council and school stakeholders have been seeking such a resolution for weeks without a constructive partner at DOE. It is time for DOE to stop the chaos and confusion that its actions have created."
In the interview, the speaker said her relationship with the mayor continues to be "thoughtful" and that they work closely together. "At the end of the day, the Council is here to be a check and balance on the work of the administration, and to hold the administration accountable through our work on the city budget, our work with city agencies," she said.
In the $101 billion budget, the speaker and her team were successful in pushing back many of the cuts the mayor had proposed to city agencies while reining in some of his proposed spending the mayor sought that the Council felt was unwise, like on additional correction officers.
The mayor and speaker held a celebratory early budget handshake at City Hall on June 10, where the two heaped praise on each other. "This was easy for us…We were so much aligned that people want to spend so much energy on where we are not aligned," the mayor said. "That's why we have this early handshake, because what we produced is what we believed in and was brought forward by this body here."
The speaker stressed that the Council and administration had shared goals. "We had much more in common when we started bringing the demands of the Council to the administration, to the mayor's attention," she said. "There wasn't too much to argue about because my colleagues know their districts. We all understand New Yorkers, and the mayor and I were pretty much on par."
But after voting to approve the budget on June 14, well before the July 1 deadline for the start of the next fiscal year, the Council seemingly learned that the mayor was following through with cuts to city schools that had lost student enrollment. The education cuts had been clearly presented to the Council and public by the mayor for months, and some Council members cited them as they voted against passage of the budget. But once the budget was passed by the Council in a 44-6 vote and the Department of Education began to send notices to schools about their funding, an uproar ensued.
The cuts were widely condemned by parents and educators and even some of the Council members who had voted to approve the budget, eventually forcing the mayor and Council back to the table in a Council push to restore them. There has since been a lawsuit from parents and advocates that has thrown an additional wrench into the mix.
Speaker Adams said that much of the nuance of the situation was lost in the furor. She said the Council had continuously pushed back against the mayor's administration since the cuts were first proposed in February, in the mayor's preliminary budget, and that the funding cuts were a policy decision by the Department of Education rather than a budgetary issue.
"The bottom line is that our focus is on resolving the problem to make sure that our students have the resources they need," she said. "There's a difference between the city budget and the Department of Education's distribution of budgets driven, of course, by policy passed by the Panel for Education Policy."
"The conversation has to include a framework of equity, because we know all schools are not starting from the same place and the distribution of limited resources too often doesn't prioritize students who are mostly Black and brown students, [English Language Learners], unhoused students," she added.
The budget fight did not stop the speaker and mayor from maintaining their collegiality. The two appeared together at a July 7 event to kick off the Summer Youth Employment Program. But the dynamic between the mayor and Council soured further in the following weeks as the back-and-forth over the school cuts continued.
On August 11, the Council even introduced an extraordinary resolution sponsored by the speaker calling on the mayor and schools chancellor to reverse the DOE cuts, and submit updated school budgets to the Panel on Educational Policy showing restoration and an accounting of unspent federal stimulus funds. It also called on the mayor to use unspent federal funds and submit a budget modification to the Council to fully restore the $469 million removed from school budgets.
Mayor Adams has repeatedly pushed back against the Council's moves, stressing that they were fully aware of the cuts when they approved the budget. "I've never known in the history of the City Council that they put out a resolution to go against something that they voted on," he said on PIX11 television on August 14. "My job is clear, present a budget to the City Council. The City Council's job is clear, vote on that budget after doing a thorough review. That's what took place. Transparency, conversation, negotiation."
Feedback from Others
Adams has won broad praise for her leadership so far from Council members, union leaders and others. Several Council members, however, declined to comment for this article despite Gotham Gazette requests to discuss Speaker Adam's leadership and early tenure.
Council Member Justin Brannan, a Brooklyn Democrat who is part of Adams' senior leadership team as the finance chair, has had a front row seat to her work as speaker. He's also been around the Council under four speakers, first as a Council aide and then as an elected member.
"Everyone has different styles and I think Adrienne's style is very collaborative and she wants to do everything she can to reach a consensus with her members. And I think that is somewhat unique in this business," he said.
Brannan likened her not to her predecessors but to state legislative leaders like Assembly Speaker Carl Heastie and Senate Majority Leader Andrea Stewart-Cousins, powerful but understated officials who are often looking to build consensus rather than grab headlines or spotlights for themselves.
"I think that's how legislative leaders should operate, and I think that is how legislative leaders operate when they're not looking to run for the next higher office," said Brannan, who had sought the speakership and was one of the key players in ensuring Adams was victorious when his path appeared to foreclose. "I think it's refreshing to have a speaker who isn't looking to outshine her members."
Particularly during the budget negotiations, Brannan said that decisions weren't made behind closed doors by the speaker's inner circle but rather by her seeking feedback from all the members. "As a member or as a staffer, I've never seen that level of involvement with the full body," he said. "People are used to the leader of a legislative body putting their own ambitions before everything else. And that's just not her style."
That Adams also represents an area outside of Manhattan means something significant to Brannan, as it does with the city's underserved people, he said. "I think having a speaker from the outer boroughs plays well and it resonates because we know what it's like to often be the last guy at the table," he said.
"I'm very positive on the speaker," said Kathy Wylde, president of the Partnership for New York City, a leading business group. "She's clearly open to hearing from all constituencies. She's not locked down in terms of one ideological or other constituency."
"As New York continues to recover from COVID, Speaker Adams is putting working people front and center," said Candis Tall, vice president and political director for 32BJ SEIU, the building workers union, which was particularly influential in supporting Adams' speakership bid. "Whether it's working closely with us to hold big corporations like Chipotle accountable to their workers or pushing forward key workforce development initiatives, 32BJ is proud to have her as a partner in the fight for New York's working families."
Henry Garrido, executive director of DC37, the public employees union, said she's been an "outstanding" speaker, especially considering the challenges she is facing overseeing a mostly new class of Council members and negotiating a city budget in the wake of the pandemic. "She's been great at managing and mentoring and helping the group of young new Council members that have come in. I think that has been one of her best, most understated leadership demonstrations in government as the head of the Council," said Garrido, who along with 32BJ executive director Kyle Bragg worked with Brannan and other Council members to rally the support Adams needed to become speaker.
Adams comes from a labor household – both her parents were union workers, including her mother as a correction officer – which gives her a perspective that unions share, Garrido said. "Having a perspective that you don't have to basically teach or relate to because she came from that household, I think, has been really a breath of fresh air," he said. "I think that that's one of the things that has separated her from the previous speakers, that the fact that her own life is a story that has resonated with so many people."
He also said she has done a good job of balancing the progressive and moderate interests in the Council. She stood firmly on the side of working New Yorkers, he said, against the "pro-business forces" lobbying the mayor on the budget, while maintaining a good relationship with the administration. "You don't have to have a speaker who's constantly at odds with the mayor to get things done. I think she had to stand her ground on the budget and she did," he said.
On the other hand, Garrido said she did not cave to the more progressive members on the Council with "dangerous" ideas. In particular, he pointed to an ongoing push to decrease NYPD funding – in 2020 especially, Speaker Adams was among the rank-and-file Council members who pushed back against the 'defund' movement, arguing that cuts to police would harm communities of color that have seen some of the most violence in the city. She is, however, an ardent proponent of police reform and accountability and has insisted that any solution to public safety must involve both cops and communities.
"She managed to keep the progressives in line and…she was able to manage the budget and still provide, within that construct, some very positive things in this budget," Garrido said.
Of course, progressives have their gripes with the speaker, or rather her inaction that is allowing Mayor Adams' more moderate and at times conservative agenda to advance with limited pushback.
"I think that there's the Adrienne Adams that we need and want and then there's what's happened up until this point," said Zara Nasir, coordinator of The People's Plan, a left-leaning group of more than 150 advocates. (The group happens to share its name with Mayor Adams' own People's Plan platform, which is different.)
Nasir said the education cuts were a prime example of how the Council failed to use its leverage against the mayor's administration, disappointing progressives who were crucial in helping her become speaker over Moya, who they believe would have been too closely aligned with the mayor. "One of the reasons why many of us rejected Moya was because they didn't want somebody who was in the pocket of the mayor," she said. "One of the most important roles of the Council speaker is to be a counterbalance and a counterweight to the mayor."
"It's understood that every speaker needs a working relationship with the mayor, but also the mayor is not aligned with people who are on the side of social and racial justice and so he can't be trusted. He's proven it many times," she added.
As Nasir noted, the outpouring of anger against the mayor over the school funding cuts was clearly effective in bringing the administration back to the table to restore funding. If the speaker aligns with advocates, she said, "I think there's a lot more fights that we can have together where [the mayor] can be moved."
Jiada Valenza contributed to this article.