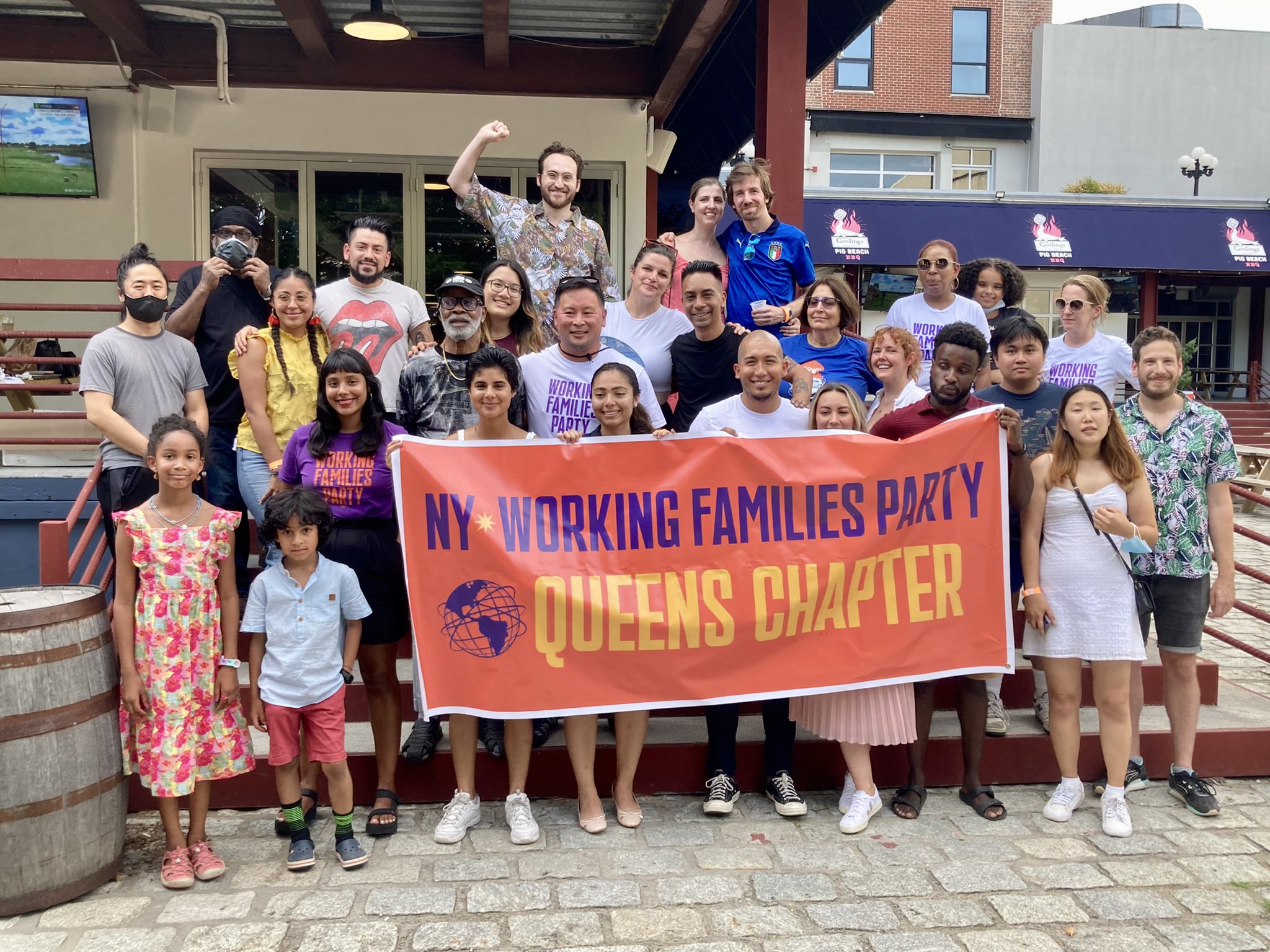 The Working Families Party in Queens (photo: @NYWFP)
---
The results of the August party primary elections for the U.S. House of Representatives and State Senate were bittersweet for the New York Working Families Party, the progressive third party that seeks to push Democrats to the left. The WFP is one of the most prominent actors in the intra-party battle Democrats continue to wage in New York and beyond.
Several WFP-backed Democratic incumbents who faced competitive challenges emerged victorious in their primary races. Other endorsed candidates won primaries for open seats, likely adding to the ranks of progressives in the State Senate given what are expected to be many uncompetitive general elections in heavily-Democratic districts. But in certain closely-watched House races, candidates backed by the Working Families Party fell short, indicating to some the limits of the progressive movement, particularly in races with higher, more national stakes or where consolidating around a single left-wing candidate could have been decisive.
A similar result played out in the June primaries for statewide and state Assembly races. 
The WFP, which mostly plays in Democratic primaries and rarely runs candidates on its own ballot line, functions as a progressive seal of approval, political consultancy, and organizing vehicle. The party made endorsements in 21 congressional and State Senate races, and celebrated victories in 16 of them, an unequivocally successful result. In the June primary, every Assembly candidate it endorsed won, though its two statewide candidates -- Jumaane Williams for governor and Ana Maria Archila for lieutenant governor -- lost.
Touting a number of victories from "a strong winning slate of candidates," Sochie Nnaemeka, director of the New York Working Families Party, said in a phone interview that the WFP and its allies are ascendent, particularly in New York state government.
"We feel confident, strong, and hopeful that this new leadership is going to be ascending into Albany and really strengthening the ranks of progressives pushing to meet the moment that we're in," she said. "[It] will have real material effects on working people's lives across the state."
The candidates the WFP endorses share the party's broad values and their campaign platforms reflect progressive priorities such as universal healthcare, urgent climate action and movement to renewable energy, taxing the wealthy to pay for broader social services and investments in public education, tenant protections, labor rights, criminal justice reform, and more.
Among the WFP-supported incumbents who defended their seats against spirited challengers were U.S. Reps. Jamaal Bowman and Jerry Nadler, and State Senators Gustavo Rivera, Robert Jackson, Jabari Brisport, and Andrew Gounardes. Rivera and Jackson, in particular, faced well-funded, heavily-backed challenges from more moderate Democrats aligned with major power players like Rep. Adriano Espaillat, Mayor Eric Adams, and the Bronx Democratic Party.
"WFP just has a proven record [of] ascendance," said Camille Rivera, partner at New Deal Strategies, who worked on Senator Rivera's campaign, in a text message. "WFP defending incumbents is hugely important to ensure consistent leadership in Albany pushing for taxes on the wealthy, universal healthcare and childcare…and adding leaders both upstate and downstate…signals that that power will only grow."
In prominent open races where no incumbent was running, WFP candidates were the victors. For instance, Ulster County Executive Pat Ryan, who was on two separate ballots, won the special election in the current 19th Congressional District and the primary for the new 18th Congressional District. Josh Riley, an attorney, won the primary for the new 19th Congressional District. Binghamton City Council Member Lea Webb won in State Senate District 53; Kristen Gonzalez won in Senate District 59; and Assemblymember Nathalia Fernandez won in Senate District 34.
Those victories were no easy feat, Nnaemeka said. "This electoral cycle was really marked by the aggressive infusion of dark money in our politics, real fear-mongering from PACs that are representing real estate interests and other anti-progressive outfits who were dead set on confusing voters, smearing progressive names and just dropping a great amount of dark money on these elections," she said. "So to be able to beat those challenges, considering the headwinds of redistricting, considering the headwinds of huge spending, I think really demonstrates the power and connection that these progressive electeds have to their voter base."
While there were several victories, there were disappointments as well. In two congressional races, the WFP had hoped that their candidate would defeat a more moderate Democrat. In the new 17th Congressional District in the Hudson Valley, WFP-backed State Senator Alessandra Biaggi unsuccessfully ran against U.S. Rep. Sean Patrick Maloney, the chair of the Democratic Congressional Campaign Committee. While Biaggi, who has not represented any part of the 17th or lived in it until deciding to run there, was something of a long-shot against Maloney, there were high hopes among many progressives that she could galvanize a movement that never materialized.
And in the crowded primary for the new 10th Congressional District in Lower Manhattan and a large stretch of Brooklyn, WFP-backed Assemblymember Yuh-Line Niou came in a close second place to former federal prosecutor Dan Goldman, who led the first impeachment investigation of former President Donald Trump.
"It's a glass half-full and half-empty," said Bruce Gyory, a veteran Democratic political consultant with Manatt, Phelps & Phillips, LLP. "They played excellent defense and were very productive in that defense in protecting incumbents where they won before."
But, on offense, the WFP failed to make significant gains, he said. "They continue to be able to win these newer gentrified districts, in terms of political demographics, such as the 59th District," he said of the win by democratic socialist Gonzalez in a new Queens-Brooklyn-Manhattan district. "But they've run into some clear headwinds when they tried to branch out into the suburbs, either in Long Island or in Westchester. And what it comes down to is, they have not yet been able to build bridges beyond their base constituency."
Notably, the Brooklyn side of the new 10th District is the WFP's home base, where it was founded. Niou did do especially well in the WFP-centric portion of brownstone Brooklyn, and while she picked up many other votes in parts of her Manhattan Assembly district and a stretch of south Brooklyn, it was not enough to overcome Goldman's dominance in parts of the west side and downtown Manhattan, Downtown Brooklyn, and Borough Park. The outcome was more nuanced than that, though.
Goldman received the coveted endorsement of The New York Times editorial board, gave his campaign $4 million of his own money, and benefited from there being several strong-running progressives in the race. Besides Niou, U.S. Rep. Mondaire Jones and City Council Member Carlina Rivera, both of whom have been past allies of the WFP, performed well, indicating that a progressive could possibly have won if they had coalesced behind one candidate.
"That's a tough district," Gyory said. "That's one where the influence of The New York Times editorial endorsement trumped the vote-pulling power of the WFP."
Mayor Adams, a moderate and rival of the WFP, said that Goldman's victory signaled support for more moderate Democratic candidates. In the August primary, Adams endorsed several moderate candidates, some of whom lost their races. Those who won their primaries include State Senators Kevin Parker, Joseph Addabbo Jr., and Anna Kaplan, as well as Jessica Scarcella-Spanton, who ran to replace outgoing State Senator Diane Savino. Parker's win over the WFP-backed David Alexis was particularly notable given the WFP and Democratic Socialist of America - New York City put significant resources into attempting to win the seat and had high hopes.
But Adams did not endorse Goldman in a district where Adams is not believed to be popular and did not do well in last year's mayoral primary, where he beat out the WFP's favored candidate, Maya Wiley (who was actually originally the WFP's third choice in what became a messy primary), among others.
And Adams supported losing candidates in bids to unseat several progressive state senators, including the WFP-backed Senators Jackson, Rivera, and Brisport (who defeated Angel Vasquez, Migeulina Camilo, and Conrad Tiller, respectively), as well as in the open seat where Gonzalez beat his endorsee, Elizabeth Crowley.
Nnaemeka doesn't buy Adams' argument that moderates have momentum. "Data-wise, the mayor's position does not stand," she said, noting that WFP's many winning candidates ran on progressive issues that include universal childcare, stronger climate action, universal healthcare, and more. 
And she noted that Niou "got to second place with a grassroots movement of voters choosing her despite being radically outspent by the presumed Democratic nominee."
"I think that gives people hope about where democracy can be, where democracy kind-of is on the cusp of becoming, and that creates a lot of hope for our progressive and pro-democratic movement going forward," Nnaemeka said.
There is a possibility that the WFP will get another chance to prove its mettle if Niou and the party decide she will run on its line in the general election. A decision must be made by the end of the day on Tuesday, September 6, and according to a WFP spokesperson, discussions are ongoing and expected to continue through the weekend.
Earlier this week, the WFP removed Jones from its ballot line (he had been placed on its line for the 17th district before he decided to run in the 10th, allowing him the ballot line even as the party endorsed Niou in the 10th).
"I'm currently speaking with WFP and my community about how we can best represent the needs of this district," Niou said in a statement. "Because what we can do together is too important to give up this fight, we must count every vote. I'm so grateful for the outpouring of support and all of the people who showed up and turned out. Our people need and deserve a voice."
Some Democrats have been quick to endorse Goldman now that he is the presumptive Democratic nominee and openly discouraged Niou and the WFP from mounting a general election race. They have argued that any resources directed to such an effort would be better spent in actual swing districts, either trying to keep them in Democratic hands or flip them from red to blue as control of the House is in the balance.
Meanwhile, some progressives have been openly encouraging a Niou run on the WFP line to try to ensure a more progressive Democrat heads to Congress from the deep blue 10th. The debate again speaks to the role of the Working Families Party and its relationship with the Democratic Party, especially in New York, where Governor Kathy Hochul will appear on the WFP line in the general election after defeating Williams in the primary and seeking to ensure Democrats keep their two-decade hold on the governor's office.
Nnaemeka, when asked if she was encouraging Niou to run, said, "I think she's doing her due diligence as a candidate, talking to community members, talking to people broadly…and we are exploring all options."