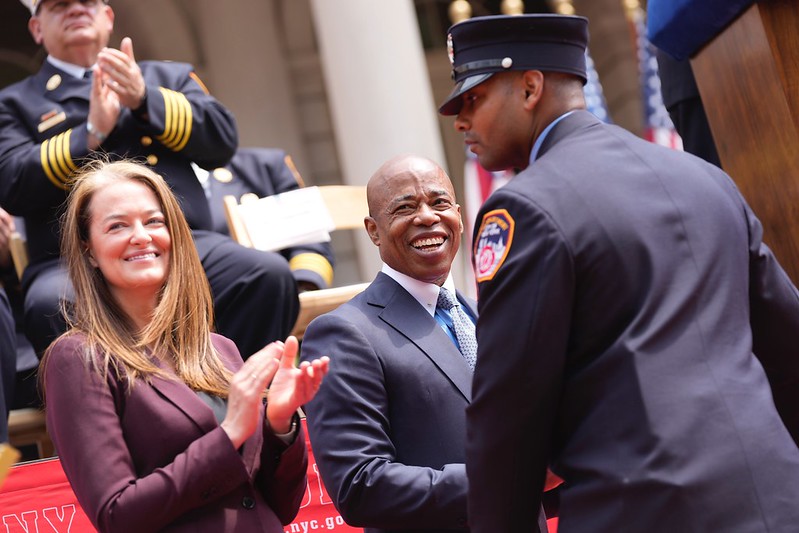 Acting FDNY Commissioner Kavanagh with Mayor Adams (photo: Ed Reed/Mayoral Photography Office)
---
Over nine months into his tenure, Mayor Eric Adams has yet to appoint a permanent commissioner for the New York City Fire Department, leaving Acting Commissioner Laura Kavanagh in the high-profile role dealing with some of the city's most pressing emergencies and emergency services. 
It is highly unusual for a mayor to take this long to name a commissioner for any city agency, much less a uniformed department with an established chain of command and life-saving responsibilities. FDNY commissioner is the last high-profile agency position that remains in limbo, even as the department has faced major emergencies this year.
Kavanagh, the first woman to lead the department, has a wide base of support, from City Council members to labor union officials, who say she has performed well in the role. Adams has praised Kavanagh in public appearances together, but the Democratic mayor has given no indication of when he might name a permanent fire commissioner.
"A decision is long from being overdue," said Andrew Ansbro, president of the Uniformed Firefighters Association (UFA), the union that represents the city's rank-and-file firefighters. "The current acting commissioner has done an excellent job in the absence of having a permanent title."
Sources say it is a curious delay that both undermines Kavanagh's standing and presents a missed opportunity for the mayor to not only provide more stability to the fire department and solidify a competent, reform-minded commissioner, but also to name the FDNY's first-ever female commissioner at a time when the department is attempting to diversify and Adams has taken pride in naming the first woman to lead the NYPD as well as five female deputy mayors.
Prior to taking over as acting commissioner in February, Kavanagh served as first deputy commissioner at FDNY for four years. She took over the department after the retirement of Commissioner Daniel Nigro, an appointee of former Mayor Bill de Blasio. "Commissioner Nigro leaves big shoes to fill and Acting Commissioner Laura Kavanaugh is up to the task," Adams tweeted on February 16, the day Nigro retired. "She's a born leader who will guide this department with distinction."
And she was thrown into the deep end almost immediately, dealing with the aftermath of the Twin Parks fire in the Bronx in January, which took the lives of 17 people, including eight children. That was soon followed by the death of a firefighter in February and the death of another firefighter in April as he responded to a house fire in Brooklyn. Through those intervening months, Kavanagh and the department faced intense scrutiny from the City Council and even from Congress over fire safety in housing.
While many would expect a new mayor to name their own fire commissioner at some point in the first several months of an administration, like with virtually all other agencies and offices, Adams has not, leading to questions about why he would let Kavanagh continue with the uncertainty of the acting title. Some say it has hurt her authority and undercut her ability to get more done, including in hiring an executive team. 
In February, Adams spokesperson Fabien Levy told the New York Post that the mayor was conducting a "thorough review" of candidates for FDNY commissioner. "He's already conducted 20 rounds of interviews and narrowed down his list to three individuals," Levy said at the time. "As with all other appointments in the administration, Mayor Adams will pick the best person for the job."
The mayor's office did not respond to multiple requests for comment for this story.
As Ansbro of the UFA noted, Kavanagh has done the job without a first deputy commissioner of her own and with several top vacancies unfilled. "She's basically done it alone without that aide and also there's a lot of other appointments that have gone unfilled with the department," he said, adding that the union supports her for the permanent position. "The department needs this question answered. They need some stability."
UFA was one signer of a July 14 letter to Mayor Adams obtained by Gotham Gazette wherein several union leaders urged him to make Kavanagh's appointment as commissioner permanent.
"[Acting Commissioner Kavanagh] has proven to be a reliable, battle-tested leader, fully capable of running one of New York's most vital and complex agencies," reads the letter. It was signed by Ansbro; Oren Barzilay, president of Uniformed EMTs, Paramedics, and Fire Inspectors, Local 2507, which falls under DC37; Vincent Variale, president of Uniformed EMS Officers Union, Local 3621; Faye Smyth, president of Uniformed Fire Alarm Dispatchers Benevolent Association; and Henry Garrido, executive director of DC37, the largest municipal labor union.
The union leaders wrote that Kavanagh's work for the department has been "exceptional" and that "her permanent appointment is not only a just reward for that service, but also a great benefit to the citizens [of] New York City."
"Therefore, it is our firm belief that her historic appointment as the next FDNY Commissioner would enhance public safety, elevate your administration's public standing, and exemplify your mayoral legacy," they said.  
A knowledgeable source in the Adams administration, who did not wish to be named in order to speak freely, said that the administration originally seemed to be focused on possibly naming an old ally of the mayor, who was in the NYPD for two decades before winning elected office, either with FDNY or NYPD experience, or a more traditional fire chief from outside the city, all of whom were likely white men. While no potential appointment panned out, the mayor has also been impressed with Kavanagh's performance, the source said. 
"It's definitely unusual that it's gone on this long," Ansbro said. "I think if he were affording her a grace period to see whether she could sink or swim, I would say without question, she can swim."
Meanwhile, Kavanagh has taken several steps to improve FDNY diversity that have been broadly hailed, though the department does continue to struggle on that front in its ranks. Just this week, she named a new Chief Diversity and Inclusion Officer, Kwame Cooper, a former chief officer from the Los Angeles City Fire Department. In July, she appointed Malcolm Moore as Chief of Special Operations, the first Black man to hold the role. And in her previous role as first deputy commissioner, Kavanagh overhauled recruitment practices to attract more underrepresented minorities, including women, into the department. 
"As she's taking on the acting role, she's brought a semblance of continuity and stability to a department through an administration change," Ansbro said. "And things have been going smoothly. I feel she's earned her spot and it's about time that the appointment is made. If the mayor is looking to go in another direction, it's time to make that decision."
One of Adams' first acts when he came into office in January was to restructure city government, particularly by consolidating most public safety agencies – including the Fire Department – under the newly-created Deputy Mayor for Public Safety, a position he gave to Phil Banks, a former long-time police department official and Adams ally. Adams has said throughout his tenure and during last year's mayoral campaign that public safety is paramount and that he would bring a new style of decisive executive leadership to the role of mayor.
"Being the Commissioner of the FDNY is one of the most important positions in the entire city, because it deals with the safety of the public," said City Council Member Joann Ariola, a Queens Republican who chairs the Council's Committee on Fire and Emergency Management. "Acting Commissioner Kavanagh has been leading the Department since the start of the Adams administration, so we are certain that we will be seeing an announcement about a permanent commissioner imminently."
Ben Max contributed to this story.