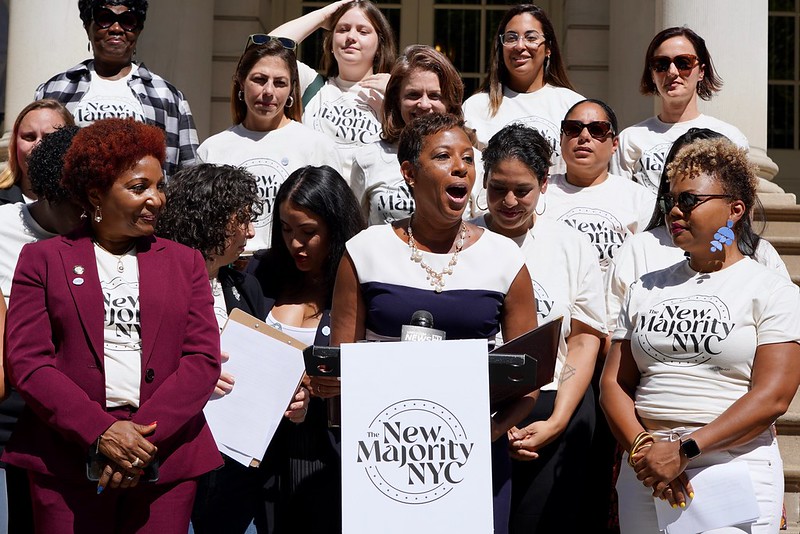 City Council Speaker Adrienne Adams (photo: Gerardo Romo/NYC Council Media Unit)
---
City Council Speaker Adrienne Adams said she wants more transparency at the Department of Education, more discretion for judges in setting bail, and more federal intervention in the city's current shelter crisis – and weighed in on a host of other issues during a public appearance on Wednesday.
Speaking at a breakfast hosted by good-government group Citizens Union, the speaker discussed some of the most pressing issues of the day along with the nuts and bolts of policy. She drew key distinctions with Mayor Eric Adams (no relation), her fellow Democrat, and outlined some of her top overall priorities in her powerful position.
The event, sponsored by the public relations firm Cozen O'Connor, was part of Citizens Union's Civic Conversation series and hosted by board member and CNN political analyst John Avlon.
Adams, who represents a southeast Queens district, is finishing her ninth month as speaker presiding over a mostly new, first-time female-majority City Council. Adams herself is the first Black woman to lead the Council. She has developed a reputation as a collaborative speaker and has notched some early legislative achievements including passing bills on fire safety in the wake of the Bronx Twin Parks fire, reproductive rights, and maternal health. She also negotiated her first city budget as speaker, a record-high $101 billion spending plan, with Mayor Adams, and while the two are long-time allies their early relationship in their new top posts has been rocky.
On Wednesday, Adams said her top two priorities as speaker are housing and education equity. 
"Our legacy should be the legacy, quite frankly, that a lot of my colleagues ran on and that was building housing," she said, saying the focus needed to be on mixed production of affordable, very-affordable, and market-rate units. "We cannot be the Council that does not build housing for the city of New York when we need it so desperately."
On education, the speaker said she wants to increase capacity in the city's gifted and talented programs, which lines her up with the mayor who has reversed the late de Blasio-era decision to replace G&T with universal school enrichment programming. Speaker Adams has also been pushing the Department of Education to restore funding to schools after passing the budget earlier this year, which she said was cut despite the administration's guarantees to the Council.
"DOE has been a very, very tough nut to crack," she said Wednesday. "A lot of those issues happen because of the lack of transparency within the DOE."
She said the Council would be seeking more units of appropriation on education spending within the DOE's roughly $38 billion budget. "There are going to have to be explanations around fair student funding formula, around equity towards individual schools," she said.
The speaker said homelessness in the city has gotten worse, a problem exacerbated by the pandemic and economic climate. The stream of refugees from Central and South America in recent months, some of whom have been sent on buses from southern states, has further hampered a shelter system already under strain.
"We've seen an influx of individuals coming into our shelter system into a system that really was taxed, burdened, prior to the pandemic," Adams said, calling the situation "dire."
The city is erecting tents in a parking lot in the Orchard Beach section of the Bronx to serve as emergency shelter for 1,000 single, newly-arrived adults. Mayor Adams has suggested the facility may fall outside the city's legal right to shelter, which guarantees shelter access and standards for all, and would provide temporary, voluntary stays.
The speaker didn't say whether she thought the plan, which involves barracks-style congregate settings with few amenities, met the city's shelter requirements.
"The right to shelter is the law in New York, so we can just start there. We don't have a choice. We've got to embrace anyone and everyone coming to our city," she said.
Earlier this year, the City Council held an oversight hearing with the Department of Social Services, which runs the shelter system, focused on shelter intake issues after the administration admitted to violating the right to shelter for over 60 individuals and families. On Friday, the Council is holding another oversight hearing, this time on resources for asylum-seekers.
"We're wondering, why Orchard Beach? We're wondering what else besides Orchard Beach, because we're going to need more than just Orchard Beach to accommodate the influx of people seeking asylum here in New York City," Adams said.
The solution, she said, is for the city to continue building shelter capacity and for the federal government to dissuade conservative governors from sending individuals to New York, a situation enabled by a political environment she blamed on former President Donald Trump. 
"We need for President Joseph Biden to kind of take the reins and right this thing," Adams said.
The speaker also weighed in on the city's legislative redistricting process, which hit a wall last week when the commission responsible for redrawing New York's 51 City Council districts voted down its own draft map. The new lines have the potential to recast the political landscape but must first be submitted to the City Council for feedback (the Council may accept the map or send it back to the commission with notes to come up with final lines).
The no vote, which took place after an aide to the mayor reportedly lobbied members of the commission to reject the proposal, meant the body had to postpone submitting the draft to the City Council.
"Our work now is pushed off," Speaker Adams said, "but they tell us that they're going to be coming back to us next week." A spokesperson for the New York City Districting Commission said the body expected to hold another vote on October 7.
"The timeline really isn't that terrible to deal with," Adams added. "But these are uncharted waters, and you just can't make this stuff up."
The speaker would not comment on the reporting by Politico that the mayoral administration attempted to sway commissioners' votes, including those by Mayor Adams' own appointees. "I stayed away," she said. "Legally and morally, I have to stay away." The mayor appoints seven members of the 15-person commission, the speaker appoints five, and the City Council minority leader three.
With public safety grabbing headlines for much of the pandemic, the speaker weighed in on the impact of recent state bail reforms on rising crime.
"While it plays a role it's been scapegoated, as well, as being the end-all be-all issue and problem," she said of state bail reforms.
In 2019, state lawmakers removed misdemeanors and most non-violent felonies from the list of bail-eligible offenses. The changes, intended to reduce race and class disparities in pre-trial detention, have been the subject of debate and modified a number of times since they were first enacted.
Asked whether she felt recent changes to the state bail law have contributed to rising crime she demurred. "I guess my answer is a little bit of yes, a little bit of no," she said, taking a position that is supported by the available data, which shows a very limited change in rearrests for those released pre-trial.
Adams said she believes judges should be given more discretion to set bail, joining similar calls from the mayor and governor. "I think that our judges have the mind to deal with this issue," she said. "This is what those robes are for in those chambers. And I think that we need to afford them the full capacity to do what it is that they are supposed to do."
Avlon and members of the audience pushed the speaker on election and voting reform, perennial issues in a city with chronically low voter turnout and dysfunctional election administration.
Adams told the audience she was supportive of the concept of an open primary system, in which party-unaffiliated voters would have a voice in selecting nominees to the general election. She also said she would "definitely" support moving New York's municipal elections to even-numbered years, in line with state and federal elections, to help boost turnout.
Adams' response to questions about reforming the New York City Board of Elections – the maligned agency responsible for numerous, in some cases major, administrative blunders in recent years – was more tepid. "Yes, there is room for improvement. Yes, it certainly is something for us to consider to take a look at," she said.
Asked whether she supports making the city's Fair Fares program, which provides discounted MetroCards for low-income New Yorkers, open to higher income levels, Adams said the city must first focus on public education to ensure the currently eligible population participates.
Adams also talked about quality-of-life issues like the ubiquity of scaffolding (she supports time limits), speeding e-bikes (she wants more enforcement), and outdoor dining (she's OK with sidewalk eateries but wants curbside sheds removed).
"Outdoor dining is a beautiful thing for the city of New York, I think that the characteristics of New York have to be maintained," Adams said. "So we would have to rein in those types of structures that we allowed during the pandemic, which were meant to be temporary."
Andrew Rigie, executive director of the New York City Hospitality Alliance, subsequently criticized the comments in a statement issued Wednesday afternoon.
"Streeteries were initially intended as a temporary solution to save restaurants and jobs during the worst of the pandemic, but due to its popularity, the city is now going through the legislative process to develop a standardized roadway dining program to complement the successful sidewalk cafés that the city's had for over 45 years," he said. "Outdoor dining with streeteries has incredible supporters including Mayor Adams and many City Council members who have planned to enact an enhanced outdoor dining system that will be a successful and an essential feature of the city's streetscape for many years to come."
The city is expected to soon issue new regulations around the outdoor dining program.
Speaker Adams rejected the mayor's recent Program to Eliminate the Gap (PEG) plan, which called for across the board cuts to city agency budgets this fiscal year and beyond. That funding, she cautioned, may be crucial to the city's economic and social recovery.
"I'm hoping for them to retract that plan," she said. "I understand having to tighten our belt, having to be frugal. My hope is that the administration has a plan behind the payment plan."
"What we can't do is jeopardize coming out of this thing stronger by reducing headcount in places where we need headcount the most," she said of city agencies, many of which have struggled to fill vacancies amid questions about the mayor's workforce policies and about the ability of the city to deliver needed services.
Note: Gotham Gazette is an independent publication of Citizens Union Foundation, sister organization of Citizens Union.