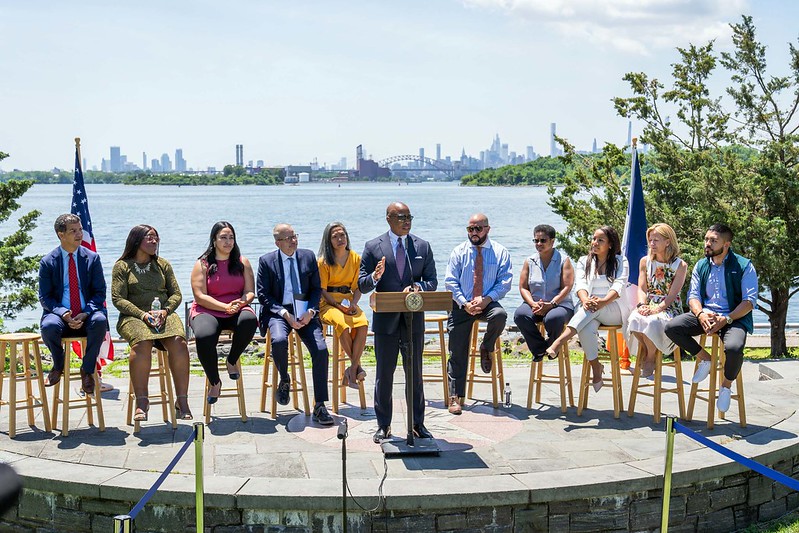 Mayor Adams and city officials talking jobs (photo: Ed Reed/Mayoral Photography Office)
---
Many indicators tracked by New York City's economic development agency to chart the health of the local economy are showing signs of growth, according to a new monthly report being released Thursday.
The initial data shows some major gains in job creation and business start-ups in the last year, and a multi-year increase in venture capital funding. It also indicates a sluggish return to the office amid ongoing hybrid work models.
The city has seen an explosion of new businesses in the first year of the Eric Adams mayoral administration, with 27,500 new ventures, or 10% of all businesses, opening in the last year. "That's a pretty extraordinary stat," said Andrew Kimball, president and CEO of the New York City Economic Development Corporation (EDC), in an interview.
The report, titled "New York City Economic Snapshot" and previewed by Gotham Gazette, is the first in a monthly series from EDC, a mayor-controlled public benefit corporation. The snapshots are aimed at capturing the city's economic progress since the start of Mayor Adams' administration and tracking the city's recovery from the many challenges of the covid pandemic. The report shows monthly metrics on the labor market, business activity, real estate, tourism, and transit, with the first iteration painting a picture of a slow but persistent mend.
"In almost every measure we are doing very well," said Kimball. "When you look at our national competitors -- Boston San Francisco Dallas Miami -- we are competing very strongly."
"The point of this report is to share with the broader business community, elected officials, and policy-makers our view on a monthly basis of what the most important metrics are and the metrics we look to as we measure where the economy is and where we need to take it," Kimball said of the snapshot.
New businesses are not launching as much in Manhattan's commercial hubs as they are in burgeoning sections of the other boroughs, like Jamaica, Queens, Broadway Junction in Brooklyn, and Morris Park in the Bronx, Kimball said. Those areas are more vibrant now than they were in the pre-pandemic era, he added.
"When you map where the new businesses are [it] shows where we have work to do," he said. "And a lot of that is in midtown and downtown [Manhattan] right now.
"Having more thriving commercial hubs outside of Manhattan, and our other central business districts like Downtown Brooklyn and Long Island City, is only going to strengthen the city from a long-term sustainability point of view," said Kimball, who was appointed to his position by Mayor Adams earlier this year after serving as Industry City's longtime CEO.
The exact direction city government – and EDC as its primary economic development arm – will take to strengthen these commercial districts will be informed by a panel of business, nonprofit, and labor leaders convened by Mayor Adams and Governor Kathy Hochul in June. The group, known as the 'New' New York Panel, is expected to make recommendations to policymakers some time in the coming weeks, Kimball said.
In Manhattan, the mayor and governor have talked about making commercial centers in midtown that have seen significant drops in commuters into more residential neighborhoods, which they say could revitalize parts of the city that were built to serve a different kind of work-life model. The process of converting office and retail space into housing and business districts into livable neighborhoods is a complicated process that would involve billions in capital investment, local buy-in, and navigating New York's cumbersome land use regulations. 
"Central Manhattan will remain our business district, but we are going to have to do a zoning rethink the way we did with downtown after September 11," Adams said at a breakfast hosted by Crain's New York Business in September.
The office vacancy rate -- meaning unleased office space -- in New York City has increased less than a percentage point to 12.7% during the Adams administration, per data covering the first two quarters of the year. That average vacancy rate in 2019 was only 7.6%.
Transit and tourism indicators have also moved in a positive direction during the Adams administration, according to the report. Subway ridership in October has been at roughly 64% of pre-pandemic levels, Times Square saw 80% of foot traffic return, and Broadway attendance similarly reached 80% of pre-pandemic levels. Hotel occupancy has increased by 5.2 percentage points since the start of the Adams administration. The only travel metric in the report to remain stagnant since the beginning of the year was bus ridership, which has remained frozen at 63% of pre-covid levels since January.
"We know it's not going to be the same as before covid but there's been steady increases," Kimball said of the return to commuting. "But if you have more live-work [neighborhoods], that will also encourage more local business start-ups in those areas, which is something we care a lot about."
EDC is focused on the fastest growing industries including "green tech," life sciences, machine learning, cybersecurity, and fintech, he said. The level of venture capital investments has grown significantly in New York City since the onset of the pandemic, particularly in these sectors. That trend is "reassuring," Kimball said, despite a recent downturn.
Total venture capital funding -- meaning private investment in companies headquartered in New York City -- reached $9.4 billion in the second quarter of 2022 and dropped to $5.8 billion in the third quarter of this year, according to the EDC report. That's still higher than the pre-pandemic level of $3.9 billion, measured in the third quarter of 2019. Overall this year, venture capital funding reached $23.6 billion, compared to $34.5 billion during the same period in 2021. That year set a record, with venture capital investments nearly doubling what they were during the same period in 2019, before the pandemic.
"We think that's a shift that's here to stay," Kimball said of the increase in venture capital investment in new businesses.
"It's no surprise that big tech companies, while they've slowed down hiring in recent months, continue to expand their real estate footprint throughout covid, and it's because this is where the talent wants to be," Kimball said.
New York City is adding jobs at a faster rate than much of the rest of the country, leading all metropolitan areas in the number of new jobs created in the last year, according to the EDC report.
The New York City metro area added over 450,000 jobs in the last year and 34,500 last month. The city's unemployment rate, while still well above the national average, continued to fall, reaching 5.6% in August, down from 7.4% at the beginning of the Adams administration, but still higher than the 3.7% before the pandemic. In recent months, however, labor force participation has been relatively stagnant and the number of job postings in the five boroughs decreased from nearly 90,000 in August to 85,000 in September.
The numbers echo findings in another recent economic report from New York City Comptroller Brad Lander, which shows overall private sector employment reached 97% of pre-pandemic levels in August.
"Sure that does give pause," Kimball said, chalking up the dip to cyclical oscillations in the job market and inflation pressures in national and global markets. "I would say in that context we are doing very well," he said.
But the unemployment rate among Black New Yorkers, particularly Black men, is still "unacceptably high," Kimball added. (At just six pages, the EDC 'snapshot' does not include demographic breakdowns.)
"In every instance where we have a project or initiative on the ground in New York City we're making sure we're putting in place the kinds of career pathways that are most likely to support those populations," Kimball said. That often means partnerships with local high schools, universities, and workforce development programs.
He gave the example of SPARC Kips Bay, a recently-announced plan to develop a life sciences campus on the East River incorporated with three CUNY schools – a two-year school, four-year school, and graduate school – focused on healthcare and biotech careers along with a new public high school with a public health theme. The project is a joint endeavor by Adams and Hochul.
Overall, Kimball said the data in the report offers important insight and perspective, and is complementary to other focus areas for Mayor Adams.
"The mayor has been relentlessly communicating around more direct quality-of-life issues, you know, public safety, cleanliness, those issues," he said. "This is really a complement to that."