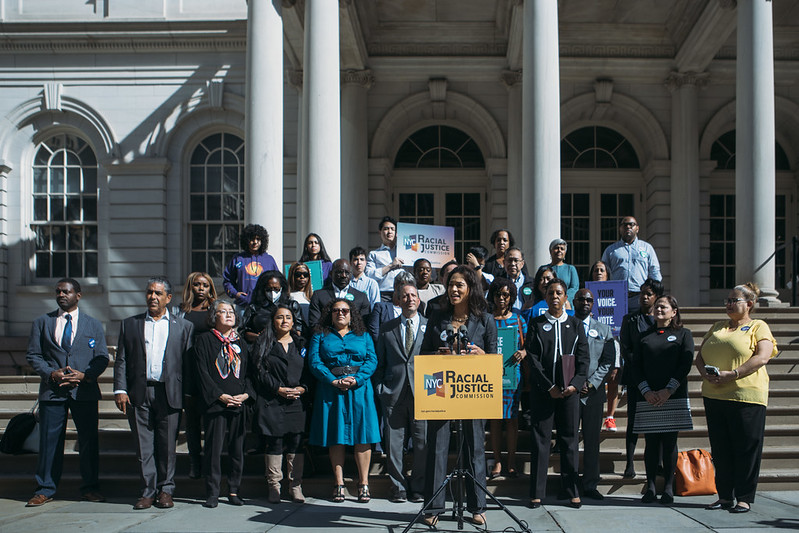 Supporters promote racial justice ballot measures (photo: Emil Cohen/NYC Council Media Unit)
---
New York City voters approved three ballot measures meant to alleviate impacts of structural racism on New Yorkers of color and create a more equal city through equitable city services.
Questions 2 through 4 on the city ballot were proposed amendments to the City Charter to add a preamble recognizing the impact of racist institutions past and present and establish a new statement of principles; create an Office of Racial Equity required to spearhead the development of a racial equity plan; and develop a new metric for the "true cost of living" in New York City meant to inform policy-making.
Initial results show voters approved the measures by wide margins of between 40 and 62 points. About 1.7 million New York City votes had been counted in the governor's race by about midnight Tuesday night, with a chunk of those voters, roughly 300,000, not weighing in on the ballot questions. The numbers will all shift as ballots continue to be counted.
The proposals were developed by a commission created by then-Mayor Bill de Blasio after promising major reforms in the wake of protests against police brutality in 2020. In 2021, his last year in office, de Blasio empaneled the Racial Justice Commission, which designed the ballot questions after a public hearing process.
The proposals had the tacit support of Mayor Eric Adams, who allocated $5 million to educate the public on the referendums. More than a third of the City Council, including Speaker Adrienne Adams, also backed the questions in a series of get-out-the-vote events leading up to Election Day.
The commission and its supporters say the changes will help lay groundwork and take steps toward greater racial equity in the city, helping to ensure that city services are more fairly allocated and delivered.
"Today New Yorkers have made history—taking bold, unprecedented steps to upend systematic racism in local government in a way that other cities around the nation can follow," said Racial Justice Commission Chair Jennifer Jones Austin in a statement. "We are very proud of the success of this non-partisan effort to inform NYC voters about these first-of-their-kind initiatives. It is clear from the overwhelmingly positive response that these proposals resonated with voters from all backgrounds and walks of life."
Preliminary numbers show city voters approved the new Charter preamble 72-28% among those who voted yes or no (many voters declined to weigh in). It sets out a series of values and non-binding rights to "guide the operation of our city government." The language outlines a call for government to provide to all New Yorkers affordable housing, competent healthcare, government access, economic resources, and a safe and healthy environment.
It also acknowledges past atrocities and their legacy in the present, including American slavery, the forced removal of indigenous peoples, ongoing racial segregation, mass incarceration, immigrant exploitation and other injustices. Nothing in the preamble is binding or creates a right to action on which the city could be sued, according to the commission.
The new Office of Racial Equity, racial equity plan requirement, and permanent Racial Justice Commission were approved 70-30%, per initial results. It establishes an office under the mayor responsible for developing and implementing short- and long-term plans to ameliorate racial inequity. The plans would be created every two years based on agency-level blueprints using metrics designed by the new office to evaluate disparities. The amendment also establishes a Commission on Racial Equity, appointed by the mayor, City Council, comptroller, and public advocate, to guide planning and track agency compliance.
The final question, to develop a new, more accurate cost of living measurement, was approved with the highest mandate at 81-19%, per initial results. It requires the city to develop a metric that accounts for basic needs without considering public and private assistance toward one's income. It is intended to give a more appropriate standard than the federal poverty line, which has used the same criteria for decades. The city is required to report the metric on an annual basis. According to the commission, the measure could be used to inform public assistance policies, labor negotiations, and advocacy related to state and federal laws that rely on the federal poverty guidelines.