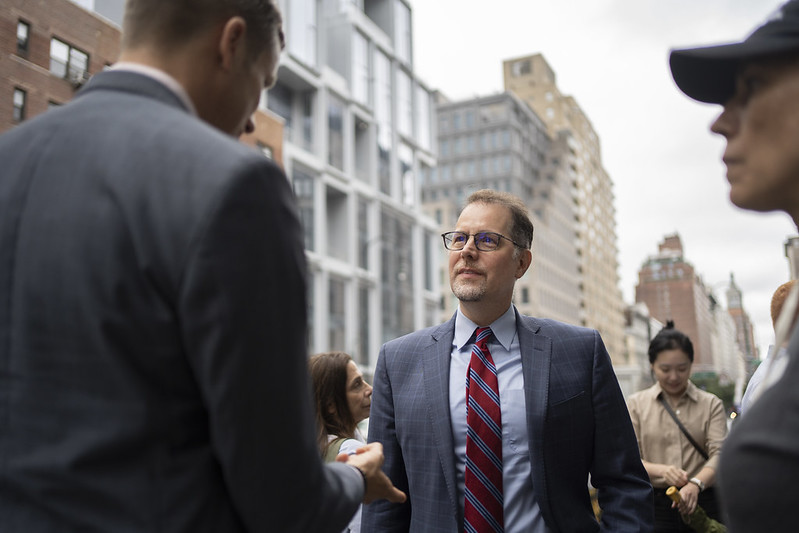 Manhattan Borough President Mark Levine (photo: William Alatriste/NYC Council Media Unit)
---
Manhattan Borough President Mark Levine is opening up the annual application process for community boards on Thursday with a new question on the application, asking would-be members about their priorities around housing development in the borough as part of an effort to encourage pro-housing voices in local matters.
New York City's 59 community boards, 12 of which are in Manhattan, are its most local form of government, playing an advisory role in everything from land use and zoning issues to traffic management and quality of life concerns like trash management. Each board has up to 50 members who serve staggered two-year terms, with 25 members appointed or reappointed every year by the borough president.
Though the work of community boards occurs in the background of New York's hectic political arena, they tend to occupy outsize real estate when it comes to housing issues. Whether it involves individual developments or large-scale rezonings, community board members are often the loudest voices in the debate as they seek to represent other local residents and advocate for the needs of their neighborhoods. While community board votes are advisory, they are a formal part of the city's land use review process, ULURP, and they influence decisions made by City Council members, other elected officials, developers, and others. But community boards, especially in wealthier areas, are often known for being unrepresentative of their larger constituencies and, in many cases, opposing new housing development.
With the city experiencing an ongoing and deepening housing crisis, Levine is changing the community board application to ensure that proponents of affordable housing development are well represented in community boards.
"We consider our lack of affordable housing in Manhattan to be a full blown crisis and it's an area where our community boards have real influence," Levine said in a phone interview. "And we want to add this question because this really is going to be top of the agenda for every board in the next year."
The new question will ask applicants what they consider important, and to what degree, when evaluating a housing development proposal: the number of residential units, the number of affordable units, open space and community facilities, neighborhood context, and the impact on existing infrastructure and/or schools. Respondents will be able to rank each of those on a scale of five from "not at all important" to "very important."
"We want to understand people's perspective." Levine said. "These are nuanced and complicated issues. We formulated the question in a way to draw people out, to show their priorities on what we see as an extremely important topic for all the communities of Manhattan."
Manhattan, like the rest of the city, is experiencing an acute shortage of affordable housing, as development has failed to keep pace with the city's growing population. According to the New York Housing Conference's housing tracker, between 2010 and 2020, only 52,500 units of housing were permitted in the borough as its population increased by 108,378. The city's annual Housing and Vacancy Survey for 2021 also found that Manhattan had the highest median monthly rent of the boroughs, at $1,898. The lack of affordable housing hits particularly hard for low-income families – overall, roughly 53% of city residents were rent-burdened last year, and 32% were severely rent burdened. 
Faced with those dire numbers, Mayor Eric Adams has promised sweeping changes to housing policy and zoning regulations to address the housing crisis. During his winning 2021 campaign he repeatedly pledged to upzone wealthier neighborhoods in Manhattan, in part to bring more affordable housing to high-resource areas of the city.
Levine said he wants to change the narrative on housing development from one focused on hyperlocal projects to a larger borough-wide scope. "We want to make sure that there's a pro-housing perspective represented on boards," he said. "That doesn't mean we exclude people. We want a diversity of opinion. But we definitely want to strengthen the pro-housing perspective. That doesn't have to exclude neighborhood preservation. Those can be compatible." 
Levine's predecessor, Gale Brewer, who is now a City Council member for the second time, insisted for years on collecting and reporting more data on community boards than was required by the city charter. Besides demographic information, Manhattan community board applications ask prospective members about their professional background, the type of housing they occupy, whether they have children in school, whether they are immigrants, their participation in local community efforts, and the skills they will bring to the board.
Last year, at Levine's insistence, the application was updated to add a question about car ownership, a particularly salient issue for Manhattanites given ongoing debates over use of public space in the most mass transit-rich borough, and as the city and state prepare to implement a congestion pricing program south of 61st street.