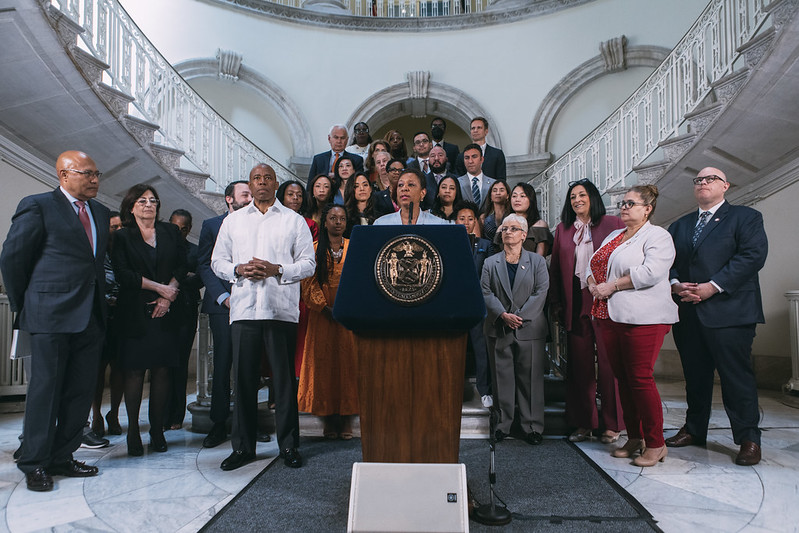 Mayor Adams and City Council Members Announce Budget Deal (photo: Emil Cohen/NYC Council Media Unit)
---
Mayor Eric Adams recently ordered most city agencies to halve their budgeted vacant positions as a means of cutting costs amid fiscal portents. The plan was not accounted for in the mayor's latest modification to the city budget, released a week prior to the personnel order, and members of the City Council are incensed about the move. Already frustrated by the large number of city agency vacancies, blamed in part on Adams' workforce policies, many Council members are raising red flags about further effects a lack of hiring could have on critical city services.
At a hearing on Thursday, Council members made those concerns known as they delved deeper into the city's updated financial plan, known as the November budget modification, and the unintended consequences of reducing the size of the budgeted workforce amid a severe staffing shortage that appears to be impacting a number of critical functions, from affordable housing funding deals to social services for children and cybersecurity for city agencies.
The first-year Democratic mayor's latest budget modification released November 15 increased projected spending for the current fiscal year, which runs through June 30 2023, to $104 billion, up $3 billion from when the budget was adopted in June of this year. Adams also told every agency to present a plan cutting 3% of spending under a Program to Eliminate the Gap (PEG) – though barely a third of city agencies fully complied – which saved the city $2.5 billion between the current and next fiscal years. Most of those savings came from spending re-estimates (including some personnel vacancy reductions) rather than actual recurring efficiencies.
Soon after, the city's Office of Management and Budget (OMB) told agencies to save more by cutting 50% of vacancies, with exemptions for uniformed agencies (police, fire, correction, sanitation), revenue-generating, and legally mandated positions. Those cuts come at a time when city agencies have an especially high overall vacancy rate of 8% (up from 2% before the pandemic) and are struggling to hire and retain workers, calling into question whether the city can fulfill its basic functions in everything from building inspections to child services.
"We need a municipal government that works for the people of this city, achieved by ensuring agencies are adequately staffed and supported so they can successfully provide essential services for New Yorkers," said City Council Speaker Adrienne Adams and Council Member Justin Brannan, the Council finance chair, in a statement ahead of Thursday's hearing. "A city often more focused on wasteful contracts than fixing its core workforce shortage will not get us there. Understaffing and underspending on the most critical services for New Yorkers at key agencies that can confront the crises facing our city is not efficiency."
"This Administration cannot decimate the municipal workforce, and then pretend it has no effect on the people of this city simply because they say so," they added. "A set of ideas focused on increasing the pace of development to confront the affordable housing shortage while simultaneously understaffing and eliminating positions at DOB, HPD, and the agencies required to do the work will not move us forward. New York City cannot successfully address our mental health crisis while cutting mental health programs and understaffing the Department of Health. The Council will continue to confront the inconsistencies between this Administration's actual budget commitments and its public announcements on how to address New Yorkers' greatest challenges."
They concluded: "We need consistent and effective management that prioritizes investments in our city's functionality and its people. The Council is deeply concerned about the Mayor's budget plan falling woefully short in meeting the needs of our city and communities, and this Council will always prioritize New Yorkers."
At the hearing, OMB officials sat on the defensive as they attempted to explain the reasons for the already high rate of vacancies and why the city needs to reduce vacant positions. Even with the PEG, the city expects to see a budget gap of $2.9 billion in the next fiscal year, growing to $4.6 billion in fiscal year 2025 and $5.9 billion in fiscal year 2026. The vacancy reductions are meant to cut spending by as much as $350 million annually. 
Kenneth Godiner, first deputy budget director, said that new funding needs and an uncertain fiscal future created pressing demands for the city to cut spending.
Losses on Wall Street means the city is projected to spend an additional $5.8 billion from fiscal years 2024 through 2026 to meet its obligations to the city pension fund. The city is also in the midst of spending about $1 billion to provide services for tens of thousands of migrant asylum seekers that have arrived here. Almost all municipal labor contracts have expired and are being renegotiated, likely to result in additional unbudgeted costs. Federal stimulus aid is running out.
"Health care costs are rising, energy prices remain high, and inflation has not eased," Godiner added. (City budget director Jacques Jiha did not appear at the hearing, apparently due to a scheduling conflict and the fact that the hearing was scheduled with limited notice.)
City Council members pointed to several deficiencies they see in the administration budget plan. Brannan noted it did not recognize an additional $1 billion in revenue that the Council identified, which could have precluded the need to make cuts (OMB typically issues more conservative revenue estimates than the Council every year). He also said it includes $1 billion in projected federal aid for the migrant crisis, money that has not yet been secured from the federal government. (An analysis by the Independent Budget Office estimated those costs at just under $600 million annually, though it conceded that the calculation is fraught with uncertainty.)
Many of the Council members took exception to the PEG and the vacancy reduction plan, which they see as detrimental to agency functions. They echoed concerns from a report by Comptroller Brad Lander, which noted that City Hall's actions to cut costs have exacerbated the vacancy crisis, which has led to a "severe lack of capacity to get things done in mission-critical areas, from creating new housing to providing services to low-income children to collecting the revenue the City needs to function."
Echoing recent comments from Mayor Adams, Godiner argued that staffing shortages were out of the city's control, pointing to a tight labor market nationally and locally and higher than usual attrition. He outlined measures the city has taken to ameliorate it including expedited hiring and eliminating a two-for-one hiring restriction that Adams instituted whereby agencies can only hire one new employee for every two that depart. And, he noted that even with half of the vacancies eliminated, agencies have enough budgeted empty positions to fill to meet their duties. "Even if you take a 50% reduction, that means half the vacancies are still there," he pointed out.
The loudest criticism came from Council Member Gale Brewer, whose committee released a report for a hearing earlier this year on the city's depleted workforce. She pointed out that the city did not baseline increased personnel funding for the Department of Investigation, even though it generates revenue through fines and recouping city funds, and critiqued vacancy cuts at the Department of Housing Preservation and Development (HPD), where understaffing has already hampered the city's affordable housing efforts. She also raised, in passing, questions about the administration lowballing salaries to potential hires and the mayor's refusal to allow work-from-home or hybrid working schedules.
"I am livid about this issue that we have nobody inspecting anything, no HPD, no DOB [Department of Buildings], no fire department, no health department," she said. "And we learned today there's nobody at the Commission on Human Rights. Nobody is doing inspections in this city…[T]his city is not going to function if you don't have these vacancies filled and people doing the inspections. We'll have no supportive housing, no opening of restaurants, no opening of new business. Nothing."
Godiner did say that inspector titles at HPD were exempt from the vacancy reduction and that a shortage of inspectors is a long-standing problem, particularly made worse when the construction industry is booming and attracting the same talent for better paying jobs. 
In testimony submitted to the Council on Thursday, Comptroller Lander's Bureau of Budget presented a new analysis of the PEG in the November plan, identifying several areas where there could be a potential impact on programs including cuts to the city's 3-K prekindergarten program, libraries, the Behavioral Health Emergency Assistance Response Division (B-HEARD) initiative, HPD's supportive housing program, NYCHA, the Department of Youth and Community Development, and the Young Men's Initiative.
The testimony noted that many PEGs from specific agencies were presented with murky information, making them hard to analyze. The office did back the elimination of vacancies that have been unfilled for at least a year, but raised concerns about a sweeping 50% cut. "We urge caution in applying such a blunt instrument to the positions that keep the City functioning," the testimony reads.
At a news conference on Thursday to announce his new affordable housing plan, Mayor Adams addressed some of those criticisms, particularly since his plan calls for quickly staffing up the city's housing agencies.
"It's no excuse to me that we don't have enough manpower. That is not an excuse. The new norm is that there are going to be challenges on staffing up," he said. He even pointed out that the comptroller's office, which continues to allow remote work, has a 14% vacancy rate of its own.
"We have a national workers shortage problem. Every company I speak with, no matter where I go across the country that's saying the same thing. So now it's up to us to adapt to this norm and come up with innovative ways of getting these projects through," he added. Still, Adams has not announced any new city worker retention or recruitment policies, though OMB Director Jiha said some were in the works in his letter to agencies on November 21 that instructed them to slash budgeted vacancies.
IBO, in its own analysis, presented a rosier fiscal picture than OMB, but nonetheless acknowledged the challenges that lie ahead including the cost of services for asylum seekers and the likely unbudgeted costs of labor contract settlements. George Sweeting, IBO's acting director, testified that it expects the city to have a budget surplus of $2.2 billion for the current fiscal year, a gap of only $207 million in FY24, followed by gaps of $3.5 billion in FY25 and $4.5 billion in FY26.
He pointed out that the PEG fell significantly short, with only 18 city agencies out of about 55 meeting their targets and with overall spending increasing regardless. "Along with not fully achieving the original PEG target," he said, "the administration's PEG plan is offset in several cases by dollar for dollar increases to the very same budget lines targeted by the PEGs."