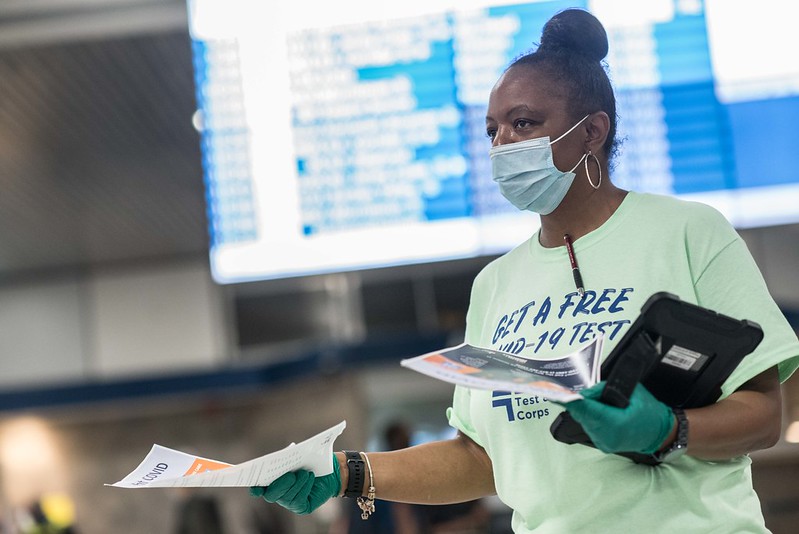 Human services (photo: Michael Appleton/Mayoral Photography Office)
---
The nonprofit providers New York City and State contract to deliver essential human services spend hundreds of thousands of hours and millions of dollars each year filing paperwork and performing repetitive administrative tasks in order to receive government funding.
That's because of compounded inefficiencies built up across a largely decentralized contracting and reporting system, according to a new report from Center for an Urban Future (CUF), a policy research group focused on economic mobility. The new report describes issues with duplicative contracting and reporting requirements within and across government agencies, obstacles to reimbursement, excessive and unnecessary audits, and prohibitively arduous discretionary funding requirements.
In one example, a youth-services provider, Good Shepherd Services, had to submit the same general liability information each year for 25 distinct contracts it holds with the Department of Youth and Community Development, and is audited on all 25 of those contracts each budget cycle. In another example, providers are asked to email documents to the state Office of Children and Family Services that are already available for review by other agencies on the state's digital Grants Gateway platform because OCFS doesn't use the same online system.
Nonprofits, many of which operate on shoestring budgets, often have to hire full-time staff to ensure compliance with byzantine requirements like these, positions that could otherwise be dedicated to service provision.
In its report, Center for an Urban Future is calling for standardized and widespread use of city and state contracting systems, and a reduction in overly cumbersome reporting and auditing requirements.
"City and state government have a major opportunity to boost support for human services nonprofits, an opportunity that costs the city almost nothing, and that's by reducing or eliminating these excessive administrative burdens in the contracting process," said Eli Dvorkin, CUF's editorial and policy director, in an interview.
Human services providers meet New Yorkers' most critical needs, from emergency meals to housing and healthcare. They make up much of the social safety net while often struggling to stay afloat themselves. That was especially true at the height of the pandemic when demands on their services were at their highest levels and government and philanthropic funding at its most uncertain.
While the city and state have adopted digital platforms to streamline contracting, not all government agencies use them and they still lack standardized document or formatting requirements, according to the report, which is based on nearly 40 interviews with human services providers.
When reporting on outcomes from funding, required information is often duplicated over a smattering of isolated systems, making it difficult for providers and government officials to track or analyze results for people receiving multiple services. Even then, some agencies, like DYCD in Good Shepherd's case, audit all contracts, despite federal auditing guidelines requiring between just 15% and 20% of contracts be reviewed, the report notes.
Vouchers and reimbursements are often turned down over minor filing inconsistencies and even the smallest expenses, in some cases as low as $5.50, require extensive documentation, according to the report.
Nonprofits seeking New York City Council discretionary dollars to enhance services and secure needed funds outside of the competitive bidding process, face so many paperwork queries that the labor costs often outweigh the potential funding. In one case described in the report, a math enrichment program working with underserved youth called BEAM (Bridge to Enter Advanced Mathematics) had to file 37 documents in order to receive a $5,000 discretionary award, a burden that proved so costly the organization stopped seeking discretionary funding as part of its model.
The report suggests the City Council, the Mayor's Office of Contract Services, and City Comptroller Brad Lander work together to simplify the application and reporting procedures for discretionary funding.
Mayor Eric Adams has made it a point to ensure nonprofits are paid for the work they are contracted to do, clearing a $4.2 million backlog in unpaid contracts by August after partnering with Lander to launch the Joint Task Force to Get Nonprofits Paid on Time. In 2022, Adams established the Mayor's Office of Nonprofit Services and appointed Karen Ford, former COO of HELP USA, a national homeless and housing services organization, to be its executive director.
The CUF report argues reducing administrative burdens in contracting is a separate area of "low-hanging fruit" that the city and state can take to alleviate pressure on human services providers. That includes ensuring all city agencies use the city's digital PASSPort system and all state agencies use the state's Grants Gateway system for contracting, and that each uses the same documentation standards — steps within the power of Mayor Adams and Governor Kathy Hochul. 
​​Government leaders should also reduce the number of audits nonprofits are subject to, the report suggests. While nonprofits have misused funds and wasted tax dollars leading some to call for greater oversight of the industry, Dvorkin argued eliminating frivolous requirements, like universal auditing, is unlikely to compromise existing accountability.
As the Hochul administration moves forward with plans to replace the Grants Gateway portal, it should conduct robust outreach with nonprofit providers to ensure the new system can function as intended, the report states.
CUF argues other data management steps are relatively simple, like using systems that allow nonprofits to upload information directly from digital spreadsheets like Microsoft Excel. Another is creating so-called document vaults – secure digital repositories for providers to save frequently requested documents directly to the online portals, something PASSPort's predecessor system, the HHS Accelerator, had.
"Reforming our nonprofit contracting processes is a major priority for the Adams administration, which is why the mayor announced 'A Better Contract for New York' with the city's comptroller before he took office during the transition, to ensure nonprofit human services providers are paid in a more timely manner," wrote a City Hall spokesperson, referring to the alternate title of the Joint Task Force to Get Nonprofits Paid on Time, in an email. The city has now unlocked over $5.3 billion in unpaid contract dollars to 624 providers, they said.
"We plan to build on these ambitious steps in the months ahead to reduce unnecessary inefficiencies, and will review the recommendations advanced in the report," the spokesperson for Mayor Adams wrote.
"New York City's non-profits provide critical services and deserve timely and efficient access to the city funding allocated to them," wrote a spokesperson for New York City Council Speaker Adrienne Adams, in an email to Gotham Gazette. "The challenges and delays in accessing funds through the contracting process has long been an issue of concern to the Council. It is critical for the City to strike the right balance between administrative requirements and safeguards in funding organizations with varying levels of back-office capacity."
The Council's committees on aging, contracts, and youth services will hold a joint oversight hearing this month on nonprofit contracting and the Adams-Lander task force recommendations. That will include exploring ways to simplify the discretionary funding process, the Council spokesperson said.
Queens City Council Member Julie Won, chair of the Council's contracts committee, discussed the need for discretionary funding reform at a recent CUF panel that was quoted in the report. "When you've been allotted $10,000 in discretionary funds, it is not okay to have a nonprofit with 30 employees dedicate two of those employees to it for weeks at a time," Won said. "We've created such an administrative burden for only $10,000, which isn't even enough to cover one payroll."
A spokesperson for Lander acknowledged the problems identified in the report and noted the issues were an ongoing focus of the office. "Making our procurement process simpler and quicker for nonprofits providing vital services is critical and we welcome the Center for an Urban Future's contributions to the conversation on contracting reform," said Chloe Chik, spokesperson for the comptroller. "Together with the Mayor's office and partners in the Council, we continue to work toward streamlining the procurement and oversight process to ease the burden on nonprofits while maintaining integrity."
Chik noted that some of the recommendations in the Joint Task Force report complement CUF's recommendations, including streamlining the discretionary award process. Chik also said there is already a commitment at the city level to integrate all contracting agencies into PASSPort.
"The Adams administration should commit to reforming at least a half dozen of the most maddening contracting requirements by the end of 2023," the CUF report states.
"These are relatively modest changes that could be rolled out in a matter of weeks or months, not years. And we've seen other challenges that have unfolded over much longer timelines," said Dvorkin, noting the mayor has laid some of the groundwork already by creating the Mayor's Office of Nonprofit Services.