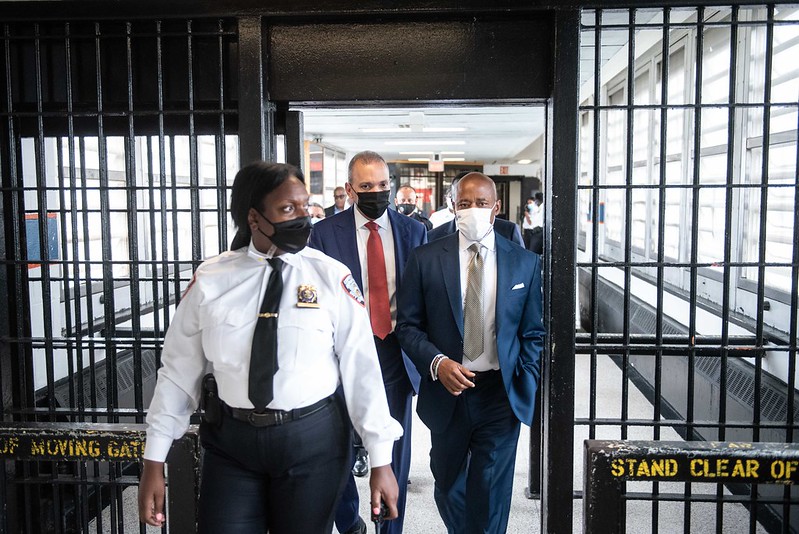 Mayor Adams on Rikers Island (photo: Michael Appleton/Mayor's Office)
---
The New York City Board of Correction, a nine-seat panel with oversight over city jails, may soon have two new members including a former Rikers Island doctor critical of mass incarceration and a national expert on corrections policy who now leads the advocacy group that successfully advocated for the planned closure of the Rikers jail complex.
The City Council's Committee on Rules, Privileges and Elections on Wednesday held a hearing to question two of its own Board of Correction nominees – Dr. Rachael Bedard, former senior director of the Geriatrics and Complex Care Service at Correctional Health Services, a division of New York Health+Hospitals running health care in city jails; and DeAnna Hoskins, president and CEO of JustLeadershipUSA, which led the Close Rikers Campaign.
Bedard and Hoskins are outspoken proponents of the city's plan to shutter the violence-plagued Rikers Island jail complex and replace it with four borough-based jails, as well as the Council's push to end solitary confinement policies (legislation is pending to do so). While that makes them ideal candidates for a Council where a majority of members support both steps, it puts them at some odds with Mayor Eric Adams, who has repeatedly called into question the Rikers closure plan as well as defended the use of a form of solitary confinement, punitive segregation, as a necessary tool for jail safety.
The Board of Correction is an oversight body that monitors and investigates the city's correctional facilities, creates policies that must be implemented by the Department of Correction, evaluates the performance of Department of Correction employees, and redresses the grievances of staff and detainees. Three of its members are appointed by the City Council, three are appointed directly by the mayor, who also chooses the chair, and the other three are appointed by the mayor on the joint nomination of the presiding judges of the appellate division of the Supreme Court for the first and second judicial departments.
Nominees are confirmed by the City Council, first by the rules committee then the full Council. Members of the Board of Correction serve six-year terms.
At Wednesday's hearing, Council members pressed Bedard and Hoskins on their experience and qualifications, the Rikers closure plan, the importance of borough-based detention facilities and solitary confinement and punitive segregation.
"These appointments are really critical to the future…[to] make sure that our correctional system is functioning, that we address outstanding issues in it and that the folks that are in our custody get the attention that they often need and deserve," said City Council Member Keith Powers, a Democrat who is the Council majority leader and also chairs the rules committee. Last term, Powers oversaw city jails as chair of the Council's Committee on Criminal Justice.
Hoskins, who was once incarcerated herself, has previously served on the city's task force to eliminate solitary confinement, helped develop corrections and reentry policies for the Obama administration, and worked with 20 state facilities and 80 local jails during her career. "I bring a pragmatic advocacy to this board, and I understand how the system works on the inside and how to move the needle on policy matters," she said in her opening statement, citing her own experience with the justice system.
Bedard, who is an internist, geriatrician, and palliative care physician, works as a research fellow at the Institute to End Mass Incarceration at Harvard Law School and worked at the city's Correctional Health Services from 2016 to 2022. She has been an outspoken critic of the failed policies at Rikers and the overall corrections system.
As Bedard noted in her opening statement, she worked at Rikers during the time that the closure movement gained momentum and the jail's population fell significantly, and also during the height of the pandemic when the jail complex was in a state of crisis. She pointed out that deaths of people in custody in the Rikers Island complex went from 3 in 2019, the lowest ever, to 19 in 2022, the highest level in 25 years.
"I believe that the Board of Correction is more important now than any time in recent memory," she said. "No other civilian body has unfettered access to visit the jails to talk to the people who live and work there, to request and analyze jail data, and to make recommendations for change."
The City Council and Mayor Bill de Blasio passed a law that requires the Rikers jail complex to close by 2027. But it is contingent on reducing the average daily jail population below 3,300 detainees, who would be housed in four new borough facilities that are in various stages of design and construction. But the Adams administration has expressed doubts about hitting that target, with Mayor Adams saying there should have been a "Plan B" and that he has assembled a small task force to create one. There are currently more than 5,700 people in city jails and, according to City & State, Department of Correction Commissioner Louis Molina told the Council at a December hearing that the number could increase beyond 7,000 by 2024.
At Wednesday's hearing, Hoskins and Bedard stressed the importance of the borough-based jails plan. "Borough-based facilities are a necessity if we want to keep people close [to their families], reduce the city's cost of transporting [detainees], running the court system," Hoskins said, "but also empowering and encouraging our staff that this is not just about monitoring and babysitting individuals who are incarcerated. This is actively being involved in your community."
Bedard expressed concern that the mayor "has pretty explicitly said that he no longer feels beholden" to meeting the target of reducing the jail population. "If we go forward with that, what we end up with is new facilities in the boroughs with either overcrowding or folks you have to put in other places, either keeping the island open or using state facilities or what have you," she said.
Asked by City Council Speaker Adrienne Adams if they supported creating gender-specific facilities for the safety of women, both nominees issued a word of caution. "I also believe we have to have gender-specific programs, access, and housing but does that require creating one facility for the women that may defeat the initial purpose of keeping women close to their families, when their caregivers and other people may be taking care of their children?," Hoskins said.
"I would reiterate that I think gender-specific housing or gender-specific units at a minimum are important in maintaining safety for incarcerated women, incarcerated folks who are transgender or nonbinary," Bedard said. "And at the same time, especially given that so many of the women incarcerated on Rikers Island are parents, it feels imperative to try to colocate those folks as close to their family as we can."
Both nominees spoke out against punitive segregation, which the Council and Public Advocate Jumaane Williams are trying to ban through legislation. The bill has the support of Speaker Adams and was considered at a Council hearing in September. That same month, the mayor harshly criticized the proposal.
"If someone slashes someone with a knife on the street, I put him in jail. I remove him from population because he's dangerous," the mayor said, at an unrelated press conference in Washington, D.C., when he was asked if he'd sign the bill. "Someone slashes someone in jail, what do I do with him? I remove him from population and put him someplace by himself until he corrects his action and gets the assistance he needs. So what the City Council is saying is if someone slashes someone in jail, you do nothing with them." (That is not what the bill says, it allows for separation from others in such a situation, but requires evaluations and actions on a short timeline.)
Hoskins and Bedard also promised to work on reforms to management that will ensure safety of correction staff and officers as well — violence at Rikers between detainees and between detainees and guards has skyrocketed in recent years. Hoskins suggested improvements to jail infrastructure as one solution, which is part of the plan for the design of the new jails. There have also been major safety issues because of correction officer absences, in part due to abuse of sick leave.
Bedard argued for reducing interactions between detainees and officers. "If you create circumstances where you demonstrate some trust in the detainees by allowing them more independence in a safe way for their own day, you decrease the number of contacts that they need to have with officers and if you do that, you just decrease the number of opportunities for tension and conflict," said Bedard.
Though Rikers is already under the purview of a federal monitor because of a consent decree stemming from a 2011 lawsuit, several elected officials and advocates have pushed a federal judge to appoint a receiver who would take over the Department of Correction and the operation of city jails amid the current crisis. In November, the judge in the case, Laura Taylor Swain, chief judge for the U.S. District Court for the Southern District of New York, gave the DOC more time to implement reforms, ordering all sides back to court in April for another review.
Council members did not pose any questions about the possible receivership to Hoskins and Bedard.
If appointed, Hoskins will serve a six-year term while Bedard will serve the remainder of a term that ends October 12, 2026. There are currently three vacancies on the Board of Correction – Hoskins and Bedard would fill two of them. Mayor Adams has appointed two members of his choice, including the chair, Dwayne Sampson, to the board and a third based on a judicial nomination.