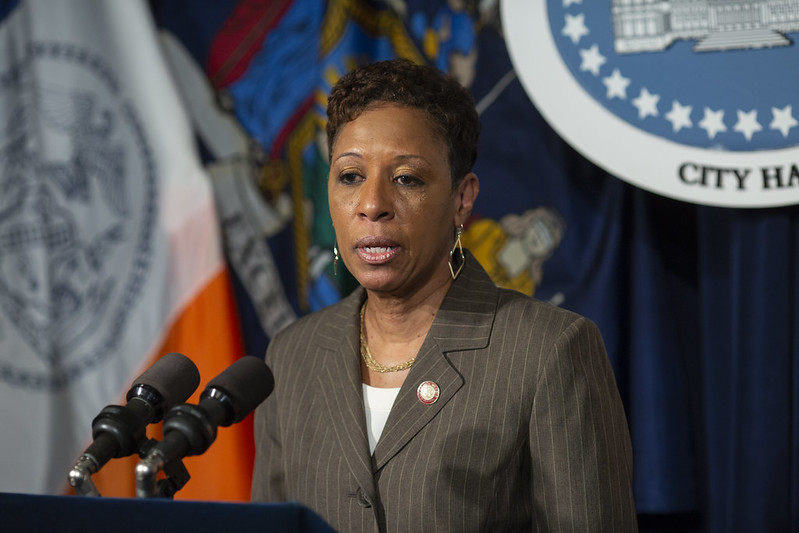 City Council Speaker Adrienne Adams (photo: John McCarten/NYC Council Media Unit)
---
Some members of the New York City Council continue to have questions about ranked-choice voting, the new voter-approved system that went into effect in 2021 for party primary and special elections for city government positions. Council members aired those concerns at a hearing on Wednesday as they questioned a nominee to become a commissioner at the New York City Board of Elections. The nominee, Carol Edmead, is a State Supreme Court judge who once ruled against a City Council-led lawsuit opposing ranked-choice voting. 
Ranked-choice voting (RCV), also known as instant-runoff voting, was overwhelmingly approved by 73.5% of voters in a 2019 ballot measure that amended the City Charter. RCV allows voters to rank up to five candidates in primary and special elections by choice of preference. If no candidate crosses the 50% threshold with first-choice votes in the first round, the candidate with the fewest votes is eliminated and their voters' second-choice votes are reallocated. The process, intended to ensure the winner has a broad base of support, continues until a winner is crowned.
The first ranked-choice election was held in February 2021, in a special election for City Council District 24 in Queens. But in the months prior to that election, six members of the Council's Black, Latino, and Asian Caucus, all Democrats, sued to stop its implementation, citing concerns about the pandemic's disruption and arguing that the Board of Elections had failed to adequately educate voters about the system, which could subsequently disenfranchise racial minorities.
But Edmead, a retiring Manhattan Supreme Court Judge and ally of Manhattan Democratic county leader Keith Wright, refused the Council members' plea ahead of the special election and eventually struck down the lawsuit in May 2021. On Wednesday, Edmead found herself facing questions about that decision at a hearing of the Council's Committee on Rules, Privileges and Elections, which was considering her nomination to the Board of Elections as a Democratic commissioner from Manhattan. As required by state law, the New York City Board of Elections has one Democratic and one Republican commissioner from each borough, officials who are nominated through their local party establishments and confirmed at the City Council.
"For the past almost quarter-century, I have served the people of the City and State of New York as a jurist, following justice and fairness through law," Edmead said in her opening remarks, noting that she spent the last decade overseeing election law disputes. "My goal, if appointed to the Board of Elections as a commissioner, is to serve all the people of the City of New York without prejudice or preference," she added.
When Edmead was presiding over the RCV lawsuit, the BLA Caucus was led by Council Member I. Daneek Miller, who has been term-limited out of office, and Council Member Adrienne Adams, a Queens Democrat who became the Council speaker last year. The other members who signed onto the lawsuit were Council Members Laurie Cumbo, Robert Cornegy Jr., Alicka Ampry-Samuel, and Farah Louis, who is the only one of the four still in the Council. Opinions were divided within the caucus itself – several other members endorsed the new voting system. 
At the hearing on Wednesday, under questioning from Speaker Adams about her most recent decisions on election law, Edmead cited the RCV case. "As in all cases, I followed the law, applied the law, and made a decision. And that's what anyone should expect from a judge," she said.
Edmead would not say whether or how RCV could be improved. "Whether rank-choice voting needs to be tweaked, needs to be adjusted, or is not the right thing at all needs to be fully considered, researched with input from people, town hall meetings, real information sharing before any action is taken," she said. 
But she did say she would require more than anecdotal evidence to conclude whether voters rejected the new voting process. 
In May 2022, the New York City Campaign Finance Board released its 2021-2022 Voter Analysis Report, and found that voters embraced ranked-choice voting, with more than 90% of them ranking more than one candidate in at least one primary race. Democrats used ranked-choice at higher rates than Republicans. The only improvement that the CFB recommended was in reporting RCV results by publicizing a reporting schedule and reorganizing the cast vote record to help researchers analyze it. 
The recommendation on publicizing a result schedule stemmed from the BOE's mishandling of the release of the first round of votes in the citywide primary in June 2021, which included 135,000 test votes that were erroneously included. 
In an analysis of the 2021 primary, Fair Vote, a nonpartisan group that promotes RCV nationally, found that 87% of voters ranked multiple candidates for mayor and 46% of voters used all five ranking spots on their ballot. In other races, a median of 67% ranked multiple candidates. In 49 out of 52 primary races, the first-round leader was the eventual victor, proving that they were the most representative candidate. And in 3 races, a candidate came from behind to win, showing broader consensus in later rounds. 
Citizens Union, a good government group, also pointed to several benefits from RCV in that election including fewer "wasted" ballots, more victories for women and candidates of color, more women running for office and higher voter turnout, to name a few.  
An exit poll conducted by Common Cause/NY and Rank the Vote NYC right after the election found that 78% of New Yorkers said they understood RCV extremely or very well and 77% said they want RCV in future elections.
Voting rights and election advocates overwhelmingly support RCV, which they say encourages candidates to campaign more broadly outside their base and gives voters greater choice and voice in elections. Far from disenfranchising communities of color, studies have found that RCV has helped them have greater influence and that it has helped elect minority candidates to office in other jurisdictions while also boosting women. The city's first RCV election led to the first-ever female majority in the City Council, with 31 out of 51 seats occupied by women.  
Council Member Shekar Krishnan is among the new members who were elected in 2021, and the first South Asian representative on the Council. "[T]he reality is that we are seeing the most representative and diverse City Council that we've ever had in its history, and turnout that is far higher than it's been in many other previous years, which to me says that ranked-choice voting really worked," he said in an NY1 interview in July 2021, after winning his primary.
Despite the data, Speaker Adams still has her reservations. "As one of many who questioned the implementation of ranked-choice voting, my belief is still that education was not appropriate to those that ranked-choice voting was meant to serve," she said at the hearing.   
There is some weight to her concerns. An analysis by Politico New York showed that wealthier, whiter neighborhoods were more likely to more extensively use ranked-choice voting than low-income communities of color. 
"My opinion is that the data was in the voting itself…People of the City of New York spoke and chose not to use it in way too many cases for my druthers, but that's just my opinion," she added. 
Mayor Eric Adams, who was then-Brooklyn borough president and running for City Hall, has previously expressed concerns that the system was being rushed into place despite having supporting it. "Everyone knows that every layer you put in place in the process, you lose Black and brown voters and participation," Adams told Politico New York in a November 2020 interview. "We can't disenfranchise those voters." Frank Carone, Adams' close ally and mayoral chief of staff for his first year in office, represented the Council members in court in the case that Edmead ruled on.
At Wednesday's hearing, Speaker Adams' concerns were echoed by Council Member Selvena Brooks-Powers, a Queens Democrat who won the February 2021 special election with first-time ranked-choice voting implementation. Brooks-Powers, who is Black, emerged victorious in a crowded field of nine candidates, after nine rounds of votes being counted, ahead of Pesach Osina, who is white, in second place. RCV seemed to benefit Brooks-Powers, helping as intended to eliminate the potential spoiler effect as several other Black candidates ran in the predominantly Black district. 
Nonetheless, she said the BOE did not conduct any significant voter education ahead of that special election and that the campaigns themselves had to take on that responsibility. "A lot of it rested on [community-based organizations] doing the work, or the candidates having enough money to do mailers to communicate that to voters, and I thought that was a misstep by the Board of Elections," she said, insisting that it was an "injustice" not to pause the implementation of RCV. The BOE, the Campaign Finance Board and DemocracyNYC subsequently undertook a concerted effort ahead of the citywide primary to inform and educate voters. 
Edmead agreed that the BOE should conduct earlier outreach about RCV. "Can it be done, and more effectively, more efficiently, and early, and in every kind of language, in language that everybody can understand? There's no reason it can't," she said. "And it should be, and it should be a mandate, an early mandate."
The New York City Board of Elections, an independent body that manages the city's elections, is composed of ten commissioners, one each selected by the Democratic and Republican parties in every borough and then appointed by the City Council. Edmead was nominated by the Manhattan Democratic Party on January 4 (Wright also made a prior nomination that has not yet moved forward). If the Council does not act within 30 days of that nomination, the Council's Democratic members from Manhattan can then choose to approve Edmead's appointment. She would then serve the remainder of a four-year term that ends December 31, 2024.
Note - This article has been updated to note that Manhattan Democratic Party Chair Keith Wright did not withdraw a second BOE nominee. The Council has not yet acted on that prior nomination.