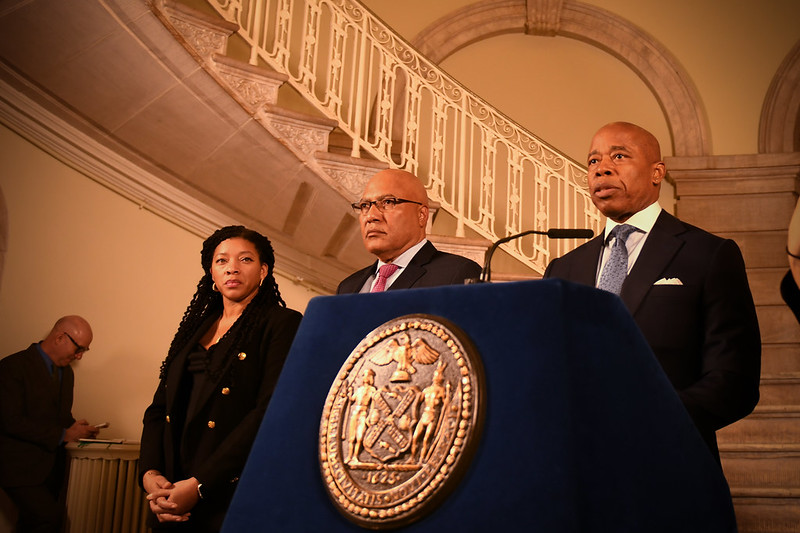 Mayor Adams with Budget Director Jiha & Chief of Staff Varlack (photo: Benny Polatseck/Mayor's Office)
---
When he was running for mayor in 2021, then-Brooklyn Borough President Eric Adams promised that, if elected, in his first year he would "finally" tackle a particularly thorny area of city finance that impacts all New Yorkers: property taxes. As he takes the stage to deliver his second State of the City address on Thursday, the mayor has made no apparent progress on this significant campaign promise.
Virtually everyone agrees New York City's property tax system is irrational and unfair, that it places the heaviest burden on low-income homeowners and renters, and that it exacerbates and is exacerbated by gentrification. Owners of some of the priciest co-ops pay rates far lower than homeowners in underserved areas of the city, while similarly situated properties often pay vastly different amounts for no discernible reason.
"Mayor after mayor has promised to tackle property tax reform, but struggling homeowners continue to wait and pay unfair bills under a fundamentally unfair and overly complicated system," Adams wrote in policy platform material posted on his campaign website.
"I'm going to immediately put in place a committee to look at these tax laws and come up with real solutions to alleviate co-ops and condominiums and shift the tax burden off of renters and homeowners in less affluent areas to the owners of pricey apartments in wealthy areas," Adams' platform continued. "Billionaires are not paying their share of taxes."
"This will be fairly examined within our first year, with a robust outreach effort that gets maximum input from impacted New Yorkers," Adams wrote about potentially becoming mayor.
But there has been no public mention of a property tax committee or outreach efforts to date. Adams' campaign website was removed shortly after his election (the contents have been republished by Gotham Gazette). A spokesperson for the mayor said the administration was drafting recommendations for reform, much of which would have to take place in Albany through the State Legislature.
"Mayor Adams believes our property tax system is in need of long-overdue reform," wrote Jonah Allon, a mayoral spokesperson, in an email. "Low- and middle-income homeowners deserve relief, especially as the city continues to recover from the pandemic."
"While we are still in the process of developing our own updated recommendations and analysis, we look forward to working with our partners in government and advocates to ensure the system is simpler and more equitable for all," Allon added.
Asked whether either the committee or the outreach took place, Allon referred Gotham Gazette to his previous statement.
In 2020, an advisory commission established by then-Mayor Bill de Blasio and City Council Speaker Corey Johnson published a series of recommendations. While de Blasio and Johnson never converted those recommendations into firm policy proposals, economists and tax experts agreed the commission had moved in the right direction. It recommended a number of changes, including taxing co-ops and condominiums on their market value like other small homes; instituting "circuit breakers," or tax breaks, for low-income homeowners in rapidly appreciating neighborhoods; and getting rid of a so-called "fractional assessment" method that adds layers of obscurity to the tax formula.
Those steps would require changes to state tax law. State lawmakers, including those who support reform, have said they are waiting for city leaders to take the lead. Any major changes could be felt, for better or worse, by every city resident and impact a full third of the city's revenue stream. So far there are no comprehensive legislative packages on the table, though there is an ongoing lawsuit seeking to force changes to the property tax system.
Last fall, City Comptroller Brad Lander and City Council Members Joe Borelli and Kevin Riley began mustering forces to reinvigorate the debate, bringing together a larger coalition and calling on state lawmakers to pick up the commission's recommendations and also provide relief to rental properties, which hadn't been addressed. The group met with Adams in December to get him on board.
"Fixing our opaque and inequitable #propertytax system isn't easy, but it's imperative," Lander wrote in a tweet after the meeting. "Thank you @NYCMayor for listening to our broad coalition, including hundreds of New Yorkers who signed our petition. Look forward to working together to ensure tax fairness across NYC."
Allon, the mayor's spokesperson, would not say whether property tax reform is a priority for the administration this state legislative session.
"If we do any property tax, we have to be thoughtful, look after those small homeowners when we think this through and we want to get this resolved during this fiscal year," Adams told reporters earlier this month as part of a larger response about calls to raise taxes on wealthy New Yorkers.
Adams is expected to unveil his state agenda over the coming weeks, some of which could be included in his State of the City address, which he will deliver on Thursday in Queens.