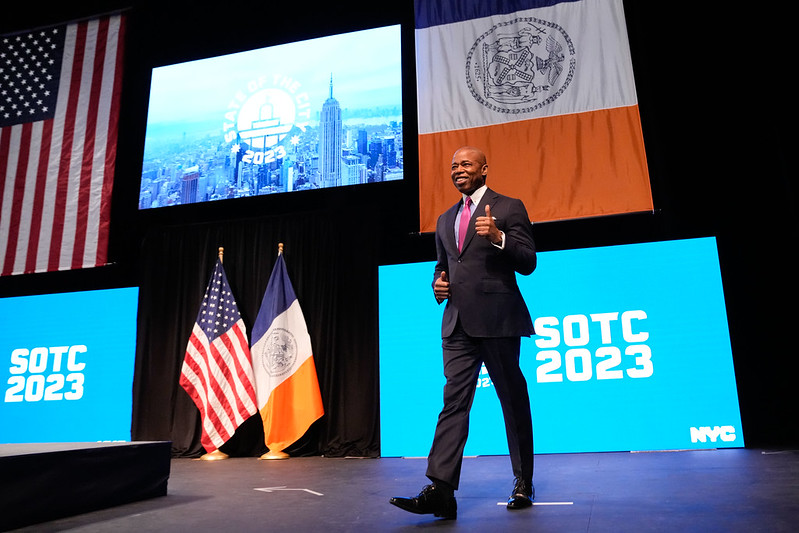 Mayor Adams at his 2023 State of the City (photo: Michael Appleton/Mayor's Office)
---
Mayor Eric Adams, a first-term Democrat, delivered his second State of the City speech on Thursday, outlining a "Working People's Agenda" focused on jobs, housing, public safety, and healthcare for those who need them most.
"These are the things that our administration is working for every day," Adams said in his speech at the Queens Theatre in Flushing Meadows-Corona Park, which was attended by fellow Democratic elected officials including Governor Kathy Hochul, Lieutenant Governor Antonio Delgado, City Council Speaker Adrienne Adams, and various others.
The speech is Adams' second since taking office during a tough transition, when the city was facing some of the worst of the COVID-19 pandemic and violent crime had spiked, while tourism and other aspects of the economy were rebounding but still below pre-pandemic levels. On Thursday, Adams had cause for optimism. "One year later, our city is on the pathway to being safer, our economy is recovering, and our stores, subways, and hotels are full," he said, offering a slightly rosier-than-reality report. "Our children are back in school with their teachers and friends. Our theaters are thriving, our restaurants are booked, and New Yorkers are back to work."
The mayor announced ambitious plans for the years ahead, many of them quite granular, including everything from new job and workforce initiatives to a continued focus on tackling recidivism and gun violence, expanded tenant protections, free tax preparation programs, traffic safety improvements, additional public benefits, investments in public and green spaces, small business loans, student mental health programs, universal dyslexia screenings, and more.
"Mayor Adams' focus on jobs, safety, housing, and care offers many proposals that align with the Council's priorities to create a safer, healthier, and more equitable city," said Speaker Adams (no relation), in a statement after the speech. "A strong city government and workforce, supported through our city budget, is essential to the goals that New Yorkers need us to fulfill."
Though she expressed agreement with the mayor's goals and policy announcements, the speaker did so with a hint of caution about the mayor's budgeting practices and the acute staffing crunch that city government is experiencing under his watch. "At the end of the day, budget commitments are necessary to achieve our goals," she said. "None of this work is possible without the full capacity of our city agencies that have lost funding, struggled with dangerously high rates of vacancies, and are at risk of losing additional funds and positions."
In the speech, Mayor Adams repeatedly spoke of Governor Hochul from the stage, underscoring their strong relationship, a marked shift from the warring years of their predecessors, Mayor Bill de Blasio and Governor Andrew Cuomo. There's no recent record of a governor attending a mayor's State of the City nor the degree of collaboration that Adams highlighted on job creation, public housing, public safety and more. "This governor is the steady hand we need at the wheel right now. I may be the pilot for the city but she's the pilot for the state," Adams said.
Following the speech, Hochul also reiterated her collaboration with the mayor in achieving their shared goals. "From addressing a generational housing crisis, connecting those experiencing homelessness and severe mental illness to supportive services, to investing in law enforcement and proven crime prevention strategies that keep New Yorkers safe, and making New York City more affordable - I am confident that Mayor Adams' proposals will meet the urgency of this historic moment," she said in part in a statement.
Workforce Development
Mayor Adams touted the city's success in adding 200,000 jobs over the last year, a higher rate than the country and the state, but noted that the recovery has been uneven as Black New Yorkers were three times as likely to be unemployed as white New Yorkers. "This era of inequality must end," he said. "We're going to make sure that all New Yorkers finally have access to good jobs."
He outlined several major programs to improve job creation and develop the city's workforce including a new Apprenticeship Accelerator, promoted in a citywide campaign, that will connect 30,000 New Yorkers with apprenticeships by 2030; expanding the CUNY 2x Tech program to ensure more students receive tech-related degrees; a first-in-the nation 50,000-square-foot innovation hub at the Brooklyn Navy Yard to promote the biotechnology industry; a new nursing education initiative in partnership with CUNY to support 30,000 current and aspiring nurses over the next five years; doubling the rate of city government contracting with Minority- and Women-Owned Business Enterprises; a new Center for Workplace Accessibility and Inclusion to connect people with disabilities to jobs; and more.
As he announced a new loan fund to help those impacted by the War on Drugs to launch new legal marijuana sales businesses, he also promised a crackdown on unlicensed marijuana retail stores. "We are not going to let bad actors undermine the promise we made to New Yorkers who were impacted by marijuana criminalization," he said.
Adams has often spoken of his own struggles with dyslexia and has made it a priority to ensure that students who similarly suffer from it are not left behind in city schools. Building on previous programs he announced last year, he said Thursday that all schools would get at least one staff member trained in literacy-based interventions, and that the city would launch its first district school dedicated to students with dyslexia, even as dyslexia screenings are provided in every public school.
"We're making three fundamental commitments to our young people," he said. "One, every child will get the support they need to become a strong reader at or above grade level. Two, we will establish a whole-child approach to education, factoring in social emotional learning, and other supportive services. And three, every student who graduates from a New York City High School will have a clear pathway to the future whether that is a job, job training or continuing education."
The mayor said his administration will launch "the biggest student mental health program in the country" and will also update the Fair Student Funding formula to redirect $90 million to support students in temporary housing and schools with higher concentrations of high-needs students.
Public Safety
The mayor's main 2021 campaign focus and top challenge in his first year was tackling the rising crime witnessed during the pandemic. He was able to point to some success in driving down major crime, but acknowledged there's a lot of work to do. On Thursday, he reiterated his administration's commitment to public safety, announcing renewed efforts to deal with roughly 1,700 individuals that he says are responsible for a disproportionate amount of violent crime. He has controversially continued to push for changes to state criminal justice reforms that he believes have stymied law enforcement efforts, including pushing for a "dangerousness standard" for judges to be able to consider while setting bail or ordering pre-trial remand, and adjusting discovery laws while providing district attorneys, courts, and public defenders more resources to properly advance cases. While Adams has a sympathetic ear in Hochul, many members of the State Legislature have repeatedly pushed back against the mayor's rhetoric, which they say is not supported by data.
"Our legal system must ensure that dangerous people are kept off the streets, innocent people are not consumed by bureaucracy, and victims can obtain resolution," Adams said on Thursday. "This is something we can all agree on."
He also promised enhanced crime prevention efforts at the community level by expanding the use of Neighborhood Safety Teams, a controversial NYPD unit he revived and renamed after a prior version was eliminated by his predecessor. And he said that the NYPD will be holding CompStat meetings to discuss crime statistics at the community level.
"We're going to use proven methods and intensive community support to keep gun culture from taking root and taking over," he said. "That means more Neighborhood Safety Teams in more places, more violence prevention programs in neighborhoods with the highest concentration of violent crime and a new neighborhood safety alliance, a partnership between local precincts, service providers and community leaders in many of these same neighborhoods."
The mayor also announced expanded traffic and street safety efforts, pushing for a package of state legislation dubbed Removing Offenders and Aggressive Drivers from Our Streets (ROADS), which would increase penalties for traffic violations. "You must treat traffic violence the same way we treat other dangerous crimes," he said.
Public Spaces and Quality of Life
Adams has often stressed the link between quality of life and the city's economic prosperity, and his speech offered several proposals to improve New York's public spaces. "For far too long, New Yorkers were asked to accept things that should be unacceptable: crime, rats, trash, traffic," he said. "When we allow quality of life to deteriorate, it is working class New Yorkers that suffer the most. It also hurts our economic recovery."
He announced that the city's incipient curbside composting program will expand citywide by the end of 2024; that he will invest $375 million in new public spaces and permanent Open Streets across the city; that he will work with the City Council to implement a permanent Open Restaurants program while ridding the city of many dilapidated outdoor dining structures; and appoint a new Director of the Public Realm to oversee the city's public spaces (a position that he committed to as part of a joint plan on the city's future crafted with Hochul and the 'New' New York task force they empaneled together).
The speech included several climate-related announcements as well. The mayor said that the city will require for-hire vehicle companies like Uber and Lyft to have a zero-emission fleet by 2030 and indicated both companies were on board; add electric vehicle charging stations in all five boroughs; release an updated PlaNYC sustainability agenda in April; and launch a new "climate budgeting" process that links city spending decisions with climate goals.
"The future of our city will be cleaner, greener, and healthier for all including our wildlife and marine life like the dolphins who recently visited us in the Bronx River. That's the future of our city. More dolphins, fewer rats," he said to applause and laughter.
Housing and Health Care
Last year, Adams announced a major "Get Stuff Built" affordable housing plan with a "moonshot" goal of building 500,000 new homes over ten years. "New York City must remain a city where every day people can find an affordable place to live. Young people, immigrant families and retired folks all need a place to call their own," he said.
In his speech, he announced the impending launch of two community planning processes to build more housing in Midtown Manhattan and the North Shore of Staten Island, praising the local Council members, Keith Powers and Erik Bottcher of Manhattan and Kamillah Hanks of Staten Island, for stepping up. "They're not saying 'Not in my backyard.' They're saying 'Build in my backyard,'" he said.

Adams also said he will allocate $22 million to tenant protection programs, expand the Big Apple Connect program that provides free internet and cable services to NYCHA developments, launch a pilot program to give free internet and cable to Section 8 households in the Bronx and Northern Manhattan, expand free tax preparation services and public benefits screenings, as well as push for legislation allowing people to keep receiving benefits for six months after getting a new job.
"We are committed to fighting for support for working people and actually making sure they get the support they need," he said. "Don't let it fool you. I may wear nice suits, but I'm a blue collar cat."
As the city continues to experience a crushing homelessness crisis that has strained the budget and tested the limits of the shelter system, the mayor promised that his administration will continue to expand services for the city's unhoused population. He said he will work with the federal government to allow those who have spent more than a week in the shelter system to receive free health care.
Though the mayor did mention the plight of what the city says are more than 42,000 migrant asylum seekers that have arrived over the past year, he did not propose any additional solutions or services for the population. Rather, he repeated his calls for aid from the federal and state governments. "We will continue to do our part. But we need everyone else to do their part as well. This is an all-hands-on-deck moment," he said.
He also said his administration is formulating a three-part mental health plan that will aid children and families and address the opioid crisis. It includes a $150 million investment – sourced from opioid lawsuit settlements – in harm reduction and treatment programs and through expanding the "clubhouse" model for individuals with severe mental illness.
The mayor also reiterated a recent announcement of an all-hands-on-deck summit to be held in March on women's health, particularly focused on Black maternal mortality, and programs to improve access to healthier food for lower-income New Yorkers.
Responses
The mayor's speech was met with mixed responses from elected officials, advocacy groups, and nonprofit think tanks.
State Comptroller Tom DiNapoli commended the mayor's speech in a statement, but warned of the fiscal and economic challenges the city faces ahead stemming from the shift to remote work, unequal employment opportunities, and an affordable housing shortage.
"The city's economic recovery is still fragile and relies on the city and state working together to address these challenges," DiNapoli said in a statement. "The mayor identified efficiencies and savings in his budget. Still, more can be done to incorporate recurring costs, including those to help manage the influx of migrants, a fiscal burden that should be carried by the federal government. The city must continue on its path of fiscal discipline to achieve the mayor's vision for a better and fairer New York."
Public Advocate Jumaane Williams, in a statement, agreed with many of the mayor's priorities. But, he noted, "Building the city the Mayor discussed requires a strong, progressive, effective city government, with the necessary support, staffing, and funding. The Mayor calls this his 'Aaron Judge year' - and the city needs it to be - but as we know, that success means committing the spending and the team needed to get stuff done."
CUNY Chancellor Félix Matos Rodríguez praised the initiatives the mayor announced on Thursday that rely on expanding CUNY's successful programs. "These partnerships between the city and its public university system support our shared objectives of a diverse, fully inclusive workforce and an equitable post-pandemic recovery that benefits all New Yorkers," he said in a statement.
Progressive advocates have been particularly critical of Adams, especially in the wake of his recent preliminary budget proposal, which they say will cut funding for critical services for the neediest New Yorkers.
"After a full year in office, Mayor Adams's list of accomplishments is short, while the list of cuts to vital public services grows longer and longer," said Sharon Cromwell, deputy director of the New York Working Families Party, which has been a consistent critic of the mayor. "Today's policy proposals are hardly a 'working people's agenda,' and the cuts in his proposed budget will only hurt working New Yorkers. Our communities need more from the Mayor. Just ask the families seeking child care, affordable housing, and quality public schools."
A notable omission from the mayor's speech was Rikers Island. The controversial jail complex, which is slated for closure in 2027, has seen violence among inmates and against corrections officers skyrocket and witnessed the highest number of detainee deaths last year than in 25 years. The mayor and his administration have also raised doubts about reducing the jail population sufficiently to close the complex and house detainees in four new borough-based jails.
Ahead of the speech, elected officials and advocates gathered outside the venue to demand the mayor follow through on the closure plan. "When the mayor questions whether or not we can reduce the jail population enough to close Rikers, what he really means is he's not sure he wants to try," said Darren Mack, co-director of Freedom Agenda, in a statement. "We know what works - supportive housing, well-resourced schools, real economic opportunities. And this is a moment where New Yorkers will see if he meant what he said about going 'upstream,' or if he is going to continue cutting funding to schools and social services and arguing for more incarceration. Does he actually believe in investing in our people, or is going to keep pushing the old superpredator narrative to convince us that thousands of Black and Brown people need to be banished to Rikers?"
Murad Awawdeh, executive director of New York Immigration Coalition, pointed to the mayor's failure to mention services for immigrants. "By rendering us invisible he failed to acknowledge a large proportion of New York's population and the crucial role our communities have played in keeping New York open for business throughout this pandemic," he said in a statement.
Beth Finkel, AARP New York's state director, urged the mayor to do more for older New Yorkers, noting that the city's 65-plus population grew by 36% over the last decade. "Overall, we are hoping to hear more about the Mayor's plans to ensure our parents, grandparents, and older loved ones get the services they deserve and need to live safely in their homes and communities," she said in a statement. "We are also worried about pending budget cuts, especially given that the Department for the Aging currently gets less than half a percent of the city funding."
Leaders focused on housing and economic development liked what they heard.
"The economic mobility programs that Mayor Adams announced today are exactly the steps the city should take to build a more equitable economy in New York City," said Jonathan Bowles, executive director of the Center for an Urban Future, in a statement.
"The mayor is spot on about the most pressing issue in front of us — the housing shortage," said Carlo Scissura, President and CEO of the New York Building Congress.
"Today, Mayor Adams reaffirmed his commitment to the City's future with bold ideas," said Tom Wright, President and CEO of Regional Plan Association, in a statement applauding the mayor's housing plan, commitment to the Open Restaurants program, investments in open space and more.
"The Mayor's announcement of a Director of the Public Realm is a victory for New York," said Jackson Chabot, director of advocacy and organizing for Open Plans, in part in a statement, noting that the mayor mentioned several of the group's strategic goals. But, the group noted that the mayor "missed the opportunity to champion a livable city" by failing to mention the elimination of parking mandates, expanded Summer Streets in Brooklyn and Queens, trash containerization, curbing car dependence, and reducing the size of the city vehicle fleet.