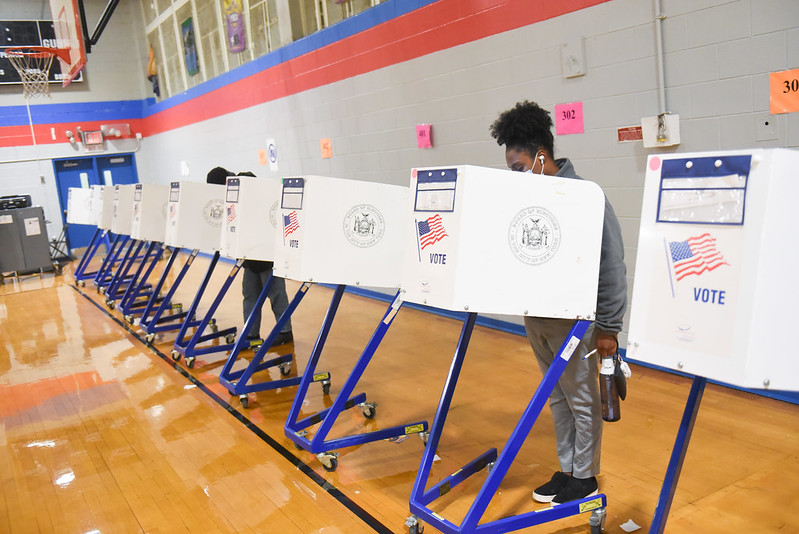 Voters at the polls (photo: Michael Appleton/Mayor's Office)
---
New York State's new public campaign finance program is preparing to award as much as $100 million in matching funds over the 2023-24 election cycle when the entire State Legislature will again be on the ballot.
The bi-partisan Public Campaign Finance Board, part of the State Board of Elections, is seeking $114.5 million in the next state budget to fund the new voluntary matching program during its first election cycle. Most of the funding would go toward candidate campaigns who meet requirements for public matching dollars, while it would also help the organization grow into a fully-fledged agency of 118 staff members.
The program, which lawmakers passed in 2020 and went into effect immediately after the general election this past November, lowers limits on individual contributions to statewide and state legislative candidates, and establishes various public matches on in-state or in-district donations between $5 and $250. The program is somewhat modeled after New York City's lauded public funds program. It is intended to increase the influence of everyday campaign donors against the massive sums that mega-donors and SuperPACS pour into elections.
Governor Kathy Hochul is set to present her executive budget on Wednesday, which will tee off two months of negotiations with the State Legislature ahead of the April 1 start of the next fiscal year. Hochul, a Democrat just elected to her first full term, raised record sums under the old system, with its higher contribution limits and no public match.
"Governor Hochul included funding for the public campaign finance program in her first budget and we will release details of the Executive Budget later this week," wrote spokesperson Hazel Crampton-Hays in an email to Gotham Gazette. Hochul made no mention of the new program in her State of the State address in January or the accompanying 275-page agenda booklet.
Last year, Hochul and the Legislature allocated $20.6 million to the program, including $10 million for matching funds, which advocates for the program saw as a gesture of support for the newly passed system. That budget gave the Public Campaign Finance Board's seven members the authority to hire 64 staffers. The board's membership includes the four members of the bipartisan State Board of Elections and three commissioners appointed by Hochul, the Legislature's Democratic majority, and the Republican minority. That included bi-partisan co-executive directors, deputy directors, and counsel, as well as auditors, candidate liaisons, administrators, and enforcement staff, according to a State Board of Elections spokesperson.
The Public Campaign Finance Board has been busy conducting training for candidates, registering campaign committees, and setting regulations.
Now it is pivoting from laying the groundwork to launching the program.
Ten candidates have already registered committees for the 2024 state legislative elections. For the 2026 statewide elections, the lone registrant is Comptroller Thomas DiNapoli's campaign.
In a budget resolution passed in December, the Public Campaign Finance Board approved the $114.5 million budget request, which would cover personnel, capital spending, and a $100 million public matching fund. The Public Campaign Finance Board "has reviewed private reports and conducted internal forecasting" to reach the $100 million estimate for payments in the following fiscal year, according to the resolution.
The board is also exploring software and other infrastructure to support the hundreds of candidates running for governor, lieutenant governor, attorney general, comptroller, and the 213 seats in the State Legislature. More training resources, including a handbook for candidates, are coming soon, according to the Public Campaign Finance Board website.
Joanna Zdanys, senior counsel at NYU Law School's Brennan Center for Justice, urged Albany leaders to include the Public Campaign Finance Board's full request in the state budget.
"The $114.5 million that the Public Campaign Finance Board has requested is a reasonable down payment on a stronger, more inclusive democracy for New York," said Zdanys, in a statement to Gotham Gazette.
"The funding will help the PCFB to assist campaigns in participating and complying with the voluntary program, including by hiring additional candidate liaisons on staff and implementing software improvements," she wrote.
The Public Campaign Finance Board has yet to publish a calendar of payment dates and matching claims schedules for the 2024 cycle. According to the State Board of Elections, candidates in the program will use the same filing schedule as non-participating candidates, with the addition of periodic required filings in March of 2024.
Candidates for statewide office can receive a 6-to-1 match for every in-state contribution between $5 and $250. For example, a qualifying $5 contribution would give a candidate $30 in matching funds.
Candidates for state legislative offices may receive between 12-to-1 matches and 8-to-1 matches for qualifying small-dollar contributions, depending on the size of the donation up to $250. Donations from corporations, lobbyists, and campaign vendors are not eligible to be matched, but there is no barrier on matching donations from people with state business, unlike New York City's program. The campaign finance law sets qualifying thresholds for who is eligible to receive public funds and limits on how much they can get.
In order to qualify, candidates for governor must raise $500,000 from 5,000 New York donors. Candidates for comptroller and attorney general must raise $100,000 from 1,000 in-state donors. Candidates for State Senate must raise $12,000 from 150 in-district donors and Assembly candidates have to take in $6,000 from 75 in-district donors.
Fair Elections for New York, a coalition of hundreds of organizations including the Brennan Center, also called on Hochul to fulfill the Public Campaign Finance Board's budget request.
"Candidates and voters alike will need to learn how the matching system works and how to participate, and the agency must have funding for the staff and infrastructure to make that possible," the group wrote in a statement in December. "These funds will also be essential for candidate and small donor confidence in the program's viability."
Two weeks earlier, State Comptroller Tom DiNapoli and State Board of Elections Commissioner Douglas Kellner, both Democrats, joined members of the coalition for a rally at New York City Hall to bring attention to the launch of the new system. "New York's new public campaign finance program will eliminate barriers and level the playing field for good, qualified people to run for public office," DiNapoli said at the time. "It will help get big money out of elections and better ensure New Yorkers are put first."
The Senate and Assembly Democratic majorities did not return requests for comment on funding the new program.
The Legislature's Republican minority leaders balked at the PCFB's funding request. "It comes as no surprise that New York's public campaign finance system is going to be expensive," said Assembly Minority Leader William Barclay in a statement to Gotham Gazette. "Taxpayers should not be forced to fund political campaigns. They don't need their money being spent on political consultants, mailers or advertisements. I've been opposed to this idea from the beginning, and if it comes with a $114.5 million price tag, it gets even less appealing."
"While New Yorkers endure a crime and affordability crisis, Albany Democrats are focused on forcing taxpayers to foot the bill for their political campaigns," Senate Minority Leader Robert Ortt said in a statement.

On Monday, Brennan Center and the national government transparency group OpenSecrets published a study applying the parameters of the new system to the most recent 2022 elections. The study estimated the public match would have increased the share of small donations (less than $250) in state legislative races from 11% to 67% of all donations. For state races, that number could increase from 6% to 41%.
The researchers found that the 200 biggest contributors to candidates in 2022 gave nearly $16 million in donations, more than the 206,000 individuals who gave donations of $250 or less. Those sums are also dwarfed by the tens of millions of dollars in outside SuperPAC spending.
Citizens Action of New York, a progressive grassroots advocacy group and a member of the Fair Elections coalition, has conducted trainings to get the word out. "Our trainings raise awareness about the PCFP [Public Campaign Finance Board] and encourage candidates to opt into this groundbreaking program," wrote organizer Karen Wharton, in an email to Gotham Gazette. "Information is key."
Ben Weinberg, director of policy at the good government group Citizens Union, another coalition member, noted that participation in New York City's program has become "ubiquitous among new candidates and incumbents of all backgrounds and parties."
The progressive Working Families Party, which endorsed Public Advocate Jumaane Williams against Hochul in the Democratic gubernatorial primary last year, where he was massively out-raised and -spent, is also backing the $114.5 million request in its legislative agenda this year.
"New York can counteract the corrosive influence of dark money and empower everyday New Yorkers through its new small donor matching program," wrote WFP Director Sochie Nnaemeka, in a statement in January. "To ensure the long-term success of the program, we're calling on our state leaders to allocate the $114.5 million requested by the Public Campaign Finance Board to sustain this groundbreaking public financing system."
Note: Gotham Gazette is an independent publication of Citizens Union Foundation, sister organization of Citizens Union.