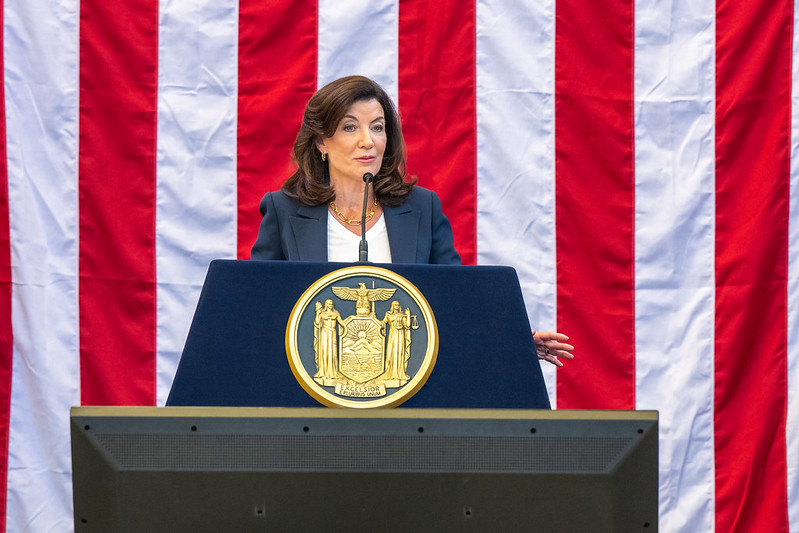 Governor Kathy Hochul (photo: governor's office)
---
Governor Kathy Hochul has raised more than $38.8 million for her campaign -- the vast majority of it in the 11 months since she became governor -- and spent a whopping $26 million to win the June 28 Democratic primary, according to the latest campaign finance filings with the State Board of Elections.
Hochul, New York's first female governor, handily won the primary with 66.5% of the vote against her opponents, New York City Public Advocate Jumaane Williams, who received 19% of the vote, and Rep. Tom Suozzi of Long Island, who got 12.8%. Hochul received 575,159 votes, spending about $45 for every vote. She is running for her first full-term after succeeding former Governor Andrew Cuomo, who resigned amid scandal in August 2021.
Hochul's spending vastly eclipsed both Williams and Suozzi.
Williams' campaign only raised about $542,000 by June 28 and spent about $474,000, which is about $2.80 per vote.
Suozzi raised about $7.8 million and transferred about $2.5 million from his congressional campaign account. He spent more than $9.9 million through primary day, for about $89 per vote, according to the latest filings that covered fundraising and spending through July 11.
The filings were due July 15.
Heading into the fall general election, Hochul and her running-mate, Lieutenant Governor Antonio Delgado, are facing Republican gubernatorial nominee Rep. Lee Zeldin of Long Island and lieutenant governor nominee Alison Esposito. Zeldin emerged victorious from a contentious four-way primary.
Hochul and Delgado have a major fundraising advantage. Hochul has about $11.2 million in cash on hand and Delgado has about $1 million, per those latest filings, while Zeldin has $1.6 million and Esposito just over $2,000. For the primary, Zeldin was able to raise $12.4 million, and spent $10.5 million, per his filing.
"With the campaign ramping up for the general election, Governor Hochul's strong war chest demonstrates her widespread support and ability to build a winning coalition," said Jen Goodman, a Hochul campaign spokesperson, in a statement. "The campaign will continue to use its resources to show voters how Lee Zeldin's dangerous, far-right agenda would put families and communities at risk, dragging our state backward."
Most of Hochul's expenditure has been on television and online ads. She spent more than $15.5 million to blanket the airwaves ahead of primary day, almost entirely through one firm, Washington D.C.-based GMMB. But her fundraising has also kept pace. She raised $2 million between June 14 and July 11, according to her campaign.
Hochul's campaign is shaping up to be one of the most expensive ones in state history. For comparison, Cuomo spent about $43 million over a four-year cycle for his reelection in 2018. According to a New York Times report, Hochul aims to raise between $50 and $70 million in total by the November general election.
Hochul has faced criticism from her opponents for raising many millions of dollars from wealthy donors and special interests including the real estate, cryptocurrency, and gaming industries, among others who have or hope to have business before the state.
Ravi Mangla, a spokesperson for the Working Families Party – which endorsed Williams and his lieutenant governor running-mate Ana Maria Archila in the primary – decried the massive spending disparity but noted that progressive candidates performed well despite it. "We're never going to have Hochul's money, her $30 million against our roughly one million," he told Gotham Gazette on election night. "But if you do a dollars-per-vote, both Jumaane and Archila's races are going to have the best return on investment. And in that terms we're just up against big money in these races."
This year's election cycle is the last under the current campaign finance system, as the state implements a new program including lower individual contribution limits and public matching funds for low-dollar contributions, somewhat similar to the system that is currently in place in New York City.
Note: the headline for this story initially accidentally inaccurately said Hochul spent $28 million in the primary, and it has been corrected to match what the text of the piece said all along: that her campaign spent $26 million in the primary.