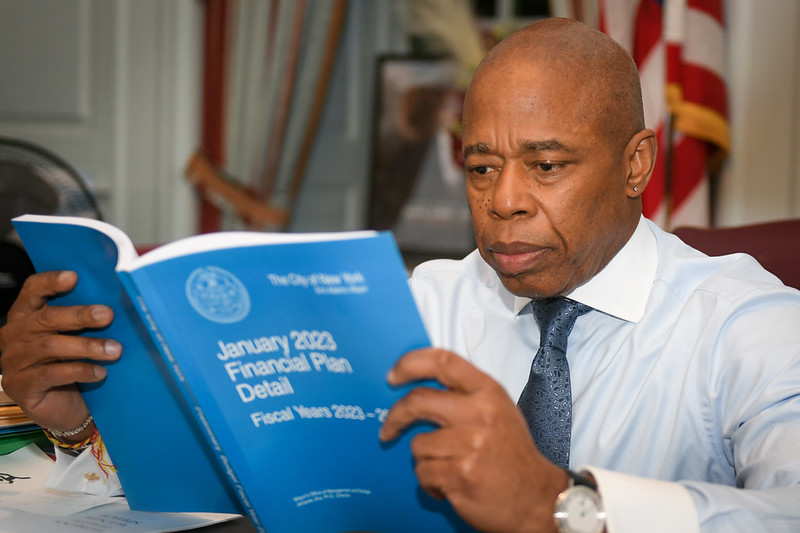 Mayor Adams and his spending plan (photo: Benny Polatseck/Mayor's Office)
---
In January, Mayor Eric Adams proposed a $102.7 billion preliminary budget proposal for the 2024 fiscal year, stressing the fiscal restraint of his administration amid various budgetary risks and uncertainties facing the city. But while it would be a near-record sum in city spending if passed as-is, progressive City Council members and advocates have called it an "austerity budget" that proposes cuts to critical services that will hurt the city's most vulnerable populations at a time when the city can afford to invest more in its people.
Adams, a first-term Democrat, has pushed back against criticism – which has also come from fellow Democrats City Council Speaker Adrienne Adams, Comptroller Brad Lander, and Public Advocate Jumaane Williams – while pointing to massive sums being spent across city departments and the importance of efficiency in government services.
The cuts in Adams' preliminary budget largely boil down to diminishing federal aid, while his administration also found more than $3 billion in savings between the current and next fiscal years, including $829 million in what's deemed efficiencies; $1.6 billion in spending re-estimates (including the elimination of thousands of previously budgeted vacant positions); $391 million in revenue re-estimates; and $253 million in reduction in debt service.
Assessment of the mayor's spending plan is complicated by how the city is approaching tens of thousands of vacant government positions, most of which are still budgeted in his preliminary budget; the use of surplus revenue and pre-payments from one fiscal year into the next; and federal pandemic aid that is running out.
The mayor's proposed spending plan is $1.7 billion more than the $101 billion budget that was adopted last June, and marginally lower than the $102.9 billion the city has more recently projected spending by the end of the current fiscal year.
On Monday, March 6, the City Council will begin examining the mayor's preliminary budget, kicking off weeks of budget hearings to shape the mayor's revised executive budget due in April. That too will undergo another round of hearings and negotiations before the administration and Council reach a final budget agreement ahead of the start of the next city fiscal year on July 1.
The mayor's preliminary plan was created with an eye on fiscal uncertainty stemming from projections of a recession on the horizon, unexpected costs of addressing the migrant asylum-seeker crisis in the city, a projected underperformance of the stock market that will drive up pension fund obligations, and unresolved municipal labor costs. Health care costs are also rising while tax revenues are slowing somewhat after exceeding expectations for the last few years. Adams also sees some of the relatively minor belt-tightening as part of fulfilling his campaign promise to address waste and inefficiency at the city's dozens of agencies.
"Since day one, fiscal discipline has been the hallmark of this administration," Adams said in his January budget presentation from City Hall. "We are focused on governing efficiently and measuring success not by how much we spend, but by our achievements. This budget protects funding for the essential services that continue to keep the city safe and clean, driving equity and affordability, and keep us on the path to prosperity."
The city's current $102.9 billion in spending for fiscal year 2023 is up $6.5 billion, or 6.7%, from the $96.4 billion budget modification of November 2019, just before the pandemic struck. That spending growth has been possible due to increasing tax revenues, with only a temporary dip during the first phase of the pandemic, and massive amounts of federal covid aid.

Though the mayor has his critics, fiscal watchdogs and ratings agencies have mostly praised his administration's handling of city finances. Last month, Fitch Ratings, a national credit ratings agency, upgraded the city's bond rating, pointing to the administration's responsible fiscal management, robust budget oversight, and the strength of the city's economy.
Adams attributed the ratings upgrade to "the hard, but necessary choices this administration was willing to make." "We will continue to build an equitable recovery and use taxpayer dollars wisely as we continue to 'Get Stuff Done' for New Yorkers across the city," he said in a statement.
The mayor's budget strategy has involved multiple iterations of a Program to Eliminate the Gap (PEGs) to order agency savings and reduce costs, eliminating a relatively small percentage of budgeted vacancies that the city had no chance of filling anyway, and building up reserves — while putting few limits on budget growth at agencies he says are directly involved in public safety like the NYPD and Department of Correction.
The criticism of the mayor's budgeting has primarily come from the City Council's Progressive Caucus and progressive advocacy groups who don't want to see any cuts at most agencies and want more investment in social services. After the preliminary budget was released, leaders of the Progressive Caucus – co-chairs Shahana Hanif and Lincoln Restler and vice-chairs Carmen De La Rosa and Jennifer Gutieìrrez – said that "Mayor Adams made clear that he and his administration are committed to pushing austerity down the throats of New Yorkers."
"While we recognize that the City's financial future is uncertain, for months the Mayor has fear mongered about a possible recession in order to justify shrinking the City's workforce to new record lows, undermining its ability to deliver services to New York's families in the process," they said in a statement. "If Mayor Adams wants to get serious about 'fiscal responsibility,' he should prioritize lobbying in Albany for increasing taxes on New York's wealthiest to fund investments in housing and other such promises. Instead, he rubs shoulders with New York's business elite while claiming that they are already doing their fair share."
Pushback on Adams' budgeting has come from the broader City Council, too. Before the preliminary budget announcement, the Council had already opted to symbolically refuse a vote on the mayor's November budget modification because it cut funds to libraries and CUNY, diverted funds for the previously planned expansion of 3-K, and threatened funding for nonprofits that perform social services for the city.
"The Council is focused on investing in the services that our communities rely on to be safe and healthy. The City must address the root causes of our greatest challenges, not create a harmful cycle by cutting essential services," said Council Speaker Adrienne Adams and Council Member Justin Brannan, finance committee chair, in a statement at the time. "The understaffing and underfunding of city agencies have left New Yorkers without access to basic benefits, like federal food assistance. These are not outcomes we can or should accept."
The statement echoed similar concerns that Brannan had expressed last year at the initial hearing on the mayor's first preliminary budget, when he cautioned against cuts at the Departments of Sanitation, Parks and Recreation, the Administration for Children's Services, Human Resources Administration, and Department of Education. "I think we must be careful that these cuts don't veer into unintentional austerity," Brannan said at the time. "I'm troubled that some of the proposed cuts could hinder the city's revival, making it harder to achieve a fair and equitable recovery for all."
The mayor and Council later came to a $101.1 billion deal, $2.6 billion higher than the mayor had first proposed, which seemed to fulfill most of the priorities of each side. At the time, Mayor Adams and Speaker Adams (no relation) made a public show of bonhomie, but they soon found themselves at loggerheads over school funding cuts advanced by the Department of Education and the subsequent November budget modification, among other issues.
Projections, PEGs, and Personnel
Brannan, who recently departed the Progressive Caucus over its insistence on seeking cuts to the NYPD and Department of Correction, again says the city is not facing conditions to prompt austerity measures. "With economic challenges ahead, there is a need for deliberate budgeting. However, resources are sufficient and therefore this is the time to reject austerity and invest in the people we are privileged to serve," he said in a text message.
Part of the criticism leveled against the mayor this year stems from the fact that the Adams administration projects ending the current fiscal year with a nearly $2.2 billion surplus because of higher than anticipated revenue, which the administration is using to pre-pay costs in the next fiscal year. The administration has also allocated $8.3 billion to reserves, the highest amount ever set aside in the city budget, and revenue continues to come in higher than expected each month.
Still, Adams' preliminary budget for next fiscal year (FY24) makes many cuts compared to the budget adopted last June for the current fiscal year (FY23) – nearly $663 million together at the Department of Social Services/Department of Homeless Services; $300 million from the Department of Education; $257 million from the Department of Health and Mental Hygiene; $174 million from NYC Health+Hospitals; $168 million from CUNY; $188 million from the Department of Youth and Community Development; $61 million from the Department of Housing Preservation and Development; $40 million from public libraries; and more.
Compared to the November budget modification, the cuts are in most cases even larger since that document more accurately shows spending nearly halfway into the fiscal year. Many have pounced on these cuts, about 17% of which is from the removal of thousands of budgeted vacant personnel positions that were almost sure not to be filled in the next fiscal year as many thousands of other vacant positions remain funded. Those critics point, in part, to the tremendous needs of New Yorkers coming out of the pandemic years, as well as challenges that existed well before COVID-19, many of which were exacerbated by the crisis.
Adams has repeatedly insisted that he is merely rightsizing the city budget without affecting services or personnel, and that with over $100 billion in spending the city has enough to provide essential services and a strong social safety net.
"We were very clear to all of our agencies, no cuts in services which are important. No layoffs. That was very clear directions," he said in a press conference after his budget presentation. "We stated this, not only from the time I was elected, from the time I was running. Fiscal responsibility is going to be the hallmark of this administration. Taxpayers deserve a better use of their tax dollars and that's what we're doing."
"It's not more with less. We don't subscribe to that theory of more with less. We have to do better than what we have," he added.
On Friday, the City Council released its own updated tax and economic forecast, which predicted that the city's tax revenues in the current and next fiscal years would be $5.2 billion higher than the Adams administration's projections.
"The Council's economic and budget forecast shows that the City can weather economic challenges and unrecognized budget costs without neglecting investments in essential services for New Yorkers," Speaker Adams said in a statement.
"For all the 'doom-and-gloom' fiscal projections by OMB, our economists paint a different picture with the same numbers," said Council Member Brannan, who, along with the speaker and other Council members, will question the mayor's top budget officials at Monday's hearings.
"We know the best way to worsen a financial crisis is to unnecessarily cut programs and leave our New Yorkers in free fall. Given that economists expect moderately positive outcomes, now is not the time for extreme budget decisions that indiscriminately cut services," he added.

While there has been opposition to specific cuts – to libraries, 3-K, and CUNY, for instance –  much of the criticism being leveled at Adams also stems from the failure to fill vacant city government positions that has hobbled public benefit distribution, legal representation for low-income tenants, and the implementation of affordable housing policies, among other services and tasks.
Progressives are particularly incensed that the NYPD is facing no budget cuts. Though its proposed operating budget of $5.4 billion is a drop of $88 million from last year's adopted budget, the department is again blowing through its annual overtime budget by hundreds of millions. According to estimates from the Independent Budget Office, the police department is on track to spend $825 million on overtime in the 2023 fiscal year, $369 million more than budgeted. Mayor Adams has defended NYPD and DOC spending, including the additional OT costs, by saying repeatedly that he puts no price tag on public safety, while many to his left have argued that funding for social services, housing, and more is the best path to true public safety.
One of the tools that Adams has repeatedly used is the PEG to reign in agency costs. Last year, ahead of his first budget, he ordered all agencies except for the Health + Hospitals system, the Department of Health and Mental Hygiene, the Office of the Chief Medical Examiner, and the Department of Correction to find 3% in savings. Ahead of the November budget modification, he again ordered another 3% PEG. Many agencies, however, did not meet that directive in full and were not punished for doing so.
In the preliminary budget proposal, Adams cut 4,300 previously-budgeted vacancies across city government to save hundreds of millions of dollars. Between the November modification and the January preliminary budget, the city found more than $3 billion in savings in the current and next fiscal years combined. That helped bring down projected future budget gaps to $3.2 billion for fiscal year 2025, $5 billion in FY26, and $6.5 billion in FY27.
The city's tentative contract deal with DC37 and likely subsequent other major labor deals will add significant unbudgeted costs that will expand these projected gaps and necessitate changes in the mayor's executive budget and next fiscal year budget agreement. Adams has said, though, that the DC37 deal sets a responsible pattern for other unions and the city will have the funding to cover the added expenses, while also continuing to need to find efficiencies.
Criticism and Praise
To Adams' critics, the agency cuts, including vacancy reductions, will worsen the delivery of basic services, which has already been affected by a staffing shortage across dozens of city agencies unable to fill currently vacant positions and prevent personnel departures.
Adams has argued that there are still about 23,000 budgeted vacancies that can be filled, more than enough for agencies to fulfill their responsibilities. However, he has yet to offer any plans to increase hiring, recruitment, and retention to tackle the staffing crisis, despite promising new policies on that front months ago.
"New Yorkers are outraged that Mayor Adams is systematically starving our city's government through budget cuts that always fall hardest on the programs vulnerable New Yorkers need the most, a vacancy crisis that is overwhelming the basic functions of many of those same agencies, and a dangerously insular and secretive culture at City Hall that prioritizes the mayor's ego over serving New Yorkers" said Zara Nasir, coordinator of The People's Plan, a progressive advocacy coalition, in a statement.
On Tuesday, March 7, the day after the first Council preliminary budget hearing, The People's Plan is launching its budget campaign to push back against the cuts in the mayor's preliminary budget proposal.
The Council is also expected to scrutinize the administration's hiring and retention policies at Monday's Council hearing.
In a February 16 letter to Jacques Jiha, director of the Mayor's Office of Management and Budget, Council Member Brannan said administration leaders should be prepared to testify before the Council about their total headcounts, vacancies, and current hiring policies.
"[O]ver the past several months, we have discovered frustrating and often heartbreaking stories about how our constituents were not provided with vital services because of bureaucratic obstacles related to budget management," he wrote, pointing to delays in processing food stamp applications and housing vouchers as a few examples. "Therefore, it is mission critical that we deeply examine the proposed budget's elimination of more unfilled positions as a cost saving measure, the approximately 23,000 remaining open positions, and the retention of existing employees."
The mayor's budget moves have also earned him praise.
Andrew Rein, president of Citizens Budget Commission, a nonprofit fiscal watchdog, commended the "positive steps" in the mayor's preliminary budget including the vacancy reduction, maintenance of reserve levels, and restraint in adding new, unaffordable initiatives. The staffing crisis, Rein said, is not a budgetary issue but a managerial one affected by a tight labor market.
"While these are positive steps, much more aggressive action is needed to stabilize future budgets, hedge against a looming recession, and improve the quality and efficiency of services. This should not be delayed," he said in a statement after the budget was released.
Rein urged the administration to further build up the Rainy Day Fund to prepare for a recession, to mitigate the fiscal cliffs created by federal funds that will run out, and to find long-term efficiency savings by restructuring city services.
"No, this is not an austerity budget," said Ana Champeny, CBC's Vice President for Research, in an email. "Currently, City-funded spending is projected to grow 7.3 percent this year, from $71.9 billion to $77.2 billion. By the time the fiscal year ends, and the City adopts a fiscal year 2024 budget—and additional funds have been rolled from fiscal year 2023 to 2024—we will likely see a flat or modestly higher budget for fiscal year 2024. Given uncertain economic times, this is a prudent budget."
Champeny also echoed Rein's statement about the city's staffing crisis. "The challenges in service delivery are not a budget problem—there is adequate funding and headcount—but a management problem. The City's processes for recruiting and hiring are inadequate in this environment," she said. 
Along with labor deals, one of the biggest questions in the budget is funding around services for migrant asylum-seekers. According to the administration, more than 47,000 migrants have arrived in the city over the last year, and the costs of providing them with shelter and services is estimated at about $4 billion between the current and next fiscal years. That has stretched the shelter system to the breaking point while also constraining the mayor's budget priorities.
"Hard to say anything can be an Austerity budget when we are adding billions in new social spending for migrants," said Staten Island Council Member Joe Borelli, the Republican minority leader, in a text message. "If we didn't have that problem, we might have billions more for other agencies."
Adams has pleaded for more aid from the federal and state governments and while the amount of federal assistance remains uncertain, it is expected to be in the hundreds of millions of dollars, and Governor Kathy Hochul has proposed about $1 billion in state aid over two years.
Comptroller Brad Lander is expected to release a detailed analysis of the preliminary budget on Monday, when he appears before the City Council to testify. In a statement when the proposal was released, he said that instead of making major upstream investments in New Yorkers, "this budget meanders with little direction."
He said reserves were insufficient to weather a recession, while major areas remained under-budgeted including police overtime, housing vouchers, and municipal labor costs. "The Mayor appropriately asked agencies to find savings opportunities, yet sweeping cuts to vacant positions may come at the cost of hiring in mission-critical functions. Responsible budgeting for NYC's future does not mean cutting services that New Yorkers rely on," he added.
He also called on the mayor to support efforts at increasing taxes on the wealthy at the state level so the city can afford long-term investments in major policy priorities. "Making free 3K universal, ending homelessness, improving community safety, shrinking class sizes, constructing climate-resilient infrastructure, expanding rental assistance, funding retrofits to affordable housing, sustaining world-class public libraries, and keeping CUNY an affordable pipeline for new talent is the path to making sure New York City remains the best city in the world to raise a family or start a new business," he said.
What might lend some credence to those bemoaning the mayor's budgeting as austerity are estimates from IBO in a report this month that show the city ending the fiscal year with a $4.9 billion surplus, $2.8 billion higher than the administration's projections. IBO, therefore, also has a more generous prediction about budget gaps – $2.8 billion in FY25, $3.9 billion in FY26, and $2.9 billion in FY27 — though those projections do not factor in many uncertainties.
IBO's report does note slowing revenue and employment growth, and points to growing costs of the migrant crisis. It also acknowledges the many risks for the city in the governor's executive budget proposal for the state's 2024 fiscal year, which begins April 1, the cost of settling expired municipal labor contracts, the potential effects of congressional brinkmanship over the federal debt ceiling, and the need for additional operational funding for NYCHA.
Mayor Adams has himself pushed back against several measures in Hochul's executive budget, testifying before the State Legislature to seek legislators' support to avoid cuts, cost-shifts, and added expenses for the city that total more than $1 billion next fiscal year. With the state budget due by April 1, the city will then have roughly three months to factor those decisions into its own spending plan due by July 1.
Meanwhile, the additional projected surplus in this year's city budget is likely to be a source of negotiation between the Adams administration and the City Council over how it should be spent, or saved.
[Read: 6 State Budget Proposals Where Hochul and Adams are At Odds]