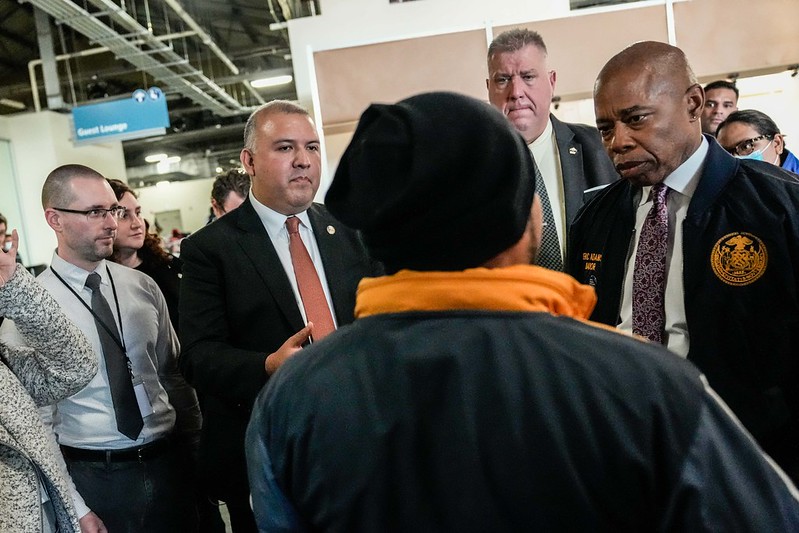 MOIA Commissioner Castro, center-left, with Mayor Adams & others (photo: Michael Appleton/Mayor's Office)
---
Earlier this month, Mayor Eric Adams announced the creation of a new office to handle the influx of tens of thousands of migrant asylum-seekers in the city. But, at a City Council budget hearing focused on immigration services that same day, March 7, administration officials offered barebones details about the new office's structure and budget, and how it would interact with an existing mayoral office that is already dedicated to immigrant affairs and has been coordinating services for newly-arrived migrants.
New York City is home to more than 3 million immigrants, including about 600,000 undocumented immigrants as of April 2022. For the last year, the city has been dealing with the arrival of tens of thousands of migrants who have crossed the southern border seeking asylum in the United States. According to estimates from the Adams administration, more than 50,000 asylum-seekers have come to the city in the last year, 30,000 of whom are still in the city's care in shelters and emergency relief centers.
After months of ever-shifting approaches and pleas for more help from other levels of government, this month Mayor Adams announced a comprehensive response to the migrant crisis. It includes creating the new Office of Asylum Seeker Operations (OASO) and releasing a blueprint with plans to provide long- and short-term housing, resettlement services, legal representation, workforce training, and more.
As Adams put it, the new office is an attempt to organize the city's various efforts at dealing with the migrant crisis. "We're shifting from the response of dealing with that emergency influx to a very organized way," he told reporters after the announcement.
The mayor did not provide details about who would head up the new office or where the city would set up a new 24/7 arrival center for migrants as a part of the plan; it also was not clear why a new office was needed.
"We're going to open a location, we're going to let everyone know where the location is, and we are going to make a determination of the structured way to make sure the resources that people want to bring is done in an orderly fashion," he said. "I don't do things in a disorganized way. We will make sure all those who want to assist the asylum-seekers get an opportunity to do so."
However, the city already has an office dedicated to immigrants, the Mayor's Office of Immigrant Affairs (MOIA), which advises the mayor on policies related to immigrants, provides a myriad of services to the city's immigrant population from legal assistance to language services, and coordinates with other mayoral offices and city agencies on immigrant services. Over the past year, MOIA has been working closely with the city's emergency management office and others to provide services to the asylum-seekers who have arrived, along with other ongoing programming.
At a City Council budget hearing after the mayor's announcement, Council members questioned the rationale behind creating a new office with responsibilities that are already overseen in some fashion by MOIA.
Council members have already been critical of the mayor for his comments in recent months where he has presented, in their opinion, a false dichotomy between providing services and shelter for migrants at the cost of services for New Yorkers who have been living in the city. He has repeatedly used that reasoning when justifying cuts to city agencies in his proposed $102.7 billion preliminary budget for the 2024 fiscal year and while making threats of further cuts.
The city does have a major price tag to contend with. The administration estimates that the migrant crisis will cost about $4.2 billion over the current and next fiscal years. Mayor Adams has called it a "national crisis" and urged the federal and state governments to provide greater assistance to the city. So far, the city has only secured about $8 million from FEMA and is awaiting its share of an $800 million pot of funding appropriated by Congress in December to aid cities that have seen migrants arrive in large numbers. City budget officials have said, though, they don't expect any of those funds to be delivered before the end of the current fiscal year, June 30.
Governor Kathy Hochul did propose $1 billion in aid to the city in her executive budget, which is being negotiated in Albany and is due by April 1. She also proposed a framework where costs would be borne equally by the federal, state, and city governments.
"It is disappointing that the proposed preliminary budget leaves significant gaps in the city's ability to meet the needs of our immigrant community," said Council Member Shahana Hanif, a Brooklyn Democrat, co-chair of the Council's Progressive Caucus, and chair of the Council's Committee on Immigration, at the hearing.
"This committee rejects the austerity framework that pits new arrivals against longtime residents," she added. "We call on the administration to restore and increase funding to services that allow our newest New Yorkers to thrive."
However the more glaring omission that the Council members noted at the hearing was the lack of details about the new Office of Asylum Seeker Operations.
Under questioning from Council members, MOIA Commissioner Manuel Castro attempted to justify the mayor's announcement. "We don't have details about where it will be housed," he said of the new office. "I think that's an ongoing conversation. But it is an office that's meant to centralize the work even further."
When Hanif asked about the structure or budget of the office, Castro had no readily available information to offer. "I think this office will help alleviate some of the pressure on all of us, but we'll certainly share information as we learn more," he said.
A spokesperson for the mayor had no additional information to share about the new office as of Monday, March 20.
Council Member Gale Brewer, a Manhattan Democrat, seemed bewildered by the mayor's decision to create a separate office rather than expand MOIA, which is a relatively small office, with a six-person staff and a proposed budget of only $745,000 for the next fiscal year, which starts July 1.
"[T]here must be a new task force for everything right?" Brewer said. "I don't really understand. This one should have been you. I don't know if we need a new one."
Castro did try to assure the committee that MOIA's role was not entirely being supplanted, since it will still be coordinating emergency immigrant legal services that the city has allocated $5 million towards.
"We've been told that MOIA will continue to have a significant role. This is not us pulling back," he said.
The office is necessary, he argued, as the city still has many unknowns to contend with over the next few months as the city expects migrants to continue to arrive. President Joe Biden has also said that the national state of emergency over COVID-19 will end in May, which will also lift the Title 42 policy that has been used to expel more than 2 million migrants arriving at the border.
"We just don't know what will happen in the coming months with Title 42 to be lifted and everything else happening," Castro said. "It's best to be prepared…We don't want to be alarmist but we don't want to let our guard down. We want to have a plan in place."