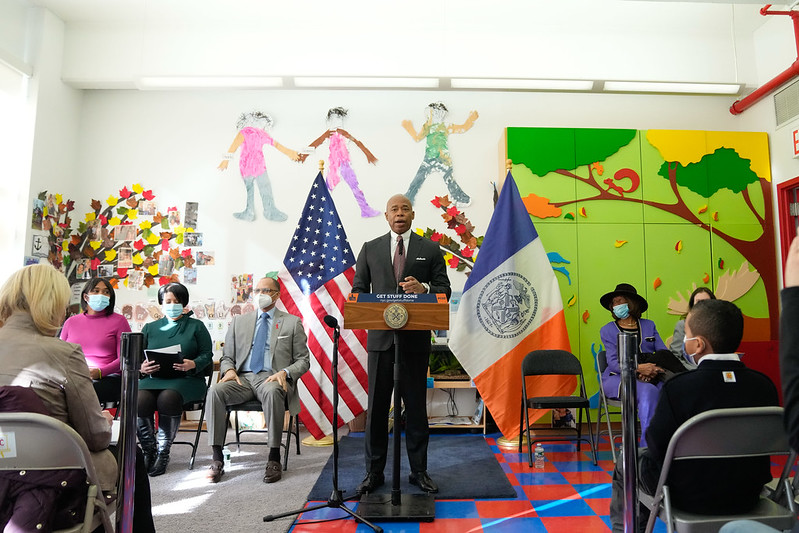 Mayor Adams (photo: Michael Appleton/Mayoral Photography Office)
---
Mayor Eric Adams' campaign promise to launch the "MyCity" centralized portal for city benefits will soon become reality, administration officials told the City Council on Thursday. 
At a budget hearing held by the Council's Committee on Technology, New York City Chief Technology Officer Matthew Fraser said that MyCity will be "rolling out in a few weeks," initially offering a child care subsidy application portal before expanding to other city benefits.
MyCity was one of the signature proposals that Adams, a first-term Democrat, advanced on the campaign trail, as he criticized the city's dysfunctional and bureaucracy-laden government and pledged a more efficient, tech-friendly administration.
The portal, he promised, would be a one-stop-shop for benefits and services. It would allow low-income New Yorkers to apply for the Supplemental Nutrition Assistance Program (SNAP), cash benefits, or rental assistance. It would help businesses cut through red tape to get licenses and permits. And, as the mayor promised in his first State of the City speech in April 2022, it would help parents and caregivers apply for child care. All among many other uses.
"We know that working parents don't have time to navigate complex bureaucracy to get their children care, and we are going to make sure that city government works for them," Adams said at the time.
In public interviews in December and January, Adams acknowledged that MyCity was set for a later launch than he might have hoped but called it one of his main priorities for his second year in office. "One of the top things I want to do is something called MyCity Card," Adams said in a January 9 interview on WBLS 107.5 FM. "It's one card that all New Yorkers can get the resources that they deserve so they'll know what's available to them. It's using technology. That's what this year's about, using technology to improve the quality of life of New Yorkers and continue to address the public safety issue." (It's not clear what Adams meant by "card" but the plan is for MyCity to be an online portal.)
At the hearing this week, Fraser updated the Council on the next steps for the MyCity portal after the imminent launch of the child care application. He said Office of Technology and Innovation is looking at "workforce development and how we bring people into public service, looking at small businesses and how they grow and interact with the city and get access to the services that they need and…looking at other things that live within the Health and Human Services umbrella to see how we can bring those into a common platform."  
"The key here is as we move, over time, moving away from individual systems and bringing them into a single place," Fraser said, referring to the redundancies that Adams often decried on the campaign trail. "It's like a snowball that builds mass as it goes downhill. It took a lot of effort to get the underpinning platform done. Now that we've got the platform done and we've got the first service, the things that come thereafter will come at a much more expedient pace."
The development of the portal hasn't been as quick as the administration originally envisioned. The portal was meant to be created in-house by the Office of Technology and Innovation, but was outsourced — following the pattern that many civic technologists and other experts have decried. After OTI predicted a rollout before the end of last year, it is now set to release the portal in a few weeks, 15 months into Adams' term. The last hurdle, Fraser said at Thursday's hearing, is "getting a seal of approval from our colleagues in state government whose subsidies are included in the portal." A spokesperson for OTI would not clarify to Gotham Gazette what type of approval the city needs.
The state is likely to support the city's efforts (and is working on its own more user-friendly government access points). Adams and Governor Kathy Hochul have been close partners, particularly on child care initiatives. In the state budget last year, Hochul delivered on major priorities for herself and Adams including a $4 billion budget allocation over four years for child care services in the city (out of a total $7 billion statewide), an expanded income eligibility threshold for child care subsidies, and tax incentives for property owners to create child care centers and for businesses that provide employers with free or discounted child care.
At Thursday's hearing, when asked by Council Member Jennifer Gutiérrez, chair of the technology committee, about OTI's budget priorities, Fraser said the agency is focused on "ensuring that we democratize access to city services." MyCity is central to that goal. 
"A lot of the challenges that we face and what our constituents face is we have a bureaucracy that's overly complex to interact with, and figuring out ways where we can streamline and simplify that process is one of the things that we're focused on," he said.  The MyCity portal "signifies a change to how we've done business historically, where we take the emphasis from the agency-specific service and we shift it to the customer, the person, the resident that requires that service." 
Fraser detailed that the new portal will be effective in cutting down the time and effort it takes people to receive city services, while also reducing the workload of city agencies and the need for more staff. For instance, parents that want to access child care currently must fill out a 15-page form and submit it to one of three agencies, which then has to schedule an interview and request supplemental documents to determine the applicant's eligibility. "So by digitizing the process, making sure that all those required documents are submitted ahead of time, it reduces the administrative burden on the people that are responsible for that task," he said.