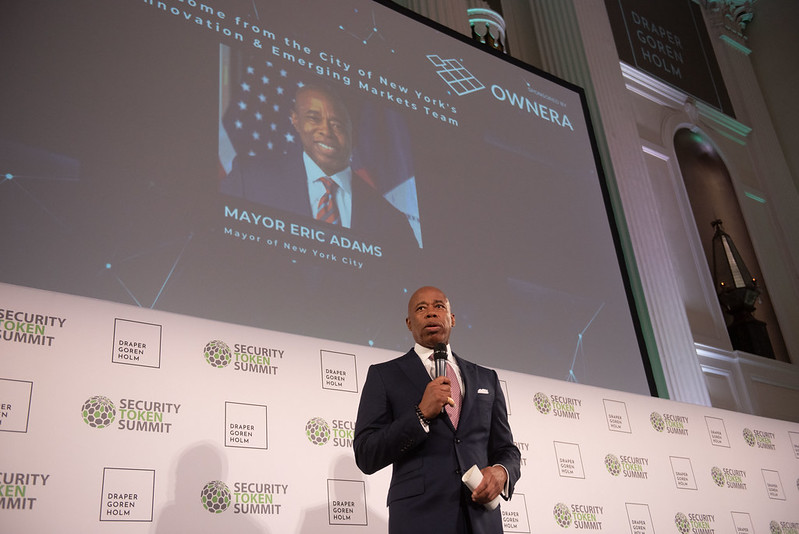 Mayor Adams at a tech conference (photo: Michael Appleton/Mayor's Office)
---
At a February oversight hearing held by the New York City Council Committee on Technology, the city's Chief Technology Officer, Matthew Fraser, defended blockchain as a useful tool for stimulating the economy and enhancing government services.
As head of the city's Office of Technology and Innovation (OTI), Fraser is at the forefront of the Adams administration's plans to integrate blockchain and other digital tools into municipal operations while also continuing to evaluate the cryptocurrency marketplace. At the hearing, Fraser delved into several tech projects the city is undertaking, including the development of the "MyCity" one-stop portal for city services and public benefits, but much of the discussion focused on how the administration is approaching blockchain.
Blockchain technology strings together "blocks" of digital transaction records to create unique and private data, with a focus on security. Cryptocurrency, which relies on blockchain, is a decentralized digital currency meant to create an alternative to traditional monetary systems.
Mayor Eric Adams, a first-term Democrat who appointed Fraser to his current role last year, has been a big booster of the tech sector broadly and both blockchain and cryptocurrency specifically. Both Adams and Fraser have been supportive of newer technologies and digital assets like blockchain and cryptocurrency, even despite the latter's volatility, crash, and high-profile scandals. Adams famously used his first two paychecks as mayor to buy the largely unregulated cryptocurrencies, purchasing Bitcoin and other crypto products, investments that have all lost much of their value since.
The City Council technology committee, chaired by Council Member Jennifer Gutiérrez, a Brooklyn Democrat, called the oversight hearing — the first of its kind in the city — to examine how the Adams administration is considering and evaluating blockchain and cryptocurrency. Adams has previously discussed his faith in these technologies to help expand government services, grow New York's economy, and engage new entrepreneurs, young people, and people historically disenfranchised by the traditional banking and economic gate-keepers.
In her opening statement, Gutiérrez listed transactional freedom and accessibility, data stability and authenticity, and ability to detect fraud as positives, in some cases, of either cryptocurrency or blockchain technology, while raising concerns over energy consumption, volatility that led to incidents like the FTX crypto fund collapse, and difficulty in correcting flaws in decentralized systems.
"We must do our due diligence to not only understand cryptocurrency and blockchain technology, but also make sure New Yorkers can properly access the necessary information to safely navigate these novel technologies," Gutiérrez said at the hearing. "Today's hearing aims to draw in any vision for both technologies, ensuring that as a city we are giving thoughtful consideration to this potentially transformational technology and industry, rather than refusing to exchange because the issues are complicated and not yet fully formed."
"In addition to the blockchain industry helping New York City's economy recover from the lingering effects of the pandemic, blockchain technology has the potential to streamline and centralize document retention, enable real-time record consolidation, and support asset transfers, among many other applications," Fraser said in his testimony. "New York City has proudly been a pioneer in embracing the blockchain industry, as it evaluates the potential government applications and plants a flag as a viable home for blockchain companies that can grow our economy and hire new workers."
Over the course of the hearing, Fraser and several City Council members discussed government use of blockchain and cryptocurrency, educating people to avoid risks, and working with state and federal actors to deal with the emerging technology responsibly and beneficially. While there were large areas of agreement over how data and tracking could be used to streamline government services, some Council members objected to the implications over privacy and the readiness of the city to support new blockchain-based initiatives.
Digital Wallet, Privacy, and Data
One of Mayor Adams' campaign commitments was to replace traditional city government payroll checks and direct deposit with a "cyber wallet" to pay government workers and public benefit recipients. Fraser told the committee that he expects the first wallets to be introduced by the end of the calendar year.
The cyber wallets may be integrated into the forthcoming MyCity platform, an online hub that connects New Yorkers to city services and public benefit applications.
Asked by Gutiérrez for details on the administration's plan, Fraser clarified that a cyber wallet, essentially an individual account on a digital finance network, would be able to accept various sources of payments and types of currencies, including cryptocurrency. Centralizing benefits on a single digital platform, he said, would give government agencies better means to keep track of how government-provided money is being spent.
One controversial application of digital wallet technology is the Adams administration's proposal to track what kind of food users are buying and then use the data to incentivize healthier behavior.
"Imagine for food benefits, if you had a digital wallet where you went out and spent a dollar on vegetables or something healthy versus sugary snacks or soda," Fraser explained. "The city could provide incentive points, meaning, dollar-matching, dollar-for-dollar, for what you spend on healthy products."
City Council Member Vickie Paladino, a Queens Republican, used much of her questioning time to press Fraser on the potential ramifications for privacy. "I don't like the idea that you're going to monitor people's spending habits—whether they choose to buy healthy food or a bag of potato chips," she told Fraser, who clarified that no benefits would be cut based on a recipient's spending habits.
Recipients would not be required to take part in the incentives program, he added. His answers did not mollify Paladino, who continued to express deep concern over embarking on a heavily digitized, centralized project.
"Everything sounds great in the beginning," she said. "But five and ten years down the road, this is like something out of a science-fiction movie…I feel like as soon as we give an inch, you take a hand, and as soon as we give a hand, you take an arm, and before we know it, we don't know how we all got here."
Less controversially, Fraser said that broadening the eligibility framework and tracking who is taking advantage of public services would allow agencies to spot which services an eligible person might not be taking advantage of.
City Council Member Julie Won, a Queens Democrat, praised blockchain technology but asked whether the Adams administration had built the infrastructure to support their plans for consolidating blockchain data for operational purposes.
Fraser sought to assure the committee that government agencies were in the process of standardizing their data collection and use practices, but Won continued to press him from the perspective of constituents seeking transparency over issues like the progress of a capital project or details of their procurement cycles.
"Right now we have issues with CompStat, CouncilStat, Passport, which is not in real time," Won said, referring to various city government digital programs. "And the user interface is not something that is easy for folks to use."
Assessing "real-time" data is something that the New York City police department (NYPD) has done for many years through its CompStat system, which is used for tracking crime and holding police officials accountable at regular internal NYPD meetings while also presenting information to the public. Mayor Adams has said he helped develop CompStat when he was in the police department and often touts its effectiveness. Fraser echoed Adams' oft-stated plans to expand CompStat-type data aggregation and analysis (and use for government accountability) beyond the NYPD through NYCStat, a more general database for tracking city services that the administration is working to develop.
"We are in the infancy stage, like babies dragging our faces on the floor and trying to get upright," Fraser told Won, concerning NYCStat. "[CompStat] is the space we're looking to get to with NYCStat. And it's not just about one agency's data, but about operation data across all the agencies."
Asked by Won if a digital wallet and other data-collecting tools would be used for punitive measures, Fraser assured the committee that they would not. He also said that OTI had no intention of sharing data with third parties, but demurred when asked if they would decline requests for data from law enforcement.
Education
Under questioning from Council Members Gutiérrez and Won, Fraser explained the Office of Technology and Innovation's efforts to educate the public on careful approaches to cryptocurrency.
"We brought out a number of financial literacy courses," he said. "I'm hopeful that as we go within the next near or so that we can make more of these courses broadly available, and we can incorporate other things into that like risks associated with these types of monies."
Fraser later said that OTI had partnered with the Department of Education and higher education institutions like CUNY to circulate information as early as possible and prepare the future workforce for changes in the currency landscape by introducing courses about cryptocurrency and blockchain technology into school curriculums. The DOE has introduced gaming into its curriculum this year, with hopes to add more emerging technology education in the coming year.
In addition to formal coursework, OTI has played a prominent role in organizing relevant conferences and events, including the annual Blockchain Week, which Fraser said "brings together those that are leading innovators of blockchain and leveraging blockchain-related tech, those who are interested in learning blockchain-related tech, and also bringing civic innovation together for those that are in New York that have startups focusing on that space." Fraser told the Council committee that thousands of people have participated in the event each year.
Implementation and Viability
Since his appointment as Chief Technology Officer in early 2021, Fraser has been working to grow the cryptocurrency industry in New York City and lay the groundwork for integrating blockchain technology into government use, such as the sharing and validation of legal documents. Mayor Adams has talked about the city issuing, for example, birth certificates through blockchain.
In a sign of the Adams administration's increasing focus on cryptocurrency and blockchain, city government agencies are making several new hires with purview over emerging technology.
The Human Resources Administration is seeking a Director of Security Operations specializing in blockchain technology, while OTI is recruiting two Policy Advisors to investigate and advance government blockchain use cases.
"The individuals who fill these positions will work with government and external stakeholders to identify, assess, and develop strategies to implement blockchain applications in the right way," Fraser's office told Gotham Gazette. "It is important to note that while blockchain could have a plethora of use cases in government, our team is laser-focused on researching and determining where blockchain implementation could make more sense than traditional technology."
According to the job posting shared with Gotham Gazette, other key responsibilities for the OTI Policy Advisors include advising the CTO on how shifting trends might affect New York City government operations and serving as liaisons among the Adams administration, government partners, and industry on matters concerning digital assets.
The city must work closely with the state government's Department of Financial Services (DFS), which as chief regulator in New York is responsible for setting regulatory standards, issuing BitLicenses for cryptocurrency services, and controlling who can emerge into the digital asset field to do business in the state.
Asked by Gutiérrez about any dialogue with state government leaders, Fraser called Governor Kathy Hochul a "big supporter of New York City" and affirmed that his office "has had a lot of conversations with the governor's office about the speed it takes to get a BitLicense issued, and other conversations around eligibility criteria, around who can apply, and some of those conversations have resulted in changes by the DFS, including adding additional resources to that office so that they can turn out licenses quicker."
Part of the process involves lowering what the CTO's office later referred to as "artificial barriers to entry." OTI does not yet have a specific year-to-year goal for the number of licenses it would like to see issued, he said. None of the Council members present asked about the potential pitfalls of lowering barriers to entry or speeding up the issuance of BitLicenses.
Fraser also emphasized his bottom line that maintaining New York City's apparent position as the financial technology (fintech) capital of the world required "smart regulation, not overregulation."
One significant limitation, which some may call a protection, is that the federal government does not yet recognize cryptocurrency as a legitimate form of currency, which prevents the New York City government from accepting or providing payments in that form. As things stand, OTI is still looking for ways to potentially utilize third-party services like a New York City Coin for New Yorkers to pay their taxes, parking tickets, and other fees in cryptocurrency, which would then be converted into U.S. dollars for the final phase of transaction.
But when it comes to widespread implementation of third-party cryptocurrency services like in Miami, with its controversial MiamiCoin, Fraser exercised more caution. According to OTI, New York City government has no connection to NYCCoin, which is run by the same company that created the now-defunct MiamiCoin.
"As the fintech capital of the world, we can't afford to make investments while we throw products out that don't necessarily meet a maturity level that we feel comfortable with," Fraser told Council members. "Since the start of the administration, we've been evaluating what's the best way to enter the market if we enter the market…at this point, we haven't made a tangible decision as to whether a New York City Coin would ever emerge, but we are looking for practical applications of blockchain-related technology and how we can use third-party applications to accept payments using crypto."