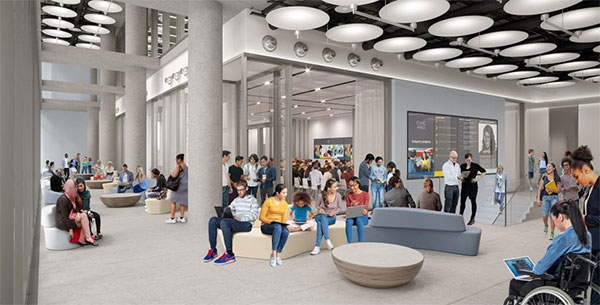 Rendering of the lobby of Civic Hall @ Union Square (via Civic Hall website)
---
Zero Irving, at times referred to as the Union Square Tech Hub, is set to fully open later this year after construction lagged amid the COVID-19 pandemic. Built on a city-owned site that for years housed a PC Richards on East 14th Street in Manhattan, the tech hub was originally proposed as part of then-Mayor Bill de Blasio's 2017 "New York Works" plan, aimed at creating 100,000 jobs by 2027, with 30,000 coming from the technology sector.
"This new hub will be the front-door for tech in New York City," de Blasio said in a February 2017 press release announcing the Union Square project. "People searching for jobs, training or the resources to start a company will have a place to come to connect and get support. No other city in the nation has anything like it."
De Blasio said the project would create 800 construction jobs and 600 permanent jobs. It was spearheaded and to be anchored by Civic Hall, a non-profit civic technology organization with a broad mission to grow the tech sector in an inclusive way. In part, Civic Hall would train and provide resources to help underrepresented communities find jobs in the growing technology sector, which cuts across virtually every industry.
Civic Hall was founded in 2015 and, after pandemic-era setbacks including the shut-down of in-person events and the 2020 departure of one of its two co-founders, purchased in 2021 by The Fedcap Group. Fedcap is a non-profit holding company that houses 20 subsidiaries in the broad fields of education, health, and workforce and economic development. Civic Hall remained key to the city's overall plan for the project, for which it contracted with RAL Development to lease the land and build what became known as Zero Irving, a 21-storey building.
In October 2022, RAL Development finalized a 25-year lease with The Fedcap Group to house Civic Hall in Zero Irving. While COVID-19 delayed the entire project, Civic Hall's opening is especially behind schedule — tardiness that a Fedcap representative partly blamed on the pandemic.
Civic Hall will be housed across six floors and will collaborate with technology partners and sponsors in order to provide centralized resources for New Yorkers of all ages and backgrounds. New programs and courses will be added over time, and will range from cybersecurity to web development to eSports, according to a Fedcap representative.
"The idea is to create a fully integrated new community center at the crossroads of New York City's technology district that will allow all New Yorkers regardless of background to develop digital skills and thrive in the 21st century economy of New York and beyond," says Andrew Rasiej, Civic Hall Co-Founder & CEO, on its website. (Co-Founder Micah Sifry left Civic Hall in September 2020.)
As of mid-March of this year, the only open part of Zero Irving was the ground-floor food hall available to the public, which launched in December 2022. No other tenants have announced they are operational yet, though a number of lease agreements have been made public.
Tenants that have announced lease agreements include payment platform Melio, data analytics software company Sigma Computing, private equity firm Alpine Investors, Dick Sporting Good's live streaming and scorekeeping platform GameChanger, KeyBank's digital banking platform Laurel Road, and venture capital firm Sequoia Capital which backs Apple and Airbnb.
Project Genesis
"Significant investment in tech jobs ensures a stronger future for New Yorkers and our City," said Miguel Gamiño, then the city's Chief Technology Officer, in 2017, echoing de Blasio. "Cybersecurity and emerging technologies are growing fast, creating many good-paying jobs that will be critical for years to come. We are positioning tech as an opportunity for thousands of New Yorkers to do those jobs, while strengthening equality and diversity in New York City's tech economy."
Given that the de Blasio administration identified the publicly-owned site in Union Square for the development of the tech hub, the New York City Economic Development Corporation (NYCEDC) was charged in 2015 with soliciting bids for execution of the project. RAL partnered with Civic Hall to become anchor tenant and won the bid in 2016 to handle the construction of the site.
The proposed 21-floor building, constructed on city-owned land at 124 East 14th Street in between two New York University dorm buildings, University Hall and Palladium Hall, needed City Council approval for the rezoning for additional height. The key City Council committee unanimously approved the rezoning in August 2018, followed by the full Council.
With City Council approval, the city then finalized a 99-year lease of the site to NYCEDC, which then accepted RAL's bid to develop the site and offered it a reduced ground rent in exchange for the project's components that benefit the public, particularly the space for Civic Hall. After the 99-year lease expires, NYCEDC will lease the site in full to RAL.
City Council Member Carlina Rivera, who represents the district including the rezoned land, was the key Council negotiator with the de Blasio administration over the details of the deal. She supported and voted in favor of the proposal with excitement about the tech hub but also responding to some community concerns about what increased development in the area might mean for its surroundings. She approved the rezoning on conditions including that the Council also approve legislation to preserve historic buildings nearby. Seven buildings south of Union Square, including the Strand's building and the Roosevelt Building, have since been declared individual landmarks.
Some neighborhood preservation organizations have criticized Rivera, arguing that the Council member has not adequately followed through on nearby down-zonings after approving the rezoning. Asked about that criticism, Rivera's office touted the landmarkings.
Rivera has continued to support the tech hub project during its construction and is eager for Civic Hall's launch, she said in a statement to Gotham Gazette.
"I am delighted to work with community stakeholders and service providers on realizing this innovative approach to workforce development and bringing with it direct investments to the community that include an eye for the future in the preservation of seven landmarks in a neighborhood with distinct character and architecture," Rivera said this week. "As the project nears completion and programs begin to start, we must ensure that all New Yorkers have access to opportunities that build skills to meet the challenges of a changing economic landscape, and I look forward to further collaboration in protecting and supporting our neighbors and community through investments like this one."
Construction and Delays
The building home to the Union Square tech hub was named Zero Irving and started construction in August 2019. While the project was originally supposed to open in 2020, the onset of COVID-19 slowed it considerably.
Then-New York Governor Andrew Cuomo ordered all non-essential construction projects halted in March 2020, which lasted until early June. Though many construction companies nationwide suffered supply shortages, RAL President Spencer Levine said the Zero Irving project got most of its materials prior to COVID-19 lockdowns.
"The vast majority of our curtain wall system is actually coming from Colombia," Levine told Commercial Observer in April 2020. "We've been working on the curtain wall for two years. The vast majority is ready to ship. We have a small portion that is being fabricated in China. There is a slight delay in that and we're seeing how we can work with the sequencing of construction to fit that in afterwards."
The rescheduled opening was partly due to RAL shifting construction plans to accommodate for a post-covid world. Employees will be able to enter the building without touching anything besides their phone, as apps will open doors, turnstiles, and call for and set the destination of the elevators. The building will also feature two separate lobbies to reduce congestion, touchless toilets and sinks in bathrooms, isolated air circulation systems on every floor, and extra bike storage and fitness center showers to accommodate more biking to work than prior to COVID-19.
Zero Irving Open for Business
Zero Irving opened its ground floor food hall with Urbanspace, which manages and hosts food halls throughout the city, in December 2022. The 10,000-square-foot food hall is open to the public and hosts 13 vendors with an outdoor patio. As part of the conditions from the City Council's 2018 approval of the project, Urbanspace had to reserve 25% of the available vendor spaces for first-time entrepreneurs or new start-up companies. But Urbanspace went beyond the requirement, as six out of the 13 vendors are new businesses, according to a prior statement by Ed Janoff, Acting Executive Director of Union Square Partnership.
Aside from the food hall, the ground floor of Zero Irving consists of the two lobbies, one for Civic Hall and one for other organizations. Six floors, floors 2 through 7, have been leased to Civic Hall. Another five floors are mandated by the City Council to be dedicated to leases with smaller technology companies with five to 15 employees. The remaining nine floors are being leased out to established technology companies at market rate, and have an event space and conference center for building tenants to use.
Civic Hall's Future
The Civic Hall facility will span 85,000 square feet across its six floors, consisting of a community space, a conference and events center, and a 42,000-square-foot Digital Learning Center that includes 22 classrooms that partners of Civic Hall will share. The Digital Learning Center will centralize Civic Hall and technology partners' resources for students to utilize and collaborate together.
Jim Malatras, Chief Strategy Officer and Senior Vice President for Education at The Fedcap Group (and former SUNY chancellor and director of state operations under then-Gov. Andrew Cuomo), said construction has begun following the finalization of the lease after COVID-19 stalled progress on the project.
"The overall status [of the project] is one of excitement," Malatras wrote by email to Gotham Gazette on March 16. "Construction is ongoing and quickly progressing, and we are working with high quality and diverse training and education partners in order to have a number of programs up and running when Civic Hall @ Union Square opens in the upcoming months. We've had amazing support from the team at the New York City Economic Development Corporation, local community members, public officials, and industry partners. They are all helping to make this the nation's leading digital skills and tech center."

"We'll have an announcement shortly — but we will be up and running in the upcoming months," Malatras wrote.
According to the City Council's 2018 land-use approval, around 80% of Civic Hall's partners will be non-profit organizations and will offer free tuition and programs to students of all ages. All for-profit organizations partnering with Civic Hall will offer "at minimum 20% of tuition income as scholarships, broken down as follows: 10% at 50% of tuition rate and 10% at 100% tuition rate. Scholarships must be need-based, and exclusively for CB 3 residents, and prioritize women and minorities."
CB 3 is Manhattan Community Board 3, which encompasses the tech hub site and includes 14th Street east of Union Square, the East Village, and the Lower East Side — largely overlapping with Rivera's City Council district. CB 3 was, overall, a proponent of the tech hub since it was first proposed, and will continue to monitor the project's progress after it launches, according to the community board district manager. 
"We see this as a great benefit for our community, particularly to have really good jobs," said CB 3 District Manager Susan Stetzer, in an interview this week with Gotham Gazette. "For a lot of our youth and lower income people who can't go straight through college and get into tech, they will be able to advance in their education while they're working at a decent job."
CB 3 will also work with Civic Hall on outreach following its launch, and Stetzer hopes to host a community board meeting within the space so people can see what Civic Hall has to offer. 
According to Malatras, Civic Hall will be open seven days a week, with classes in the morning, afternoon, and evening. Beyond educational courses, the Civic Hall space will be open to the local community at specific times to be determined and will use a reservation-based system for classroom and community bookings.
"Civic Hall will be the leading innovation hub for the City of New York, but also an important community space," Malatras wrote by email to Gotham Gazette. "In addition to the training programs, for instance, we will be holding job fairs, benefits screening, recruiting, and other events for the broader community."
Students at Civic Hall will also have the opportunity to take part in The Fedcap Group's other programs and resources, including Single Stop — a platform that connects users to economic resources and programs in their area — and staff dedicated to job placement, academic advising, and admissions. According to Malatras, The Fedcap Group partnerships with companies in the technology industry will also set up job networks for Civic Hall students, and Civic Hall is planning on working with different partners and programs over time as the industry changes and progresses.
"One of our partners, Apex Technical School, will be offering a new high demand Home Automation workforce certificate at Civic Hall," Malatras wrote. "We have partnered with universities to provide college credits for students who complete the program — a value add for those looking for future upskilling opportunities. We will be building these types of upskilling pathways across different providers and programs to maximize job opportunities for anyone who walks through the door."
According to Malatras, Civic Hall will soon announce an update on its expected launch date, and will eventually have programs in cybersecurity, web development, graphic design, data visualization software, automation, robotics, artificial intelligence, clean tech, eSports, and more.