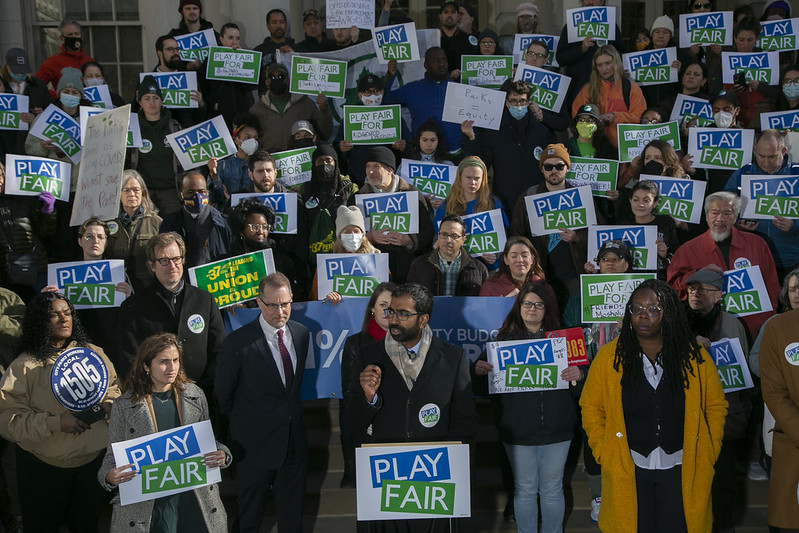 City Council Members & advocates rally for parks funding (photo: William Alatriste/NYC Council)
---
As Mayor Eric Adams continues to propose sweeping cuts across city agencies, Council members and advocates are calling on him to restore, and increase, funding for the Department of Parks and Recreation.
Mayor Adams' proposed $102.7 billion preliminary budget provided $520 million to the parks department, a drop of $42 million compared to the budget adopted last June and nearly $58 million lower than the latest budget modification in November.
"As our council budget response made clear, the mayor's proposed cuts to parks in his preliminary budget are absolutely unacceptable," said Council Member Shekar Krishnan, a Queens Democrat who chairs the Committee on Parks and Recreation, in a phone interview.
Since taking office, Adams has sought to reduce wasteful city spending and make agencies more efficient. His administration has also been forced to make tough financial decisions spending as it faces several significant fiscal challenges including almost $4.3 billion in projected costs in the current and next fiscal year from the migrant asylum seeker crisis, the cost of municipal labor agreements (projected at $16 billion through fiscal year 2027) and more than $1 billion annually in cuts and cost shifts in Governor Kathy Hochul's proposed state budget.
Since November, the mayor has instituted two Programs to Eliminate the Gap (PEG), mandating 3% cuts to most agencies each time and implementing a major vacancy reduction initiative. Earlier this week, just after the City Council issued its official response to the preliminary budget, the mayor announced another round of cuts ahead of the release of his executive budget, calling on agencies to reduce spending by another 4% (CUNY and the Department of Education will be subject to a 3% cut).
Council members and park advocates are urging the administration to blunt the impact of that PEG, which could potentially decrease the parks budget by another $20 million, and restore all proposed cuts while adding tens of millions more to the department's budget.
"We know that our parks are essential for our public health and well being and they are cared for every single day by parks workers across our city who are really the beating heart of our parks system," Council Member Krishnan said. "The mayor's proposed cuts to parks directly impact workers, jobs, they directly impact services in our parks. We should really be investing far more in our green space than we do and certainly not cutting from them."
In its response to the preliminary budget, the City Council – which identified $2.7 billion in additional revenue over the administration's projections – called on the mayor to provide $46 million in new baselined funding for 1,000 additional entry-level park workers and to restore and baseline $2.5 million for natural forest maintenance and $4.1 million for 50 Urban Park Rangers. "From the start of this year's budget process, the Council has prioritized the people of New York City and what they need to be successful," Council Speaker Adrienne Adams said in part in a statement accompanying the budget response. "This requires investments in housing, libraries and parks, schools, early childhood education, mental healthcare, and many other fundamental needs."
Citing an uptick in crimes against people in parks from 179 to 231 in the first quarter of this year, the Council also called for additional expense funding to hire 300 more Parks Enforcement Patrol officers, doubling their numbers, as well as capital funding to install security cameras in parks.
Mayoral spokesperson Jonah Allon defended the mayor's proposed budget, citing the "significant fiscal and economic headwinds" that the city has to contend with. "In Mayor Adams' Preliminary Budget, the administration made critical investments in public safety, affordable housing, clean streets, and so many other areas New Yorkers care deeply about — while simultaneously continuing the mayor's strong record of fiscal responsibility and investing in our city's future," Allon said, in part in a statement. He also noted that the Council's response did not incorporate the full costs of the asylum seeker crisis. "The City Council's failure to account for $4.2 billion in related asylum-seeker costs or potential state cuts is unrealistic and does not properly recognize the city's current and upcoming fiscal challenges. We appreciate the Council's partnership and look forward to working with them in the coming months to negotiate a budget that delivers for New Yorkers," he said.
Krishnan, however, said the mayor's proposed cuts to parks were "inexplicable" when compared to his campaign commitment to a five-point parks equity plan – released by New Yorkers for Parks, an advocacy group – which included dedicating 1% of the city budget, roughly $1 billion, to the parks department. "New York City is behind every single major city in America when it comes to parks investments. Washington, D.C., Chicago, LA, San Francisco, Minneapolis," Krishnan said. "We spend $72 per capita when it comes to green space in New York City, which is one of the lowest in the country when it comes to major cities."
"The mayor ran a successful campaign and got a lot of votes committing to our city's parks system which has been underfunded for generations," said Adam Ganser, executive director of New Yorkers for Parks, in a phone interview. "The administration continues to reiterate that commitment…but their actions don't seem to be following that policy commitment."
Ganser pointed to the height of the pandemic when the city cut the parks budget by about $84 million. The cuts affected maintenance and cleanup, leading to littered parks and overflowing trash as people flocked to outdoor spaces in droves. "What we're talking about now between the PEG cuts and the preliminary budget is a cut to the parks department that isn't far off from what that cut was during COVID. So this is really myopic thinking," he said.
New Yorkers for Parks recently released a report highlighting the impact of allocating 1% of the city budget towards parks including cleaner and safer parks, quicker repairs to avoid longer closures, better air quality and protection from the heat, and better conditions for parks workers, among other benefits.
The mayor did fulfill one of the major commitments in the parks equity plan this February when he appointed Ya-Ting Liu as the city's first-ever chief public realm officer, charged with coordinating quality-of-life improvements to the city's public spaces. Among the major initiatives she is leading is a massive reimagining of Fifth Avenue in Manhattan, from Bryant Park to Central Park.
"We have 30,000 acres of parkland, 14% of the city is parks, and we need to be planning and maintaining these spaces so that they're serving all of New Yorkers in an equitable way," Ganser said. "I think it's a little bit counterintuitive for the administration to invest in that position [of a public realm officer], and then go ahead and cut funding for the very assets that that position is supposed to be looking at." said.
If the parks cuts are ultimately included in the budget the city adopts, both Krishnan and Ganser said that it's low-income communities of color that will bear the brunt. "For a mayor that is talking about creating a more equitable city, this decision is directly inequitable for those New Yorkers," Ganser said.
"The reality is when you're cutting from workers' positions, when you're cutting maintenance funding instead of increasing it, the impact is not going to be felt equally," said Krishnan. "It'll be felt by the communities that so often have suffered from lack of investment and lack of green space."