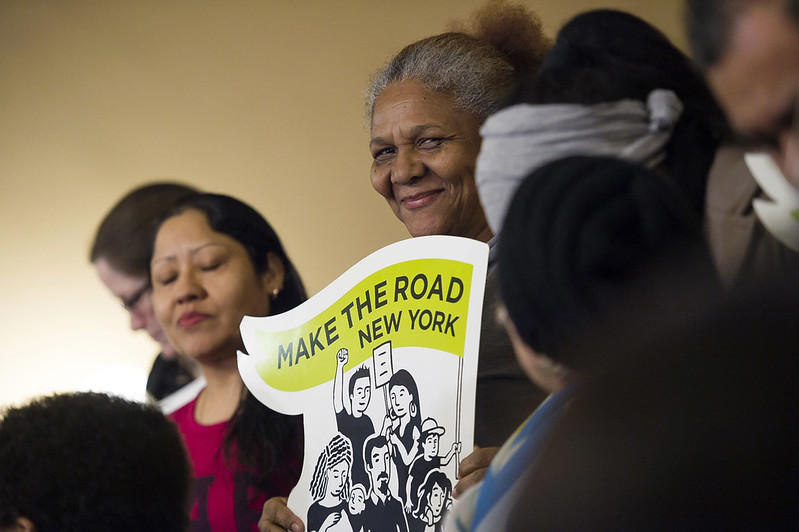 Make the Road New York (photo: Ed Reed/Mayoral Photography Office)
---
With Mayor Eric Adams soon to release his executive budget plan, Make the Road New York, a leading immigrant advocacy organization, is releasing a policy and budget agenda to push the mayor and City Council to adopt a more immigrant- and worker-friendly budget. 
With 25,000 members across the state, Make the Road is the largest member-based group of immigrant advocates in the state and a prominent voice for progressive legislation. The group will release its "Dignity, Community and Power" agenda at its community center in Jackson Heights, Queens on Wednesday afternoon, advocating for immigrant protections, a right to shelter and housing, education equity, stronger worker protections, expanded health care, fairness for nonprofit human-services providers, and a reduction in the "bloated" annual NYPD budget.
The agenda includes both policy proposals and funding measures that Make the Road believes should be included in the city's budget for the next fiscal year, which starts July 1. Some of the measures echo efforts from the City Council, especially its Progressive Caucus, where Make the Road has many allies.
The mayor's $102.7 billion preliminary budget, released earlier this year, has been a source of broad controversy as he has mandated spending cuts across city agencies that critics say will further hurt basic city services. Adams has repeatedly said that he has been forced to make tough financial decisions as the city faces several major challenges, chiefly an influx of tens of thousands of migrant asylum-seekers, a crisis that his administration projects will cost the city about $4.3 billion by July 2024. 
Elected officials, including City Council leadership, and immigrant advocates have spent months pushing back against the mayor's suggestions that funding services and shelter for migrants will come at the cost of taking care of New Yorkers that have already been here. And they have called on him to use billions in expected surplus revenue to invest in the city's most vulnerable populations. 
Make the Road's agenda directly outlines measures to achieve that goal. "It is a community-based and -guided platform which we hope that, this next fiscal year, the city  can fund, and looks at issues where brown, and Black and immigrant New Yorkers, the working class, are going to see relief in their everyday lives," said Natalia Aristizabal Betancur, Make the Road's deputy director, in a phone interview. The mayor and City Council must agree on a new city budget by the July 1 start to the next fiscal year.
A chief criticism of Adams has been that he is proposing significant cuts to agencies that serve the neediest New Yorkers and has failed to more aggressively get thousands of budgeted but vacant personnel positions filled, while making little attempt to rein in ballooning costs at the NYPD and Department of Correction. The police department, which costs the city about $11 billion annually in operating expenses and fringe benefits, has already exceeded its overtime budget for the current fiscal year by $100 million and growing, despite promises by the mayor to bring those costs under control. Make the Road's agenda takes direct aim at those costs, calling for substantial cuts to police funding, though without a specific dollar figure in mind, and greater transparency and accountability from the department.  
"The way that Mayor Adams has been handling the budget has not been centering the people who need the most help in New York City," Betancur said, specifically highlighting cuts to schools while the police budget remains largely unchanged. "We hope that this year, he understands that he needs to be delivering more for the people who voted for him and not for [wealthy] New York City interests."
The organization is also calling for an end to the NYPD's School Safety division, and to redirect its $450 million budget to school resources, staff, mental health services, and restorative justice practices. The agenda urges the city to immediately place a hiring freeze on school safety agents, eliminate 600 vacant school safety positions, eliminate $47.5 million allocated for "enhanced security measures" including surveillance, and disband the Youth Coordination Officers program that costs $106.2 million.
Make the Road is also calling for eliminating the police department's VICE unit and using its $25 million in funding to provide health, legal, and educational services to workers in the sex trades; eliminating the NYPD's Mental Health Co-Response Teams (which cost $5.7 million) and police officers within the Department of Homeless Services (which cost $30.1 million); as well as the NYPD's Strategic Response Group and its public relations budget, which altogether cost the city about $138.7 million annually. All that funding, the advocacy group argues, should instead be reinvested in community-based public safety solutions such as ending homelessness, building housing, expanding mental health services, harm reduction programs, education, and youth services.  
The agenda calls for an additional $50 million in immigration legal services; $1 million in baselined funding for the Rapid Response Legal Collaborative, a city-state operation first created in 2019 and providing legal counsel to those in detention or facing deportation; and maintaining $16.6 million for the New York Immigrant Family Unity Project.
The organization is also pushing for the passage of three bills before the City Council – Intro. 158, which would amend the city's civil immigration detainer laws to allow individuals to sue if they are wrongfully detained by the NYPD, the Department of Correction (DOC), or the
Department of Probation; Intro. 184, which would prevent the NYPD from detaining an individual on a civil immigration detainer past their release date without a signed warrant; and Intro 185, which would prevent the DOC from disclosing information about people in their custody to federal immigration authorities.
As the housing and homelessness crisis worsens in the city in the wake of the pandemic and given the arrival of so many asylum-seekers, Make the Road is pushing for the administration to ensure that all New Yorkers have a "right to a roof" by expanding eligibility to undocumented immigrants for the CityFHEPS vouchers – a rental subsidy which helps people who are either living in homeless shelters or facing homelessness find permanent housing. The organization is also calling for a comprehensive housing plan that ensures New Yorkers can live in safe and healthy homes, including through greater penalties on landlords who fail to make repairs to homes. 
Among the more prominent criticisms leveled against the mayor's budget is that it will reduce funding to Department of Education schools, CUNY, and public libraries, with low-income communities of color experiencing the worst effects of those funding cuts. Make the Road's agenda calls for restoring up to $500 million in education funding, while preventing any further cuts. It also urges the city to baseline $20.4 million for adult literacy programs run by the Department of Youth and Community Development (which the City Council has also pushed for); pushes the City Council to renew a $4 million discretionary adult literacy initiative, and renew and expand a separate $5 million discretionary adult literacy pilot project. It also calls for restoring $9.2 million in funding for 52
community schools, which provide more holistic services to students and families.
The agenda includes several worker protections including support for the passage of Intro. 837, also called the Secure Jobs Act, which would prohibit terminating an employee without just cause. It calls for renewing and expanding the Low-Wage Worker Support Initiative to $3 million; restoring $2.4 million in funding for the Department of Consumer and Worker Protection to avoid vacancy reductions; restoring $3 million in funding to ensure adequate staffing at the Law Enforcement Bureau of the city's Commission on Human Rights; and $5.3 million for the Consortium for Worker Education "Jobs to Build On" program and $2.4 million for Worker Service Centers.
Expanding access to health care for immigrants and workers has been a major priority for advocates. Make the Road's agenda includes several proposals to achieve that goal including $4 million to expand funding for the Access Health Initiative; $2.3 million for the Managed Care Consumer Assistance Program (MCCAP); maintaining $7.7 million for the Ending the Epidemic initiative focused on ending HIV; and $2 million for the Immigrant Health Initiative. 
The agenda also calls for $100 million annually to expand the NYC Care program, which is overseen by NYC Health + Hospitals and provides low- to no-cost health services to individuals who do not qualify for or cannot afford health insurance, including undocumented New Yorkers. Additionally, Make the Road is calling for a new Community Health Worker Project to help community-based organizations hire Community Health Workers that will aid navigation of the system at health-care facilities.
Even prior to Adams' tenure, city government has long been criticized for failing to fairly pay nonprofit human-services providers. That, along with lengthy delays in payments, have led much of the industry to the brink of insolvency. In its agenda, Make the Road urges the city pay providers "what we are worth," in-full and on-time by first providing a 6.5% cost-of-living
adjustment to all providers through $200 million in the next budget and then providing them a multi-year pay agreement on par with DC37, the city's largest municipal union that recently ratified a new contract with the city. The group also calls for changing the Indirect Cost Rate manual to make indirect funding a fixed budget cost that is fully funded and to ensure on-time registration and payment of contracts with legal enforcement for delays and late payment.
Many of the items on Make the Road's agenda align with the New York City Council's recently-released preliminary budget response and the Council Progressive Caucus' budget priorities, both of which call for rolling back education cuts, investing in affordable housing and expanding mental health services, while broadly investing in working New Yorkers, particularly low-income communities of color.