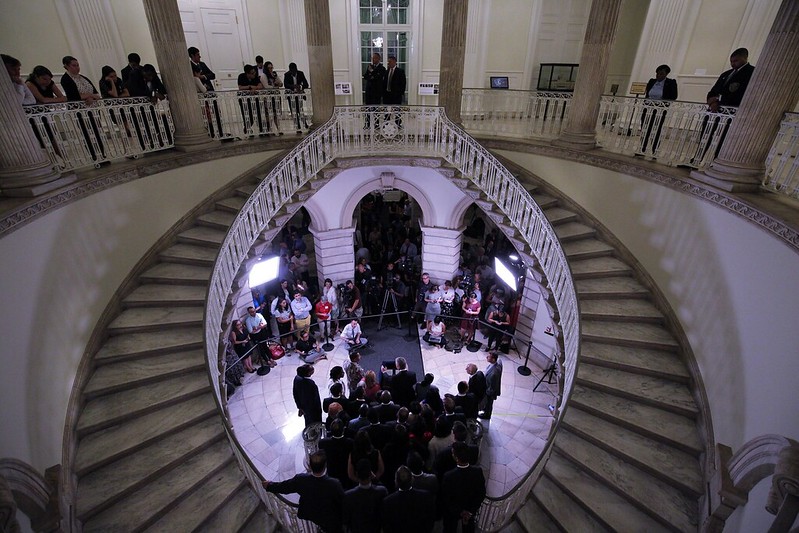 Inside City Hall (photo: William Alatriste/New York City Council)
---
Two-thirds of New York City government agencies say that difficulties in recruiting and retaining employees have negatively affected their anti-corruption efforts, raising the risk of fraud and waste, according to a new report from a city corruption watchdog.
The New York City Department of Investigation (DOI), the oversight agency that monitors and investigates corruption and other dysfunction at city agencies, released its 2022 Annual Anti-Corruption Report on Monday, pointing to serious risks arising from the city's ongoing municipal staffing crisis. There are more than 23,000 budgeted vacancies across city agencies.
Unlike past reports that focused on corruption issues and agency responses to them, DOI surveyed city agencies on how persisting staffing challenges have affected their efforts to monitor and tackle fraud and waste. The report was based on detailed questionnaires sent to 64 mayoral and non-mayoral city agencies, and covers the period from October 1, 2021 through September 30, 2022 — meaning the final three months of the de Blasio administration and first nine months of the Adams administration.
Of those 64 agencies, 66% reported to DOI that a decrease in their staff was adversely affecting or posing risks to their anti-corruption efforts. "These challenges, should they continue, could have a long-term negative impact on the City's anti-corruption efforts and therefore could increase the risks of corruption, fraud, waste, and abuse," said DOI Commissioner Jocelyn Strauber, in a statement accompanying the report.
Those agencies reported "reductions in oversight, auditing, and internal control functions," according to the report, as well as risks to anti-corruption activities because of "delays, lowered capacity, inexperienced staff, and burnout." In response, agencies said they have had to rearrange staff roles, take longer to complete certain tasks, and even forego new programs to monitor or prevent corruption.
Only one agency pointed to a specific instance of suspected theft (valued at $5,000 or less) that agency management said could have been avoided if there was sufficient staffing.
DOI itself has been struggling with staffing and budget cuts as its workload has increased. Strauber testified at a Council budget hearing in March that those factors have led to a slower pace of work and attention diverted more to administrative tasks than investigations.
Council Member Gale Brewer, a Manhattan Democrat who chairs the Council's oversight and investigations committee, has spent months advocating for funding boosts for oversight agencies like DOI and urging the administration to quickly fill vacancies. "It's not just the oversight agencies but its all the anti-corruption work that goes on in the agencies that is impacted by vacancies," she said in a phone interview, responding to DOI's report.
Brewer said she had no idea of the extent of the adverse effects until she saw the report. "You don't have oversight. You don't have the audit teams. You don't have the internal control functions. All of that is needed to do anti-corruption work," she said.
The report does note that the municipal staffing shortage is not limited to New York City. Since the pandemic, changes in employment trends have created a tight labor market nationally. And there are various reasons behind the vacancy crisis affecting city agencies including previous hiring freezes instituted at the height of the pandemic, the city's vaccination mandate and the administration's insistence that employees return to the office.
Higher pay scales in the private sector have also drawn away workers from city agencies, leading to unprecedented attrition. The report even noted that inadequate pay raises the risk of corruption, "with one agency expressing concerns that inspectors who are not compensated properly would be at a higher risk of accepting bribes."
While slow to act, Mayor Eric Adams' administration has started to take steps to address the vacancy crisis. Those steps have come after the period covered in the report and DOI does credit the administration for them, though it has not been clear why Adams did not take more aggressive steps earlier in his tenure given the vacancy crisis he inherited. In December, the mayor also created the Mayor's Office of Risk Management and Compliance and Mayor's Office of Municipal Services Assessment to tackle corruption and waste.
"While we continue to recruit aggressively and remain laser-focused on hiring new employees to serve New Yorkers, as the report states, there is a nationwide labor shortage and hiring challenges are not unique to New York City," said Fabien Levy, a spokesperson for the mayor, in a statement. "Even with our vacancies, the report — which addresses conditions this administration inherited — makes clear that there has not been any demonstrable increase in corruption among city employees. Our city employees remain committed to doing the difficult work New Yorkers rely on with honesty and integrity. We continue to improve our hiring process and welcome input to overcome the challenges that the city — like employers across the country — faces in recruiting and retaining employees."
Among the steps the administration has taken include ending in December its 2-for-1 hiring policy that mandated that agencies could hire one employee for every two vacancies, allowing agencies to increase salaries by 15% in high-attrition positions, appointing Agency Recruitment Czars at every agency, expedited responses to agency hiring requests, and several "Hiring Halls" to fill vacancies.
The administration also slightly softened its stance on hybrid work schedules, reaching a contract agreement with DC37, the largest municipal workers union, which included a flexible work pilot program and increased wages. The city's recent contract with the Patrolmen's Benevolent Association, the largest police union representing rank-and-file officers, also included more flexibility for officers besides increased salaries. But the mayor has not taken assertive executive action outside of union labor contracts to shift personnel policies for the city's many non-union employees, such as allowing some work-from-home for positions where those tasks can be done remotely.
Critics, including Comptroller Brad Lander and City Council Speaker Adrienne Adams, have said that the vacancy crisis was exacerbated by the mayor's administration and that he did not move fast enough to address it. They have raised concerns that the vacancies, compounded by cuts imposed in the proposed city budget for next year, could be detrimental to city agencies and affect their ability to provide services to New Yorkers.
In her State of the City speech in March, Speaker Adams stressed the urgency of tackling the agency staffing crisis. "It has created a domino effect, and now New Yorkers who rely on essential services are feeling those impacts in real time," she said.

"As our Title Vacant and Understaffed, Underserved reports lay out, the high number of vacancies at city agencies pose risks to the quality of city services, including basic oversight of agency operations," Lander said in a statement to Gotham Gazette. "DOI's anti-corruption report echoes our recommendations like higher salaries, accelerated hiring processes, and hybrid/remote work policies to strengthen the retention and recruitment of staff who perform mission critical oversight roles."