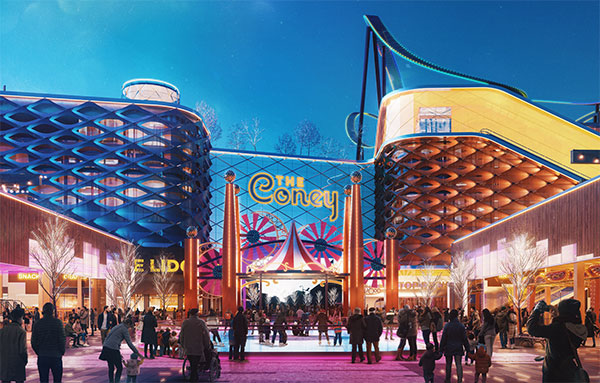 A rendering for The Coney, a proposed casino in Coney Island
---
After Governor Kathy Hochul and the State Legislature decided that Downstate New York—which includes New York City, Long Island, and Westchester County—could potentially get three full casino licenses on a faster timeline than originally planned, the application process has begun and concepts for proposals have been sporadically announced. 
The availability of the three casino licenses and the process for awarding them were finalized in the state budget passed in April 2022, in part accelerating a plan from a prior casino law passed in 2013 that allowed for the more immediate opening of several Upstate casinos.
The formal application process for the three Downstate licenses began in January of this year, with the region's two current "racinos" — the MGM Resorts International's Empire City Casino in Yonkers and Genting Group's Resorts World New York City in the Queens Aqueduct Racetrack complex — believed by some to be at the front of the line for licenses to become full casinos with table games. They are currently limited to a race track and slot machines, and since they are both already established their owners are hopeful that they can win full licenses, allowing them to expand significantly with games such as poker, blackjack, and more.
But they have serious competition from a series of groups that have put forward proposals across the city and beyond.
As of May 1, there have been 11 casino proposals announced in some form, including five in Manhattan (Midtown, Hudson Yards, Penn Station, Times Square, and adjacent to the United Nations building), two in Queens (Willets Point and Ozone Park), one in the Bronx (Throgs Neck), one in Brooklyn (Coney Island), one in Nassau County (Uniondale), and one in Westchester County (Yonkers).
In order to formally apply for a casino license, the minimum capital investment for the project must be $500 million, applicants must submit a research study detailing the economic impact their casino would have on the surrounding community, and they must pay the $1 million application fee. 
The casinos are intended to promote economic growth for the state through jobs at the venues and increased activity in surrounding communities, while also providing tax revenue that will fund education and financial assistance programs — as well as the MTA, per the new state budget passed in early May of this year. Along with the $1 million per proposal in application fees, each of the potential three casino license awardees will be required to pay a $500 million license fee to the state. Taxes will produce ongoing revenue, including but not limited to at least 25% on gross slot gaming revenue and 10% on all other gross gaming revenue.
State Senator Joseph Addabbo, a Queens Democrat and chair of the Senate's Committee on Racing, Gaming, and Wagering, said the casino licenses are a hot commodity for all involved.
"The gaming industry gives about $3 billion on average every year to education," Addabbo said in an interview with Gotham Gazette. "There is billions in revenue, there's thousands of construction and post-construction jobs. So the opportunity here doesn't come about every couple of years, this is a one-time shot. We're not talking about more licenses, this is three, and that's gonna be it for the foreseeable future."
Addabbo, and the state senate committee he chairs, will monitor the downstate licensing process and provide oversight, but does not have a role in the selection of the applicants.
There are multiple governing parties overseeing New York's gaming initiatives, including the gaming committee in each house of the Legislature and the ultimate decider, the New York State Gaming Commission. Before final decisions by the Gaming Commission, the entity presiding over much of the downstate license application process is the New York Gaming Facility Location Board, which was created as part of the 2013 law allowing for new casino licenses upstate and, eventually, downstate. The commission elected new members in 2022 to oversee the downstate casino licensure process.
The Board is now composed of three members: Vicki Been, an NYU professor and former New York City deputy mayor; Quenia Abreu, President and CEO of the New York Women's Chamber of Commerce; and Stuart Rabinowitz, an attorney and former president of Hofstra University. 
Its power ranges from setting the licensing fees to conducting investigative hearings at any stage of the application process. Ultimately, it will select up to three candidates to be reviewed for licenses by the Gaming Commission. It reports to Governor Kathy Hochul, though Hochul has indicated she is not involved in the process.
On January 3, the Board released a Request For Applicants (RFA), which included guidance for potential bidders, evaluation criteria, and an outline of the entire process timeline. 
That kicked off a casino bidding process that is split into two stages, and many proposals have emerged.
Stage 1
The first stage of the formal process began with the Board's RFA in January and a period in which potential applicants could ask questions.
As of March 2, the Board received "several hundred questions" and is working on responses, which will then be published. After the publication of those responses, there will be another round of question-and-answer as the process unfolds. The official deadline for applications will be 30 days after the Board's second set of question-responses is published — a deadline expected to be sometime this summer or fall.
In the meantime, a series of potential applicants have been announcing proposals for casinos across the five boroughs and in the suburbs. More are expected as the deadline approaches, while some that have been publicized may not officially enter the bidding process.
After the official application period ends, applicants that choose to formally move forward in the process and pay the $1 million application fee will be reviewed based on their geography by a Community Advisory Committee (CAC). Each application will trigger the establishment of a CAC.
The CACs for each proposal in Westchester and Long Island are composed of five members—one each chosen by the governor, relevant mayor, and local state senator, State Assembly member, and City Council member. CACs in New York City will be composed of six members, with the addition of the relevant Borough President choosing one.
For example, for a proposed casino(s) in Coney Island, Brooklyn, the CAC would be made up of representatives of Mayor Eric Adams, Governor Kathy Hochul, Borough President Antonio Reynoso, State Senator Jessica Scarcella-Spanton, Assemblymember Alec Brook-Krasny, and City Council Member Ari Kagan (or the official themself).
CACs will hold public hearings and review written responses to casino proposals under their purview, and must hold a vote to determine whether each proposal has local community support. CACs can also provide feedback for the proposals, asking questions or expressing concerns, which applicants can respond to prior to the vote.
In order for a casino proposal to move on in the process, the CAC vote must yield at least a two-thirds majority in the affirmative, meaning four votes. Proposals that are advanced move on to the Gaming Facility Location Board.
The first stage of the process will end after all applicants are approved or disapproved by the CACs, and those approved are submitted to the local zoning authorities to begin the relevant review process by which a potential casino could win the necessary zoning changes.
Senator Addabbo said the creation of the CACs is a new function for New York when reviewing casino proposals, and called them an integral part of the process.
"That is a critical first step, something we did not do back in 2013 when we did the initial four licenses upstate, there was no community input," Addabbo said. "And even when they were doing a racino for Aqueduct, the community had very little input, not even advisory, but just whenever we had the opportunity, we gained input. But this is something new for this go around of the three licenses downstate, and it's a critical step, without that CAC approval, they can't go forward."
Aside from adding the CACs, the state is retaining most of the structure from the 2013 upstate casino licensing process, during which the Gaming Facility Location Board selected three casinos out of 16 applicants: Montreign Resort and Casino in Thompson, Rivers Casino and Resort in Schenectady, and Lago Resort Casino in Tyre. 
Stage 2
Stage two will begin once the aforementioned application and zoning process is completed, after which the Gaming Facility Location Board will announce the remaining applicants, who will publicly present their proposals to the Board and hear comments from a public audience.
The Board will then select "up to three applicants" to be reviewed by the State Gaming Commission, which will ultimately finalize casino license winners.
According to the RFA, the Gaming Facility Location Board will select applicants based on a weighted system, with "economic activity and business development" being 70%; "local impact siting" 10%; "workforce enhancement" 10%; and "diversity framework" 10%.
The Gaming Commission is composed of five people, including Chair Brian O'Dwyer. The other members are John Crotty, Peter Moschetti Jr., Marissa Shorenstein, and Jerry Skurnik.
The Commission will review applicants' ability to fund their casino projects in full, meet all the state's requirements, fund any proposed community outreach programs proposed, and otherwise follow through.
Making Progress
Though the process remains in Stage 1 going into the summer, Senator Addabbo is hopeful that it will be finished by the end of the year.
"I know they have the wherewithal and the professionalism to do the downstate licenses even though it is a different process," Addabbo said of the Gaming Facility Location Board. "But nevertheless, I am keeping an eye on the progress they are making in terms of ultimately accepting these submissions by the proposed sites, and then evaluating them. So we're not there yet, but hopefully soon."
Another major proponent behind the process has been New York City Mayor Eric Adams, a former state senator who was chair of the Senate Racing, Gaming, and Wagering Committee when the racino licenses were being awarded. At the time, Adams wound up as part of an ethics investigation into the process and though he was never charged with a crime, he was reprimanded by the New York State Inspector General for working with figures tied to one of the bidders, including revealing internal information and attending a victory celebration, and not adequately responding during the Inspector General's investigation.
Adams has said he would like at least two licenses to go to proposals in the city, citing the economic benefits they could bring.
"We would love to have two in New York City," Adams said in March 2022. "I think it would be a great boost for the economy, and we are evaluating what's the best location, so we can weigh in with some type of communication. We're looking forward to doing so."
But Adams has also come under scrutiny around his casino-related relationships, including hiring his long-time friend Timothy Pearson as a senior advisor. At the time, Pearson was also a vice president of Resorts World Casino handling security. More recently, Adams' former chief of staff, Frank Carone, signed a consulting contract with Greenberg Traurig, the legal firm representing SL Green in its Times Square casino bid. 
Referencing the mayor's time as chair of the Senate Racing and Wagering Committee, Senator Addabbo said Adams surely "understands the economic growth involved, the jobs, the revenue, and everything else that comes along with these casinos. So he's saying, 'Yeah, I want two' because he sees the potential economic growth and again, the jobs."
Proposals
There have been proposals announced and hinted at in all five boroughs except Staten Island, one on Long Island, and to expand the existing MGM casino in Westchester.
Manhattan appears that it will have the most bids, with five current proposals in the works. Borough President Mark Levine, who will select one member of any CAC in Manhattan or serve himself, has remained neutral to the bidding war while in its early stages, but is focused on making sure any casino would benefit the surrounding community.
"On the one side, there are benefits for jobs and economic development, so we have to look at what any proposal would mean for a neighborhood, good and bad," Levine said on Gotham Gazette's Max Politics podcast in February. "We have to weigh concerns about gambling addiction and what it would mean to local residents, so there's a lot to consider." 
Midtown East
The Soloviev Group, in partnership with one of the largest casino companies in the country, Mohegan, is hoping to build a casino on one of the biggest undeveloped lots in Manhattan.
Adjacent to the United Nations building in Midtown along the East River, according to the draft plan the 6.7 acre plot would host a massive ferris wheel along with four acres of green space, two residential towers, a hotel, and a museum devoted to democracy. The casino itself would be situated mostly underground with windows overlooking the water. The project is initially being dubbed Freedom Plaza.
Times Square 
Caesars Entertainment has partnered with realty-company SL Green and Jay Z's entertainment business Roc Nation to try to bring a Caesars Palace casino to Times Square.
The companies argue the casino would be a central player in the revival of the Theater District, with $117 million in funds going to initiatives around education, theater tickets for children in underserved communities, and more. The casino would be smaller than some of the other proposals, which the companies say will lead customers to also see Broadway shows and other attractions in and beyond Times Square.
But the proposal has come with some of the harshest pushback yet. The 'No Times Square Casino' coalition is a group of community groups in the Times Square area banding together to prevent a casino. The coalition officially denounced any applicants in the area on April 14, citing congestion, economic disruption, and social harm as main concerns.
Manhattan Community Board 5, which includes the Times Square area, has also passed a resolution pushing for the local City Council Member, Erik Bottcher, to oppose a casino bid for Times Square.
Hudson Yards
The Related Companies, one of the real estate firms behind the Hudson Yards redevelopment project, is partnering with Las Vegas-based Wynn Resorts to bring a casino next to the Javits Center. The casino would be part of a larger project located on the western half of Hudson Yards, platformed on top of the MTA rail yard, and potentially consist of public parks, a school, a hotel, many restaurants, and the casino. 
The project is being pitched as an apt extension of Hudson Yards as it currently exists — the largest private real estate development in American history with multiple tourist attractions, a mall, public space, event venues, and more — and neighbor to The Javits Center, the massive convention center whose attendees would be natural potential patrons of a new casino.
Fifth Avenue
Saks Fifth Avenue owner Hudson's Bay Company is hoping to bring a high-end casino to its flagship store at 611 5th Ave. The company wants to use 200,000 feet of existing space from the ninth through the 11th floors of the store to bring a luxury casino, which would include a rooftop terrace overlooking Rockefeller Center. The upper floors are currently used as temporary swing spaces.
Penn Station
City real estate giant Vornado Realty is looking to build a casino on the lot that currently houses Hotel Pennsylvania. The hotel, which sits across from Penn Station, is currently being demolished, part of a major potential redevelopment plan for the entire Penn Station area that has hit significant roadbumps.
Vornado is proposing a casino to complement any future upgrades to the station and surrounding neighborhood, though the future of those plans, championed by Governor Hochul, has become uncertain given the company's reevaluation of its proposal, which relied heavily on new office towers.
The company has not publicly announced any partners for the project, and no renderings or detailed plans have been published.
Ferry Point
The only current bid in the Bronx is at Ferry Point Park in Throggs Neck, connected to the Trump Links Golf Course. Gaming company Bally's is hoping to put a casino where the golf course clubhouse now stands. The casino would use about ten acres of land, with seven more for public green space and potential housing for employees.
The casino proposal has come with mixed feelings. Bronx Borough President Vanessa Gibson is worried about how the Throgs Neck and larger Bronx community would be affected by the casino, but she's intrigued by the economic development potential. 
"I want to be able to make sure that there's a real community benefit, but you understand when you're building out casinos, you're going to have a hotel, restaurant, parking, small businesses, retail," Gibson said recently on Gotham Gazette's Max Politics podcast. "So you're building a whole new neighborhood within a neighborhood and you're bringing in clientele, I want to make this beneficial for the Bronx."
Coney Island
The only current proposal in Brooklyn is for a beachfront casino in Coney Island, near famous long-standing attractions. Real-estate investment firm Thor Equities Group is partnering with Saratoga Casino Holdings and The Chickasaw Nation, as well as Legends Hospitality.
The casino would include a hotel across from the boardwalk, a convention hall, and a large entertainment venue. Part of the pitch is to help make the area a place with year-round attractions.
Brooklyn Borough President Antonio Reynoso said he is open to the prospect of a casino in Coney Island, but he has questions about benefits for the surrounding community.
"We need a reinvigoration of some sort," Reynoso said on Gotham Gazette's Max Politics podcast in January, speaking about Coney Island in general. "I don't know if a casino answers that, but I don't want to dismiss it outright, especially if this casino could provide, within five years, can every single [public] housing development in Coney Island be repaired and be dignified housing? Can they do that? Are they going to bring more people? We're talking about one of the highest rates of unemployment. Coney Island, unemployment, almost 12%, especially for Black and brown people. Are we talking about full-time jobs that they can get? Those are all things you can't just push aside."
Mets-Willets Point
Aside from the already-established Resorts World casino, there is one other proposal announced for Queens, with a big push underway. New York Mets owner Steve Cohen is looking to capitalize on the already-announced $780 million development project in Willets Point, which will bring a stadium for New York City Football Club, housing, retail, and more, and put his own casino adjacent to the Mets' Citi Field.
Cohen has named the proposal "New Green Willets" and hopes to put the casino where some of the Mets parking lots are currently, though he will need the city to remove the current zoning designation in order to begin construction — it is technically city-owned park land.
Members of the community have already begun protesting the proposal, which will set the table for the CAC's deliberations.
For his part, Queens Borough President Donovan Richards is hoping to get both a Willets Point casino license and the expanded Resorts World license. 
"I think it would be a homerun, perhaps to have two," Richards said on Gotham Gazette's Max Politics podcast in December. "But the jobs, what's happening at Willets, transportation improvements — I will take it all coming out of this pandemic. But let me end by saying this on the casino: one of the things we've been clear about is right across the train tracks is neighborhoods, like Corona, have been hit hard during this pandemic. And we want to make sure that even as Willets is developed, even with the possibility of a casino, that we're also focusing in on a lot of the community benefits that need to also be a part of this plan."
Nassau
Casino and resort company Las Vegas Sands has proposed to buy the lease of the Nassau Veterans Memorial Coliseum and use the 80 available acres of land to build a casino, hotel, community spaces, a performance venue, and celebrity chef restaurants. Las Vegas Sands is collaborating with RXR Realty, which has been working on the Coliseum site.
Sands announced on April 26 that Nassau County signed a 99-year preliminary agreement with the company to use the Coliseum site for the casino, a major first step in the bid's chances. Sands will also need approval from the Nassau County Legislature, which is scheduled to meet around the proposal on May 22.
While the proposal is in its early stages and there is growing institutional support, community pushback has started. A petition 'Say No To The Casino' has garnered more than 2,000 signatures. Hofstra University is suing the Nassau County Planning Commission for not adequately notifying the public of a hearing to consider the Las Vegas Sands casino, which it says violates the state Open Meetings Law.
Existing Casinos
MGM Resorts' Empire City Casino in Yonkers and Resorts World Casino in Queens, the two current downstate 'racinos' — meaning race tracks and some gambling via slot machines but not table games — have been seen as likely frontrunners to win licenses to expand to become full-fledged casinos and offer far more amenities.
Addabbo, the Queens state senator and gaming committee chair, has been a major figure in the development and oversight of Resorts World, which is not far from his district. He said that though Resorts World has acres it is looking to expand upon with a new license, MGM will be applying with more space and the ability for a larger expansion project.
"With Resorts World, they already built their hotel, they already built an expansion, and they still have acres to build upon, but they still have about a billion-dollar investment," Addabbo said, indicating his view of a disparity between the two in terms of their status and growth potential. "MGM, basically waiting for that license, they have great potential with their acreage, they've got a lot of room to expand and build upon and certainly improve that area, which means a thousand construction jobs, as well as the thousand post-construction jobs."