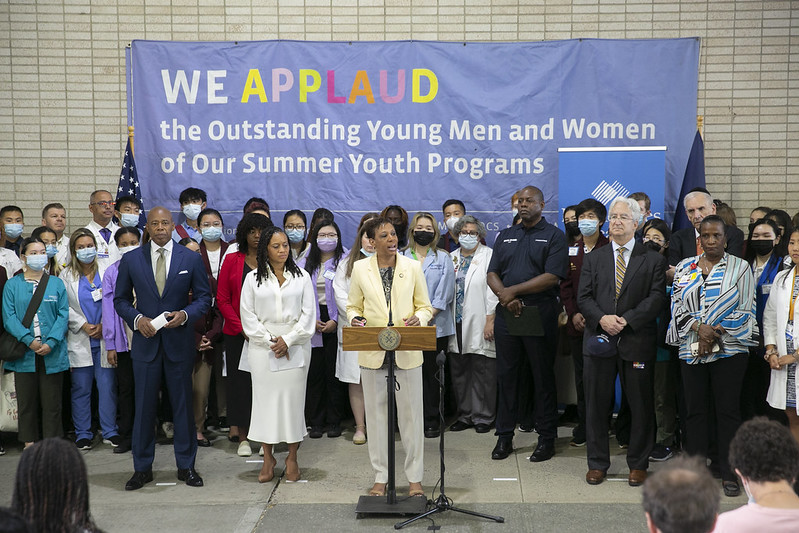 Summer Youth Employment Program celebration (photo: John McCarten/NYC Council Media Unit)
---
New York City's Summer Youth Employment Program (SYEP) could be seeing a boost despite proposed budget cuts, thanks to legislation in the City Council that could lead to greater participation from city agencies.
The Council is expected to pass a bill Thursday that would set a goal for each city agency to offer youth job slots as part of the landmark program, which connects tens of thousands of students with paid job opportunities in and out of city government during the summer months when school is out.
The legislation would require each agency to offer a number of slots equal to .5% of its full-time staff. It is unclear exactly what that would mean for the overall number of SYEP slots in city agencies as many agencies already reach that threshold each year.
"This collective effort maximizes the available resources and enables a wider range of job opportunities for SYEP participants, ensuring that the program meets the diverse needs and interests of young people while fostering workforce development city-wide," said Council Member Althea Stevens, a Bronx Democrat, the Council's youth services chair, and the bill's prime sponsor, in a statement to Gotham Gazette.
The bill would also require annual reporting on the number of youth served in the public and private sectors, and a breakdown of city agency participation. Agencies that fail to meet the .5% goal would have to report why they failed to the mayor and City Council. The legislation would take effect 120 days after it becomes law, meaning the new thresholds likely wouldn't be in place until next summer at the earliest.
SYEP had a record high 100,000 slots last year, of which 8,600, or close to 9%, were at 82 city agencies and offices, and 29 City Council offices, according to the Department of Youth and Community Development (DYCD), which administers the program.
When asked to respond to the bill and its likely passage this week, DYCD Commissioner Keith Howard touted SYEP's coordination with city agencies and the City Council but did not take a firm Adams administration position on the legislation.
"A record 100,000 SYEP opportunities will return this summer, including thousands of young people placed in city agencies and mayoral offices," said Howard, an appointee of Mayor Eric Adams, in a statement. "One example of the great success we have had with cross-agency partnerships was NYPD opening their doors to more than 800 SYEP internships in law enforcement last year, and this summer that number will grow to more than a thousand."
"We thank the City Council for supporting SYEP, and for once again encouraging its members to become worksites and exposing young people to the world of politics and civic engagement," Howard added.
Mayor Adams' proposed spending plan for the 2024 fiscal year, which begins July 1, budgets for 302,000 full-time positions across city government; .5% of that total is only about 1,500, far lower than the 8,600 SYEP participants placed in city agencies in 2022. If the bill becomes law, some agencies will likely have to increase their number of SYEP offerings but the overall number of positions is unlikely to change. It would still set a new benchmark, a suggested floor for each agency, along with the accountability mechanism of the reporting requirements.
The mayor's executive budget includes $209.6 million for SYEP, a proposed spending cut of $18.7 million from this fiscal year's adopted budget. The spending reduction is the result of $11 million less allocated to a DYCD program called "Work, Learn, Grow" and the end of one-time MetroCard funding for SYEP participants, according to a report from the New York City Council. The rest comes from savings from wages that were lower than anticipated, the report said.
Asked what impact the bill would have on agency participation rates, a DYCD spokesperson pointed out that the .5% standard was a goal, not a requirement. But the department would make efforts to see that agencies meet the threshold if it becomes law, they said.
According to Stevens, the bill would expand the types of city agency offerings and bolster "a critical pipeline" to the public and nonprofit sectors, which are facing significant workforce shortages.
Eli Dvorkin, policy director at Center for an Urban Future, a nonpartisan think tank focused on economic opportunity, said the Council's emphasis on SYEP was "encouraging" but criticized the program for being too heavily concentrated in low-paying fields and not oriented toward economically mobile career pathways.
"It's understandable that this legislation is primarily focused on encouraging placements in city agencies -- that's where the Council has the most leverage," Dvorkin wrote by email to Gotham Gazette. "But to really improve the program, the city will have to do much more to recruit private sector employers in growing industries -- from tech and healthcare to finance and the creative economy."
A Center for an Urban Future analysis of DYCD data found "placements are concentrated in low-paying industries like daycare providers and day camps (15.3 percent of all work sites), social services (7.5 percent), and retail (8.4 percent)," according to Dvorkin. A majority of SYEP government slots are in worksites at public schools.
"That's a challenge that DYCD and SBS can't tackle on their own, and it's where much more progress will be needed even if this legislation becomes law," he added, referring to the city's Department of Small Business Services, which under the Council bill would be required to coordinate with DYCD to promote SYEP to small businesses.
Part of the problem, Dvorkin wrote, was that the program wasn't well-integrated with the year-round education system. The previous version of Stevens' bill included a year-long mentorship program for SYEP participants, but that was dropped from the final legislation. A spokesperson for Stevens did not say why it was removed.
The bill will go before the Council's Committee on Small Business on Thursday, where it is likely to advance to a full City Council vote in the afternoon. If it passes, it will go to Mayor Adams for signature or veto.