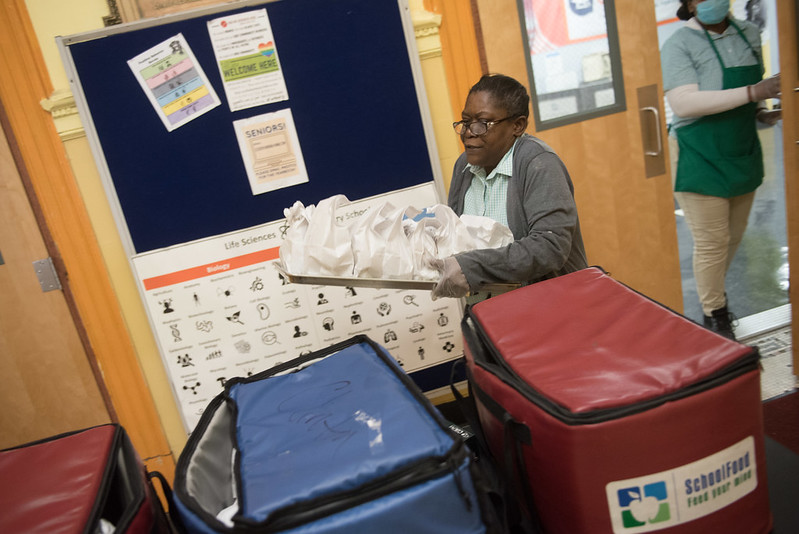 Serving meals (photo: Michael Appleton/Mayoral Photography Office)
---
The organizations that New York City contracts to deliver everything from essential health and homeless services to youth and senior programing are striking for better compensation in the next city budget.
Over 100 human services providers will pause many non-life-saving activities on Thursday to demonstrate what they say are the consequences of underfunding the sector as inflation and compounding economic and social crises strain the system. Led by the Human Services Council of New York, the "day without human services" is aimed at securing a $200 million investment from the city, equivalent to a roughly 6.5% cost of living adjustment (COLA). It is part of the ongoing "Just Pay" campaign run by the Human Services Council and its members.
Campaign representatives say thousands of nonprofit workers will rally at City Hall on Thursday morning with Comptroller Brad Lander and members of the City Council. Programs not legally or contractually mandated or considered essential – including a host of educational, legal, and clinical services – will be suspended for the day. Providers are encouraging their staff, boards, and clients to write to Mayor Eric Adams and the City Council in support of the COLA.
"We're asking our members to consider closing up to 30% of their programs because that's how much our workforce is paid less than their government counterparts who do similar work," HSC executive director Michelle Jackson said in an interview with Gotham Gazette. "We are very concerned that if we don't get this COLA and more investment in future years, actual life-saving services will not be around next year."
Human Service Council represents 175 providers, a vast majority with city or state contracts, serving 2.5 million New Yorkers each year.
Adams and the City Council are negotiating over the mayor's $106.7 billion executive budget proposal ahead of the July 1 start of the city fiscal year. Adams' proposed spending plan does not include a human services COLA. The Council, led by Speaker Adrienne Adams, pushed to double baseline funding for human services workers to $120 million in its response to the mayor's earlier preliminary budget. That money is still less than the $200 million providers are seeking to keep up with inflation.
"Human services nonprofits play a vital role in our city by caring for our most vulnerable and the Council fully believes that they must receive an adequate COLA increase," wrote a Council spokesperson by email about the day of action.
Speaker Adams has not taken a public stand on the higher funding ask from the coalition. "The Council is in negotiations with the Administration on the budget and remains committed to fighting for a healthy, functioning human services sector," the spokesperson wrote.
Roughly 80% of New York City's human service workforce is people of color, with three out of five qualifying for some form of government assistance themselves, according to HSC.
"Human services workers show up every day to make sure that residents are fed, housed, and have their most fundamental needs met—often while earning poverty-level wages themselves," Lander said in a statement to Gotham Gazette. "Fair compensation that matches the cost of living is what we owe the essential workers who provide these services."
Of the thousands of after-school programs, childcare centers, counseling services, supportive housing and shelter providers, domestic violence and eviction prevention programs, summer programs, and other social services across the five boroughs, the city government itself administers only a small number. The city runs some pre-kindergarten, shelters, and community health clinics, for example. But the vast majority are contracted to nonprofit providers around the city. Jackson estimated close to 9 out of 10 human services are provided by a contractor, including nearly all senior and youth, and most homeless services.
Workforce shortages across the health and human services sector have significantly hampered a myriad of programs. The shortage has been at the center of city and state struggles to staff hospitals, psychiatric beds, and street outreach programs. Among other factors, pay is a key reason for the personnel challenges.
In the state budget passed in early May, Governor Kathy Hochul and the State Legislature included a 4% COLA for human services workers paid through state contracts, higher than the 2.5% Hochul had originally proposed, but less than the 8.5% advocates sought. To balance differences in pay, both between city and state contracts and between public and private sector competitors, nonprofits try to subsidize their employees' pay with private fundraising.
"Our members are reporting 30 to 40% vacancy rates," Jackson told Gotham Gazette. "Which means at some point services are not being delivered when you cannot hire and retain talent. So the sector is in true crisis and this investment is one step to solving that," she said, referring to a city COLA.
It is unclear how many New Yorkers will be impacted by the day of action but Jackson said providers are taking steps to ensure clients aren't left out in the cold.
"You're certainly not going to see residential service close, but you might see wraparound services like case management…delayed until Friday," Jackson told Gotham Gazette. Court-mandated and contractually-binding programs will continue but others relied upon by tens of thousands of residents will pause. That includes many older adult centers, afterschool and youth programs, adult literacy and professional development courses, and counseling services, among many others.
In the case of home-delivered meals, providers delivered an extra portion earlier in the week, Jackson said. The provisions organizations are making for Thursday are similar to the way they operate during natural disasters.
"The sector is at this point where they realize if we don't take bolder and bigger action now…we will see communities in real suffering in future years, when programs close," Jackson said. "We have made every plea possible to government before getting to this point."