On primary day, City Councilmember Leroy Comrie will face a single opponent in his bid for a third term. Two other candidates -- Adrienne Hayes and Shaun McLaughlin -- were knocked off the ballot. Brian Simon, an aide to U.S. Representative Gregory Meeks, had been mulling a run but decided against it and has endorsed Comrie.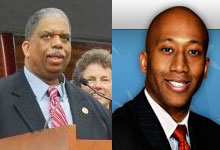 That leaves only Clyde Vanel, a lawyer and entrepreneur, making his first run for public office.
With housing foreclosures an issue in the district, which includes Cambria Heights, Hollis and St. Albans, Comrie has offered assistance to constituents facing loss of their homes. If elected, Vanel hopes to focus on lowering high foreclosure rates and increasing the number of high school graduates.
Comrie, the council's majority whip and the head of the Queens delegation, holds edge in fundraising and endorsements. Comrie has raised over $176,000 to Vanel's $41,000. The incumbent also picked up backing from the Central Labor Council and 1199 SEIU, one of the city's largest unions, as well as the Working Families Party.