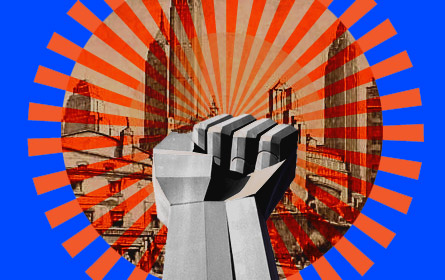 Image by Ya-Hsuan Huang
Facing almost overwhelming odds in his quest to defeat Democrat John Liu and become New York City's next comptroller, Republican Joe Mendola tried a new tack last month.
"How in heaven's name is he supposed to be an independent auditor of unions and city agencies when he's so tight with them that he's even having his victory celebration in a union hall?" Mendola said, alluding to Liu's victory celebration at the teachers union headquarters in downtown Manhattan. "There's a conflict of interest there that screams at voters."
Scream it may but New Yorkers have become accustomed to the roar. Labor has long helped boost politicians in New York. Union endorsements bring financial donations and members to staff phone banks and ring doorbells. And this year, labor has seemed particularly powerful as candidates backed by key unions and the Working Families Party, which includes many of the city's more progressive unions, managed to topple sitting City Council members -- an almost unheard of feat in New York City -- and win the Democratic nominations for public advocate and comptroller.
These victories, along with a campaign finance law that exempts unions from key restrictions, have sparked renewed debate about labor's role in city politics and government. While most candidates embrace union support, critics see organized workers -- particularly public employees -- as having too much influentce over public policy.
"Largely because of the union lock on pols, City Hall and Albany ignored Recession Economics 101 and raised taxes by a combined $13 billion this year," Michael Goodwin recently complained in the Daily News.
But Democratic public advocate candidate Bill de Blasio, who received more money from unions and their political action committees than any other citywide candidate this year, takes a different view. "A lot of what government is supposed to be doing is improving the lives of working people," he said.
Winning Efforts
The Working Families Party by no means has support of all unions, and it includes other groups such as ACORN as well. That said, the party has very strong ties to unions, and it had a particularly strong showing on Sept. 15 and 29.
De Blasio, the party's choice for public advocate, and Liu, its pick for comptroller, each best out three formidable opponents to win the Democratic nomination. Its mayoral choice, William Thompson Jr., won his primary. The party provided support to three challengers who ousted incumbent City Council members: Jumaane Williams, Daniel Dromm and Deborah Rose. It also backed but did not actively work for Fernando Cabrera, who kicked the Bronx's Maria Baez out of office. Its candidates also captured the Democratic nominations for two open seats in Brooklyn and one each in Queens and Manhattan.
Of course, the party lost some contests, notably the Manhattan district attorney's race, where its candidate, Richard Aborn, lost to Cyrus Vance Jr. Its effort to topple two more Brooklyn incumbents -- Diana Reyna and Albert Vann -- as did its choices for two other open seats in Queens.
Labor's success extended beyond the Working Families Party. In both citywide races, the candidates with the most union money -- de Blasio and Liu -- won. On the other end, David Yassky, who had virtually no union support, lost to Liu in the runoff by a wide margin.
Following the Money
New York is the nation's most unionized state with just shy of 25 percent of the workforce belonging to a union, far above the national rate of 12.4 percent, accordingto the Bureau of Labor Statistics. Among public employees in the state, 69 percent are union members.
So far this election cycle, unions have given about $375,000 to candidates for office in New York City. Many unions that represent public employees -- such as the United Federation of Teachers, the Uniformed Firefighters Association and the American Federation of State, County and Municipal Employees -- gave thousands of dollars to their preferred candidates. The city's largest municipal workers union, DC37, donated at least $14,890.
Candidates collected a total of about $94,000 from 1199 of the Service Employees International Union, many of whose members rely directly on government programs, especially Medicaid, for their jobs. Unions representing private employees, such as the communication workers, the retail workers, the food and commercial workers and the hotel workers, also made campaign donations.
This year marked the onset of the city's new campaign finance law, passed in 2007, which restricts contributions by lobbyists and businesses that do business with the city but does not put any similar restriction on campaign donations from unions -- such as DC37.
"It was a piece of legislation that unions had crafted so they wouldn't be treated the way corporations would be treated," said Gene Russianoff, senior attorney for the New York Public Interest Research Group.
Prior to the law, donations from groups doing business with the city far outpaced those from labor unions. In the 2001 and 2005 election cycles, for example, "doing business" firms gave about $25 million to citywide candidates, while unions gave a relatively paltry $4.1 million, according to an analysis by the New York Times.
Russianoff said it is not yet clear what impact the new law -- and its exemption for unions -- had on this year's election. He said the Campaign Finance Board will review that after the November election.
Whatever the board and other analysts find, though, Russianoff does not expect further restrictions on union money. Asked if a limit similar to the one on businesses was likely anytime soon, Russianoff said, "In a word, no."
Union help goes beyond the power of the purse, though. "The real strength unions have is the ability to mobilize members," said Russianoff. "Corporations don't have that."
The Working Families Party, for example, has said that leading up to the Sept. 15 primary, it knocked on 227,928 doors and talked to 62,112 voters -- not bad for an election in which only around 350,000 people voted.
Last Month's Results
In races that people know little about -- their district City Council's contest, for example -- an endorsement can serve as a quick signal of where a candidate stands. Dan Cantor, executive director of the Working Families Party, said he hoped that last month's victories indicate "that people support our view that everyone deserves a chance at a decent, meaningful life."
Many of the contests hinged on individual circumstances. The "lingering effect of term limits" played a role, according to Cantor, contributing to defeats of City Council members who voted to extend them. And, he said, many of the winners were "good candidates with a good message and hard work behind that."
The low turnout probably helped the union-backed candidates since only the most motivated citizens -- many, no doubt, union members or their families -- turned out at the polls. By one estimate, DC37 may have 4,000 to 5,000 members in City Council District 45 in East Flatbush. The unions' preferred candidate, Jumaane Williams, won that race by about 1,100 votes.
Working Class History
Unions have long wielded influence in New York politics. "Mayor LaGuardia never could have been mayor without labor's support," said Joshua Freeman, a professor of history at Queens College. In his book, Working Class New York," Freeman describes the city in the 1940s as a place where union activists played a key role in creating a kind of "New York exceptionalism... a local polity that during coming decades came to symbolize the best or worse of urban liberalism, depending upon one's point of view."
During that time, unions helped to preserve rent regulation for most of the city's housing stock and worked successfully to maintain low transit fares, keep the City University tuition free and expand municipal services. By the 1960s and the mayoralty of Robert Wagner, "New York labor reached a zenith of power," Freeman wrote. "Organized labor wielded its influence in ways unrivaled in the city's history to make working-class life more pleasant and secure."
Gradually that began to change. That power became a victim of demographic changes in the city, the bitter divisions wrought by the 1968 teacher's strike, the fiscal crisis of the 1970s and New York's growth from a working class city to more of a global financial capital.
Even considering last month's victories, Freeman does not think labor has the power it once did. "It has less of decisive effect than it did in earlier years" when labor could sway bigger things, like the mayoral race, he said.
Steven Malanga, the senior editor of City Journal, published by the Manhattan Institute, puts it more harshly. "What matters in defining New York is the mayor's office," he wrote recently in the New York Post. "By contrast, the comptroller is essentially an auditor with little policy-making clout, while the public advocate's job is so ill-defined it might as well be called 'the public appendix'" and City Council members "spend their days on constituent service or in committee meetings."
Voter, Supporter, Employee
Limited as labor's clout may be, last month's election has prompted alarm in some circles and a flurry of agitated newspaper opinion articles.
"The Real Estate Board has gone crazy," said Cantor. "They think the barbarians are at the gates."
Many of those expressing alarm cite a fundamental change between the union powerhouses of 50 years ago and those of today. Now, the strongest unions represent public employees. When their members go to the polls, they are, in essence, electing their bosses -- the people they will have to negotiate with at the bargaining table.
Public sector unions, Fred Seigel and Dan DiSalvo recently wrote in the Weekly Standard, "can achieve influence on both sides of the bargaining table by making campaign contributions and organizing get-out-the-vote drives to elect politicians who then control the negotiations over their pay, benefits, and work rules. The result is a nefarious cycle: Politicians agree to generous government worker contracts; those workers then pay higher union dues a portion of which are funneled back into those same politicians' campaign war chests. It is a cycle that has driven California and New York to the edge of bankruptcy."
In contrast with the unions of the mid 20th century, Freeman said, today's unions have a narrower priority: their collective bargaining position with the city. But, according to Freeman, public employee unions are hardly alone in using political activity to pursue parochial goals. "It's not a whole lot different from other politically active groups," he said. "Real estate interests don't tend to get involved in education."
Spheres of Influence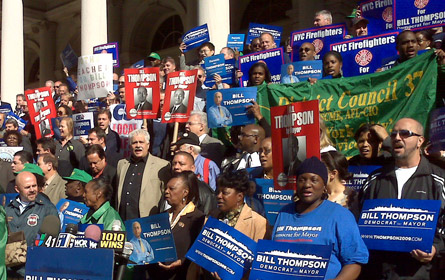 Photo by Courtney Gross
The power of these public employee unions -- whether good or bad -- is unmistakable. It is evident in the campaign finance bill's exemption of unions and in the debate over reducing pensions for public employees, cutting government programs and a myriad of other issues large and small.
Carol Kellermann, president of the Citizens Budget Commission, a private watchdog group, said that union influence shows up most clearly in efforts to control spending.
"If you look at spending and what state and local government spend money on," she said, citing education, Medicare, public employee salaries, "in every one of those areas there are organized public employees."
On pension reductions, she said, the union's power makes it "very, very difficult to achieve change... and even to discuss it rationally."
"Everybody else would benefit from these changes," Kellermann said, "but they aren't organized."
The city and state's fiscal problems do pose a major challenge, Cantor said. "It is very difficult to sustain vibrant public sector when the private sector is under such stress," he said. But he said the Working Families Party and its union supporters reject the idea that the way out of our fiscal problems is "to make public sector lives as difficult as private sector lives."
The Fine Print
While the Working Families Party, with some 20 groups, may take that kind of broad view, individual unions can get down to very specific issues. Take the United Federation of Teachers whose contract has been widely assailed as a collection of minutiae about what teachers can and cannot do.
Currently the city and the union are behind closed doors hammering out a new agreement. One issue allegedly in play are rules for teachers considered unqualified to teach. But, even though Mayor Michael Bloomberg and Schools Chancellor Joel Klein have complained about the contract, many experts do not expectthem to do much to change it.
The teachers, considered one the most powerful unions in the city, have not endorsed in the mayor's race so far. And that could indicate a deal in the works.
Bloomberg persuaded the union to support mayoral control of schools and wants the union to "at the very least not endorse Bill Thompson" for mayor, according to Sol Stern of the Manhattan Institute. In return for that, Stern said, Bloomberg has a powerful incentive to give the teachers a raise and keep the contract basically as is, and ignore work rules he complained about in the past. (Neither side is publicly discussing the negotiations.)
"There has been a grand compact, a grand accommodation," Stern said recently.
Disagreements Among Friends
Unions and the candidates they support deny that politicians who get union support are required to toe the labor line.
De Blasio said he has worked closely with unions over the years and understands their concerns. But, he said, "that does not mean I always agree with them by any stretch." For example he said, when he served on a community school board in Brooklyn, he disagreed with the teachers union on work rules. He said his support for a strong police Civilian Complaint Review Board was at odds with positions taken by various law enforcement unions and that the sanitation workers had concerns about his bill requiring recycling of electronic waste.
"All public servants represent a broad range of issues and try to determine what good public policy is," he said. "You can't go by who supported you in the last election."
Some detect a whiff of sour grapes among some politicians who now seem to be distancing themselves from unions and the Working Families Party.
Responding to criticism of his many union endorsements, Jumaane Williams said, "I don't know why unions are bad all of a sudden... Every candidate took hours out of their day to seek the same endorsements."
During a candidate debate, Yassky indicated his position on pension reform -- he has said he would be open to cutting pension benefits for newly hired city employees -- might have cost him union support. "What I haven't done is tell anyone what they wanted to hear," Yassky said. "I'm sure there have been political consequences."
Following his defeat, Yassky co-authored an op-ed piece with former Mayor Ed Koch deriding the influence of the Working Families Party. "The problem," they wrote, "is that the WFP is driven not simply by ideology, but also by the very specific interests of its component parts -- namely, the city's largest labor unions. These organizations have a very direct financial stake in the state and city budgets, an interest that is often at odds with the public interest."
Whatever the merits of their argument, the column elicited a cynical reaction among some political insiders who noted that Yassky had sought the Working Families Party and union endorsements himself at various times in his career.
On to November
With the primaries over in this overwhelmingly Democratic city, many unions have already accomplished their key political goals for the 2009 elections. The mayoral election still looms, though, with labor divided. Democrat Thompson has managed to pick up the Working Families Party and DC37 endorsement, along with backing from the Communication Workers, the Uniformed Firefighters and the Transport Workers, among others. Thompson has received almost $41,000 from unions and many thousands more from union political action committees. Despite that, questions remain as to how hard some of these groups will fight for Thompson.
Bloomberg also has some union backing, including from the Building and Construction Trades. And then there are groups, notably the teachers, who remain on the sidelines, at least publicly.
Like the candidates in last month's primary, Bloomberg and Thompson are courting labor votes -- and each campaign puts out a press release when it bags a thumbs up from one group or another. What the announcement does not include is what, if anything, the candidate promised in exchange for that support.