Photos by Courtney Gross
At the corner of Malcolm X Boulevard and Fulton Street in Bedford-Stuyvesant, Councilmember Al Vann had amassed a small troop of volunteers and staffers, all handing out palm cards with a truncated version of the Brooklyn legend's accomplishments.
Sporting his signature wardrobe piece (a hat -- today, a tan fedora with a small feather), the 74-year-old council member shook hands and conversed with students leaving nearby Boys and Girls High School. He told most passengers climbing up from the Utica Avenue station, "Democrats, all the way" -- a phrase that quickly became his call to the polls.
"I am one of the most effective legislators around," boasted Vann, clad in a baby blue suit.
But hundreds of residents of Brooklyn's 36th district think otherwise. Vann, who has represented central Brooklyn for 35 years, won the September Democratic primary, but only with 30 percent of the vote. Because of that, Vann's closest rival, former Drum Major Institute executive director Mark Winston Griffith, decided to continue his candidacy for tomorrow's general election on the Working Families Party line. In September, just 735 votes divided the two in of a field of eight candidates.
Republican candidate Robert Hunter also will be on tomorrow's ballot -- the first G.O.P candidate in Bedford Stuyvesant in at least two terms.
A Legend's Rival
It's tough to take on an incumbent. Griffith is doing it twice in the span of two months. And, this time around, he has some impressive names behind him.
Standing on the steps of City Hall last week, Griffith accepted the endorsements of the Rev. Al Sharpton and Councilmember Charles Barron -- two names that resonate with some of the city's black community. The 36th district is almost three quarters African American.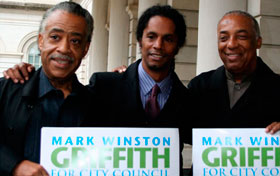 Photo by Courtney Gross
Citing Griffith's energy and youth, both Sharpton and Barron were quick not to criticize Vann when announcing their support for Griffith. "This is all about Mark," said Sharpton. "This is not about Vann, about term limits. I'm not anti-Vann. I'm pro-Mark."
Griffith had been on Vann's radar for months. Before the extension of term limits, which Vann supported, the councilmember set up a committee to look for his replacement. Griffith was at the top of the list.
Now, the two will face off tomorrow in a race that has received little attention and nary a debate or forum. Griffith hopes now that the field has narrowed, he will be able to snag some of the more than 6,400 voters who pulled the lever against the incumbent in the primary.
"When you're running against an incumbent, you're radioactive to some level," said Griffith as rain dripped along City Hall's columns. "When there are eight people in the race it obviously makes it difficult to distinguish yourself, but I believe that the results of the primary in fact help distinguish us."
Those differences between the two include age and experience, for one. Griffith, 46, is running for office for the first time. Vann has been running since the 1970s. Griffith has said he would focus on getting healthy food in the district, halting rampant foreclosures (Bedford-Stuyvesant has one of the highest numbers of foreclosures in the city with 740 last year, according to the Furman Center for Real Estate and Urban Policy) and revitalizing commercial streets. Vann said in a third term, he wants to pass legislation giving senior citizens and those with disabilities a break on their water bills and focus on improving public housing.
Vann thinks he has the advantage.
"I'd rather have experience any day than quote 'newness,'" said Vann.
According to the most recent campaign finance filing, the councilmember has raised $66,471, received $168,505 in public funding and spent $132,313. Griffith has raised $92,876 in private money, $173,894 in public and has spent $160,146.
A Brooklyn Staple
By most accounts, Vann is an institution in Bedford-Stuyvesant. Having served for more than 25 years in the state Assembly, the councilmember was known as the political powerhouse of central Brooklyn for decades. So, his showing in the primary was a disappointment to many of his supporters -- but not necessarily a surprise.
Vann has the second worst attendance record in the City Council, missing almost 30 percent of all meetings. He has been charged with being noticeably absent in the community and been the subject of several damaging stories in the Daily News. Even some of his supporters say he was in "retirement mode" at City Hall.
Vann reasons that he skips meetings in favor of events going on in the community. He argues he has started so many programs and coalitions in Bedford-Stuyvesant, which has one of the lowest median household incomes in the city at just more than $30,000, he has lost count.
He said he spearheaded a $20 million initiative at the City Council to spur job creation -- more than half has been budgeted so far, according to council documents. He says he was instrumental in landing funding for the new Bedford-Stuyvesant Family Health Center, and was successful in bringing technology into the classroom.
And in his 35 years in public office, Vann has acquired some fans.
"People who say this man has been absent, this guy has been out there and I say turning lights on for the people," said Ulysses Kilgore III, the president and chief executive officer of the family health center.
Others argue for fresh blood, like Griffith.
Griffith, a community activist who lives in Crown Heights, was at the Drum Major Institute for Public Policy, a nonpartisan think tank, focusing on social justice issues since 2008. Before that he was the co-director at the Neighborhood Economic Development Advocacy Project. For full disclosure, Griffith also founded Gotham Gazette's community development section.
He says at the council he wants to bring a conversation about sustainable development and also hold developers accountable.
"I think people want someone who is going to show up, who is going to be invigorated, who is going to be passionately on their side," said Griffith. "I think that Al Vann has served his neighborhood well and people recognize that. But they also recognize that over the last few years he just hasn't been as present. He hasn't been as engaged."
The insurgent candidate knows he has an uphill battle. The district, which is overwhelmingly Democratic, has not in its history elected a third party candidate. Griffith says he is a Democrat for life, but his name remains on the Working Families Party line.
For Vann, he is playing up his primary win, portraying his candidacy as part of a Democratic ticket with mayoral candidate Comptroller Bill Thompson, and council members Bill de Blasio and John Liu, who are running for public advocate and comptroller. A third term, Vann says, will be a fitting end to a long tenure in New York politics.
"I'm going to end my career as I started it," Vann said. "Aggressive."