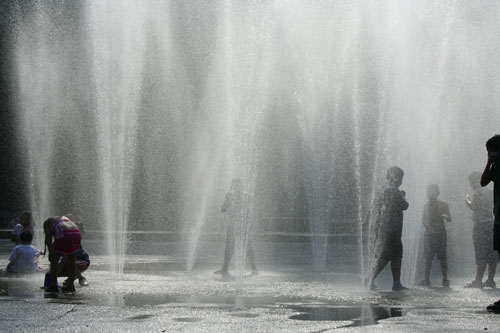 Photo (cc) Courtney Gross
Guillermo Linares, the former City Council member and city immigration commissioner, stood at the corner of Dyckman and Broadway in Inwood last week, glad-handing commuters climbing up from the A train below.

Clad in a crisp pinstriped shirt and red and blue tie, Linares explained why he was the best candidate to represent the 72nd district in the state Assembly -- a seat being vacated by his former rival, Adriano Espaillat.
"Experience does count," said Linares, holding up his left pointer finger. "New is appealing when you bring experience. I am new in Albany, but I bring experience."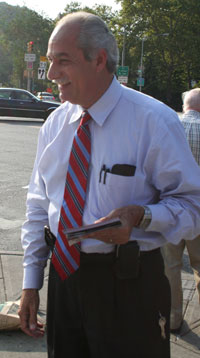 Photo (cc) Guillermo Linares. Credit: Courtney Gross
Linares' Democratic competitors, former Assemblymember Nelson Denis, attorney Julissa Gomez, a staffer for Assemblymember Denny Farrell, Gabriela Rosa, and Miguel Estrella, all beg to differ.
They say Linares' record is exactly why he is the wrong person for the job.
The Competition
Denis' face -- a snapshot from his time representing East Harlem in the state Assembly -- is splattered alongside an open-air bus idling by the number 1 train. Denis -- one of Linares' strongest challengers -- simultaneously hands out flyers to passersby.
Moments earlier, Denis slammed Linares for his alliance with Espaillat, who is vacating the seat to run for State Senate. Linares and Espaillat butted heads for more than a decade, but endorsed each other in this year's Democratic primary.
Denis said this is a matter of "political expediency" -- a marriage along ethnic lines. Both Linares and Espaillat are Dominican. Denis is the only Puerto Rican in the race. The majority of the 72nd district is Dominican, candidates said.
"You go negative when there is negative to go on," said Denis. Denis has battered Linares' record from his alliance with Espaillat to his attempt to take over the petition signatures of former Councilmember Miguel Martinez last year. Martinez had been forced out of his council seat and sent to federal prison for conspiracy. Linares was eventually disqualified on a technicality.
Linares describes the newfound alliance with Espaillat differently. "It's important to have unity and unity between the two strongest symbols," said Linares. (Linares says he was the first Dominican elected to public office in the country. Espaillat, he said, was the second.)
Linares also said he was never an ally of Martinez.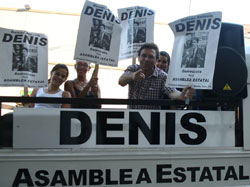 Photo (cc) Nelson Denis
Above the rumble of the train, Denis argued he was transparent and independent while serving in the Assembly and would be so again. His competitors claim he doesn't have ties to the district. Denis, 55, said he lived in the 72nd for nearly all of his life -- except between 1991 and 2005 when he was in East Harlem. He is no stranger to campaigning either, having run for City Council in Harlem in 2005 and State Senate in 2004.
Denis said he would take his successes in Harlem -- such as bringing in federal funds via the community reinvestment act -- to Washington Heights and Inwood.
"I did it in East Harlem," said Denis. "These are dramatically successful programs in other parts of the country."
Both Linares and Denis may have experience, said the 35-year-old Gomez while sitting over a cup of café con leche in Inwood, but it's the wrong kind. Gomez said she decided to run for office in April -- unlike her challengers who had been planning their candidacies for several years -- after becoming fed up with the political options, or lack thereof, in Upper Manhattan.
"I never thought I'd be involved in politics, ever," said Gomez. She had just finished charming seniors at Dyckman Houses with her bright, wide smile. While there she distinguished her candidacy by saying she was "a woman, a tenant and an attorney."
"Why are we recycling old politicians?" Gomez asked. A newcomer, Gomez said she is the independent, no strings attached candidate.
But she isn't the only woman to vie for the job.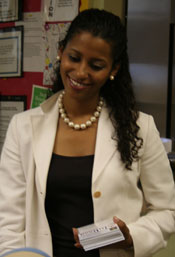 Photo (cc) Julissa Gomez
Rosa, who has worked for Denny Farrell, the former head of the Democratic Party in Manhattan, and was the former chief of staff for Martinez, is the other. Campaigning at the Albania Beauty Center in Inwood, Rosa spoke about her candidacy with women getting primped and styled.
"I am a women with experience in government," said Rosa. "I've been training over these 10 years."
Now, Rosa says, she is ready.
Miguel Estrella could not be reached for this story. The winner of the Democratic primary will face off against Daniel Russo, an Independent, in November.
Fixing Albany
Following a legislative session monopolized by stalemates and coups, candidates for the 72nd Assembly race are all trying to capitalize on the burgeoning anti-incumbent sentiment sweeping the state, arguing they would make change in Albany.
"Albany has become oblivious and disconnected," said Linares, while driving down Broadway in his Acura SUV. Linares has been endorsed by nearly all the incumbents in the area, including Rep. Charlie Rangel and State Sen. Eric Schneiderman.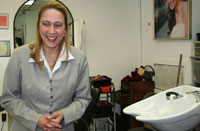 Photo (cc) Gabriela Rosa
Farrell and Councilmember Robert Jackson have backed Rosa. Both Denis and Gomez have no major political endorsements.
Linares, Denis, Gomez and Rosa said they would support the disclosure of outside income for state legislators. They also all voiced some support for independent redistricting reform.
Denis said he would lobby the legislature to call for an independent commission to investigate corruption.
"I am the original canary in the coalmine," said Denis of his previous tenure in Albany. "I've been tried and live by my principles."
All of the candidates cited affordable housing and the economy as major issues in the district. Denis said he would urge the state to use pension funds to help finance affordable housing, and would ensure any development in the area had a community benefits agreement attached.
Linares said he would boost the district's economy by making decision makers in Albany aware of its problems and ensure small businesses had access to capital and loans. He declined to give specifics on how he would do that.
"I want the state government to understand the problems of this community," Linares said.
Linares said he would be "on the side of tenants," protect them from harassment, and would focus on safety and education.
Gomez said she would like to start an arbitration panel for small businesses under the threat of eviction. She wants to see the repeal of the Urstadt Law on rent regulation, rescind vacancy decontrol and hold real estate agents accountable so they don't rip off tenants. She also wants to see universal child care.
Rosa said she would hold job fairs and training sessions to educate the area's work force. She also said she would sit down and examine the state's affordable housing laws in an attempt to stop the displacement of residents of the district. She declined to say what programs in particular she would tackle.
"I don't like to say I am going to do something, A, B, C," said Rosa. "I don't like to do things on my own. I will sit down with experts in the community and they will give their input."
In response to the state's looming budget deficit, all of the candidates interviewed for this story said they support a progressive tax on the state's wealthiest residents. Rosa was the only candidate to pledge support for the failed soda tax. All the candidates said they would be open to taxing out of state hedge fund managers.
Linares, Denis, Gomez and Rosa all said they support same-sex marriage (Estrella reportedly doesn't) and increasing the number of charter schools in the district.
In the money race, the most recent filing for Linares reveals he has $22,018 on hand. According to the 11-day, pre-primary report, Denis leads with $30,739, Gomez has $12,470 and Rosa has $2,307.