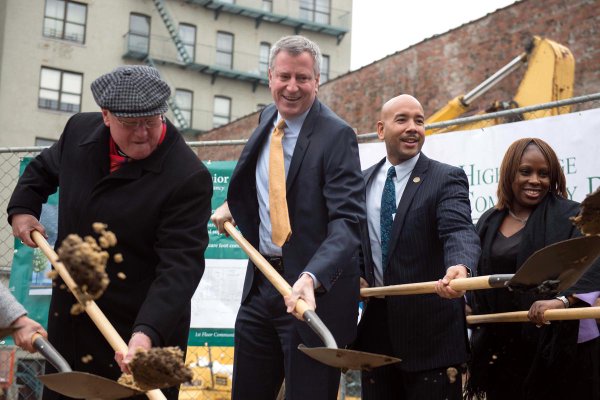 Mayor de Blasio & Bronx BP Diaz Jr. at a groundbeaking
---
The feud between Gov. Andrew Cuomo and Mayor Bill de Blasio has added a new dynamic in Bronx politics as Borough President Ruben Diaz Jr. has stepped up his attacks against the mayor's policies and increasingly places himself in lock step with the governor, his ally.
A number of Bronx electeds and political observers tell Gotham Gazette they've been treading carefully so not to step on any political landmines that might earn them the wrath of any of the three powerful Democrats. Diaz Jr.'s increasing outspokenness against de Blasio's affordable housing-related zoning plans has also flamed more speculation that Diaz may be preparing to challenge de Blasio in 2017. Some have begun to fear, though, that Diaz Jr.'s attacks may jeopardize important Bronx projects and deals involving the borough and City Hall.
"There is an obvious feud between Cuomo-Diaz and the mayor," said media and political consultant Bob Kappstatter, a former Daily News reporter with years on the Bronx beat. "The people I talk to say the mayor has tried to cut Ruben's legs off at the knees. Bloomberg and Ruben didn't get along but in that case the city commissioners still worked with them. These days de Blasio's commissioners don't work with Ruben's people."
As the de Blasio administration seeks to meet its ambitious affordable housing goals and, in that effort, pass significant changes to the city's zoning rules, Diaz Jr. has emerged as the loudest opponent of the plans, further ruffling feathers at City Hall after several previous high-profile disagreements this year.
On Dec. 16, Diaz Jr. testified against de Blasio's zoning plans at a City Planning Commission public hearing, complaining that the administration rushed the process, not allowing community boards to consider the voluminous plans, that the plans are not tailored for individual neighborhoods, and that the new zoning won't create truly mixed-income neighborhoods.
"The submission of over 500 pages of text amendments at the same time is an unreasonable burden on most community boards to adequately review and evaluate their local neighborhood impact," Diaz Jr. said. "These text amendments will govern land use development for our city for decades to come and should not be adopted in such a short period of time. Something so profound as the future development of this city cannot be rushed."
He put it a bit more bluntly on NY1's Inside City Hall with Errol Louis the next day. "Sixty days for 500 pages of documents is something that is disrespectful, that does not embody the spirit of having transparent, progressive, inclusionary government."
The de Blasio administration has argued that its proposals set an important new framework across the city, so that when there is rezoning for a piece of land, new rules will make sure affordable housing is required. They also say that if the city doesn't move quickly, development will take place without required affordable housing. They further point out that there is a separate billion-dollar fund set aside to address services growing neighborhoods will need when the new housing projects are built and that there are additional city subsidies that will be used to build additional affordable housing.
Asked by Louis whether he'd spoken to de Blasio about his concerns, Diaz Jr. replied, "Not currently, no." Diaz Jr. has indicated in the past that he and de Blasio have not met one-on-one since the mayor took office, a trend that continues as the gulf between the two widens.
"There's a real cold-war chill there," said Douglas Muzzio professor of political science at Baruch. "Clearly Ruben made the choice to go all in after de Blasio. He is an active agent for the governor and I'm sure he would expect the governor's support in any conflict he had with the mayor, whether it is about policy or in a 2017 mayoral campaign, or after when de Blasio gets term limited out in 2021."
Diaz Jr.'s office says the borough president is simply working in the best interest of his borough and the people he represents. "Every single day our office advocates for the 1.4 million people who are proud to call The Bronx home, and who we are proud to call our constituents. We owe them nothing less," said John DeSio, communications director for Bronx Borough President Ruben Diaz Jr.
While DeSio and Diaz Jr. say the borough president is willing to compliment or criticize the mayor based on the merits of any given situation or policy, Diaz Jr. and de Blasio have repeatedly clashed this year. In August, Diaz Jr. reportedly phoned Cuomo, with whom he has had a long-standing relationship, asking him to help with a Legionnaires' Disease outbreak that claimed more than ten lives because he felt the de Blasio administration's response was not effective.
Whether or not he was spurred by Diaz Jr., Cuomo inserted himself and further exacerbated his rift with de Blasio. Diaz Jr. heaped praise upon the state, while he and Cuomo criticized the city.
In October, Diaz Jr. took a page from Cuomo's playbook, positioning himself as an ardent charter school advocate, addressing a rally on the steps of City Hall as charter advocates continued their assault on de Blasio's education policies. While Diaz Jr. has been a longtime charter school supporter, he was the only elected official who decided to participate in the rally.
The New York Post noted at the time that many saw the move as a way for Diaz to create space for himself ahead of other possible Democratic mayoral hopefuls. "People will view him from a different perspective," George Arzt, a political consultant, told The Post. "It definitely shows Ruben as a person who disagrees with the incumbent mayor. It show him as independent."
For Diaz Jr., it is likely not a question of if, but when he runs for mayor - in 2017 against de Blasio, or in 2021, as part of what is likely to be an open, crowded field. Whenever he runs, it is likely that Cuomo will steer a good deal of support, especially through his prolific campaign donors, toward the Bronx borough president.
Cuomo appeared to go out of his way to acknowledge both Diaz Jr. and his father, Ruben Diaz Sr., in his 2015 State of the State address. Both men have returned the favor. In August, Diaz Sr. penned a public message gushing about how his son has been able to "achieve the unachievable" thanks to his "great relationship" with Cuomo.
Diaz Sr. went on to credit the relationship for winning the Bronx "over a billion dollars in housing," tens of millions of dollars for the new Hunts Point Market facility, Cuomo's support of four new Metro North stations in the Bronx and cash dedicated to them, a reduced unemployment rate thanks to Cuomo's strikeforce, the opening of a New York State Department of Labor Office in the Bronx, and the allocation of "tens of millions of dollars to the Bronx County for the restoration of our waterfronts" after Hurricane Sandy.
"My dear reader, you might be surprised to hear this praise for Governor Andrew Cuomo coming from me," Diaz Sr. wrote. "I have been one of the worst critics of this Governor – but because of my religious beliefs, I now have to recognize Governor Andrew Cuomo's intervention in helping us all in Bronx County." Diaz Sr. is furiously opposed to abortion and same-sex marriage and even threatened to join the Republican Party to stop the latter (his son, Diaz Jr., has expressed differing views on these subjects). Diaz Sr. still makes public appearances in the Bronx with the State Republican Chair Ed Cox despite his allegiance with Cuomo.
That laundry list, as well as Diaz Jr.'s increasing role as a de Blasio critic, has many Bronx politicos speculating about whether 2017 is the year Diaz tries to make his dream come true and runs for mayor. While a number of consultants dismiss Diaz Jr. as a fourth or fifth place candidate in a 2021 Democratic primary field that is likely to include the current comptroller, public advocate, and Brooklyn borough president, among others, they admit his circumstances have improved. Diaz Jr.'s friend and frequent collaborator, Carl Heastie, is now in a very powerful position as Assembly Speaker, Diaz Jr. enjoys a close relationship with the governor, and the current mayor continues to do himself harm.
One Bronx legislator who considers himself allies to both Diaz Jr. and de Blasio told Gotham Gazette, "The mayor just keeps making it harder to be his friend."
It is a fairly popular sentiment around the city that de Blasio's team has clearly defined allies and non-allies, some of which relate to the 2013 Democratic mayoral primary, in which Diaz Jr. backed Bill Thompson, who finished second to de Blasio.
De Blasio spokesperson Karen Hinton responded to a Gotham Gazette inquiry about the relationship between the mayor and Borough President Diaz Jr., by stating that "Mayor de Blasio works with elected officials from across the City to address urgent issues, as he does with Bronx President Diaz. From public safety to housing to schools, Mayor de Blasio will partner with all elected leaders to move the Bronx, and New York City, forward."
Some look toward Bronx economic development projects as essential tests of the de Blasio-Diaz Jr. relationship. The two have continued to be at odds over the FreshDirect site opening in the Bronx, a deal reached before de Blasio became mayor that he has criticized and Diaz Jr. has touted. While he has not met one-on-one with the Bronx borough president, de Blasio has met with South Bronx Unite, an advocacy group that frequently criticizes Diaz Jr. over the FreshDirect deal.
Diaz Jr. has positioned himself as a job-creating, pro-development leader. De Blasio's approach to subsidies may be at odds with the borough president's when it comes to future projects, which worries some in the borough.
"A lot of Bronx legislators are really trying to figure out how to walk the tightrope so they don't piss off Cuomo, Diaz, or de Blasio," said Kappstatter. Indications so far, though, are that de Blasio and Heastie have had a good relationship since Heastie became de Blasio's most-needed Albany ally.
To be sure, Diaz Jr. has said nice things about the mayor on several occasions and they have made a number of joint appearances to celebrate achievements in the Bronx. Diaz Jr.'s office gave no indication that they feel administration officials or agencies are giving them short shrift.
Currently, Diaz Jr. is flying high while de Blasio is largely excited to close the book on a tough, up-and-down 2015. The mayor has been contending with the impression that he is struggling to handle quality-of-life issues, like crime and homelessness, and a mediocre relationship with the press, all while some of his progressive allies have become irked by what they see as a retreat on his support of policing reform and a housing plan they feel doesn't take their individual communities into account. De Blasio's failures in Albany and never-ending feud with Cuomo aren't helping the appearance that he is weak.
For now, common wisdom in the Bronx is that Diaz will easily take another term as borough president and defer his dreams for Gracie Mansion until he doesn't have to face an incumbent. Some speculate he could build his brand with a congressional run but others believe that if de Blasio continues his current trajectory that Diaz may well be the governor's choice to challenge him.
"Ruben and Cuomo are very close, there's no denying that," said Kappstatter. "How that figures into Ruben's political future, well maybe he will go for it. If you're going to challenge a sitting mayor, you want the governor on your side."
***
by David King, Albany editor, Gotham Gazette
@DavidHowardKing