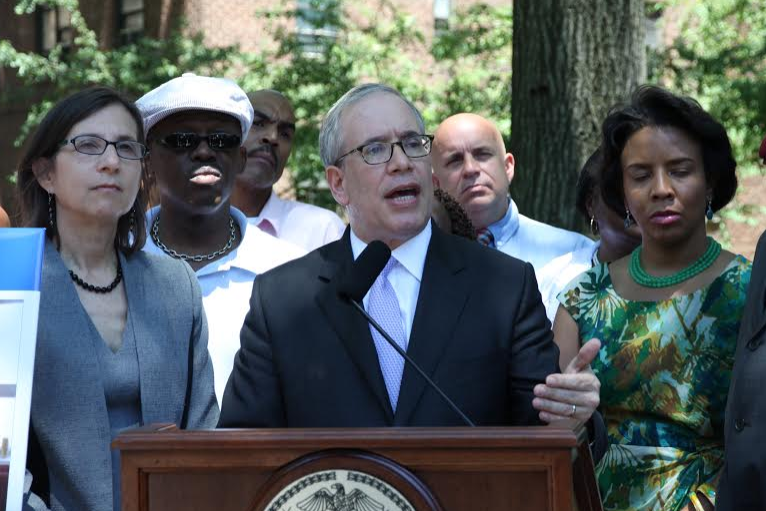 Comptroller Scott Stringer
---
There are tens of thousands of individuals, non-profits, for-profits, and other entities that do business with New York City every year. The paperwork and communications systems involved can be antiquated, cumbersome, and slow - but the city is taking steps to make things easier for vendors.
Two changes being announced Wednesday by Comptroller Scott Stringer will help modernize the procurement process, moving key aspects of doing business with the city away from a paper-first model and allowing for quicker online function.
The reforms will make filing tax documents easier and improve the system by which vendors are notified of new business opportunities. Stringer points to the changes as part of a mission to improve the overall system by which the city contracts out billions of dollars per year.
"In 2015, getting a contract with New York City shouldn't require waiting in line at the post office or firing up a decades-old fax machine," Comptroller Stringer said in a statement. "Our new systems will make it easier for vendors to do business with the City – and that's good news for all New Yorkers."
For tax documents that vendors must have on file with the Comptroller in order to do business with the city, the W9 vendor information forms will no longer have a hard copy requirement. Instead, vendors will be able to file and edit these forms online.
The comptroller's office says it has processed about 3,000 W9 forms each of the past several years and that the move to a more digital system will save time on both the vendor and government ends, not to mention paper. This change will go into effect for the new year.
The more exciting of the two changes relates to vendor notifications, whereby the city puts out requests for proposals (RFPs) or other contracting opportunities, letting potential providers know about new business available. This change likely won't be fully operational through the Mayor's Office of Contract Services until the summer, but it is set to make a significant difference in how vendors learn about chances to do business with the city.
Having passed the city's Procurement Policy Board, the change, which was proposed by the Comptroller, moves to email the default method of releasing RFPs and Competitive Sealed Bids. It has been a traditional mail based system. Again, this change is aimed at reducing time, expense, and paper. It also targets ensuring that more individuals and small enterprises are able to access information easily and quickly.
"These reforms will leverage 21st century technology to increase productivity, save taxpayers' hard-earned dollars, and enable all vendors, large and small, to do business with New York City," Stringer said.
The Comptroller recently held a series of public hearings of his Red Tape Commission, aimed at helping to identify ways to improve the city climate for small businesses, and had previously introduced his Vendor Roadmap, an online, user-friendly guide to doing business with the city. He's also exploring a shift for the city to an electronic invoicing system.
The de Blasio administration, too, has been seeking new ways to help entrepreneurs, independent contractors, and small businesses compete through its Small Business First initiative.
Part of virtually any city government reform to contracting practices or business regulations is a concern about increasing the number of contracts and dollars awarded to qualifying women- and minority-owned businesses (MWBEs). The de Blasio administration announced a significant increase in contract dollars awarded to MWBEs in the most recent fiscal year. Still, Stringer has pointed out limits to the city's MWBE hiring, handing out annual letter grades to city agencies, including his own, with many of them lacking.
Stringer is among those hopeful that modernizing paperwork and business notification protocols will help improve the city's MWBE record.
***
by Ben Max, Gotham Gazette
@tweetBenMax