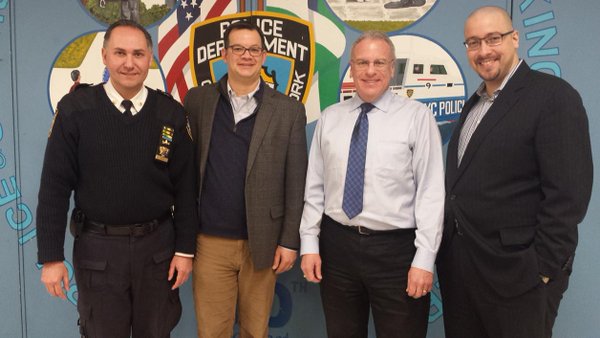 Council Member Andrew Cohen, second from left (photo: @JeffreyDinowitz)
---
NYPD Officer Randolph Holder was fatally shot in October by Tyrone Howard, a man with a history of run-ins with the law. After his fifth conviction on a drug-related crime, Howard was sent by a judge to a treatment program designed to divert people away from the prison system. Howard skipped out on that program and wound up killing Holder.
Drug diversion programs and others are now being called into question and facing critical examination both at the city and state level. Mayor Bill de Blasio immediately called for reforms to the bail process so that people with records similar to Howard's would not be given such leniency. State Senator Martin Golden, a Republican from Brooklyn, introduced a bill called 'Officer Randolph Holder's Law,' which would make it tougher for criminals with multiple felony convictions to enter alternative treatment programs.
Meanwhile, an almost prescient bill, introduced in the City Council weeks before Officer Holder's death, went largely unnoticed.
City Council Member Andrew Cohen, a Bronx Democrat, is the prime sponsor on the bill which would mandate an annual city review "to evaluate the performance of any organization that receives funding from the City for criminal justice-related services."
Organizations that provide services such as alternatives to incarceration, pretrial supervised release, re-entry and diversion programs, would be evaluated by the Mayor's Office of Criminal Justice in a mandated report submitted to the Mayor and the Council.
"The administration has made commitments about reducing the population of Riker's Island," Cohen said in a phone interview with Gotham Gazette. "As chair of the Committee on Mental Health, I don't want to just move deck chairs on the Titanic. I want to make sure we're getting results."
While the report would cover basic details such as amount of funding given and people served, an important aspect would be the study of recidivism and compliance rates. The bill currently has 13 co-sponsors, including Cohen, in the 51-member Council.
Diversion programs are widely considered effective. But the city has yet to undertake a significant long-term review of its own work in the field. The last meaningful audit of the Mayor's Office of Criminal Justice (MOCJ) by the city comptroller of expenditures other than personal services was in 2006. The Mayor's Management Report entirely ignores the office and its work.
Data published online by MOCJ addresses statistics such as felony and misdemeanor arrests, lengths of detentions and conviction rates, but lacks significant data on alternatives to incarceration (ATI) programs. To be fair to the administration, Mayor de Blasio has committed an action plan and funding toward keeping people with behavioral health issues out of jail, which is an important measure to reduce the city's overall prison population. But, a year after its launch, the plan has yet to produce significant metrics.
In the aftermath of Officer Holder's death, de Blasio called for changes to bail laws and a tightening of diversion eligibility. "The death of Officer Randolph Holder was a clear and tragic signal that we must ensure dangerous individuals with long criminal histories do not walk our streets," de Blasio said in an October statement. "Our judges must be able to look at how dangerous someone is when they decide how much bail is set – and should look at these factors when they decide whether to divert someone away from jail."
More than just a criminal justice issue, Council Member Cohen stressed that his proposal is also a "good government bill" that will help the Council make sure that it's getting the bang for its buck. "I think it's important for the Council to stake its claim in oversight," he said.
The bill, if it moves, will be heard by the Committee on Public Safety, which is chaired by Council Member Vanessa Gibson, also a Bronx Democrat, who is not among the bill's sponsors. Gibson's office did not make her available for an interview for this article nor provide a statement about her view of the bill. Council Speaker Melissa Mark-Viverito's office did not respond to an inquiry for comment.
A few organizations that tackle criminal justice issues in the city also refused to comment on the bill, including the New York Civil Liberties Union, the Vera Institute of Justice, and The Bronx Defenders.
***
by Samar Khurshid, Gotham Gazette
@samarkhurshid @GothamGazette