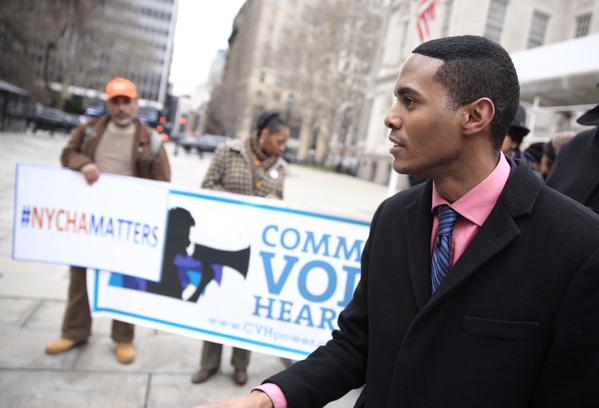 Council Member Ritchie Torres (photo: William Alatriste)
---
In an effort to ensure that local community boards are representative of their neighborhoods, New York City Council Member Ritchie Torres will introduce a bill on Wednesday requiring the city to publish demographic information about board members.
The bill, co-sponsored by Council Members Jimmy Van Bramer and Ben Kallos, is straightforward and reads much like a general population census. It would require the reporting of community board members' names, neighborhoods, occupations, and employment, duration of board service, who they were appointed by, as well as aggregations by borough.
The bill also mandates the publishing of members' attendance records and the number of vacancies on each community board.
The most important aspect of the bill, according to Torres, is the reporting of detailed demographic information -- obtained through a voluntary survey -- including race, gender, religion, sexual orientation, age, income, employment status, marital status, level of education, disability status, veteran status, language spoken at home or if they own or lease a car.
"The conventional wisdom is that community boards are the most local unit of government, the most local form of representation," said Council Member Torres, in a phone conversation with Gotham Gazette. "We want to ensure that they are genuinely representative of the districts where they're located."
In the past few months, community boards across the city have shown the power they wield in influencing major city decisions. Mayor Bill de Blasio's affordable housing plan, which requires changes to the city zoning rules and the individual rezoning of several neighborhoods in the five boroughs, is under fire after more than two dozen community boards came out against the citywide rezoning plans. While the boards play a largely advisory role, the feedback has forced the mayor to take a step back, reconsider his approach, and acknowledge that changes will be made.
Taking this and other examples of community board influence into consideration, Torres, a Bronx Democrat, feels it is important to judge whether such opposition is representative of larger community preferences. His bill would provide the data to help do that, he says. Torres believes that community boards can be a "lagging indicator" indicative more of the past than present situation of a community so it's necessary to ensure diversity in their composition.
"I would argue that the more diverse a community board, the greater its capacity for representation and broad-based community engagement," he said.
Community board members are unpaid local representatives appointed by borough presidents and are often politically-connected, long-time local advocates. They have the most power relative to land use issues and can also be effective in terms of persuasion, especially in terms of influencing City Council members and borough presidents. City Council members often have experience on their local community board before being elected. There are no term limits for community board members.
Torres' bill isn't the first attempt at making community boards accountable, transparent, and diverse. In April 2014, Council Member Kallos sponsored a resolution calling for borough presidents to adopt best practices for recruiting and appointing community board members. The resolution was based on a report from earlier that year which came out of a hearing of the governmental operations committee, which Kallos chairs. The report recommended, among other measures, more inclusive outreach and recruitment methods and a standardized application process for board members. There has been some reform by borough presidents, but much still varies borough by borough.
Another bill, from December 2014, also attempted to establish term limits for community board members to ensure evolving memberships. (Torres opposes term limits saying that there is "no one-size-fits-all solution" for community boards in different boroughs.) That bill has not seen widespread support in the Council.
Torres' bill will be introduced at Wednesday's full-body Stated Meeting of the Council and will go before the governmental operations committee. Torres expects that there will be sufficient cooperation from community boards on the optional surveys and also from Council members and borough presidents. The idea is that more demographic data will help make it clear that more should be done to help diversify the boards where needed.
"My message to community boards is this: There's nothing to fear from diversity," said Torres. "The goal isn't perfect proportionality but broad-based representation."
***
by Samar Khurshid, Gotham Gazette
@samarkhurshid @GothamGazette