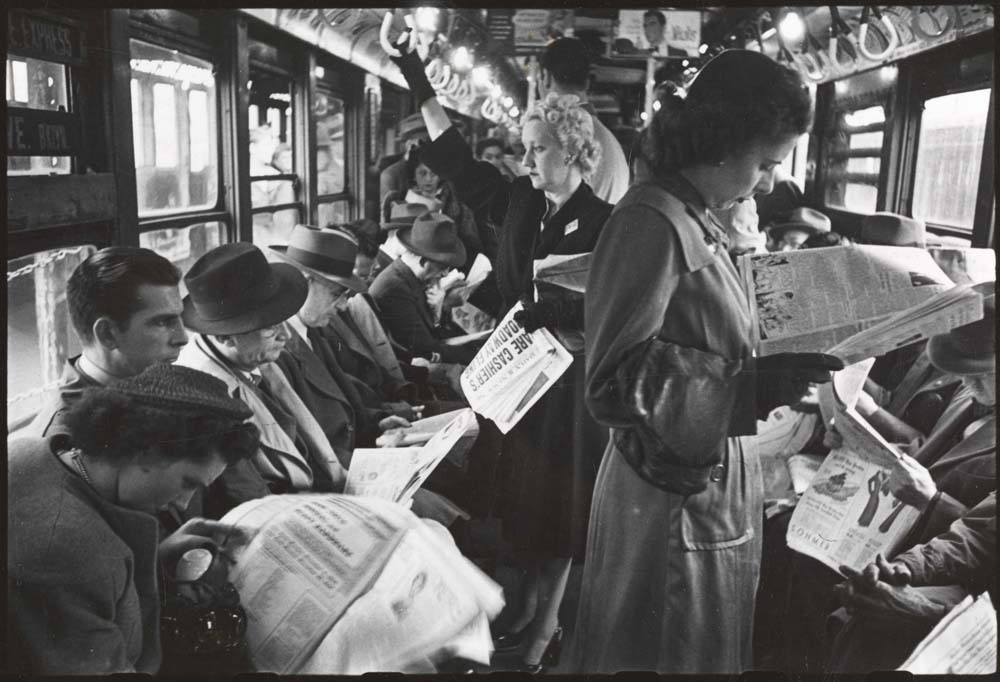 photo: Stanley Kubrick via Museum of the City of New York
---
Gotham Gazette's Week in Review, Friday January 8
IMAGE OF THE WEEK: Penn Station rendering, via Governor Cuomo's office on flickr; Mayor de Blasio's signs paid parental leave personnel order for nonunion city employees, via Ed Reed for the Mayor's Office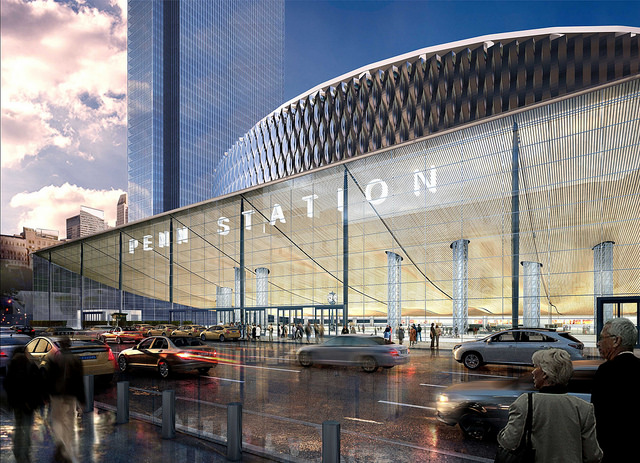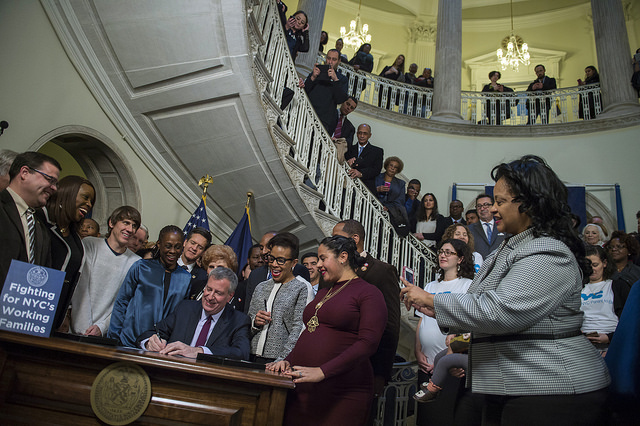 TOP FIVE STORIES OF THE WEEK:
1. New Deputy Mayor: On Tuesday, Mayor Bill de Blasio announced Dr. Herminia Palacio will take over as Deputy Mayor for Health and Human Services, filling a position that had been vacant for four months. Homelessness is an especially key issue for Mayor de Blasio and his administration, as they work to remedy an increasing homelessness crisis.
2. Cuomo's Executive Order: Gov. Andrew Cuomo issued an executive order on Sunday requiring all homeless people on the streets be moved into shelters when temperatures fall below freezing, and ordering homeless shelters to extend their hours. The move has been met with some criticism, in part because the city already provides much of the same protections to homeless people. [Read: Something Cuomo & De Blasio Agree On: City Shelters Need Improvement]
3. Cuomo's 2016 Agenda: Speaking on NY1, Gov. Cuomo said ethics reform will be on the top of his agenda: "I'm going to push the legislature very hard to adopt more aggressive ethics legislation, more disclosure, more enforcement." Cuomo also mentioned economic development and "social justice," namely the "high unemployment among young minority males," as being important to him, and has also called to overhaul Penn Station in an upgrade that could cost about $3 billion. The governor has spent the week unveiling key pieces of his agenda, including several infrastructure-related plans. [Read: Corruption, Elections Loom Over Lengthy 2016 Legislative Agenda & Predictions! Experts Look Ahead to New York Politics in 2016]
4. Minimum Wage Hikes: Mayor de Blasio announced Wednesday that city employees, including workers contacted through nonprofits, will see their minimum wage increased to $15 an hour by 2018 in a move that will impact an estimated 50,000 workers. Governor Cuomo is expected to make a statewide $15 minimum wage one of the focuses of his State of the State speech next week.
5. Paid Parental Leave Born: On Thursday, Mayor de Blasio signed a personnel order to provide paid parental leave to roughly 20,000 New York City employees. The order provides six weeks of paid time off for parental leave. [Read: De Blasio Moves on Paid Parental Leave]
THIS WEEK'S NUMBERS:
$3 billion is the price tag for Gov. Cuomo's push to remake Penn station, the Wall Street Journal reports.
22% decrease in traffic deaths since Mayor de Blasio launched Vision Zero, the New York Post reports.
1.7% overall decrease in major crime in New York City in 2015, according to statistics released by the NYPD, though certain categories were up, including murder.
50,000 city workers will earn $15 per hour by the end of 2018 under pay raises announced by Mayor de Blasio on Wednesday.
20,000 nonunion municipal employees will be allowed up to 6 weeks of paid parental leave thanks to a new measure signed by Mayor de Blasio, Gotham Gazette reports.
450,000 New Yorkers, give or take, will be able to save upwards of $400 a year on their public transportation expenses now that a new Commuter Benefits Law has gone into effect, Gotham Gazette reports.
26 City Council members signed a letter asking Mayor de Blasio to have his agencies find ways to reduce spending by about 5% before he release his next preliminary budget, Gotham Gazette reports.
129 bills vetoed by Cuomo in 2015, according to Politico New York.
THE GLORY AND THE GOAT:
It was a good week for Herminia Palacio, who became the new Deputy Mayor for Health and Human Services (though it is also tough for Palacio in that she is taking one of the most challenging jobs in city government).
It was a bad week for City Council Speaker Melissa Mark-Viverito, who will pay a $7,000 fine for accepting gifts from a consulting firm during her run for speaker (though it is also good for Mark-Viverito that the issue is being put behind her).
THE FLASH:
Around this time 146 years ago, on January 3, 1870, ground was broken for the construction of the Brooklyn Bridge.
Around this time 50 years ago, on January 4, 1966, during the longest transit strike in New York history (which shut down subways and buses for 12 days), Mike Quill, then-president of the transport workers union, criticized city officials during a press conference broadcast by WNYC. He was arrested days later.
Around this time 69 years ago, on January 6, 1947, the Supreme Court upheld rent controls when they refused to hear a case by New York landlords who wished to raise rents.
GOTHAM GAZETTE HIGHLIGHTS OF THE WEEK:
Gotham Gazette Executive Editor Ben Max appeared on WNYC's The Brian Lehrer Show on Wednesday to discuss the year ahead in New York politics.
40 Questions for New York Politics in 2016, by Ben Max
Corruption, Elections Loom Over Lengthy 2016 Legislative Agenda, by David Howard King
Good Government Groups Want Legislators to Pledge to Fight for Reform, by David Howard King
Majority of Council Members Urge Mayor to Identify Budget Savings, Samar Khurshid
City to Open Gun Courts to Expedite Prosecutions, by Meg O'Connor
Proposed Zoning Changes Raise Questions About Small Businesses, by Colin O'Connor
Something Cuomo & De Blasio Agree On: City Shelters Need Improvement, by Ben Max
Eyeing Diversity, New Push for Demographic Data on Community Board Members, by Samar Khurshid
Bill Mandates Review of Criminal Justice Programs, by Samar Khurshid
At Homelessness Forum, Manhattanites Voice Local Concerns on Pressing Issue, by Ryan Brady
Time for the Mayor and the Governor to Work Together, by Ben Max (opinion)
More Evidence Punitive NYPD Youth Programs Fail, by Alex S. Vitale (opinion)
Paid Family Leave in NYC: Progressive Policy, Regressive Plan, by Arthur Cheliotes (opinion)
To Fix Penn Station, Think Smaller, by Adrian Untermyer (opinion)
A New York New Year's Resolution: End the AIDS Epidemic, by Doug Wirth (opinion)
MORE FOR THE WEEKEND:
Police Commissioner Bill Bratton spoke about the city's falling crime rates and new gun courts initiative with Brian Lehrer on WNYC.
Incoming Deputy Mayor for Health and Human Services, Herminia Palacio, discussed her new role at City Hall with Errol Louis on Inside City Hall.
***
NOTE TO READERS: we hope you enjoy this new Gotham Gazette weekly feature - please share it if you do; on Twitter, use our handle @GothamGazette.
If you have feedback on this feature for us, you can email editor Ben Max: This email address is being protected from spambots. You need JavaScript enabled to view it.
Watch Sunday evening for our latest Week Ahead in New York Politics, which gives you a preview of key issues and events to be aware of for the week about to start. In the meantime, catch up on the latest original reporting from Gotham Gazette here. And have a great weekend!
***
by Meg O'Connor and Ben Max