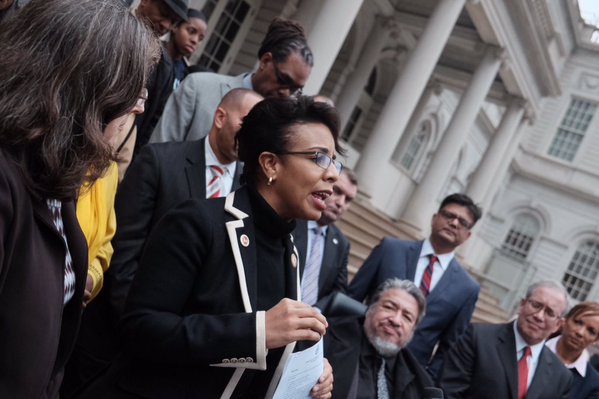 Council Member Cumbo (photo: William Alatriste)
---
Even before a horrific rape incident became the focus of news reports and statements from elected officials over the weekend, lawmakers and advocates planned to rally Monday morning at City Hall to call for new measures to protect women from violent assault.
While major felonies dropped overall in New York City in 2015, there were more rapes reported than the year before. There have also been alarming reports of rape connected to women riding in cabs and other for-hire vehicles. In discussing crime data on WNYC radio, NYPD Commissioner Bill Bratton said on Tuesday of last week that there had been an increase in assaults on women taking cabs late at night and that women should use "the buddy system."
Bratton's statement was met with quick criticism, including by some who said he was victim-blaming. City Council Member Laurie Cumbo, who chairs the Council's women's issues committee, renewed calls for legislation and additional resources toward preventing rape and other violence against women. Cumbo, who previously sponsored a bill calling for a "panic button" in all cabs and for-hire vehicles, will lead the rally Monday morning to push her bill and call for other measures.
There were 1,439 rapes reported in New York City last year, a six percent increase from the year before, when 1,354 were reported in 2014. Meanwhile, the NYPD said that 14 of the 166 rapes committed by a stranger to the victim were committed in incidents related to taxi or other for-hire vehicle rides.
Over the weekend, reports surfaced of an incident that had occurred Thursday evening in Brownsville, where five young men are alleged to have gang-raped a young woman at gunpoint, after having threatened her father and instructing him to leave.
Mayor Bill de Blasio was among several elected officials who released statements Sunday expressing outrage over the incident. The mayor promised to pursue the perpetrators of the rape and that his administration will "work to ensure a crime of this nature never happens again."
Council Member Cumbo released a statement pointing to the increase in rape and calling for action. She also connected the incident to Bratton's 'buddy system' comment, calling the remarks "an insult to women."
"I am outraged and every single New Yorker regardless of race, religion, or gender should be outraged by what has happened not only to this young woman - but to all of us, because right now women in New York City are more vulnerable than ever," Cumbo wrote. "To add insult to injury, NYPD Commissioner Bratton's response to the escalation of violence against women in cabs was for women to utilize the 'Buddy System.'
"If a father cannot protect his own daughter in this day and age then it is obvious that the so called "buddy system" is sexist, antiquated and an insult to women throughout New York City," Cumbo continued. "We do not need a buddy system. Every woman in New York City has the right to feel safe and protected at all times within the greatest City in the world. What we need is a strategy, resources, manpower, enforcement and a plan to keep every single woman in the City of New York safe."
There have been questions raised about the speed with which the father of the Brownsville victim was able to locate help and with which the NYPD responded and notified the public. The NYPD released a statement to the press Sunday evening saying there had been "no delay in responding to the rape in the 73 Precinct." By Sunday evening, four male suspects were in custody, according to the NYPD.
Brooklyn Borough President Eric Adams, himself a longtime member of the NYPD, said in a statement that he was "sickened" by the reports of the Brownsville rape and said, "I do not accept a city where reports of rape and sexual assault are on the rise. We must be proactively aggressive to keep women safe, including better lighting and design of public spaces like Osborn Playground," where the Thursday incident occurred.
Cumbo's bill, introduced in April, "would require all taxicabs, hail vehicles, liveries, black cars, and luxury limousines to have a panic button installed that would allow a passenger to send a distress signal to law enforcement," according to her office.
The rally set for City Hall at 10 a.m. Monday will command additional attention given what occurred in Brownsville on Thursday. It is unclear what other public policy ralliers may call for other than passage of Cumbo's bill, which currently has ten sponsors in the 51-member City Council. Additional lighting in parks and funding of groups that work to prevent domestic violence and sexual assault may be part the discussion.
A notice from Cumbo's office said that participating organizations would include National Organization for Women of New York City, New York City Alliance Against Sexual Assault, Committee for Taxi Safety Advocates, and CONNECT, an organization working to end domestic violence.
***
by Ben Max, Gotham Gazette
@tweetBenMax