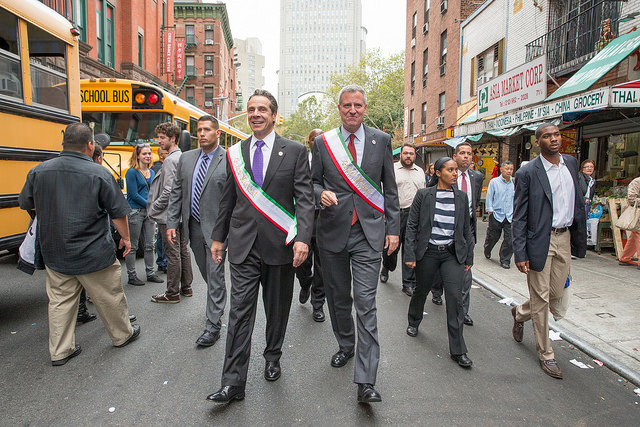 Cuomo and de Blasio in 2014, photo via Governor's Office
---
When Mayor Bill de Blasio exploded in frustration with Governor Andrew Cuomo on June 30 of last year, there were three key issues that set him off. The mayor felt that in the final negotiations of the Albany legislative session that had just ended, Cuomo had not been an ally on rent regulations, mayoral control of city schools, and the 421-a tax break program meant to spur affordable housing development, each of which was extended in a way that the mayor and many other city officials saw as disappointing.
While rent regulations appear settled at least through this year and mayoral control of city schools will be part of negotiations in the coming months, 421-a has been a pressing issue of late, with a stop-gap extension of the program having expired on Friday.
On Monday, de Blasio said he was "deeply disappointed" that the program was not extended further after the two entities charged with negotiating the final details were unable to come to an agreement. In June, the governor and state legislature passed on a proposal from de Blasio and decided that leaders from real estate and building trade unions would have to finalize the wage component of a deal.
Most of the other parameters of the potential extension - which could still happen if negotiations continue and yield an agreement - were designed through talks between de Blasio, the Real Estate Board of New York (REBNY), and housing-focused legislators and advocates. But, Gov. Cuomo said that their agreement was not beneficial enough to labor, calling it "a giveaway" to developers, and insisted that REBNY and the Building Trades Council figure out the wage structure for development projects receiving the 421-a tax break, which eliminates property taxes on developments that include a requisite number of below-market-rate apartments.
"Just look at the benefits of this plan," de Blasio said Monday to reporters of the plan he had put forward last spring. Speaking in Brooklyn after delivering remarks at a Martin Luther King Jr. Day celebration, de Blasio listed those benefits, reforms to the prior 421-a structure including ending the subsidy for condominiums, cutting the city's subsidy for affordable rental housing, and requiring a greater percentage of affordable units in each development in the program. He called it a "plan that we believe fundamentally was better for the taxpayers" and said "there was a real consensus in this city that it was progress."
"I'm deeply disappointed that the way it was pursued has failed, in terms of the Albany process," de Blasio said, in a somewhat subtle critique of the decision by Gov. Cuomo to allow private entities to negotiate state policy, a shift of responsibility that many have called into question. But, de Blasio said, "Albany has a chance to make it right and fix it, because this is crucial to continuing the work we need to do to create affordable housing."
De Blasio said he had spoken with both Cuomo and Assembly Speaker Carl Heastie, a Democrat from the Bronx. Neither Cuomo's nor Heastie's office returned a request for comment for this article. But, Cuomo spoke to reporters about the issue before making an appearance Monday at a Martin Luther King Day event. As reported by Politico New York, calling it a major concern.
The 421-a program is one centerpiece of de Blasio's housing agenda and its goal of creating or preserving 200,000 affordable units over ten years. Indicating he has hope for new life for 421-a or something similar, de Blasio said Monday that the city had enough projects in the pipeline "to continue to produce housing at essentially the same clip" through this year, after announcing recently that the city had "financed and secured" more than 41,000 affordable units over the first two years of his term.
"But," he said, "going forward, we do have to address this issue. And again, Albany has a chance to make real reform, to take a program that was unfair to taxpayers and wasn't producing enough affordable housing and fix it. That's certainly what we're going to fight for."
421-a accounted for over a billion dollars in tax breaks during the 2015 fiscal year, much of which went to developments that had not included affordable units in exchange - a recent ProPublica investigation of 421-a found "The failure of city and state regulators to effectively police the tax break...and hold developers to their word."
As recently as Thursday, Gov. Cuomo had called 421-a, or something like it, "a desperately needed program." Of REBNY and the trade unions, Cuomo said, "they could reach an agreement if they wanted to, there is a compromise to be found...and if they don't reach a compromise then frankly they both would have been disingenuous when they said they desperately needed this program."
"My guess is they reach a compromise," Cuomo added, speaking on WNYC's The Brian Lehrer Show, "and if they don't, the program will lapse."
On Monday Cuomo acknowledged that his guess was wrong. "There was an agreement that was supposed to be worked out between the labor unions and...REBNY," Cuomo said. "They didn't agree on a wage, which means right now we don't have an affordable housing program that's operating in the City of New York. And that is a major concern for the mayor and myself. And that's been our number one topic of conversation."
The expiration of 421-a was met with mixed reactions. Some affordable housing advocates, like community groups that make up The Alliance for Tenant Power, celebrated the news. "The end of 421a is the best news tenants could receive. It was a wasteful program that incentivized corruption," said campaign manager Delsenia Glover, in a statement. The group wants to see strengthening of rent regulations and use of tax subsidies to help house the lowest-income New Yorkers.
Both City Council Member Jumaane Williams, who chairs the Council's housing committee, and affordable housing advocate Benjamin Dulchin, executive director of Association for Neighborhood and Housing Development, said that the expiration of 421-a allows policy-makers to step back and take a fresh look at an affordable housing subsidy program.
"Now, we need all parties to come back to the table," Williams said in a statement, "take a fresh look at our options and create a plan to build housing with meaningful affordability requirements, fair labor standards, livable wages and equally as important, plans to ensure that jobs will go to communities too often ignored and underrepresented."
On Friday, Gary LaBarbera, the president of the Building and Construction Trades Council of Greater New York, announced that no deal had been reached between his group and REBNY. LaBarbera said, in part, "We remain ready to engage with all stakeholders in the weeks and months ahead to achieve our goals of creating needed affordable housing and middle class jobs for New Yorkers."
Without tax incentives, building affordable housing is not financially feasible for real estate developers, according to stakeholders. Without 421-a, or something similar, affordable housing proponents fear that developers will simply focus on building condos, which optimize opportunities for profit.
REBNY President John Banks indicated as much in his reaction to the failure of 421-a negotiations, saying that "Without a program like 421-a, one can't build multi-family rental housing with a significant below-market, or affordable, component on a scale necessary to address the City's needs."
Banks struck a tone similar to LaBarbera, though, adding that REBNY is "committed to working with stakeholders to fashion a program that will produce the affordable housing throughout New York City that is so desperately needed, ensures construction workers are treated fairly and creates job opportunities for City residents."
Frustration with Albany lawmakers over a lack of clarity on the issue is not limited to de Blasio. In an interview with The Real Deal, one developer, David Kramer of Hudson Companies, said, "Our company survived two exhausting, stressful nail biters to start foundations on two separate rental projects by June 15 and Dec. 31, respectively, of this year, and it would be highly appreciated if Albany could provide a regulatory environment that offers some certainty and stability."
During his State of the State address last week, Cuomo outlined a commitment to fund 100,000 units of affordable housing across the state over five years. The details of Cuomo's plan are promised in the coming weeks. Just after Cuomo's speech, de Blasio told reporters it reasons that a good percentage would go to New York City.
On Monday, de Blasio said that "In the coming days, we're certainly going to push hard for action in Albany" on 421-a.
Back in June, de Blasio had pointed to 421-a as a major example of Cuomo not working in the best interest of New York City. "What I believe happened here," de Blasio told NY1 anchor Errol Louis, "is the governor, working with the Senate, in some cases, to inhibit the work of the Assembly – to inhibit the agenda of that New York City put forward. 421-a, I think, is the obvious example. We worked for months to come up with a plan that would really greatly intensify our ability to create affordable housing for New Yorkers."
Citing a "total package" that "would have reached 160,000 people," de Blasio said he and his team "worked with housing advocates" and "the real estate community" to get to a "good policy."
"It should have found a lot of support in Albany," de Blasio said. "Literally, within days of announcing the vision, the governor was trying to shoot it down very overtly and suggesting it was not a viable plan – it was presented too late....clearly it was not presented too late."
"I don't think the governor was sincere when he said it would be a giveaway to developers," de Blasio said, "when we were in fact demanding a lot more of developers."
"He could have embraced it," he said of the governor. "He could have seen it as the reform it was."
In November, de Blasio's commissioner of the Department of Housing Preservation and Development, Vicki Been, said that if 421-a were to expire, "Life will go on. There was life before 421-a, and there will be life if 421-a fails. We will survive and still deliver our 200,000 units."
***
by Ben Max, Gotham Gazette
@tweetBenMax
Note: this article has been updated with comment from Gov. Cuomo