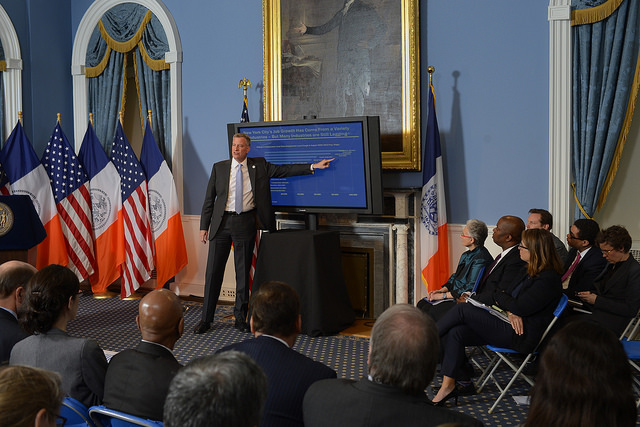 The Mayor delivers a budget presentation (photo: Rob Bennett for the Office of the Mayor)
---
For the next several months, New York City elected officials will be consumed with numbers. They'll throw around terms like efficiencies, gaps, capital, expenses, revenues, and deficits as they go back and forth over how, where, and when the city should spend its money.
Mayor Bill de Blasio will release his preliminary budget for fiscal year 2017 on Thursday, Jan. 21, setting off a months-long review and negotiation process that concludes in June.
Lines are already being drawn. A majority of City Council members called on the mayor to be more fiscally responsible, while Governor Andrew Cuomo has proposed cuts in state funding to the city in two key areas. Combined with a widely expected eventual slowdown of the city economy, these factors are bound to loom large over the mayor as he unveils his 80-plus-billion dollar financial plan for the year beginning July 1.
Since the November financial plan update to the current, fiscal year 2016 budget, the mayor has announced a number of policies that will add to the budget, including a $15 minimum wage for city workers, increased spending on homelessness, and, on Tuesday, an expansion of the Vision Zero traffic safety program. There have also been initiatives in tandem with the City Council which are yet to be fully accounted for, such as the hiring of 1,300 additional NYPD officers and security guards for private and religious schools.
Under de Blasio and City Council Speaker Melissa Mark-Viverito, the city budget has grown significantly over two years. The FY2016 adopted expense budget was $78.5 billion, up from $75 billion for FY2015 and $73 billion for FY2014, the last budget passed during the previous administration. Part of this growth has been due to labor contracts signed by the mayor, who inherited a situation where all of the municipal workforce was working under expired contracts. (The annual expense budget is also distinct from the capital budget, which is part of the Mayor's $83.8 billion ten-year capital plan for FY2016-FY2025 and pays for infrastructure needs like renovating or building schools.)
Budget watchdogs are in general agreement that while spending has grown, city operational savings are solid but lower than previous years, reserves are robust, and the city's fiscal forecast shows sunny skies with clouds on the horizon.
Many, including de Blasio and city Comptroller Scott Stringer, have repeatedly warned of an economic downturn and the need for the city to be prepared for it, not wanting to see repeats of the nature that occurred when the economy crashed toward the end of last decade. By the November financial update, the city's general reserve was increased to $1 billion each year, the Retiree Health Benefit Trust Fund was increased to $3.3 billion and the city also put aside $500 million in the first-ever Capital Stabilization Reserve, which lets the city invest in capital projects and allows retiring debt in a potential downturn.
The executive budget, released in May last year, also accounted for $2.6 billion in savings across FY2015 and FY2016 -- including $530 million in agency savings. Still, spending has continued to grow at rapid rates and many are calling on the mayor to look for additional savings.
In a statement to Gotham Gazette, Stringer said that the city's financial outlook "is positive if the City continues to manage its expenses and save for a downturn." The comptroller said that the agency savings program initiated by the de Blasio administration in last year's executive budget "was a start, but we need to go further. If a savings program is implemented again in FY17, the savings will stack."
Citing a longheld savings program that de Blasio did away with, Stringer said that the "program to eliminate the gap" or PEG, "required agencies to cut costs, and save money on a recurring basis. PEGs initiated between 2008 and 2013 saved the City $6.5 billion in fiscal year 2014 alone. PEGs make agencies run more efficiently and ensure that taxpayers are "getting their bang for their buck" when it comes to government services."
"I've called for an agency savings program as far back as June 2014 and have reiterated that call," Stringer said. Adding that the city could use "a boost" in "the budgetary cushion – which guards against another financial downturn, terrorist attack, or superstorm," Stringer said that progress has been made since 2008, but that the cushion should include billions more and that "We've got to continue to repair the roof while the sun is still shining and implementing PEGs could get us that much closer to the finish line."
While he has called for additional savings, Stringer has largely signed off on de Blasio's first two budgets. The comptroller will present an analysis of de Blasio's preliminary budget in the weeks following its release.
Nicole Gelinas, senior fellow at the Manhattan Institute, believes Mayor de Blasio has lucked out in his first three years, owing to the longest post-recession growth of the economy in history. "This will be the easiest budget in a very long time," she said. But she faulted the mayor for failing to deal with increasing healthcare and labor costs, and for the sudden announcement of a $15 minimum wage for city workers. Generally speaking, ratings agencies and other budget monitors have given approval to the deals the de Blasio administration signed, noting that the city needed a sense of fiscal certainty brought about by settling long-expired contracts and that the wages therein were not exorbitant.
Gelinas warned of possible rough times in the future and said the city needs to be prepared to deal with a declining stock market and international forces that could affect tourism revenue. "It's really easy to balance the budget if the economy keeps doing well," she said. "But savings can go very quickly. The 2008 crisis opened up a $6 billion deficit immediately and to deal with a recession you need more government spending."
Gelinas expects that the coming year will have less new spending since many initiatives have already been announced.
The spectre of another recession was part of the rationale behind the Dec. 31 letter that 26 Council members sent to the mayor urging him to have his commissioners identify five percent in budget savings for the next year. Maria Doulis, vice president at the Citizens Budget Commission, believes the mayor needs to strongly consider that advice.
"During good times it's wise to store away as much as you can to limit the impact of a downturn," she said. "[The Mayor] should really build up the savings program before he introduces the next budget."
Doulis said there needs to be restraint in adding new spending as the mayor has done across city agencies in his first two years. Like Gelinas, she criticized the minimum wage announcement which she said "sets a terrible precedent" by making a contract more costly after it has been settled without insisting on enhanced productivity and services. "It shouldn't be a one-way street," she said.
The Independent Budget Office, a nonpartisan city-funded agency that analyzes the city's fiscal policy, predicts that in the coming year, despite modest job and revenue growth, the city's budget will be positive.
Revenue projections by IBO are more generous than the city's -- for 2017, it anticipates that the city will receive $82.5 billion in revenue, higher than the city's estimate of $80.8 billion as stated in the November plan. It is typical practice for the city to underestimate revenue, which is helpful for keeping spending down, adding to reserves, and being in good shape ahead of unforeseen events.
IBO fiscal analysis even modelled an alternative economic scenario in a recession and found that the reserves the city has in place are more than sufficient to weather the storm.
"There are substantial fiscal threats to the city, not the least of which is that the economic expansion could come to an end," said Doug Turetsky, IBO chief of staff. "New York City is an international city and not at all exempt from what is going on from China to Europe and beyond," he added.
The city is certainly not immune from what is happening in Albany, of course. Gov. Cuomo's State of the State and budget presentation has complicated the city's financial future. Even though Cuomo has walked back some of what it appeared he was proposing, the governor's budget would make New York City assume significant additional spending on Medicaid and CUNY -- about $1 billion and growing annually -- as well as cut certain tax rebates.
"The ground has changed considerably with the governor's presentation of the state budget," Turetsky said, adding, though, that "the smoke hasn't settled yet." Turetsky thinks the mayor doesn't have enough time to incorporate Cuomo's proposals into the preliminary budget. "But it's going to hang over what [the mayor's] proposals are," he said.
After the State of the State, de Blasio vowed to push back against the proposals and the governor later seemed to concede that he would work with the city to find savings. "What you'll see is it won't cost New York City a penny," Cuomo said in an interview on NY1.
City Council Member Julissa Ferreras-Copeland, chair of the finance committee, isn't convinced. "I don't see how you can make those proposals and say it won't cost a dollar," she said, promising that the Council would stand up against the proposals. "It's the job of the city to demonstrate that this is a huge burden," she said.
Ferreras-Copeland has been vocal about responsible budgeting and was one of the 26 Council members to sign the letter calling on the mayor to identify potential agency budget savings (which was sent well before Cuomo's budget was released and spearheaded by Council Member Dan Garodnick). She is well aware of the dangers of budget cuts, and resulting diminishment in services or job losses, and insisted that the Council members simply want suggestions to look at "smart savings that have a minimum impact on the city."
Ferreras-Copeland will be one of the key figures in the Council's negotiations with the mayor, beginning when she chairs the first preliminary budget hearing soon after the mayor releases his initial spending plan. Working closely with Mark-Viverito and others, Ferreras-Copeland will craft the Council's preliminary budget response, one of the most important documents in city budget negotiations. The letter will come once the Council has held about a month of budget hearings, bringing in de Blasio administration commissioners to discuss their spending plans.
The Council's first priority, Ferreras-Copeland said, will be looking at how the preliminary budget addresses healthcare and pension costs. She also indicated that the Department of Education's overdue capital plan would be an important issue. The DOE's annual expense budget for FY2016 was $27.6 billion, accounting for about a third of the total city operating budget. The proposed five-year capital plan includes another $13.5 billion of DOE spending from 2015 to 2019. That draft plan was supposed to be released in November but was delayed.
"This is just the beginning of a long process," Ferreras-Copeland said. "We want a budget that is responsible and responsive to New Yorkers' needs."
James Parrott, deputy director and chief economist at the Fiscal Policy Institute, thinks that the city has indeed been responsible with its budgeting and that the Council letter was "a little unusual." The mayor's increased spending, he said, was not especially significant in the grand scheme of a many billion dollar budget and amid good financial times.
Parrott also took issue with the governor's proposed funding cuts. "The main thing is, the governor is now basically dictating the city budget and the city's going to have to move a lot of stuff around to make room for that," he said, adding that Cuomo's proposals lend insecurity to the city's reserves and crowd out spending.
As for the mayor's capital budget, Comptroller Stringer's office pointed to recent announcements by the mayor that will need to be accounted for, including billions of dollars in commitments to build new supportive housing units and contribute to the MTA, as well as money dedicated to homeless shelter repair and new affordable housing.
One other large portion of the budget many are watching is employee overtime costs. The city's spending on overtime has ballooned in the last decade. According to a recent IBO report, the city spent $1.659 billion on overtime in 2015, up from $928 million in 2006. Although that's a nearly 80 percent increase, adjusted for inflation it is about 40 percent. The report does acknowledge that, compared to the entire budget, this spending is relatively modest, increasing from 1.7 percent of the total budget in 2006 to 2.2 percent in 2015.
"Overtime is a significant part of the budget," Comptroller Stringer said. "Every year, the City consistently underestimates how much it will spend and each year, my office's budget reports consistently point out that budget risk. In the current fiscal year, overtime is budgeted at over $1.3 billion, but my office projects it will come in at more than $150 million above that."
The increase in OT spending has been driven by the uniformed agencies - 70 percent of the overtime funds in 2015 were spent on the police, fire, corrections, and sanitation departments. NYPD overtime grew the most, from $412 million in 2006 to $716 million in 2015. The department's adopted budget for FY2016 was $9.2 billion.
"It has grown tremendously and continues to grow despite changes in head counts," said CBC's Doulis. "We've called for more control on overtime authorization. There needs to be a real attempt to rein in these expenditures."
The increase in overtime is often rationalized and accepted by many - it is sometimes cheaper to pay overtime than make new hires that require payments of healthcare and pension benefits. Also for years hiring was low in the corrections and fire departments - for seven years the FDNY was facing a lawsuit over its hiring practices.
IBO's Turetsky also said the city has routinely under-budgeted overtime spending and that the mayor and City Council seem to want to reduce it. "It's a balancing act," he said. But he echoed the report that it was a relatively small share of the budget.
Coucil Member Ferreras-Copeland promised the Council would address overtime. Last year's deal with the mayor to hire 1,300 more NYPD officers was coupled with a cap on overtime, which is supposed to eventually flatten police overtime spending. She also insisted it is always a part of preliminary negotiations.
***
by Samar Khurshid, Gotham Gazette. Meg O'Connor contributed reporting.
@samarkhurshid @GothamGazette
Note: this article has been updated.