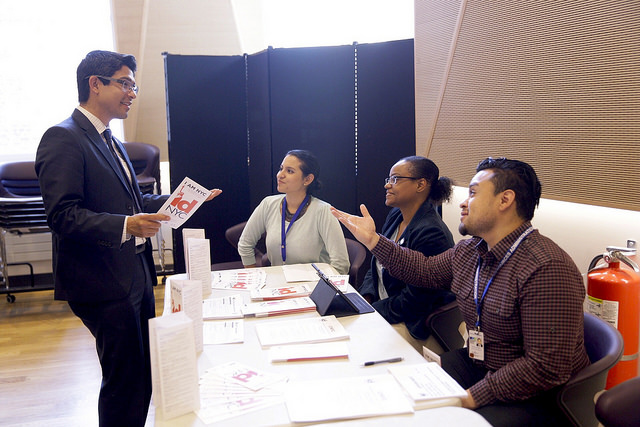 Council Member Menchaca (photo: William Alatriste)
---
When City Council member Carlos Menchaca heard the recent news of layoffs at El Diario, the country's oldest Spanish-language daily newspaper, he was troubled to say the least. Menchaca, who represents Sunset Park and Red Hook, penned an editorial (reproduced here in English) for the newspaper in which he pledged his support for ethnic media outlets that serve local communities and announced an upcoming hearing of the Council's immigration committee, which he chairs, to look at ways the city can provide support.
Menchaca hopes the oversight hearing, scheduled for Wednesday morning, will explore an oft-overlooked but large section of the city's news industry. New York City is home to 95 ethnic newspapers with a circulation of nearly 3 million people, more than a third of the city's population. (According to a report by New York Magazine in 2014, that surpasses the combined print audience of the New York Times, The Wall Street Journal, the New York Daily News, and the New York Post.)
"We're at a pivotal point in the history of our city and we need to have this discussion," Menchaca told Gotham Gazette. The hearing will feature testimony from community newspapers, non-profit groups, academics, and Mayor's Office of Immigrant Affairs Commissioner Nisha Agarwal. This testimony, Menchaca hopes, will lay the foundation for the city's "fact finding mission."
"We need the press," he said, "to be able to talk about how we're opening the doors of government to different communities." He stressed that the hearing is about the city's relationship with ethnic media and about ensuring the outlets are well represented by city government. "I don't believe in silos. I believe in symbiotic relationships. It's not about telling the media what to do and how to do it," he said.
An important stakeholder at the hearing will be the the NewsGuild of New York, a union which represents around 3,000 employees of New York-based organizations including the New York Times, The Daily Beast, Amsterdam News, and El Diario. The guild will also host a rally on the steps of City Hall shortly before the hearing. "We're very glad the Council is taking an interest in how immigrant communities are being served by the press," said NewsGuild president Peter Szekely.
Although they have a horse in this particular race -- the recently laid off El Diario reporters -- they also believe it's a matter of public interest. "This is about journalism," said NewsGuild staffer Jesus Sanchez. "This is about making sure that the news gets to the community." Voice of NY, a publication of the Center for Community and Ethnic Media at the CUNY Graduate School of Journalism published a closer look at El Diario's struggles on Monday, noting its shrinking staff and bleak outlook.
Other local journalists also welcome the City Council hearing, which they feel will bring attention to their woes as an industry.
For Milton Allimadi, publisher and CEO of Black Star News, the hearing is about more than just ethnic media. "The city of New York doesn't support any businesses when it comes to people of color, period. It's not just ethnic media," he said in an email, citing Comptroller Scott Stringer's 'Making The Grade' report on the city's investment in Minority/Women-Owned Business Enterprises. Stringer's annual reports have indicated what he has called less than satisfactory contracting by the city with MWBEs.
"We are really overlooked by the city," said Elinor Tatum, publisher and editor-in-chief of New York Amsterdam News, the city's oldest and largest black newspaper. "Ethnic media plays a huge role in New York. We've got people who speak directly to these communities and the mainstream press is not able to do that." She said the city should increase its advertising with ethnic media, pointing out that many city initiatives are specifically geared towards immigrant communities and communities of color.
"It's a business decision and it's a good decision, if they're trying to reach ethnic communities, to use ethnic media," she said.
A 2013 report by the Center for Community and Ethnic Media at CUNY J-School found that the city spent nearly $18 million in fiscal year 2012 on public messaging and that 82 percent of the city's advertising budget went to mainstream publications through two contracted advertising agencies. This was before Mayor Bill de Blasio's tenure, of course, and under the new administration, outreach for large city initiatives has been geared for multiple languages and platforms. The City Council, under the leadership of its first Latino Speaker, Melissa Mark-Viverito, has also pushed for increased reliance on ethnic media.
"The de Blasio administration is committed to reaching communities across the city through ethnic and community media," said a city official in a statement to Gotham Gazette. The official cited the city's 2014 multilingual campaign for the Deferred Action for Childhood Arrivals (DACA) program, calling it "the first time the City has had a mass marketing campaign targeted to immigrant communities."
The campaigns for several city initiatives, including the new municipal identification card program (IDNYC), paid sick leave, and universal pre-K, "made significant and deliberate investments in community and ethnic media, and in multilingual outreach, to ensure that immigrant New Yorkers can connect to crucial city programs," the official added.
Seemingly in line with the city's commitment, Department of Education Chancellor Carmen Fariña is hosting a roundtable on Tuesday morning specifically with members of ethnic and community media.
Allimadi, of Black Star News, recommends the city establish a "Deputy Mayor of Diversity," whom he said should oversee city spending with ethnic media, among other responsibilities.
Wednesday's City Council hearing will likely shed new light on how far the city has come in the last couple of years on this front and help Council Member Menchaca and his colleagues begin to build policy recommendations for how the city can support these outlets. "You can't have solutions," Menchaca said, "without first having a discussion."
[Related: New Data Indicates IDNYC Popularity Among Immigrants]
***
by Samar Khurshid, Gotham Gazette
@samarkhurshid