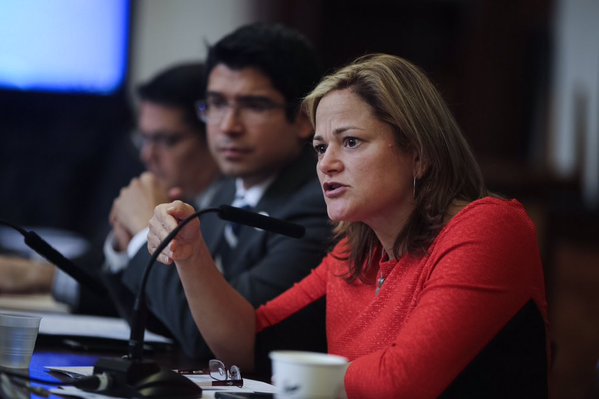 Speaker Melissa Mark-Viverito (photo: William Alatriste)
---
On Wednesday, Feb. 3, the New York City Council will hold a hearing on legislation outlining salary increases for various city elected officials as well as several good government reforms related to how Council members are compensated. Largely based on the recommendations of an independent commission tasked with outlining the first pay raises since 2006 for the Mayor, City Council members, and other officials, the Council announced the details of its package late Thursday evening.
In one significant departure from the commission's recommendations, the Council has decided to go even further with its own salary increases. A Council spokesperson said that the addition was being made to account for the fact that Council members would no longer be able to make significant sums of outside income. While the compensation commission called for making the Council member position full-time and instituting a ban on almost all sources of outside income, it did not indicate that it was adding to its salary recommendation based on this change.
Instead of sticking with the commission recommendation of a $138,315 salary for Council members, up from $112,500, the legislation being introduced will outline a salary of $148,500. The Council is advancing without adjustments the commission's recommendations for increasing the salaries of Mayor, Comptroller, Public Advocate, Borough Presidents, and District Attorneys.
While Council members are already hearing criticism for the size of its raises, the announcement also comes at a curious time: on Friday, Feb. 5, the Council is set to vote on both the compensation legislation and on Mayor Bill de Blasio's horse carriage deal, which has been questioned widely since it was announced, including by many Council members.
To some, it appears that Council members have agreed to back de Blasio's move to limit the horse carriage industry in exchange for his approval of their larger raises. The mayor must sign off on whatever the Council passes.
Eyebrows also rose when it became clear the Council would introduce its plan before taking public testimony.
Good government group Citizens Union released a statement Thursday criticizing the move and questioning the timing. Not holding a public hearing before introducing legislation "is unconscionable because it denies the public the input that it had during past cycles of reviewing and commenting on the matter of elected official salaries before a bill was introduced," said Dick Dadey, executive director of Citizens Union. Dadey added that the move shows "disregard for our democratic processes."
Dadey and Citizens Union did compliment the Council's planned reforms, though, noting that there are four key changes being made that the group had been calling for over a number of years. The Council will end bonuses, known as lulus, for chairing issue committees; ban almost all outside income for Council members; make future raises prospective; and require that officials' conflict of interest forms are posted publicly on the internet.
As outlined by the compensation commission, the Council bill calls for raising the salaries of the city's other elected officials: for the Mayor ($225,000 to $258,750); Comptroller ($185,000 to $209,050); Public Advocate ($165,000 to $184,800); Borough Presidents ($160,000 to $179,200); and District Attorneys ($190,000 to $212,800).
Fritz Schwarz, Jr., chief counsel at the Brennan Center for Justice, chaired the pay commission, and, in an interview before the Council plan was released, told Gotham Gazette he expects he will testify at the hearing.
Schwarz said he would oppose any pay increase that is not "contingent on these reforms being made," referring to the commission's recommendations to ban lulus and outside pay of almost all kinds. It is unclear what Schwarz may make of the Council bill.
Schwarz did say that while his commission did not recommend changing the timeline for raises so that they occur prospectively and Council members aren't voting through raises for their current class, "it would be valuable for the city to look at that question and consider changing the system."
Citizens Union has called for any raises to be made prospectively - only to go into effect for the next class of elected officials, in this case after the 2017 election cycle. Mayor de Blasio has repeatedly stated that he will not accept a raise this term.
"Citizens Union urges the Council to avoid the conflict of interest that exists if they raise their salaries during this current term. We ask the Council to delay all raises until the start of the following term, beginning in 2018," Dadey said previously.
Council members, however, are voting to make the raises retroactive to Jan. 1 of this year, which is in line with the commission's recommendations. Significantly, though, the Council bill will dictate that future pay increases can only be made prospectively. By law, the Mayor is required to empanel a compensation commission every four years. This has not always been followed.
The reforms being passed build on what is becoming a significant legacy for City Council Speaker Melissa Mark-Viverito and this group of Council members. In 2014, the Council changed several ways in which it does its internal business, including by modifying the process by which individual members are allotted discretionary funds to spend in their districts. The system was democratized. Eliminating lulus will be another step toward removing ways in which Council speakers have typically rewarded allies and punished those who've crossed them.
In a statement about the new bill, Mark-Viverito said that "The City Council is embarking on unprecedented, substantial reforms that will strengthen New York City's legislative body and help Council Members better serve the districts they proudly represent. Restricting outside income and eliminating all member stipends, while also designating Council Members' positions as full-time jobs, reflects the extensive work Members conduct in their communities and across the entire City. The Council's legislation incorporates many of the recommendations of good-government groups and sets a new standard for disclosure and transparency for elected officials. We look forward to hearing our bill next week."
The vote will come a little over a month after the commission tasked with reviewing the compensation levels of New York City's elected officials released its report recommending at least a 12 percent salary increase for all offices, with a 15 percent increase for the Mayor, and a 23 percent salary increase for City Council members. In January, Mayor de Blasio decided to back all of the commission's recommendations and sent them to the Council for review. The Council has outlined 32 percent raises for its members.
"Our proposed raises for the office of City Council member are conditioned upon, and inseparable from, our proposal to eliminate lulus and to formally classify the job of City Council members as full time," the commission's report says.
The three-member commission was appointed by Mayor de Blasio in September and released its recommendations in December. The commission had arrived at the 23 percent increase for Council members by taking the "$447,000 now budgeted each year for all lulus" and folding it "evenly into the salary for each non-Speaker seat on the City Council," which "would result in each non-Speaker seat receiving an additional $8,940 on top of the 12 percent base increase for all elected officials," and a three percent increase to account for the growth of Council members' responsibilities.
The commission recommended an even bigger salary boost for City Council Speaker Melissa-Mark Viverito, up to $154,375, which would reflect the inclusion of the $25,000 lulu the speaker position comes with into the base salary. By the Council proposal, the Speaker's salary will increase to $164,500.
Note: Gotham Gazette is an independent publication of Citizens Union Foundation, sister organization of Citizens Union.