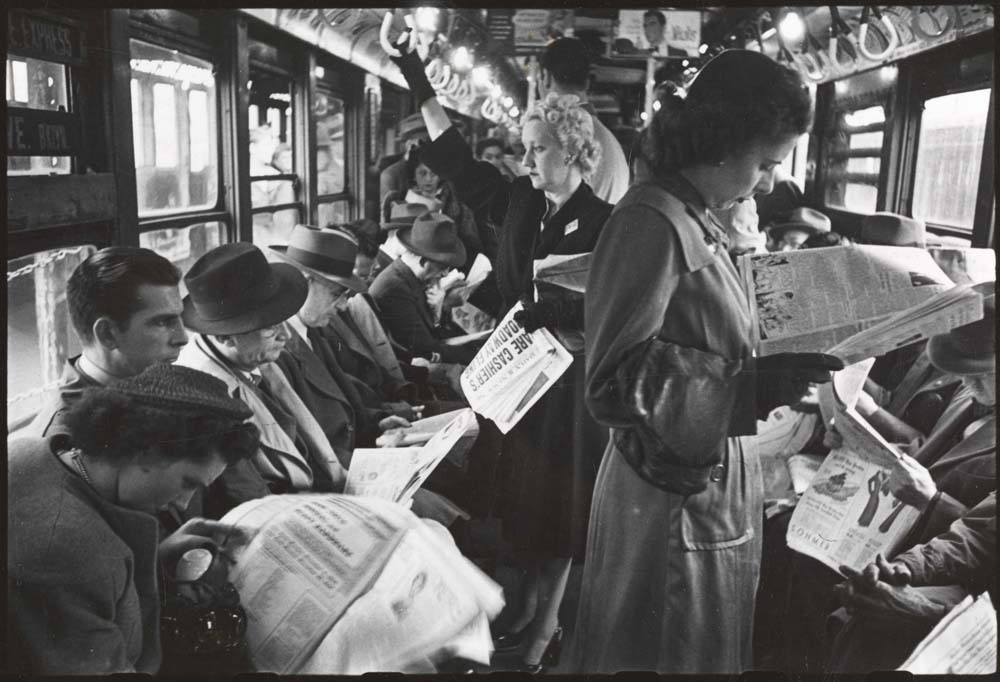 photo: Stanley Kubrick via Museum of the City of New York
---
Gotham Gazette's Week in Review, Friday January 29
PHOTO OF THE WEEK: Mayor de Blasio and others during last weekend's blizzard, via The Mayor's Office on flickr; De Blasio testifies in Albany, also via The Mayor's Office;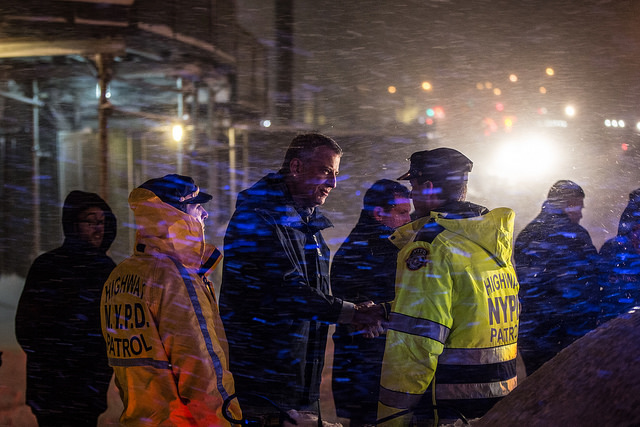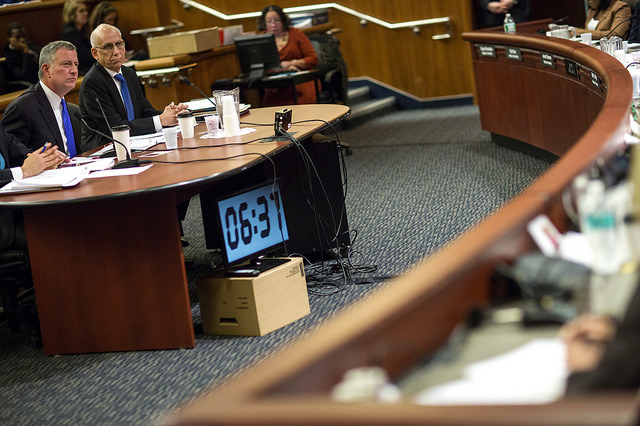 TOP FIVE STORIES OF THE WEEK:
1. De Blasio in Albany: Mayor de Blasio was in Albany on Tuesday to testify before the state legislature on Governor Cuomo's proposed state budget and to lay out New York City's financial priorities. Yet the mayor wasn't able to focus much of his nearly five-hour testimony on issues with the governor's budget proposals or affordable housing, mayoral control of schools, or other issues important to him, and instead was left to defend the city's spending, tax policies, and his refusal to agree to a property tax cap. [Read: De Blasio Heads to Albany to Fund Agenda, Fight Cuts & In Albany, State Senators Ambush De Blasio on Property Tax Reform]
2. Pay Raise and Reforms for City Council: On Wednesday, February 3, the City Council will hold a hearing on legislation outlining salary increases for all of the city's elected officials, as well as several good government reforms related to how Council members operate and are compensated. Details of the package were announced late Thursday evening, and the Council intends to raise their salary even higher than the commission tasked with reviewing the compensation levels of electeds recommended. [Read: City Council Announces Bill to Increase Pay, Reform Position]
3. Education Testimony: Schools Chancellor Carmen Fariña made the case for long-term extension of mayoral control of schools once again as she testified before state lawmakers on Wednesday. Also on Wednesday, state Education Commissioner MaryEllen Elia testified for a streamlined statewide pre-k program, professional development, and full and fair funding of public schools, reminded lawmakers that Governor Cuomo's budget is $1.4 billion short of what the Board of Regents requested, and said that this year's state standardized tests for 3-8 graders will not be timed.
4. Council Considers Decriminalization: A package of bills was introduced in the City Council on Monday which would change the way the city deals with low-level, quality-of-life offenses, such a public urination and littering. The move would encourage civil penalties, rather than arrests or criminal summonses for certain low-level, nonviolent offenses.
5. Snow Storm Scrutiny: Blizzard Jonas dumped 26.8 inches of snow in New York City over the weekend, leading Mayor de Blasio and Governor Cuomo to declare a state of emergency and (separately) impose travel bans during the worst hours of the storm. De Blasio's handling of the storm was generally met with praise, though some Queens residents and elected officials criticized the city for under-plowing streets in certain areas of the borough.
THIS WEEK'S NUMBERS:
26.8 inches of snow fell in Central Park during snowstorm Jonas, making it the biggest storm since 1869, the New York Times reports.
32% salary increase for Council members, up to $148,500 from 112,500, outlined in legislation announced by the Council Thursday evening, Gotham Gazette reports.
4 days will be spent campaigning for Hillary Clinton in Iowa by Mayor de Blasio this weekend, the Daily News reports.
6 minutes after a neighbor called 911, Officer Liang radioed for help following the shooting of Akai Gurley in the stairwell of a Brooklyn housing project, the New York Times reports.
8.875% sales tax on feminine hygiene products like tampons and pads could be scrapped, as the City Council will soon pass a resolution calling on the state to pass a bill introduced in the Assembly to eliminate the so-called 'tampon tax,' Gotham Gazette reports
95 ethnic newspapers in New York have a combined circulation of about 2.9 million people, more than one-third of the city's population, yet little of the city's advertising budget goes to ethnic media, Gotham Gazette reports.
200-plus educators received erroneous scores from New York State on a measurement that ties how well their students do on tests to their performances, the New York Times reports.
THE GLORY AND THE GOAT:
It was a good week for new State Senate Finance Committee Chair Sen. Catharine Young, who is providing over legislative budget hearings and led an especially tough grilling of Mayor de Blasio.
It was a bad week for City Council members, who are facing criticism for both the size of the raises and the timing of the vote on the legislation that will give them that raise, with some saying it seems Council members have agreed to back de Blasio's controversial plan to limit the horse-carriage industry in exchange for his approval of their larger raises.
THE FLASH:
Around this time 41 years ago, on January 24, 1975, four people were killed when a bomb exploded outside historic Fraunces Tavern in downtown Manhattan.
GOTHAM GAZETTE HIGHLIGHTS OF THE WEEK
City Council Announces Bill to Increase Pay, Reform Position, by Ben Max
City Council Members Move to Improve Tampon Access, by Meg O'Connor and Ben Max
Just Ahead of Oversight Hearing, City Announces Ethnic Media Plan, by Samar Khurshid
Council to Examine City Support for Ethnic Media, by Samar Khurshid
In Albany, State Senators Ambush De Blasio on Property Tax Reform, by David Howard King
De Blasio Heads to Albany to Fund Agenda, Fight Cuts, by Ben Max
Green Jobs Gone Missing, by Jarrett Murphy (City Limits)
The Numbers on NYC's Property Tax Non-Problem, by Jarrett Murphy (City Limits)
Time to Support New York Students with Billions Still Owed from Campaign for Fiscal Equity, by Council Member Daniel Dromm (opinion)
Criminal Justice Reform Act is No Alternative to Broken Windows Policing, by Alex S. Vitale (opinion)
Common Core Mistakes Worth Not Repeating, by Stephen Sigmund and Denise Toscano (opinion)
Give New York Manufacturers the Space They Need, by Matthew Rigney (opinion)
MORE FOR THE WEEKEND:
Gotham Gazette Executive Editor Ben Max appeared on Inside City Hall along with Politico New York's Gloria Pazmino, DNA Info's Jeff Mays, and Ginia Bellafante from the New York Times to speak with Errol Louis about the horse-carriage deal and the mayor's preliminary budget.
City Council Speaker Melissa Mark-Viverito appeared on WNYC on Thursday to speak with Brian Lehrer about the proposed Criminal Justice Reform Act, which will encourage officers to issue civil offenses, rather than criminal offenses, for some low-level quality-of-life violations.
Mayor de Blasio spoke with Brian Lehrer on WNYC Friday about his plans to campaign for Hillary Clinton over the weekend, housing plans, pedicab drivers, crime, and the Council's legislation to reform their position and raise the salaries of all of New York City's elected officials.
Chair of the Committee on Public Safety Vanessa Gibson and chair of the Committee on Courts and Legal Services Rory Lancman joined Errol Louis on Inside City Hall to discuss reforms being in considered in the Council to change the way low-level offenses are handled by the NYPD.
***
NOTE TO READERS: we hope you enjoy this new Gotham Gazette weekly feature - please share it if you do; on Twitter, use our handle @GothamGazette.
If you have feedback on this feature for us, you can email editor Ben Max: This email address is being protected from spambots. You need JavaScript enabled to view it.
Watch Sunday evening for our latest Week Ahead in New York Politics, which gives you a preview of key issues and events to be aware of for the week about to start. In the meantime, catch up on the latest original reporting from Gotham Gazette here. And have a great weekend!
***
by Meg O'Connor and Ben Max