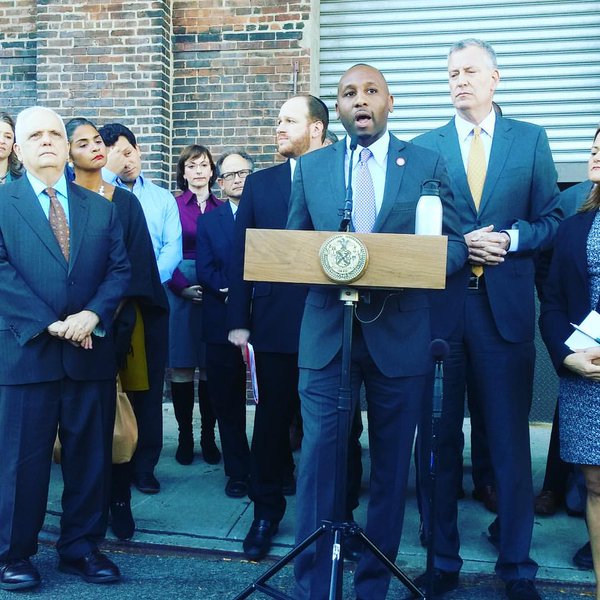 Council Member Donovan Richards (photo via @DRichards13)
---
Amid light flakes of snow, about 20 ralliers stood outside City Hall Monday morning and unleashed a flurry of criticism of a key piece of Mayor Bill de Blasio's affordable housing plan. De Blasio's plan to build or preserve 200,000 units of affordable housing relies in part on proposed changes to the city's land use rules, which are set to go before City Council review this week.
Members of the Real Affordability for All coalition, including construction union members, low-wage workers, and community organizers, believe that the mayor's plan to change the city's zoning codes do not account for enough affordable units for those at the lowest end of the income spectrum. They also want to see provisions for union labor in the development of affordable housing across New York City.
Monday's rally is just one example of a barrage of actions taken over the past months, heightened in recent days, as advocacy groups, urban planners, editorial writers, and city officials express various opinions about the administration's proposals, which would help shape the character of neighborhoods across the city for generations.
Having had little luck influencing the de Blasio administration to change the details of its Mandatory Inclusionary Housing (MIH) proposal, advocates seeking deeper affordability provisions say they are hoping to see City Council members push for changes as they consider both MIH and its sibling zoning amendment, Zoning for Quality and Affordability (ZQA). They got good news when, just ahead of City Council hearings on the plan, the Council's Progressive Caucus announced its desired tweaks to the proposals, which include units at lower rents (first reported by the Daily News).
On Tuesday and Wednesday, the zoning subcommittee of the City Council land use committee will hold hearings on MIH and ZQA, two proposals key to the de Blasio administration's goal of building 80,000 new units of affordable housing by 2024. The de Blasio administration hopes to create a new framework for development across the city, allowing for more density and encouraging more construction, while insisting on more units of rental housing with set caps on monthly charges along with an increase in market-rate apartments.
City Council Member Donovan Richards chairs the zoning subcommittee of the Council's land use committee and will be at the center of the two hearings this week, as will Council Member David Greenfield, chair of the land use committee.
Richards, who is a co-chair of the Council's Progressive Caucus but abstained from signing onto its MIH letter due to his role as subcommittee chair, has previously expressed concerns about ZQA. Like many of his colleagues, he is supportive of the idea behind MIH - requiring developers receiving a rezoning to include a set number of affordable units in their project - but has not committed to a specific position on the numbers behind those affordability requirements. Greenfield has expressed concerns as well, and has indicated that the Council may seek some significant adjustments to the proposals.
Richards' office tells Gotham Gazette that long hearings are expected on both days, with de Blasio administration officials testifying to kick things off Tuesday morning. MIH will be the focus on Tuesday, ZQA on Wednesday, though the Council will take testimony on either both days. The Council will give numbers to people signed up to testify and update where testimony stands through Twitter and the livestream of the hearing. As the City Planning Commission did, the Council will alternate panels based on whether those testifying are there largely in support of the zoning changes or against them, Richards' office said.
De Blasio's top three housing officials will be the first panel to speak before the zoning subcommittee on Tuesday: Deputy Mayor Alicia Glen, Housing Preservation and Development Commissioner Vicki Been, and City Planning Commissioner Carl Weisbrod. The three held a press briefing on Monday afternoon at City Hall in order to give the administration's latest take on the overall housing plan and where MIH and ZQA fit in. As they surely will in front of the Council, Glen, Been, and Weisbrod sought to stress that the zoning amendments are just one piece of the larger plan, and that deeper levels of affordable housing will be created through several means, including city subsidies to developers.
Saying that it "gets lost" that MIH is "only one part of our housing plan," Been explained to reporters that "mandatory inclusionary housing" means "harness[ing] the private market to create affordable housing." She went on to explain the "subsidies," "vouchers," and "term-sheets" that her agency uses to "reach those lower incomes" that won't be reached through MIH.
Deputy Mayor Glen repeatedly called MIH "a game-changer" Monday, referring to the fact that it would create a first-of-its-kind framework to require set levels of affordable units as part of any development receiving an up-zoning. In an interview on NY1 Monday evening, Mayor de Blasio defended the plans, saying that MIH means the city will "demand more from developers than we ever have before."
De Blasio acknowledged that City Council members have concerns, and as his top aides said, he appeared open to continuing to tweak the zoning changes. "We're going to be working with the Council," de Blasio told NY1 anchor Errol Louis. "The Council's asked for some changes, we're going to be very receptive, to see if we can find a good balance."
Along with administration officials, many of the same groups and individuals who have been outspoken on housing issues for a long time and throughout the recent process are expected to testify. The City Planning Commission, which recently passed MIH and ZQA with a few tweaks, held a lengthy public hearing in December. Much of the conversation is likely to be similar this week at the City Council, though Council members sharing their thoughts and asking their questions will be an important added dimension.
Groups expected to testify include affordable housing advocates like the Association for Neighborhood and Housing Development (ANHD) and Municipal Arts Society, which want to see changes to the plan; representatives of AARP, which has endorsed the mayor's plans citing benefits for senior affordable housing; the Real Estate Board of New York, which is supportive; New York Communities for Change, which is not; and those from other trade and advocacy groups and think tanks.
Unions behind de Blasio's plans, including the Hotel Trades Council, 1199 SEIU, 32BJ, and District Council 37 may also send representatives to testify in support. As reported by Politico New York, these unions have just helped form a new organization created to support these and other housing proposals from the de Blasio administration.
Many are indeed supportive of the administration's plans, saying that this is the first real attempt at responsible housing development across a changing New York City, and, combined with other aspects of de Blasio's plans - like tenant legal protections and affordable housing subsidies - will stem the tide of gentrification, increase housing options, and improve neighborhoods.
However, many across the city believe that the mayor's plan does not go far enough in terms of the affordable units that would be required of real estate developers seeking a rezoning of a piece of land in order to build housing on it. Furthermore, there are concerns about the myriad provisions in ZQA that change a variety of rules around building heights, parking requirements, and more.
All eyes are on the City Council now. While other Council members may join for the hearings, along with Council Members Richards and Greenfield, the rest of the zoning subcommittee will take center stage. Other members of the committee are Council Members Dan Garodnick, Antonio Reynoso, Ruben Wills, Ritchie Torres, Jumaane Williams, and Vincent Gentile. If the subcommitte votes through MIH and ZQA (with tweaks acceptable to the City Planning Commission as "within scope" of the original proposals), the land use committee will vote, then the full Council. City Council Speaker Melissa Mark-Viverito remains a key decision-maker in the process. She has indicated that the plans need some changes, but has not spoken in much detail about what she wants to see changed.
In a recent update, called "MIH Moves to City Council," ANHD leaders wrote that "Local community groups will be looking to the Council to revise MIH and make it a tool that can actually help meet the needs of all New Yorkers - particularly the lowest-income members of our communities, who are most in need of affordable housing."
While they called it a "game-changer," de Blasio's top housing officials also called MIH "one tool in a toolkit" Monday as they explained the ways in which the city creates that deeper affordable housing so that people and families earning less than $30,000 a year can afford an apartment.
Asked Monday about getting the City Council on board with the plan, Deputy Mayor Glen said that there's been a "radical shift" over the last couple of months in terms of Council members coming to understand what the administration is doing, what she called a "growing consensus among the Council that we need to do something game-changing."