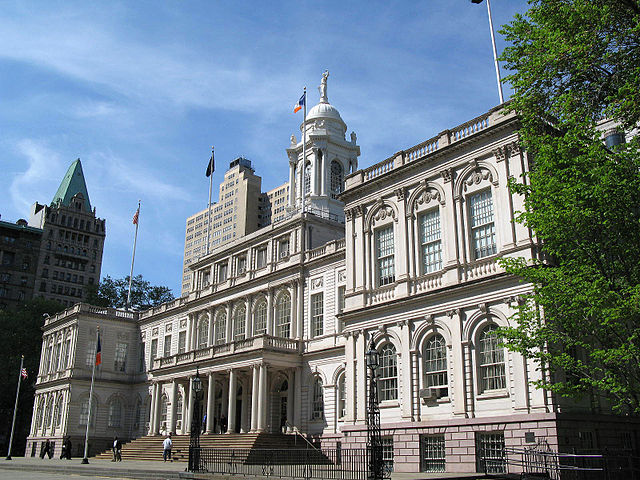 New York City Hall
---
What to watch for this week in New York politics:
This President's Day week will be somewhat quiet, with both the City Council and state Legislature on break, as they usually are to coincide wit schools being closed. The weekend was a busy one in Albany, though, where the Legislature's Black, Latino, and Asian Caucus held its annual caucus weekend of conferences and celebrations. Mayor Bill de Blasio and many other elected officials took part, in addition to caucus members.
De Blasio, city, and state officials were also dealing with the extreme cold temperatures of the weekend, of course. And, on Sunday, Gov. Andrew Cuomo was in Harlem, where he "announced the launch of a Fair Housing Enforcement Program – a groundbreaking initiative to uncover discrimination in rental and home sale transactions. Additionally, the Governor has directed the Division of Human Rights and the Department of State to propose new regulations to strengthen the state's housing enforcement efforts on behalf of all New Yorkers," according to a press release from his office.
This week we're watching for continued discussion of how the governor's budget may affect city policy and budgeting - the governor's 30-day budget amendments have kept proposed cuts to funding for New York City in CUNY and Medicaid costs - which de Blasio says he will continue to work to see that Cuomo was sincere when he said these proposals are about finding efficiencies and won't actually cost the city anything.
De Blasio holds a town hall Tuesday night in Brooklyn - details below - and a public conversation on inequality with economist Paul Krugman on Thursday evening at the CUNY Graduate Center. De Blasio has no events on his public schedule for Monday. We're watching to see when the mayor may reschedule a press conference on his Brooklyn-Queens streetcar proposal that was cancelled when a crane collapsed recently, killing one person.
City Council Speaker Melissa Mark-Viverito continues to discuss her agenda after last week's State of the City address with at least a couple of public interviews, including one Thursday afternoon - details below.
Even with the two main legislatuve bodies on a break, there are several events to be aware of this week - read our day-by-day rundown below.
***Do you have events or topics for us to include in an upcoming Week Ahead in New York Politics?
E-mail Gotham Gazette editor Ben Max: This email address is being protected from spambots. You need JavaScript enabled to view it.***
The run of the week in detail:
Monday
Schedule is clear for Monday, Presidents Day, as of now.
Tuesday
On Tuesday at 11 a.m. at Pioneer Works in Brooklyn, Mayor de Blasio will host a press conference on the Brooklyn-Queens Connector, his streetcar plan.
On Tuesday at noon, NYPD Inspector Generel Philip Eure will speak at Columbia Law School's Center for Public Integrity. He'll discuss "What led to the creation of the OIG-NYPD." "The Inspector General's role in addressing systemic issues at the NYPD." "OIG-NYPD's findings on police use of force, body-worn cameras, and the policy on chokeholds."
On Tuesday in New York City, Gov. Cuomo is set to co-host a lunchtime fundraiser for presidential candidate Hillary Clinton.
At 6 p.m. Tuesday, the Milano School and Center for New York City Affairs at The New School will host a discussion called "The New Wild West: Money and the 2016 US Presidential Election" at Arnhold Hall. Speakers will include moderator Jeff Smith, a professor at the New School; Fordham University political science professor Christina Greer; Jack Oliver, Jeb Bush's campaign finance chair; Democratic National Committee fundraiser Zach Allen; Adam Smith of Every Voice; and others.
At 7 p.m. Tuesday, City Council Member Gentile, State Senator Marty Golden, Assembly Member Pamela Harris, and the Brooklyn Chamber of Commerce join Mayor Bill de Blasio at Fort Hamilton High School for a town hall, where he is set to "addresses economic development and quality-of-life issues for businesses and residents."
At 8 p.m. Tuesday, Comptroller Scott Stringer will deliver remarks at the Marine Park Civic Association Monthly Meeting in Brooklyn.
Wednesday
At 4 p.m. Wednesday, Jonathan F.P Rose (President of Jonathan Rose Companies) and Mitchell Silver (FAICP and New York City Parks Commissioner) will speak on Urban Landscape and Public Health, hosted by Columbia University's Mailman School of Public Health.
At 5:30 p.m. Wednesday, the Voter Assistance Advisory Committee, an initiative of the New York City Campaign Finance Board and NYC Votes, will hold a public meeting to encourage the improvement of voter participation and progress with Student Voter Registration Day efforts.
Thursday
At 8:30 a.m. Thursday, New York City Economic Development Corporation President Maria Torres-Springer will speak at breakfast presented by Civic Hall and NY Tech Meetup that the former is hosting.
On Thursday at 11:30 a.m., "Bronx Borough President Ruben Diaz Jr. will deliver his annual "State of the Borough" address, his seventh since taking office in 2009. During the speech, Borough President Diaz will discuss the successes of the previous year while also offering new proposals on a variety of topics, such as education, development, tourism and more." The event will take place at Cardinal Hayes High School.
At 3 p.m. Thursday at CUNY Journalism School, Errol Louis of NY1 and CUNY J-School will host a Q&A with New York City Council Speaker Melissa Mark-Viverito, where she will discuss "the City Council's outreach to the community and ethnic media, her State of the City address, the Council's legislative agenda, including the Criminal Justice Reform Act, numerous challenges immigrants are facing in the city, affordable housing, issues confronting small businesses and workers rights."

At 5 p.m. Thursday in the Bronx, candidates competing for the vacant City Council District 17 seat in the Feb. 23 special election will participate in a forum. The Community Access Voter Awareness Forum will be moderated by the Bronx Chronicle's Michael Benjamin and DNAinfo's Eddie Small.

At 6:30 p.m. Thursday, Mayor Bill de Blasio and economist Paul Krugman will participate in a discussion on the mayor's efforts to combat social and economic inequality, as well as the larger picture on those issues. The event will be hosted by the CUNY Graduate Center, and will be moderated by Janet Gornick, professor of political science and sociology and director of the Luxembourg Income Study at the Graduate Center.
Friday and the weekend
On Friday in Albany, from 4-8 p.m., the New York State Assembly will hold a hearing to discuss cooperatively owned housing in New York City.
***
Have events or topics for us to include in an upcoming Week Ahead in New York Politics? E-mail Gotham Gazette executive editor Ben Max any time: This email address is being protected from spambots. You need JavaScript enabled to view it. (please use "For Week Ahead" as email subject).
***
by Leanna Carroll and Ben Max
@GothamGazette