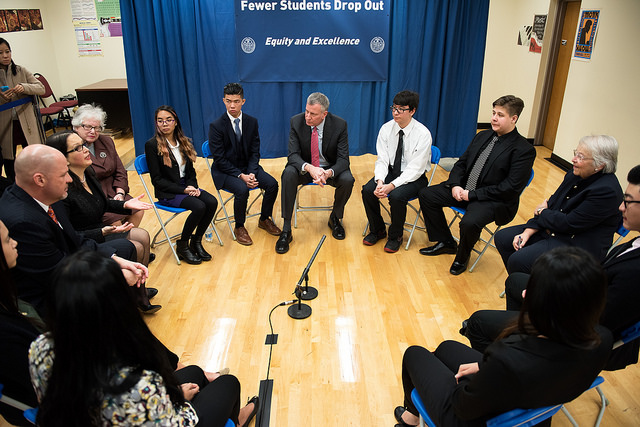 The Mayor & education leaders (Demetrius Freeman/Mayoral Photography Office)
---
As mayoral control of city schools comes up for Albany renewal again this year, one concern being raised by a variety of analysts is how and where the New York City Department of Education spends its money. Namely, the opacity of DOE procurement and contracting continues to be of concern to those worried about waste and a lack of oversight for the department with an annual expense budget of more than $20 billion.
The DOE is technically a state agency and operates under different rules and procedures than other city agencies run by the Mayor. Although Mayor Bill de Blasio does have control over it, deciding its budget in consultation with the City Council, DOE procurement and contracting don't go through the Mayor's Office of Contract Services. The DOE's contract budget for Fiscal 2016 was about $5.4 billion of the nearly $22 billion total operating budget (The Mayor's preliminary budget proposes $22.8 billion for DOE in Fiscal 2017, with $5.6 billion for contracts). Therein lies the cause for concern from the city comptroller, state legislators, and nonprofit watchdogs.
Last year, the DOE was embroiled in a contracting scandal stemming from its procurement policies. A vendor, Custom Computer Specialists, received a $1.1 billion contract to provide hardware and software to the DOE for five years. The contract was to be approved in February by the Panel for Educational Policy, which votes on all DOE contracts costing more than $1 million (an especially high threshold some say). But, before the contract could be voted on, a parent advocate publicly raised concerns about its lack of public scrutiny and the fact that CCS had been involved in a kickback scheme that defrauded the DOE in the past.
Pressure on the DOE from multiple quarters, including Public Advocate Letitia James and City Council Member Helen Rosenthal, who chairs the contracts committee, led to the contract initially being renegotiated down to $635 million and approved by the PEP. But it was subsequently pulled altogether by City Hall -- the first time that has happened in the history of the DOE, both Haimson and Rosenthal said. The DOE broke the contract into parts and put out fresh bids which were eventually met in December at a total price of $472 million.
"There are bad contracts nearly every month that get PEP approval," said Leonie Haimson, the advocate who blew the lid on the CCS scandal. Haimson runs the nonprofit Class Size Matters. "Even though the Department of Education has promised to make it more transparent, there are still problems with the process," she said, pointing out that many contracts are retroactively approved after funds have already been disbursed.
The PEP is a 13-member body, which includes DOE Chancellor Carmen Farina as a non-voting member. Five appointees are chosen by the borough presidents and the rest are appointed by the Mayor.
Haimson only noticed the issue in the CCS contract when she saw it on the PEP website about a week before it was to be voted on. Following the kerfuffle, the DOE announced that it would start posting contracts 30 days before their scheduled vote. Haimson has partnered with Patrick Sullivan, a former PEP member, to create a Citizens Contracts Oversight Committee to analyze these proposed contracts when they are put up online. They are crowdsourcing assistance in looking through hundreds of pages of legalese to ensure that the city isn't being ripped off.
"Members of the Panel are supposed to provide independent oversight and checks and balances over contracting at the DOE and so far they've completely failed in that mission," Haimson said. She proposed that the city Comptroller be allowed to nominate a non-voting member to the PEP to bring attention to these issues. In the past there have been calls for the Mayor to give up holding a majority of appointments to the PEP, but, as expected, there has been no movement on this reform.
Patrick Sullivan, who served on the PEP for seven years, says he has seen a change for the worse in the culture of accountability of the PEP. Under Mayor de Blasio, he claims, PEP members are less willing to question the DOE and that the DOE is less willing to share information.
"The problem was and what remains is that the DOE presents only a brief outline rather than the entire contract to the PEP," Sullivan said. That, he insists, made it difficult for the PEP "to do what is pretty plain in the law, which is approving contracts."
Sullivan does believe the current system could work, but only if the PEP puts its foot down and asks to see the contracts in full.
(Gotham Gazette made initial contact with PEP chair Vanessa Leung via email but subsequent emails went unanswered. She did say, "There has been some changes, a simple one being that we are given an overview of areas for future meetings in advance so we know what areas will be up for new contracts.")
The CCS case was one that slipped through the cracks, despite the DOE process of vetting vendors and proposals. According to DOE officials, the process includes pre-proposal conferences to discuss the proposals with potential vendors and applicants. Proposals are examined by expert committees and vendors are evaluated using the Mayor's of Contract Services' Vendex system, which tracks vendor history, quality of services, and level of expertise. The DOE consults the Special Commissioner of Investigation and even looks at vendor tax filings. A history of less-than-satisfactory service does not automatically disqualify a vendor but is explained in the final Request for Authorization sent to the PEP. In the CCS case, these details were available to the DOE and PEP.
The problem was the initial decision by the department to issue a Request for Bid (RFB) rather than a Request for Proposal (RFP). RFBs are generally more to the point, with specific contract requirements, while RFPs lay out general services that are needed. (Taking all the evaluation criteria into consideration, the least costly proposal is not always the one that wins the contract.)
After the contract was pulled, it was re-issued in March 2015 as an RFP and DOE chief financial officer Ray Orlando said in a statement, "The DOE heard from members of the PEP, as well as elected officials, about their concerns regarding the procurement process and decided that issuing a new restructured procurement through an RFP will allow us to reach the best possible outcome for the school system and the City. The DOE will be issuing a new solicitation."
The DOE then decided to make some the requests for authorization of contracts available for public review at least a month in advance. They also provide PEP members with the Requests for Authorization four weeks before their next meeting. At the meetings, members receive basic information about expected future procurements that are likely to eventually vote on.
"We've worked closely with community leaders and stakeholders to improve our contracts process and look forward to this continued collaboration," said Ray Orlando, DOE CFO, in an email to Gotham Gazette (the same message sent to the Daily News in December).
City Council Member Helen Rosenthal is not satisfied with how DOE procurement functions although she gives credit for changes made after the CCS case.
"The root of the problem there (in the CCS matter) was that they were bidding out something without specificity," she said. "After that they made the contract more specific. Bids came in tighter and lower."
Rosenthal met with Ray Orlando last month to discuss these issues and he explained the new transparency measures. But Rosenthal left the meeting disappointed and less than assured that DOE had made any significant reforms in how procurement happens.
"They're making the final product more transparent," she said, "but I don't know if they're changing internal procedures." While she doesn't discount that there might be some changes, Rosenthal has been internally calling for a hearing where she hopes the DOE can answer to the public.
However, the City Council does not have the same level of oversight of DOE as it otherwise does over a mayoral or city agency. The Council can pass laws requiring reporting by the DOE (as it's done in the past) but cannot legislate policy or even hold oversight hearings on specific policies. The Council could pass a resolution calling for the DOE to go through the Mayor's Office of Contract Services, but cannot legally mandate it.
"There's no legal requirement to tell us the answers to these questions, not the same way a mayoral agency is required," Rosenthal said. "But the questions I'm asking are the ones the taxpayers have a right to know the answers to."
Rosenthal hopes that the administration will oblige her request for a hearing.
Transparency in procurement and spending has also become a key issue in the debate over mayoral control. Carl Marcellino, chair of the state Senate education committee, recently said he would want more oversight over the DOE's spending for mayoral control to be extended, echoing comments that were made last year when Mayor de Blasio was seeking an extension of control of city schools (he received a one-year extension).
"I have supported extensions in the past and I do believe ultimately it will be extended," Marcellino said of mayoral control in a statement, as reported by City & State. "At this point, for how long is yet to be determined. I also think we have an opportunity to increase accountability and transparency on where school funds are being spent in the City. We need a clearer picture on where these funds are going and how they are being used."
Marcellino's office did not respond to multiple requests for comment for this story.
Another important voice on the issue of DOE contracting has been city Comptroller Scott Stringer. Testifying before the state legislature in Albany last year, Stringer expressed his support for mayoral control as well, with caveats. He said, "Part of that needs to be reforming the Department of Education's procurement rules to provide more oversight and transparency. For too long, the DOE has answered to no one when it comes to procurement. With billions of dollars at stake, cutting corners on procurement is bad for taxpayers and bad for our children. DOE must abide by the same oversight rules as every other city agency."
Under the New York City Charter, DOE's Procurement Policy and Procedures, and New York State Education Law, the Comptroller's office has the authority to register and audit DOE contracts.
"However, ensuring MOCS' participation in DOE's procurement process would elevate oversight and transparency of the Department to the same level as that of all Mayoral agencies," Stringer told Gotham Gazette in a statement.
This year in his budget testimony in Albany, Stringer did not mention DOE procurement but did support a three-year extension of mayoral control. (Mayoral control was far less a focus for everyone this year when de Blasio and Stringer appeared in Albany as Senate Republicans largely focused on property tax reform.)
"I have long supported mayoral control of schools," Stringer told Gotham Gazette. "It is the best way we can ensure accountability and make sure that our schools are equipped with the management and resources to meet the immediate needs of our schoolchildren."
Class Size Matters' Haimson believes mayoral control is at the center of the problem. She says it puts too much power over the DOE in one office and precludes the usual checks and balances over spending. "It's a bad idea. Period. It's a bad idea in principle. It's a bad idea in practice," she said, blaming mayoral control for what happened in the CCS case. Patrick Sullivan feels likewise.
For supporters of mayoral control, that is a spurious argument. "You need to have the mayor in charge of the money going to the Department of Education if you want well-funded schools," said Clara Hemphill, of the New School and its education publication, Inside Schools. "Anything else is just posturing." Hemphill said the battle over mayoral control at the state level was more a "power play" between Mayor de Blasio and Governor Andrew Cuomo than an argument of substance.
City Council Member Daniel Dromm, chair of the education committee, did not respond to requests for comment. Dromm's education committee will hold preliminary budget hearings on DOE spending on March 8 (capital) and March 16 (expense).
It is unclear at this point if state legislators will hold a hearing on mayoral control of city schools with de Blasio called to Albany to discuss his leadership of the city's schools, his school-based policies and spending practices.
Council Member Rosenthal also believes mayoral control is a good system, but it needs tweaks to make it better. Like Senator Marcellino, she wants the mayor to ensure more transparent spending.
"I definitely prefer mayoral control than the old system," Rosenthal said, "but I'd want more mayoral control in terms of contracts going through MOCS therefore allowing City Council oversight."