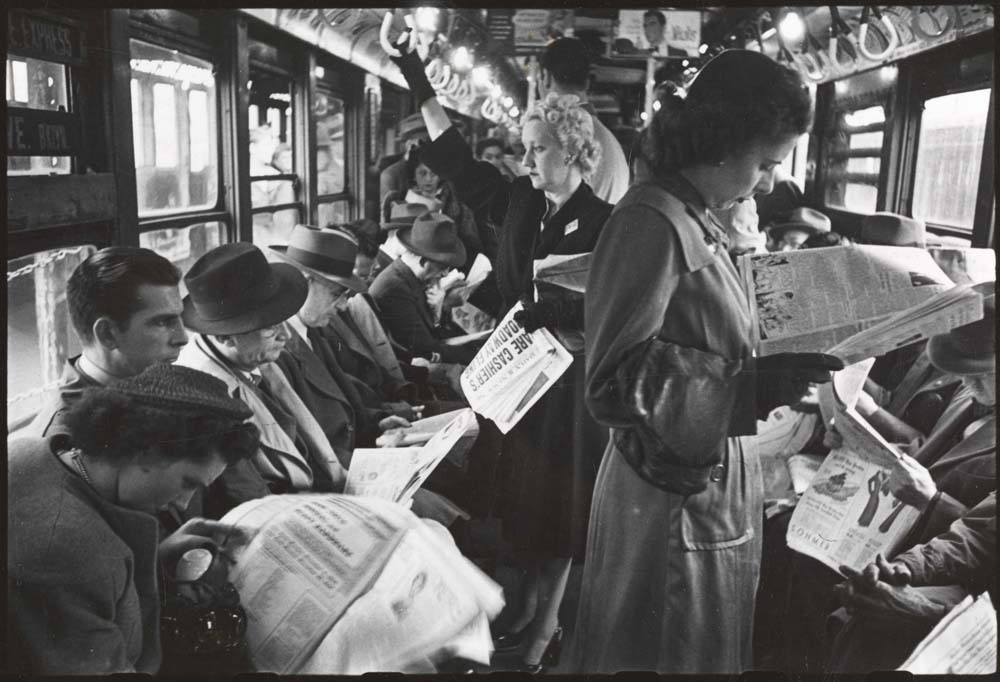 photo: Stanley Kubrick via Museum of the City of New York
---
Gotham Gazette's Week in Review, Friday March 4, 2016
PHOTO OF THE WEEK: Mayor de Blasio and City Council Member Robert Cornegy Jr. visit Bed-Stuy businesses, via William Alatriste;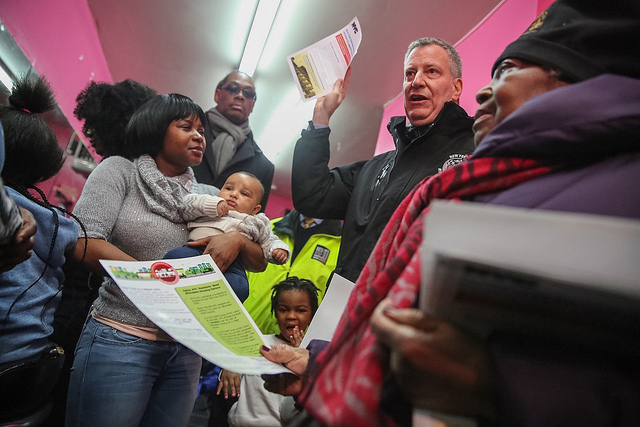 TOP FIVE STORIES OF THE WEEK:
1. Budget Talks Begin: On Tuesday, the City Council held the first of many preliminary budget hearings. Two issues that came up time and again were concerns about cuts to city funding in Gov. Cuomo's budget proposal, and whether the city is adequately saving for an economic downturn. As hearings proceed this month, Council committees will hear from agency commissioners, leading to the Council's official preliminary budget response, due by March 30. [Read: City Council to Begin Public Examination of Mayor's Budget & At First Council Budget Hearing, Concerns Over City Savings and State Cuts]
2. Summons Shift: On Tuesday, Mayor de Blasio, NYPD Commissioner Bratton, and Manhattan District Attorney Vance announced a policing shift under which NYPD in Manhattan will issue summonses to individuals who commit low-level offenses like public consumption of alcohol, public urination, and various subway offenses, instead of arresting them. City officials hope the change will free up resources to prosecute more serious crimes and reduce the backlog of cases in Criminal Court. De Blasio said he expects to expand the effort to all five boroughs while some wondered why the move was being taken while the City Council considers legislation in a similar vein.
3. Housing, Cuomo Criticism: During a City Council budget hearing on Thursday, city housing commissioner Vicki Been sharply criticized a proposal in Gov. Cuomo's budget that would change how the state allocates housing bonds, calling it a "poison pill" for affordable housing. Been added that 1,200 below-market-rate units in the city were held up by Cuomo at the end of last year. Been, budget watchdogs, the real estate industry, and contractors have come out against Cuomo's proposal, warning that it could drive away funding and create gridlock. [Listen: Max and Murphy on Housing]
4. More on Rikers: Discussions about the feasibility of closing the city's notorious jail complex, Rikers Island, continued this week, with Comptroller Scott Stringer calling the 27 percent increase in the number of personal injury claims filed against the city for mistreatment in the city's correctional facilities a "humanitarian crisis." Speaker Melissa Mark-Viverito, meanwhile, hopes that her plan to reform the bail system in the city, which is in the process of being implemented, will make it possible to close Rikers. [Read: Key to Vision of Closing Rikers, City Council Bail Fund Moves Through State Process]
5. State Budget Woes: Several significant questions about the governor's budget proposal remain less than a month before the plan is set to be finalized, including around how major capital projects will be paid for, how the state will fund the MTA, and whether Cuomo will keep his pledge that his plan to shift millions in costs for CUNY and Medicaid "won't cost New York City a penny." [Read: Several Significant Questions About The Governor's Budget]
THIS WEEK'S NUMBERS:
THE GLORY AND THE GOAT:
It was a good week for Assembly Member Keith Wright, whose prospects of winning the race to replace retiring Rep. Charles Rangel got a boost after state Senator Bill Perkins dropped out of the race and Assembly Speaker Carl Heastie decided to back Wright in his run for Congress.
It was a bad week for City Council Speaker Melissa Mark-Viverito, who has made the need to direct those who commit low-level, nonviolent offenses to a civil court system rather than jail a priority, yet was not included in a policy shift announced by the Mayor, the NYPD, and the Manhattan District Attorney that will reduce arrests for low-level offenses.
THE FLASH:
Around this time last year, on March 4, 2015, Mayor de Blasio announced that New York City will add two Muslim holy days to the public school calendar, becoming the country's first major metropolitan city to close public schools in observance of the two most sacred Muslim holy days.
Around this time last year, on March 2, 2015, the Department of Education lifted a ban on cellphones in New York City schools.
Around this time two years ago, on March 4, 2014, news broke that the city was expected to file a settlement of stop-and-frisk lawsuits, not long after Mayor de Blasio had announced that the city would drop its appeal of a ruling that had found NYPD's stop-and-frisk practices unconstitutional, and would agree to have a court monitor oversee reforms. Just this week, Mayor de Blasio, NYPD Commissioner Bratton, and Manhattan District Attorney Vance announced a new major policy shift in the way the NYPD in Manhattan will handle low-level offenses, building upon previous efforts to reduce the use of arrests for minor offenses.
Around this time 48 years ago, on March 1, 1968, the Metropolitan Transportation Authority was created to oversee transportation operations in 12 counties.
Around this time 227 years ago, on March 4, 1789, after being established by the Constitution, Congress met for the first time at New York City's Federal Hall.
GOTHAM GAZETTE HIGHLIGHTS OF THE WEEK:
Key to Vision of Closing Rikers, City Council Bail Fund Moves Through State Process, by David Howard King
City Council to Begin Public Examination of Mayor's Budget, by Meg O'Connor and Samar Khurshid
Several Significant Questions About The Governor's Budget, by David Howard King
At First Council Budget Hearing, Concerns Over City Savings and State Cuts, by Samar Khurshid and Meg O'Connor
Calls for More Transparency, Oversight in Department of Education Contracting, by Samar Khurshid
Housing Groups Defend Homelessness Report After Pushback from Cuomo Administration, by David Howard King
Supporters Launch Renewed Push to Pass Plastic Bag Bill by Earth Day, by Samar Khurshid
Ten Days in the Life of a Police Reform Advocate, by Bob Gangi (opinion)
A Budget for Immigrant New York, by Cristina Molina (opinion)
Will the Democrats' Fresh Entitlements Lift Poor Families? by Bruce Fuller (opinion)
MORE FOR THE WEEKEND:
Each week, Gotham Gazette Executive Editor Ben Max and City Limits Executive Editor Jarrett Murphy discuss the latest on housing policy and politics in New York. Listen to the latest developments in affordable housing here.
Mayor de Blasio appeared on The Daily Show with Trevor Noah on Thursday, and spoke about the sharing economy, income inequality, the role of a mayor, and universal pre-k (extended interview).
Alyssa Katz from the Daily News and NY1 Political Director Bob Hardt join Alexis Grenell and Nick Powell to discuss the politics surrounding New York City's homeless crisis on this week's NY Slant Podcast.
Allison Sesso, executive director of the Human Services Council, Gordon Campbell from NYU's Wagner Graduate School of Public Service, and Frederick Shack, executive director of Urban Pathways, appear on Inside City Hall to discuss the collapse of the social services agency FEGS and the lessons for nonprofit organizations.
Politico New York's Sally Goldenberg takes an in-depth look at the city's senior housing crisis.
Mayor de Blasio appeared on MSNBC's Morning Joe to discuss the presidential primaries.
***
NOTE TO READERS: we hope you enjoy this new Gotham Gazette weekly feature - please share it if you do; on Twitter, use our handle @GothamGazette.
If you have feedback on this feature for us, you can email editor Ben Max: This email address is being protected from spambots. You need JavaScript enabled to view it.
Watch Sunday evening for our latest Week Ahead in New York Politics, which gives you a preview of key issues and events to be aware of for the week about to start. In the meantime, catch up on the latest original reporting from Gotham Gazette here. And have a great weekend!
***
by Meg O'Connor and Ben Max