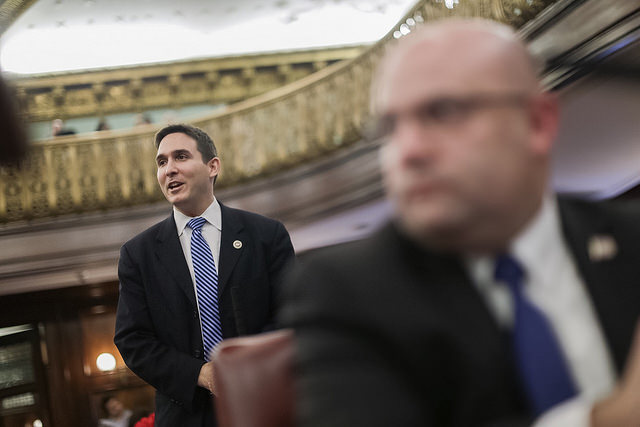 Council Member Ben Kallos (photo: William Alatriste)
---
When the city's new fiscal year begins in July, the Board of Elections will be readying to administer two elections before the close of the 2016 calendar year: September primaries and the November general, which will include the presidential contest. This, after running elections in April and June.
To fulfill its duties and ensure smooth electoral processes, the BOE will need to hire and train thousands of poll workers, hold state-mandated voter registration drives and, given unforeseen circumstances, organize special elections.
(And, if Council Member Mark Treyger manages to pass a bill he recently introduced, the BOE will soon have to create an emergency response plan for holding elections during a crisis.)
It wasn't surprising then that City Council Member Ben Kallos, chair of the governmental operations committee, which has oversight of the BOE, at a preliminary budget hearing on Monday expressed deep dissatisfaction with how the Mayor's Office of Management and Budget (OMB) has consistently lowballed the BOE in preliminary budgets for three years running.
Bordering on anger, Kallos pointed out that the BOE preliminary budget allocation of $88.4 million is a steep drop from last year's adopted budget of $140 million. Kallos asked BOE Executive Director Michael Ryan if the low figure is sufficient for the somewhat monumental task of running elections in New York City.
"The short answer to that is 'no,'" Ryan responded. He estimated that the BOE would need $138.5 million for fiscal year 2017, which begins July 1, and that it was run-of-the-mill for the administration to set a "placeholder budget that encompasses all of the agency's absolute, ironclad, 100 percent obligations, contractual and otherwise." As with the last two years under this administration, Ryan said he expected full funding to be incorporated into the executive budget, which de Blasio will release later this spring.
This didn't seem to be the answer Kallos was looking for. He faulted OMB for engaging in a process that gives the Council little oversight over what ends up in the BOE's final budget. It "frustrates the purpose of preliminary budget hearings and this isn't happening at any other agencies," Kallos said, stressing that a better way would be to allocate a higher budget and then pullback as needed.
[Related: De Blasio Unveils Cautious $82 Billion Preliminary Budget]
Ryan did make allowances for OMB's process, calling the budget negotiations a "partnership endeavor" that always yielded the desired result. He stressed that the BOE budget was a "moving target" depending on the election cycle, but did concede that "$88 million is south of the bare minimum" for the BOE to run smoothly.
OMB spokesperson Amy Spitalnick, in a statement emailed to Gotham Gazette, echoed Ryan's rationale. "There is always some unpredictability and variability in what BOE requires each year based on the number of contested races, poll sites and workers, special elections, and more, which makes it impossible to baseline one set amount," Spitalnick said. "The City always funds what is needed later in the budget process, once many of those outstanding factors are determined."
Kallos, however, may not let that reasoning stand in the future. At the hearing, he promised to hold OMB feet to the fire if it continues to play a game of "cut and restore" with the BOE budget. "If OMB ever puts this low a number again," Kallos said, "I want them here for this hearing so that they can tell me why they think you should be able to work with $88 million."
"The elections in democracy are too important to be playing these games," Kallos added.
[Related: At First City Council Budget Hearing, Concerns About City Savings]