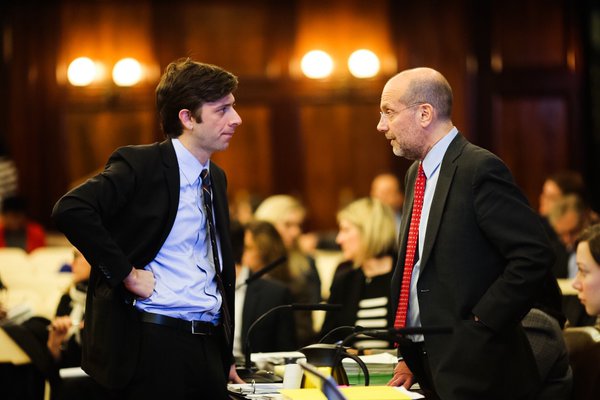 CM Levin, left, & HRA Commissioner Banks (photo: William Alatriste)
---
A new report on the city's reengineered public assistance system concluded, among other findings, that it's too soon to tell whether the wide-ranging reforms put in place by Mayor Bill de Blasio and Human Resources Administration Commissioner Steven Banks are working. The updated analysis from the city's Independent Budget Office (IBO) not only leaves unanswered whether the Banks/de Blasio reforms are working, but how exactly to judge a system now geared towards long-term change rather than short-term reward.
Earlier this month, IBO, a nonpartisan city-funded agency, released a report on how the de Blasio administration changes to the welfare system, making it less punitive and refocused on education and employment for welfare recipients, rather than stressing work experience programs. Conservative critics of the changes, including Banks' predecessors from previous administrations, say that the city is becoming too lax and encouraging people to rely on government assistance. The administration says it is both taking a more humane approach and playing the long game, with greater payoffs down the road when people move off of assistance and don't need to return to it.
The IBO looked at the effects these reforms have had on welfare caseloads and the city budget. Caseloads have increased, in particular one-time grants, which also mean increased budget outlays projected for the coming year. One-time grants are cash assistance benefits to those who apply due to the most temporary hardship.
The report notes that over the course of December 2015, there were a total of 597,347 unduplicated welfare recipients, a slight increase from 591,544 in May 2014. It attributed this increase to one-time grant recipients, one group among welfare classes, which went up by 34,339, translating into $133 million over the course of a year ($60 million of which is city funds).
"The idea was that people would get better jobs and stay out there," said Paul Lopatto, the IBO analyst who authored the report, on the reforms. "The prediction that HRA is making now is that after a while, the caseload will decline, and that the increase is only temporary," Lopatto said. "It's not a surprise," he added. "It's a question of how long and how high it gets."
Alex Armlovich, a policy analyst at the conservative Manhattan Institute, said the IBO report echoes what he has already said about the new welfare system, that the increase in the cash assistance caseload is "policy driven, not driven by weakness in the local economy or by disenfranchisement of low-skilled workers. It does not look promising on its face but we still have to see how it plays out," he said.
Armlovich emphasized that one of the potential concerns about the system's new direction was "rubber stamping" in the education and training programs and that there was no way to tell if there was substantive improvement. "That's the fear," he said, insisting that HRA should put out tracking metrics for particular outcomes. He cited GED enrollment and completion as an easy figure to track and analyze.
"If you're directly and quantitatively accountable, that assuages any fear about the nature of the program," he said. "I don't think it's time to panic. It's just something we need to keep an eye on."
The need for metrics is one that City Council Member Stephen Levin, chair of the general welfare committee, which has oversight of HRA, agrees with. "We need strong metrics, strong data and strong measures in place to ensure that policy in New York City is working," he said of the welfare system reforms.
Levin was less concerned about the increase in caseloads or the resulting budget burden, although he said it was especially necessary to keep an eye on the latter. The increase in welfare recipients, he said, was to be expected after years of previous administrations artificially suppressing the rolls.
"The previous administrations spent a lot of money trying to knock people off the rolls," he said of the Bloomberg and Giuliani years, noting that HRA's new, more conciliatory approach is correcting these past policies. "If the numbers have gone up, we would expect that."
At a preliminary budget hearing on Tuesday, the general welfare committee heard testimony from Commissioner Banks on HRA's progress on these reforms. Council members asked few critical questions, if any, on the specifics. Levin chalked this up to the fact that HRA's plan was still being implemented and that the committee had little time as they were focused on a litany of other pressing issues. General welfare also has oversight of HRA's other programs, the Department of Homeless Services, and the Administration for Children's Services.
When asked about the IBO report, an HRA official cited similar reasoning. In a statement emailed to Gotham Gazette, HRA press secretary Lourdes Centeno said, "As part of our employment plan that is being phased in over two years, HRA is in the process of reforming its employment services through new RFPs and other program enhancements and continues to expand services that put recipients on a career pathway to long-term employment and self-sufficiency, which will replace the past policies that often resulted in only short-term employment and return to the caseload."
Centeno added that the fluctuation in caseloads was in part because of increasing one-time assistance to prevent evictions and utility shutoffs, and noted that the unduplicated recurring caseload was largely flat for eight years. "We are monitoring our budget to ensure that we are using our resources effectively to help as many New Yorkers in need as we can," she added.
[Related: In Departure From Predecessors, De Blasio Administration Overhauls Welfare System]