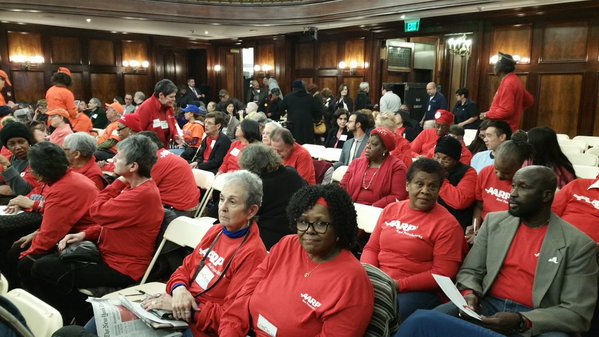 AARP members pack City Council chambers (photo via @aarpny)
---
There are about 800,000 AARP members in New York City and Mayor Bill de Blasio has been arm-in-arm with them of late. The organization has come out in strong support of key pieces of de Blasio's affordable housing agenda and his plan to create a city-run retirement savings program for private sector workers.
De Blasio has sought and embraced the support, frequently engaging with AARP members and regularly citing AARP's endorsement as validation for his housing plan, specifically controversial changes to the city's zoning rules that he is negotiating through the City Council. On Tuesday, the Council will pass changes to the zoning code that AARP supports as essential to creating more affordable housing for seniors.
Not only is AARP helpful in the near-term as de Blasio builds support for his policies, but older voters are also an important bloc as de Blasio heads toward a 2017 re-election bid. There are more than 2 million registered voters in New York City over the age of 50, which is the threshold for AARP membership, and 72 percent, or 1.5 million, are Democrats, according to Steve Romalewski, Director of CUNY Mapping Service at the Center for Urban Research/The Graduate Center.
Older people are known to vote in higher percentages than other age groups, and that is the case in New York City. According to Romalewski, in the 2013 mayoral election, which saw very low overall turnout as de Blasio cruised to a landslide, about 38% of the one million-plus registered voters 65 and older voted, compared to 12% of the one million-plus registered voters 35 or younger.
While AARP has become a key ally for the mayor, the group does not officially endorse candidates. Still, de Blasio's attention to issues of concern for older people and their regular exposure to him as a champion of their causes certainly appear to have created a mutually beneficial dynamic. AARP support for de Blasio's zoning changes became loud during a tough time for the mayor as community boards and others around the city criticized the plan.
On Monday evening, de Blasio held his fourth tele-town hall with AARP-NY in the last nine months, during which he has discussed affordable housing and other issues with thousands of older constituents. According to AARP, 12,800 people participated over the course of an hour-long tele-town hall in February.
During Monday's call, de Blasio struck a celebratory tone on the eve of the City Council voting through the zoning changes. Saying that Tuesday is "going to be a great day for New York City," de Blasio thanked AARP members for "the decisive support you have provided for our affordable housing plan." The "historic" day, de Blasio said, will usher in new policies "to open up a lot of different places where we can create the affordable housing seniors need." De Blasio told call participants that there will be a celebratory rally in Foley Square at 5 p.m. on Wednesday.
Over the past two months, AARP also figured significantly in two de Blasio-led rallies at City Hall - one on his housing policies, one on his new retirement savings plan - and helped coordinate an in-person town hall meeting de Blasio held on senior housing in Manhattan.
"AARP is an extraordinary force for good," de Blasio said during one of the tele-town halls, "looking out for the needs of our seniors, making sure their rights are respected, and building a more fair society."
In response to de Blasio's affordable housing plans outlined in his 2015 State of the City speech, AARP New York State Director Beth Finkel said in a statement, "Mayor de Blasio outlined a bold initiative to help make New York City more affordable...AARP looks forward to working with Mayor de Blasio and the City Council to address a primary concern of so many New Yorkers - the cost of living here - and continuing to make New York a great place to live, work and play for all age groups."
AARP has followed up on that pledge, especially as the debate over de Blasio's key senior housing-related proposal, known as Zoning for Quality and Affordability, recently came toward a vote in the City Council. AARP has encouraged its members to call their City Council representatives and conducted a targeted social media campaign to lobby Council members. It also purchased radio ads in support of the mayor's plan and sent mailings. (Another advocacy group for older New Yorkers, LiveOn NY, has also been a vocal supporter of ZQA.)
In a Friday interview with WNYC, de Blasio said that as he and his administration engaged more people on his zoning proposals and larger housing plan, more came to support it. "[A]s this legislation moved forward," de Blasio told WNYC's Brigid Bergin, "crucial organizations like AARP got involved and they spoke powerfully to seniors about why this would help create more senior housing. And that brought in a lot of support." He also referenced the support of a variety of labor unions.
A nonpartisan advocacy group, AARP does not endorse candidates or make campaign contributions. It does, however, support policies, and it has put significant resources behind de Blasio's zoning changes. AARP has also committed to full-throated support for the retirement savings program, which the group's representatives say is a major national priority.
Still, AARP representatives are firm that the organization does not endorse, donate to campaigns, or promote candidates through independent expenditures. In response to a tweet from Gotham Gazette in which this reporter speculated that AARP could be a formidable source of election support for de Blasio, AARP Associate State Director for New York City Chris Widelo tweeted back, "we are strictly non-partisan and do not endorse...but our members do vote!"
During a phone interview Monday afternoon, Widelo explained more about AARP's approach to issue advocacy versus candidate campaigns. "If it were an election, I think our tone would be different," Widelo said. He added that AARP has been behind the mayor's housing plan with such energy because it is a key priority, but he stressed that the organization will not be supporting de Blasio's reelection campaign. "Next year, you'll probably notice AARP, we have a hard deadline when candidates file paperwork and become a candidate in our eyes, even if they are a sitting elected official, and we adjust how we may coordinate." Widelo said that the deadline is in the summer, but that AARP will judge the political landscape.
AARP has also done tele-town halls with Governor Andrew Cuomo and Public Advocate Letitia James, Widelo noted. "It just so happens that our priorities have lined up with the mayor's and others here in the city," Widelo said. "We're happy to have the mayor of the largest city in the country on our tele-town hall, for sure," he added, "but for us, it's more important to tell [members] the story about what this policy is...it's educational."
While AARP is appreciative of the mayor's attention to issues older New Yorkers care about, de Blasio is certainly happy to have the group's support.
At a March 9 rally outside City Hall to support his housing agenda, de Blasio was surrounded by representatives from AARP and several labor unions, each of which he thanked. "I have to say, there are so many great organizations," de Blasio yelled through a megaphone, "but one that has done absolutely awesome work has been AARP."