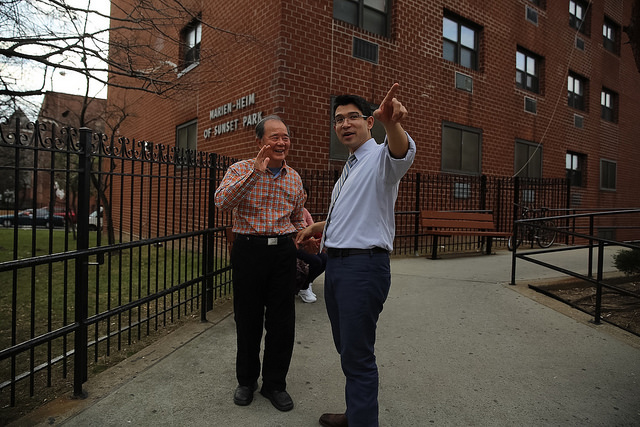 Council Member Menchaca with a constituent (photo: William Alatriste)
---
For City Council Member Carlos Menchaca and his staff, the Participatory Budgeting Vote Week that just ended was the culmination of a year-long effort to encourage project proposals and votes from communities that are traditionally excluded from politics. Through PB, community members decide how $1-2 million in funding is allocated toward neighborhood improvements. Menchaca's district, which includes immigrant-rich Brooklyn neighborhoods of Sunset Park and Red Hook, is one of 28 districts running the program in the 51-member City Council, but it is the most active.
Last year, Menchaca's constituents recorded the city's highest number of participatory budgeting (PB) votes, a total of 6,299. Although this is double the amount of voters from the prior year's cycle, it is still only a fraction of eligible voters, as the district has a population of 164,230 — about 80% of which is over the PB voting age of 14, according to the 2010 census.
Still, two-thirds of the votes from those who chose to participate were on non-English ballots and almost one-quarter were from people who couldn't vote in regular elections, such as people under the age of 18 and immigrants without U.S. citizenship. These data give Menchaca and other supporters of PB energy to push forward despite criticism of the program.
"What we're doing with PB is removing as many obstacles as possible to get every voice in the community connected to a decision, like a community project," Menchaca told Gotham Gazette in an interview during vote week, which was March 26-April 3.
Menchaca and other Council members typically begin the PB outreach process in September, when workshops are held for residents to come together and share ideas about what should be improved or changed in their communities. This year in Menchaca's district, fully translated workshops were held in Spanish and Chinese. Throughout the year, regular updates on scheduled events are sent through more traditional methods like phone calls, text messages, and emails. Residents are also updated via social media outlets like Facebook, Snapchat, and Twitter.
A voting site at the Red Hook Initiative community center, run by volunteers from local high schools, forecasted some success for Menchaca's community outreach efforts as excited teenagers encouraged their friends to vote. These youth organizers had also been working throughout the year by attending training sessions, collecting project proposals, and organizing mobile voting locations. When they set up their Red Hook Initiative site, they were determined to collect 1,000 ballots by the following day.
The majority of volunteers and voters at the vote week event would not have been eligible to participate in a regular election because of their age, but PB votes are open to residents as young as 14. Tea Cruz, a 16-year-old student, voted with her younger family members in mind. She wanted the local playgrounds to be renovated so that the equipment isn't rusty and broken when her newborn cousin is old enough to play there. She was also concerned about her younger sister's middle school, where the library is too outdated for the students to find their books easily.
Along with playground renovations and new library technology, there were 11 other projects on the District 38 ballot this year. Other school improvement proposals included air conditioning installations, lockers for students who are currently required to carry their belongings with them throughout the day, and repairs to auditoriums, bathrooms, and science labs. Brooklyn Community Boards 6 and 7 called for street repairs, including filling potholes and repainting lines. There were also two district-wide proposals for new trees throughout each neighborhood and electronic signs at bus stops with the location and arrival time of each bus.
PB projects are only for these types of physical investments in a neighborhood, known as capital projects. Critics of PB say that many these are projects that city agencies are supposed to take care of through the normal city budgeting process, and that the role for Council members it is to be a liaison between their communities and city agencies, while also influencing the overall city budget. Still, Council members do receive funds to disburse in their communities and many members are now allowing their constituents control over a portion of those funds.
In Menchaca's district, each voter could support up to five different projects. Informational expos were held before and throughout vote week for residents to learn about each proposal. At the Red Hook Initiative site, a room in the community center was filled with colorful science-fair style posters made by young volunteers, detailing the potential benefits and costs of each project. Voters were encouraged to read all the information before handing in their ballots. Many of the teen-aged voters lingered in front of the posters, questioning details of each project.
Youth Council Member Frank Edwin Guzman, Jr., who is mentored by Menchaca, thinks that the perspectives of his peers are an important part of improving the community. After entering the New York City Youth Council program, his goal is to eventually be the youngest Council member in the city (Menchaca is currently among the youngest). In the near future, Guzman would also like to see every City Council member running PB.
Menchaca also hopes to see more City Council participation. Although 28 districts in New York City already run PB, the system still faces some criticism, both from within and outside the Council. In a recent column, NY1 Political Director Bob Hardt argued that PB places too much of the Council member's responsibility on residents and hurts the poorer parts of districts that aren't usually politically involved. Menchaca finds that PB has the potential to do the opposite if the right effort is made.
"The people who are going to eventually become participants in PB are the people that you invite to the table," Menchaca said, emphasizing "invite." "If you only invite rich, engaged people then you're only going to get rich, engaged people," he continued. "It's not an accident that two-thirds of the votes coming in are in Spanish and Chinese. It won't be an accident if only rich, privileged people come out and vote for PB. It's a direct reflection of the leadership that you place in power to engage the people."
Menchaca also responded to the criticism that PB takes power away from Council members.
"What we're trying to do is not consolidate power for one person to make decisions or go out and find solutions, but what we're doing is actually increasing power within the community to develop leaders who are knowledgeable of city agency processes to help make a collective decision about where to place dollars," he said.
Other critics point out that the entire PB process might be unnecessary. In a recent column for the New York Daily News, NY1 political anchor Errol Louis pointed out that PB only makes up 0.04% of the city's budget, labeling the process as "painfully low-stakes." He argues that if it were really the great process participating Council members promote it to be, residents would be allowed to vote on billion-dollar decisions, rather than where to allocate $1 million or $2 million. Louis also echoes Hardt's point about putting decision-making responsibilities into the wrong hands.
"And if a budget decision goes wrong — if, say, events prove we should have bought NYPD cameras instead of renovating the senior center — participatory budgeting scatters the responsibility, letting the Council member off the hook," he wrote.
In an article published here last year, Council members not running PB in their districts cited the heavy commitment as a deterrent.
"Participatory budgeting takes an extraordinary amount of office time and resources for no discernible improvement in outcomes over working through the existing vast civic infrastructure for public participation," said Council Member Rory Lancman, who represents District 24 in Queens.
A press secretary for Council Member Inez Dickens, representative of District 9 in Harlem, explained that local community boards are the most practical way for residents to express the same opinions, concerns or proposal ideas that PB encourages. This was a point raised by Louis in his recent column.
As more City Council members decide whether or not to run PB, Menchaca thinks that the future of the program lies in more funding. Last year, a project for increased Wi-Fi throughout the NYCHA public housing developments in Red Hook couldn't receive PB funding even though it garnered more than 3,000 votes. Menchaca had already allocated all of his available funds to winning projects such as district-wide technology updates, playground lighting, bathroom renovations, and outdoor fitness equipment in Sunset Park. He went to Brooklyn Borough President Eric Adams, who was able to expand PB this year with a commitment of an extra $100,000 to 10 different districts, for a total of $1 million, to support winning projects. Adams is the first borough president to make such a funding decision.
"PB is a revolutionary approach to growing democracy from the ground up, and this partnership with the City Council will cultivate that growth even further, funding more capital projects and engaging more potential voters," Adams wrote in the press release.
Along with the continued support of the borough president, Menchaca would also like to encourage the mayor's office and more city agencies, such as the Parks Department, the School Construction Authority, and the Department of Transportation, to look to PB votes for ideas about how to spend their own money. He believes that PB could be a valuable resource for the mayor's office and its agencies by showing the city government what residents really want and need, therefore creating a more direct relationship between city agencies and residents. If the city were to directly increase PB funding, it could help improve outreach efforts, according to Menchaca.
"It takes money to engage the communities we're engaging," he said. "Especially when they don't speak the language and there's low literacy rates, for example, and you have to translate everything. I think the city can understand that gap of resources and bring us more translation, more literacy classes in our communities, bring us more money to teach people how to organize."
***
by Carmen Russo, Gotham Gazette
@GothamGazette @carmenjrusso